Banff National Park offers so much breathtaking scenery that seeing everything is impossible. That's why I compiled a shortlist of 27 unbeatable views you must see during your visit to the park. 
Some of the views on this list are the most touristy in the park, but there are also some less obvious ones that are worth knowing about. 
Either way, this overview gives you 27 of the park's most rewarding vistas. This is an excellent place to start if you plan a trip to Banff National Park. 
At the end of this article, I have included a map indicating all the places mentioned. 
Let's have a look!
Lake Minnewanka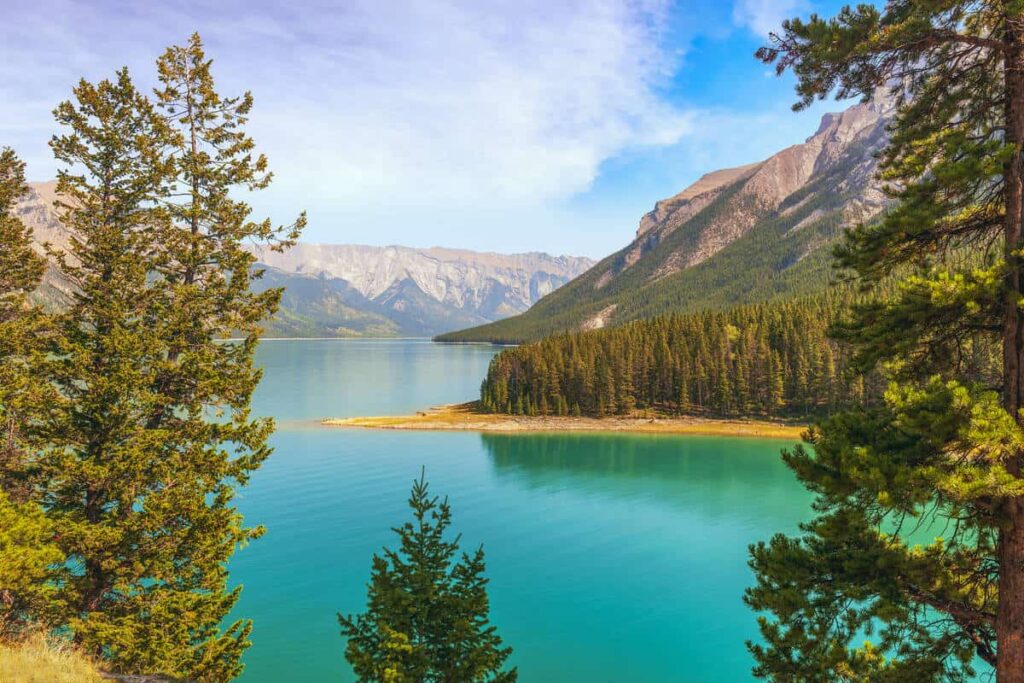 At Lake Minnewanka, you'll find yourself surrounded by incredible views and a unique history. The largest body of water in Banff National Park this glacier-fed lake, is the largest body of water in the park. 
Not only does it offer breathtaking panoramas of mountain ridges, but it also has an intriguing story with a ghost resort town sitting on the lake floor, adding to its mysticism.
ALSO READ: the History of Ghost Towns in Banff National Park and the Ultimate Guide to Lake Minnewanka
The area around Lake Minnewanka is known for wildlife sightings, such as mule deer, bears, wolves, elk, bighorn sheep, and numerous bird species. If you're lucky, you might just catch a glimpse of some of them.
To fully experience the magic of Lake Minnewanka, consider going for a hike or bike ride. One popular option is the Lake Minnewanka Loop. This scenic cycling route takes you along the Rocky Mountain Legacy Trail. 
Starting at the Town of Banff, it's a 3-kilometer (1.86 mi) ride to the Cascade Ponds Connector, which marks the start of the Minnewanka Loop. From there, it's a 6-kilometer (3.72 mi) journey to the Lake Minnewanka parking lot.
The spellbinding views and rich wildlife will make this one of the most memorable experiences in Banff National Park.
Aylmer Lookout

Aylmer Lookout is a must if you're looking for a lesser-known hike with stunning views. This challenging 24.5 kilometers (15.22 mi) out-and-back hike offers a panoramic view of Lake Minnewanka's blue waters. 
Not only is it very long, this trail has an elevation gain of 1,085 meters (3,560 ft). You'll find the trailhead in the Lake Minnewanka parking lot.
The hike generally takes about 7 hours and 54 minutes to complete.
You'll follow the Lake Minnewanka trail, enjoying the beautiful surroundings as you hike. At the Aylmer Pass Junction, you'll turn onto the Aylmer Lookout trail, where you'll enter a stunning mountain river valley between Mount Astley and Mount Aylmer.
The Aylmer Lookout hike is an excellent option for early-season hiking in Banff National Park. Along the way, the trail follows Lake Minnewanka, giving you incredible views of the Lake as you progress. 
After a challenging climb toward Aylmer Lookout, you'll be rewarded with excellent panoramas up and down the lake. Make sure you take some time to soak in the view to fully appreciate the magnificence of this unique spot in Banff National Park.
Two Jack Lake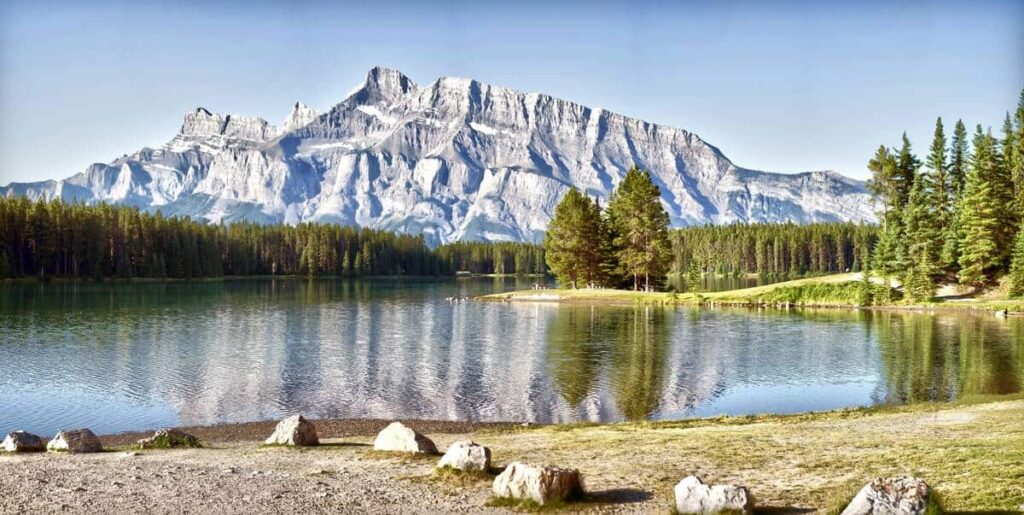 One unbeatable view in Banff National Park is the picturesque scene at Two Jack Lake. This emerald-green lake offers a sweeping view of Mount Rundle and is easily accessible from the town of Banff. 
If sunrise or sunset is your thing, you'll find the perfect spot at Two Jack Lake. The grassy shores are a fantastic setting for a picnic, especially with the stunning backdrop of Cascade Mountain to the west, Mount Aylmer and Spectral Peak to the North, and Mount Girouard to the east.
Two Jack Lake is not a standalone attraction; it's an offshoot of Lake Minnewanka, with both lakes being connected and separated by a dam. The Cascade River feeds the lake from neighboring Cascade Mountain.
Aside from the views, Two Jack Lake offers other outdoor activities. Taking a relaxing boat ride on Lake Minnewanka is an option, or you could try fishing, canoeing, or camping by the lake.
ALSO READ: The Ultimate Guide to Two Jack Lake
Cascade Ponds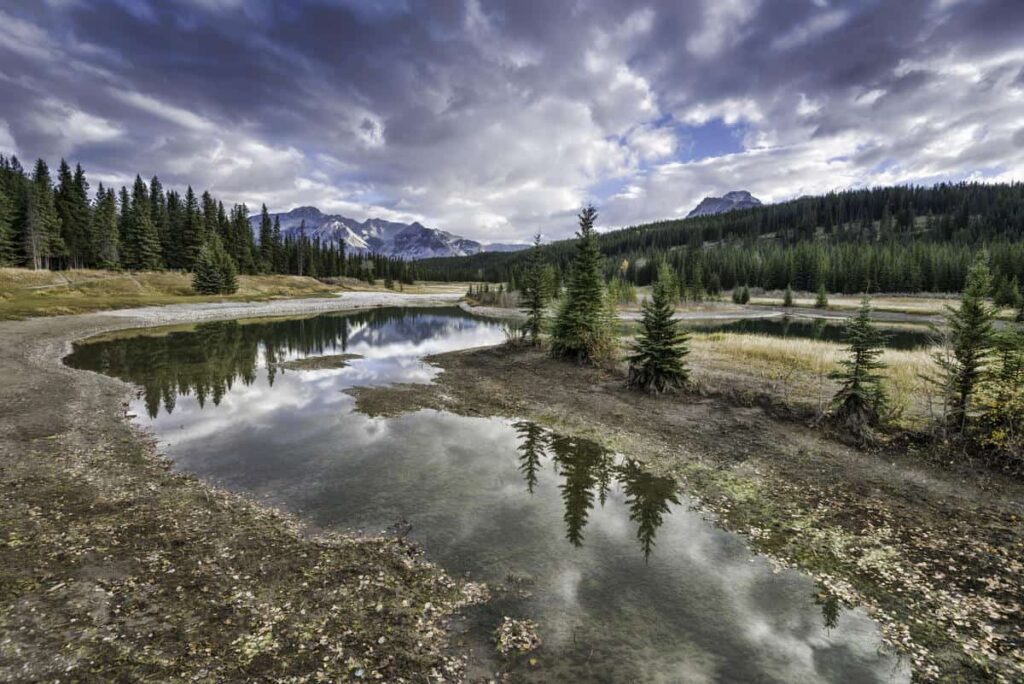 Cascade Ponds is another must-see spot during your visit to Banff National Park. These easily accessible ponds offer stunning views year-round, with people enjoying the sun and paddleboarding in the summer.
When you arrive at Cascade Ponds, you'll almost immediately be drawn to the crystal clear water with surrounding mountain peaks. This spot is tranquil in the mornings.
Hike the lovely short and family-friendly trail offering picturesque views of the water and mountains. And bring a camera!
Looking to spend some more time at Cascade Ponds? This location makes for an excellent picnic spot! The backdrop of beautiful mountains and a tranquil lake make for a worthwhile experience for sure.
ALSO READ: Guide to Cascade Ponds
Cascade Mountain Summit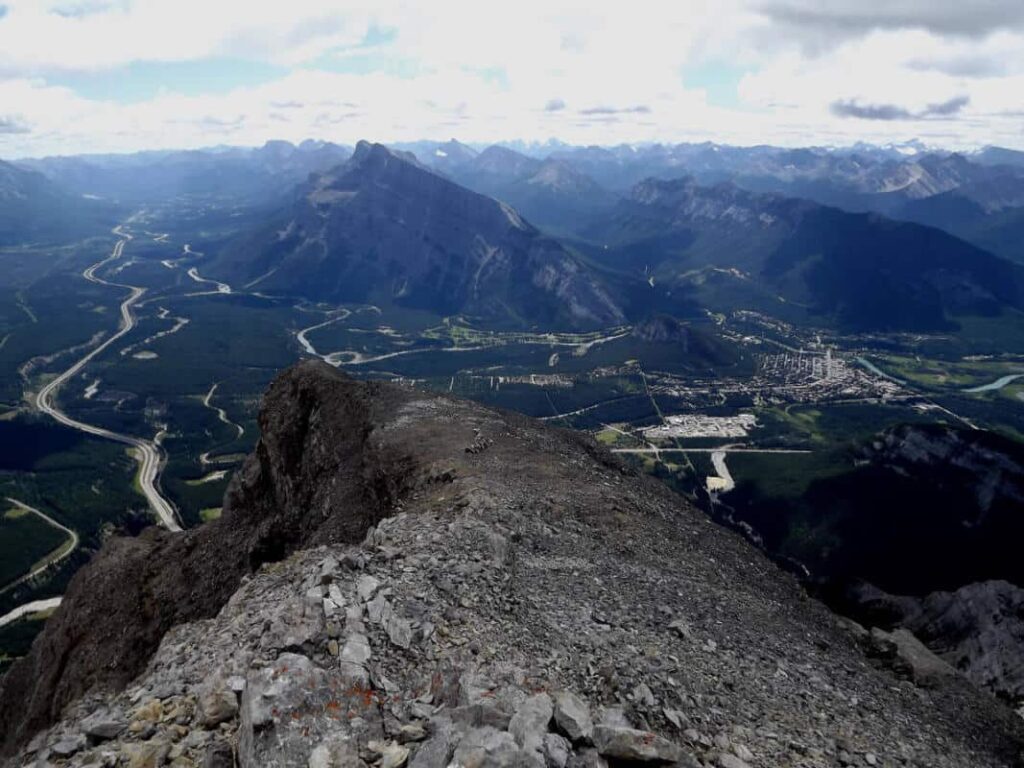 Cascade Mountain is, without a doubt, one of the most iconic mountains in Banff National Park. Well, brace yourself for an unbeatable view at the summit. It's absolutely worth the effort. This very challenging hike takes you through various landscapes and rewards you with stunning 360-degree panoramic views.
Once you embark on the Cascade Mountain hike, you'll find yourself on a 19-kilometer (11.8 mi) out-and-back trail with 1,550 meters (5,085) of elevation gain. The good news is that it's filled with picturesque scenery. The journey will take you somewhere between 5 to 9 hours. The best time to tackle this steep col is from late July to September.
Reaching the summit, you'll be rewarded with views over the town of Banff, Banff Avenue, and Lake Minnewanka.
Though it's an arduous hike, the relatively easy scrambling and well-defined path make it a favored destination among avid hikers. 
Once you're at the top of Cascade Mountain, you'll understand why this unique and epic view ranks among the incredible sights in Banff National Park.
ALSO READ: Guide to Hiking Cascade Mountain 
Banff Hoodoos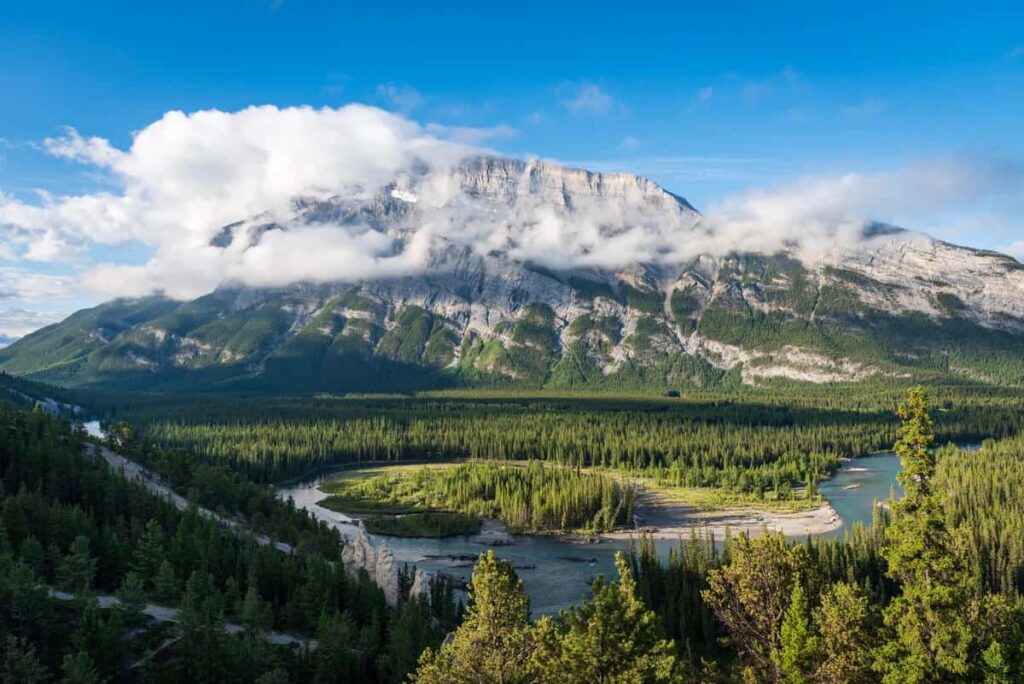 One of the most unique formations in Banff National Park is the Banff Hoodoos. These rock formations have been formed over thousands of years by erosion, resulting in needle or tower-like structures.
The Hoodoos Trail is an excellent choice if you're looking for an easy hike with minimal elevation yet offering unrivaled views of the area. The trail is 2.5 to 3.5 hours long, covering a distance of 10 kilometers (6.21 mi) and an elevation gain of around 305 meters (1,001 ft).
As you hike towards the Hoodoos viewpoint, you'll be rewarded with scenic views of mountains, the Bow River, and wide-open valleys. To reach the trailhead, you can start from Surprise Corner, a notable lookout point.
The Hoodoos Trail is accessible year-round.
Tunnel Mountain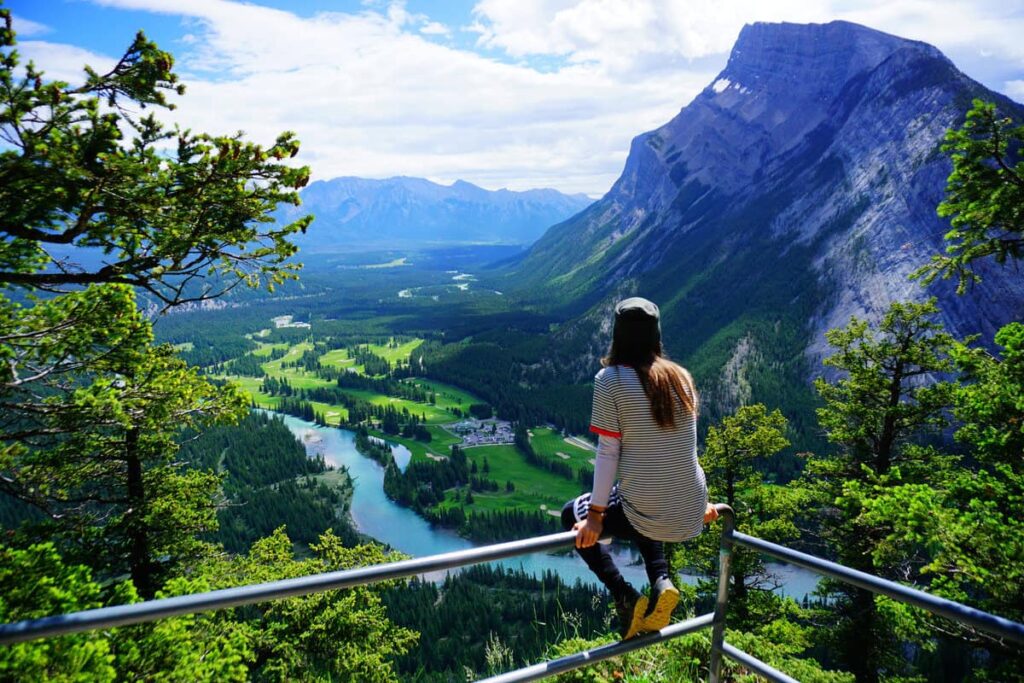 Tunnel Mountain, one of the easiest and best hikes in Banff, offers an unbeatable view of Banff and the surrounding landscape. 
The hike distance is 4.6 kilometers (2.86 mi) out and back, with an elevation gain of 266 meters (873 ft).
Head to the Tunnel Mountain trailhead at the Tunnel parking lot to start your hike. The hike takes around 1-2.5 hours. Before you know it, you'll reach the summit and be rewarded with a jaw-dropping view of Banff town, the Banff Golf Course and the Rocky Mountains. 
One of the most captivating sights is Rundle Mountain, towering high above Tunnel Mountain and creating an impressive contrast.
Many hikers spend about 1.5 to 2 hours on Tunnel Mountain, including stops for views. You can enjoy a drink or snack at the summit before heading back down. The descent is relatively quick, taking around 30 minutes.
Surprise Corner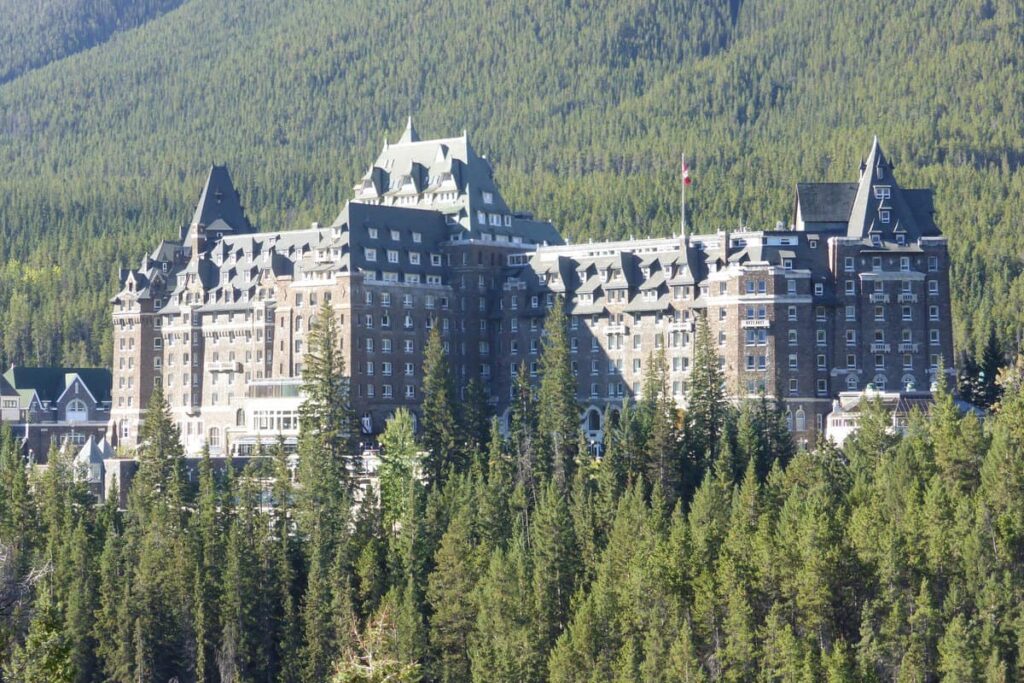 Surprise Corner is a must-visit spot in Banff National Park. This viewpoint overlooks the iconic Fairmont Banff Springs Hotel and the Spray Valley, with the roaring Bow Falls in the foreground, making it one of the most famous photo spots in Banff. If you're lucky, you might even spot elk or bighorn sheep in the area.
This viewpoint is easily accessible, as it can be reached by foot from downtown Banff. To get there, simply follow the trail connecting the Bow River trail system and enjoy a short hike of around 0.5-1 hour, covering a distance of 3.0 kilometers (1.86 mi) and an elevation gain of 60 meters (197 ft). The aptly named Surprise Corner gets its name from the jaw-dropping, unexpected views it offers when viewed from Buffalo Street.
Surprise Corner is an excellent place for photos, hiking, and connecting with Banff's local trail system. 
Sulphur Mountain Summit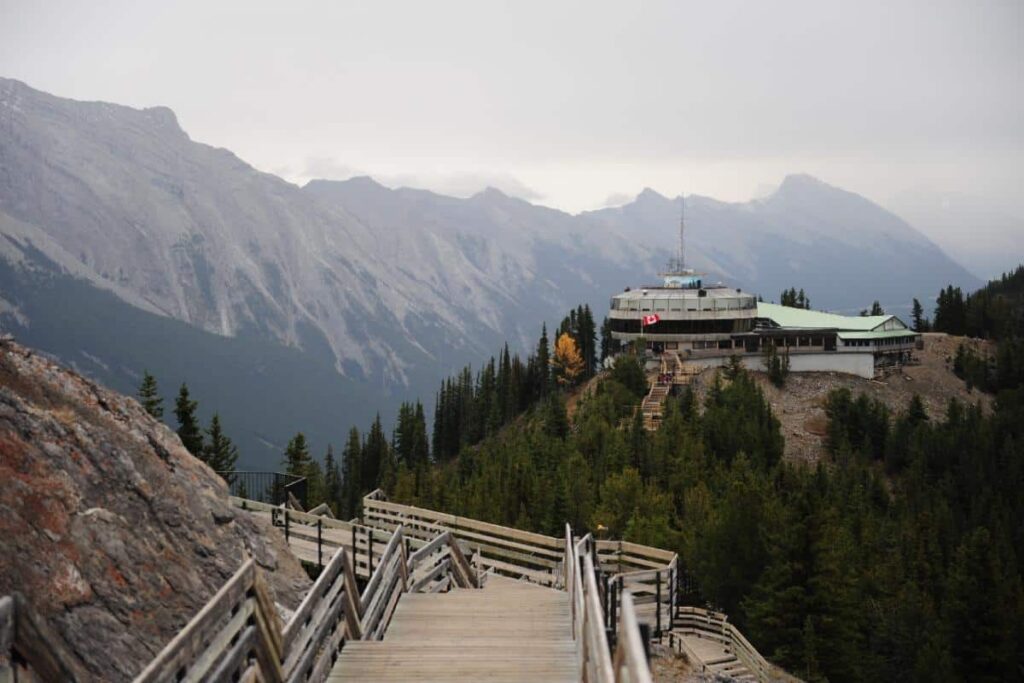 Sulphur Mountain, named for the two sulfurous hot springs on its lower slopes, offers awe-inspiring 360-degree views of six mountain ranges, the Bow Valley, and the town of Banff. There are a few ways to reach the summit at 2,251 meters (8,041 ft) and enjoy the unbeatable views.
Banff Gondola Ride 
A scenic ride to the summit is your best option to take in the sights without a sweat. As you ascend, you'll catch glimpses of the surrounding mountains and valleys.
Hiking the Sulphur Mountain Trail
 The Sulphur Mountain Trail is a fantastic option if you prefer a more active approach. The hike is 10.1 kilometers (6.28 mi) out and back, with a 744 meters (2,441 ft) elevation gain. This moderately challenging trail takes you through lush forests and offers stunning views as you reach the summit.
Once you reach the top, you can explore the Sanson Peak Boardwalk. This short, elevated walkway leads you to Sanson Peak, where you'll find an old weather observatory and more breathtaking vistas.
ALSO READ: Guide to Sulphur Mountain and Activities at Sulphur Mountain Summit
Cascade of Time Garden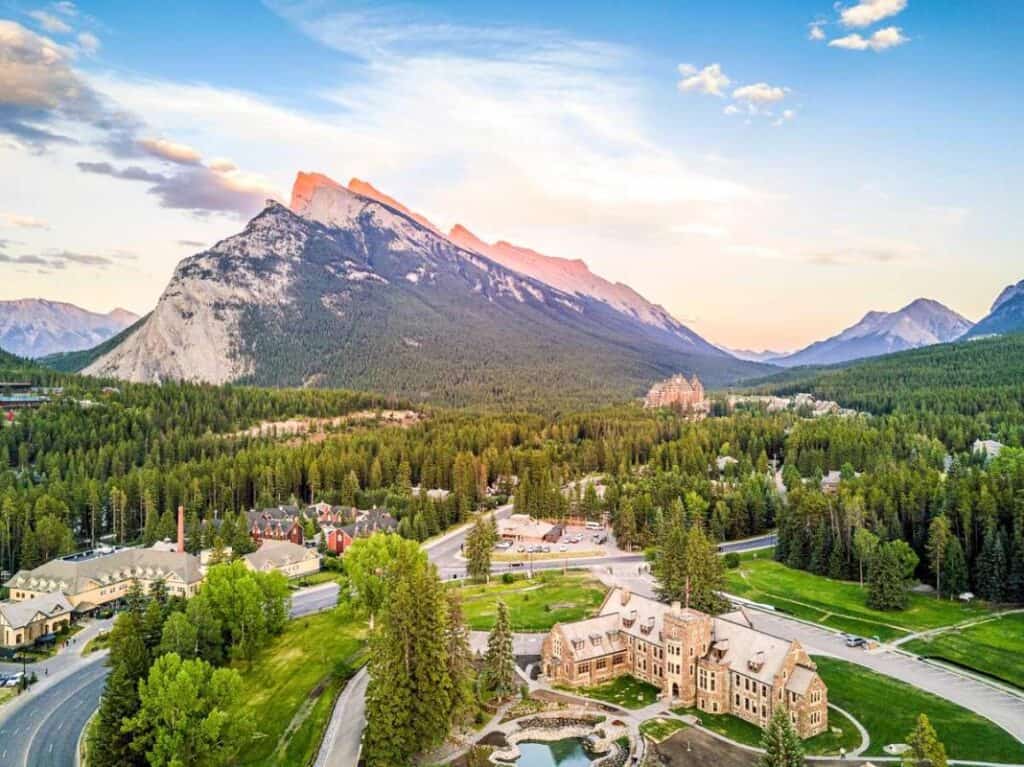 As you explore Banff National Park, don't miss the opportunity to visit the Cascade of Time Garden. Located at the end of Banff Avenue on Cave Ave, this stunning garden is the perfect place to take a break from the hustle and bustle of town.
With over 50,000 flowers, the garden's peak bloom months run from June to September. As you stroll through the terraced floral beds, enjoy the sight of lush blooms in various colors. 
While admission is free, you can also opt for guided interpretive tours during the summer months to learn more about the history and horticulture of the gardens.
The garden is built into a hillside, and as you wander along the winding pathways and rock steps, you'll discover multiple levels with distinct flora and water features. 
Banff Avenue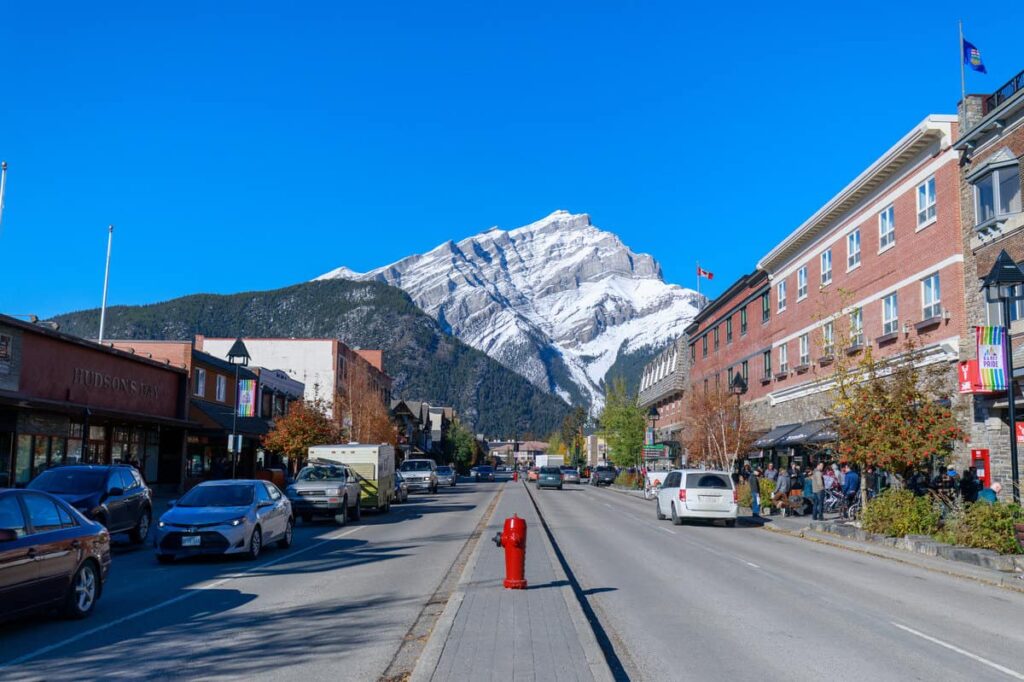 Walking along Banff Avenue, you'll be treated to stunning views of Cascade Mountain (see above). Banff's iconic main street is a hotspot for shops and restaurants. 
It has become a must-visit destination when exploring Banff National Park. As you stroll down the avenue, you can gaze at the mountain backdrop and feel the town's energy.
Start your day by grabbing a coffee from one of the many cafes dotting the avenue, and then continue your walk to take in the sights and sounds of Banff. You'll find plenty of historic buildings and unique local shops. Don't forget to snap some snapshots of Cascade Mountain as you walk.
If you're up for it, venture down one of the side streets for even more picturesque views of the town and the striking mountain range.
ALSO READ: The Ultimate Guide to the Town of Banff
Sunrise at Vermilion Lakes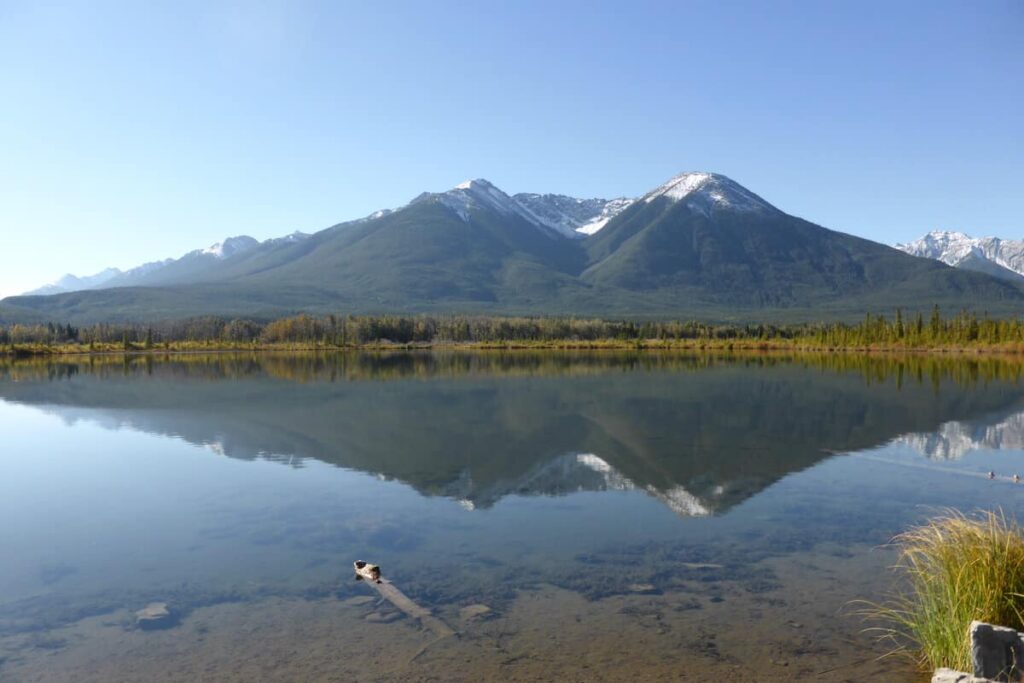 Visiting Banff National Park is always a fantastic experience, and catching a sunrise at Vermilion Lakes is one of the must-see experiences. Just a short drive from Banff, Vermilion Lakes is situated at the foot of Mount Norquay and offers stunning vistas during the early morning hours.
Waking up early and heading to the lakes will reward you with an incredible show of colors as the sun rises over the mountains. The reflections of the peaks on the calm waters create an almost surreal landscape, making it a perfect spot for Ista-worthy material!
To make the most of your visit, consider exploring the easy trails near the lakes, like the Fenland Trail. You'll enjoy different angles and views, and you might spot some of the local wildlife that frequents the area, including birds (bald eagles are frequently seen here!) and larger mammals like elk.
Besides the picturesque sunrise views, Vermilion Lakes is also an excellent spot for enjoying the sunset.
Remember to bring a camera and warm clothes when you head to Vermilion Lakes for sunrise. Trust me; it's worth the effort!
ALSO READ: Best sunrise and sunset locations in Banff National Park and The Ultimate Guide to Vermilion Lakes
Mount Norquay Lookout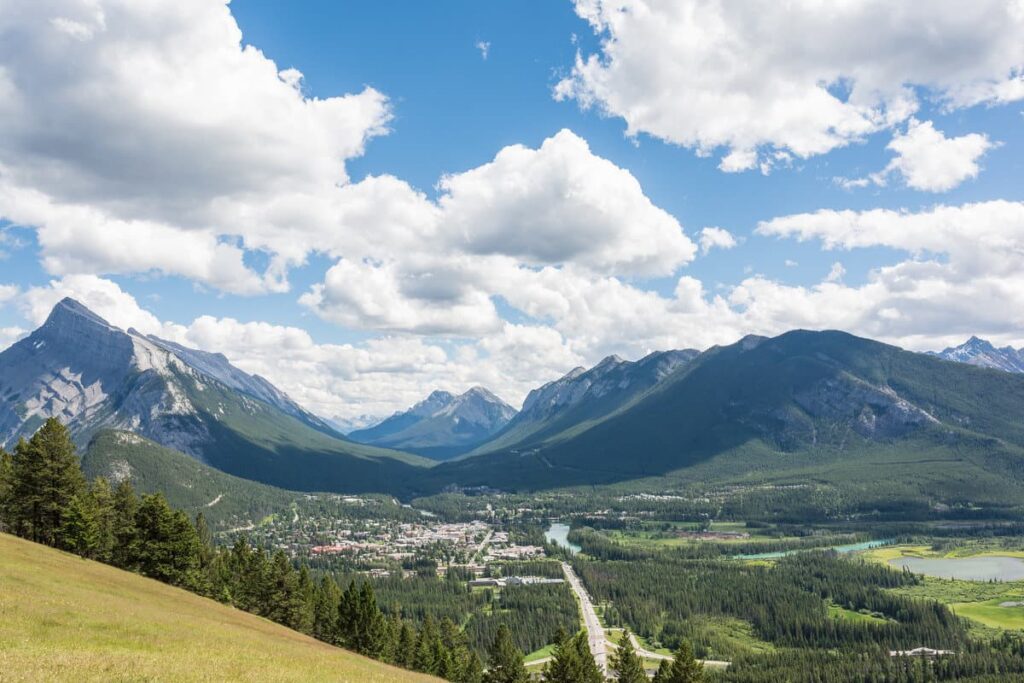 During your visit to Banff National Park, Mount Norquay Lookout is a must-visit spot for breathtaking views. It's very close to the town of Banff and very easy to get to.
To reach the lookout, just drive up Mount Norquay Scenic Drive. You'll eventually find an alpine meadow on your right-hand side. There, you'll be greeted by a panorama of downtown Banff, Bow River, and the iconic Mount Rundle. 
The Mount Norquay Green Spot is ideal for picnicking or simply sitting back and taking in the spectacular views.
Sunshine Meadows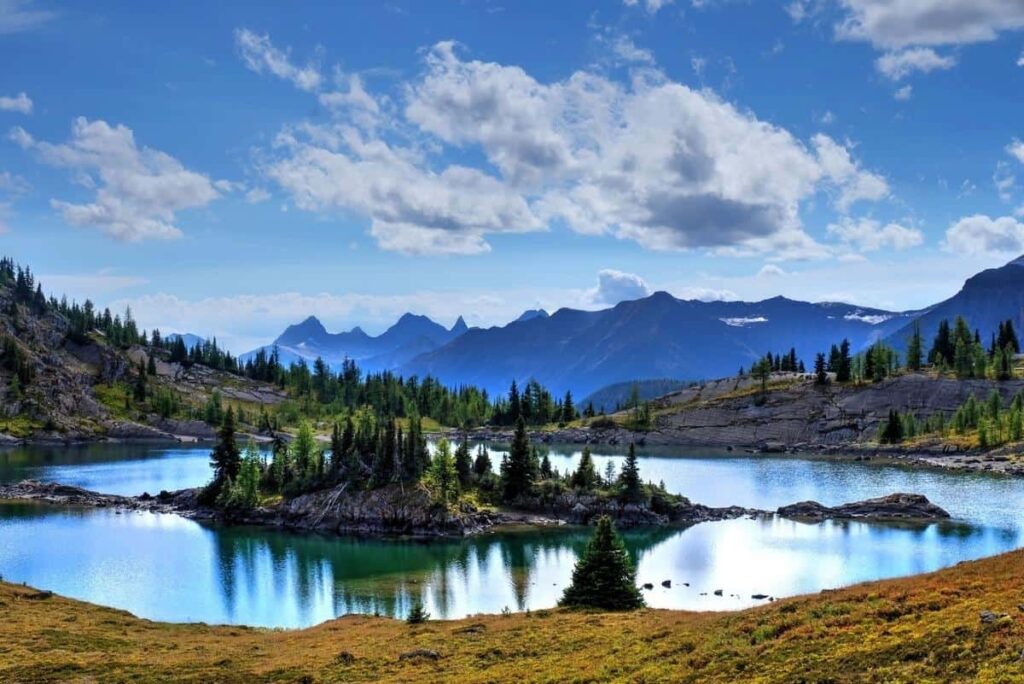 Sunshine Meadows is a must-see spot in Banff National Park, offering stunning views and diverse hiking options. Located in the Sunshine Village ski resort, the summer hiking trails at Sunshine Meadows rank among some of the best hikes in the park. 
With an average elevation of 2,220 meters (7,283 ft), you can experience the alpine settings that straddle the Continental Divide and the boundary between Alberta and British Columbia.
Hiking in Sunshine Meadows is perfect for families, groups, and solo hikers. The area boasts a variety of trails – from easy to more challenging. As you hike through the meadows, you'll discover vibrant wildflowers, pristine lakes, and panoramic mountain vistas.
Getting to Sunshine Meadows is simple. You can catch a ride on the 8-passenger gondola, which whisks you up into the alpine region. From there, you can explore the Rock Isle, Grizzly, and Larix Lakes along a 7.6-kilometer (4.72 mi) loop trail with minimal elevation gain making it a gentle hike. Ideal if you're not used to hiking and want to enjoy stunning mountain-top views!
Johnston Canyon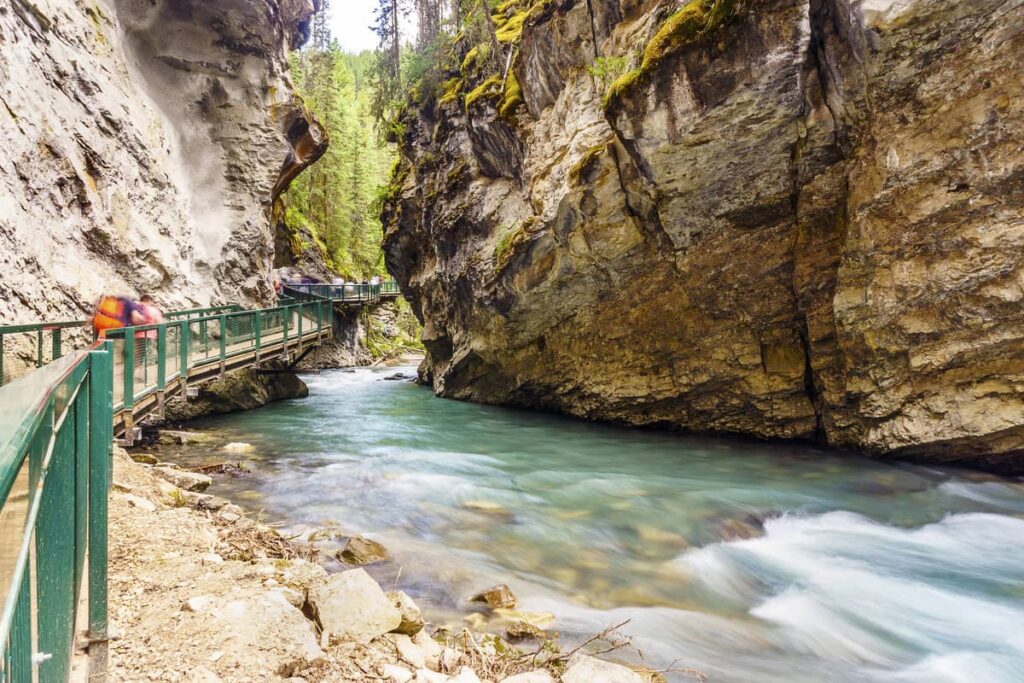 Lower Falls
Johnston Canyon is a must-visit spot in Banff National Park, and the Lower Falls are the first of the stunning perspectives to be found here. The trail is an easy 1.1 kilometers (0.7 mi) walk from the parking lot, making it accessible for nearly everyone. 
As you stroll along the paved pathway, you'll be immersed in a lush forest with the soothing sounds of Johnston Creek flowing beside you. 
Soon enough, you'll reach a viewing platform to marvel at the mesmerizing Lower Falls. 
The thundering waterfall plunges into a deep, turquoise pool, offering an unbeatable view that will captivate your senses.
Upper Falls
Continuing onward from the Lower Falls, the trail to the Upper Falls brings even more natural beauty to appreciate. The path becomes slightly more challenging but still manageable for most people. 
The hike extends another 1.5 kilometers (0.9 mi), making the entire journey to the Upper Falls 2.6 kilometers (1.6 mi) from the starting point. As the canyon walls narrow, you'll discover how the power of water has sculpted it over thousands of years.
Upon arriving at the viewing platform for the Upper Falls, prepare yourself for a breathtaking sight. The Upper Falls are taller and even more impressive than their lower counterpart. 
Water cascades down from 40 meters (131 ft) above, creating a mesmerizing mist and an unforgettable experience. And snap a few photos to capture the memory, I'd say.
ALSO READ: The Ultimate Guide to Johnston Canyon
Castle Mountain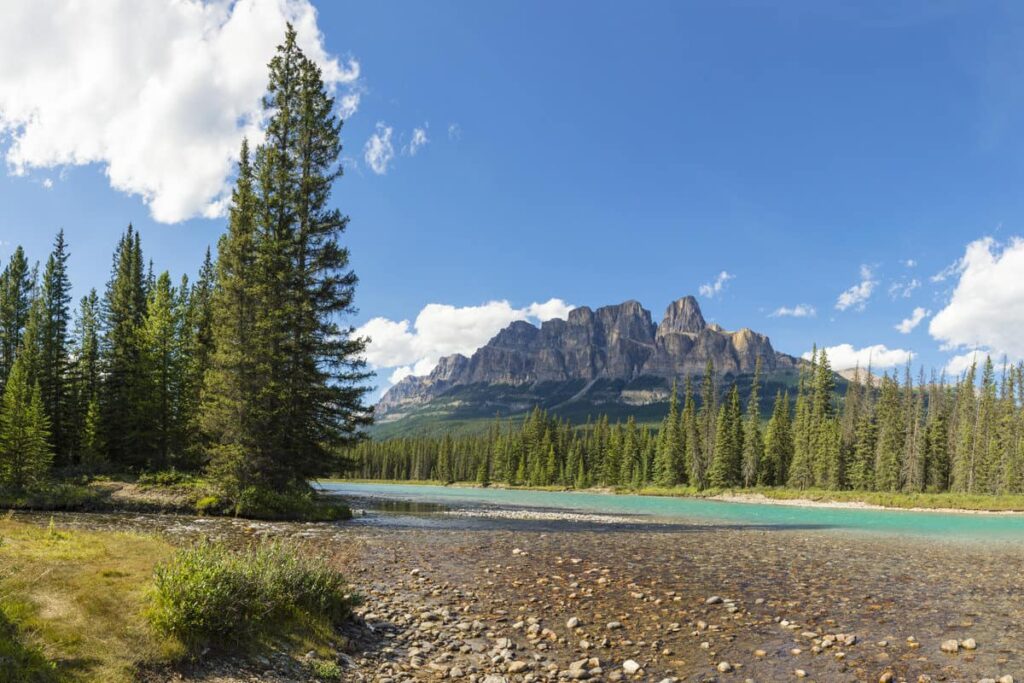 Castle Mountain, or Miistukskoowa in Blackfoot, is a prominent peak within Banff National Park, halfway between Banff and Lake Louise. This iconic mountain is hard to miss, and its remarkable appearance has made it one of the most famous attractions in the park.
A recommended way to truly appreciate Castle Mountain's glorious scenery is by taking the Castle Mountain Lookout hike. This moderate hike presents breathtaking views of the Bow Valley, providing a unique perspective on the surrounding landscape.
At the lookout point, not only are you treated to the sight of Castle Mountain itself, but you can also gaze at the other Banff A-listers, including Lake Louise, Cascade Mountain, and Mt. Rundle.
Morant's Curve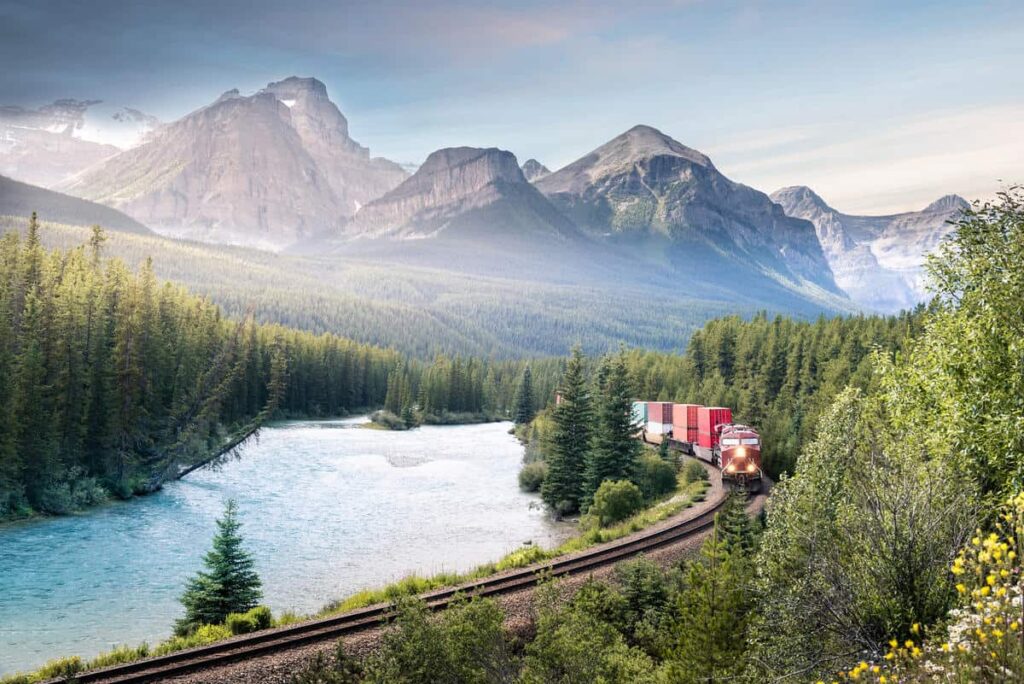 Located near Lake Louise, Morant's Curve offers a striking viewpoint where the Bow River bends with a stunning backdrop of the Lake Louise mountains and surrounding valley. 
This vantage point is particularly popular among photographers. It captures breathtaking scenes when trains pass through the Canadian Rockies.
Getting to Morant's Curve is easy – it's just a 10-minute drive from Lake Louise or a 40-minute drive from the town of Banff. You'll find a good-sized parking area on the side of the road that you can't miss, just opposite the viewpoint. Once parked, safely cross the Bow Valley Parkway, and you'll be greeted by an breathtaking view.
Morant's Curve has an intriguing history almost as impressive as the views it offers. The name comes from Nicholas Morant, a famous 20th-century staff photographer for the Canadian Pacific Railway (CPR). His iconic photographs from this spot helped to popularize the location.
No matter the time of year or the weather, this location never fails to amaze!
Lake Louise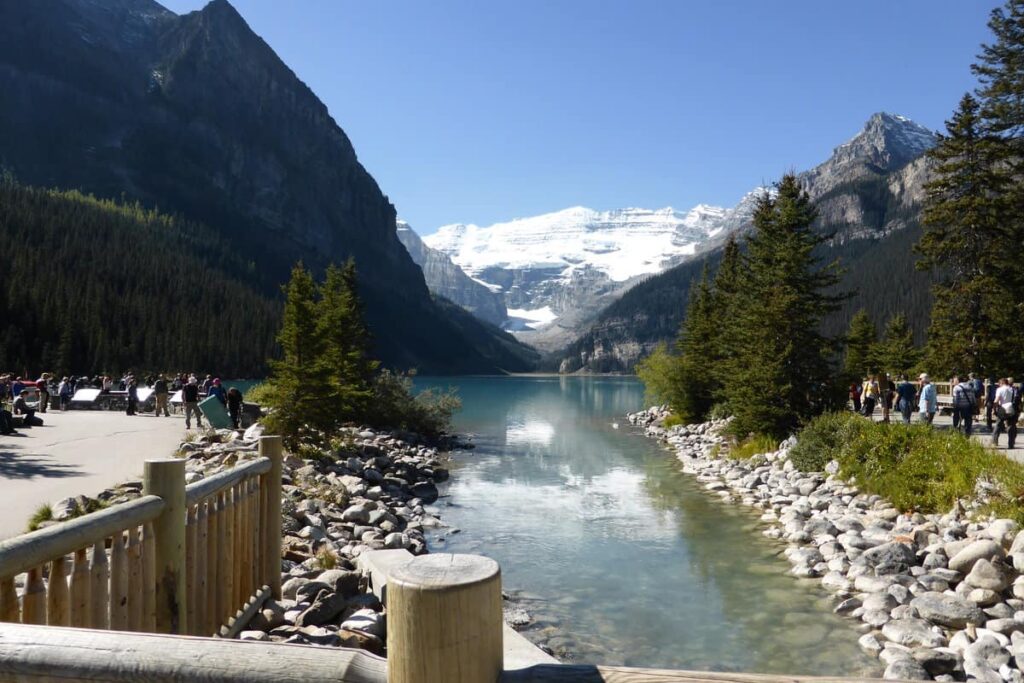 Lake Louise is one of the most photographed destinations in Banff National Park. And for good reason! The lake's striking turquoise color is created by glacier melt, and the dramatic backdrop of Mount Victoria with a hanging glacier makes this world-famous lake a must-see.
The easiest way to enjoy the view is to take a leisurely walk along the shoreline, easily accessible from the parking lot.
For a more adventurous experience, consider hiking up to Lake Agnes. This moderate hike is approximately 7.5 kilometers (4.66 mi) round-trip, and you'll get fantastic views of Lake Louise, Mirror Lake, and Lake Agnes. 
Don't miss the opportunity to stop at Lake Agnes's tea house/snack shack. Here you can refuel and relax before heading back down.
To capture the beauty of Lake Louise at its best, I recommend staying until dusk. The lake takes on stunning blue hues, creating a surreal, calming, captivating atmosphere. Plus, the crowds tend to dissipate by this time.
ALSO READ: The Ultimate Guide to Lake Louise
Lake Louise Gondola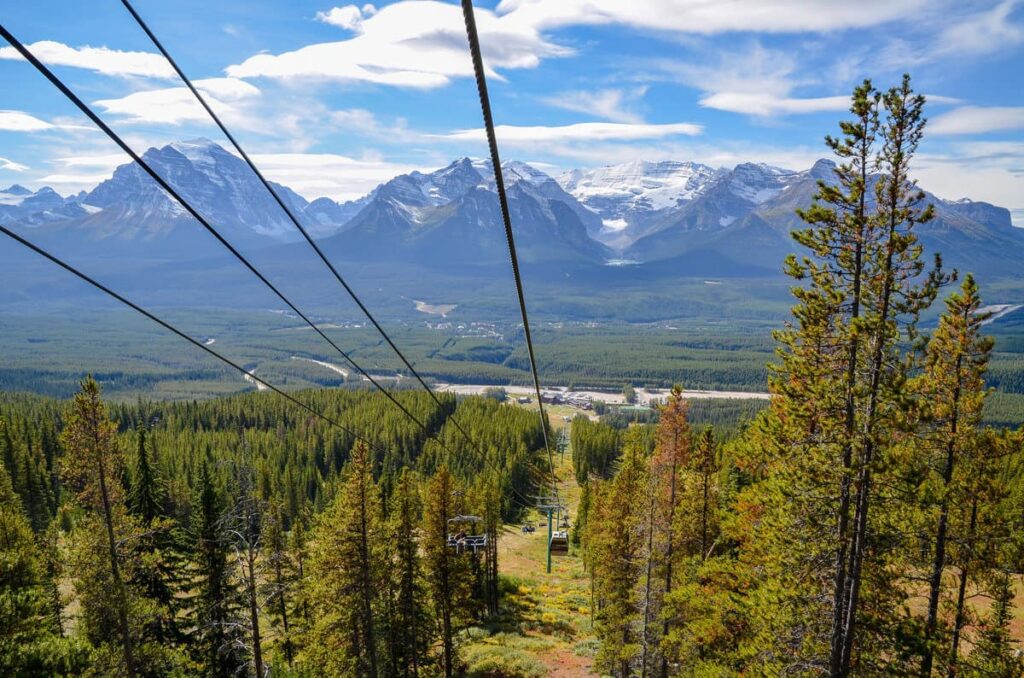 Riding the Lake Louise Gondola is a must-do experience when exploring Banff National Park. As you ascend Whitehorn Mountain, you'll get breathtaking views of the surrounding peaks, glaciers, and the iconic Lake Louise.
One of the best things about the Lake Louise Gondola is the opportunity to spot local wildlife. Grizzly bears are frequently seen from the gondola. If you want to learn more about nature, the Interpretive Centre at the top features fascinating displays and rare specimens.
As you reach the top, there are several hiking trails for you to explore. If you want, you can take a guided hike to learn about the area.
To make the most out of your experience, Ride and Dine packages are available, so you can enjoy breakfast or lunch before or after your gondola ride.
Remember to bring your camera with you, as the views from the top are truly unbeatable. 
ALSO READ: Banff's Sightseeing Gondola's Compared
Big Beehive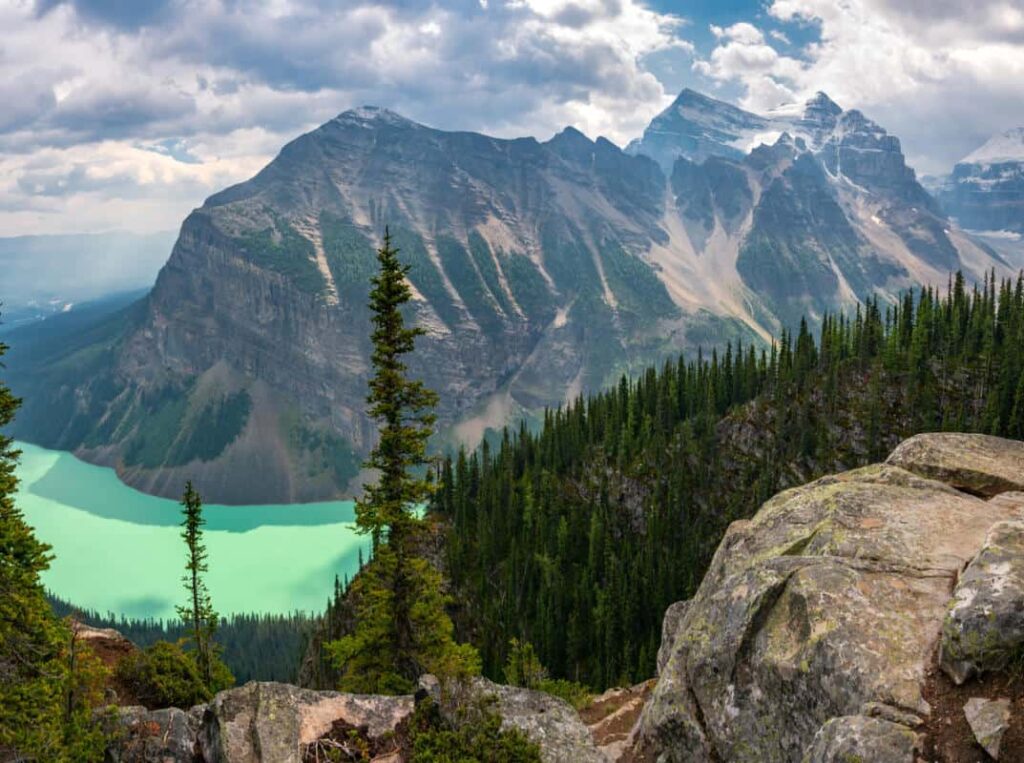 The Big Beehive hike is one of those can't-miss experiences in Banff National Park. This trail offers a fantastic journey to a historic tea house and incredible views overlooking Lake Louise. With an elevation gain of 778 meters (2,552 ft), it's considered a moderate challenge, but it's absolutely worth the effort.
Starting from Lake Louise, the hike follows the north shoreline. From the beginning, you'll be treated to amazing views of Lake Louise with its striking turquoise color, resulting from the rock flour released by the melting glaciers in the Six Glacier Valley.
Once you've reached the Lake Agnes Tea House, a historic stopover, you'll continue up the trail to reach the Big Beehive. Climbing further, you'll eventually come to a viewpoint revealing Lake Louise's stunning panorama.
Some tips for this hike include arriving early at Lake Louise, as parking can be limited, and wearing proper hiking apparel to stay comfortable throughout your hike.
Moraine Lake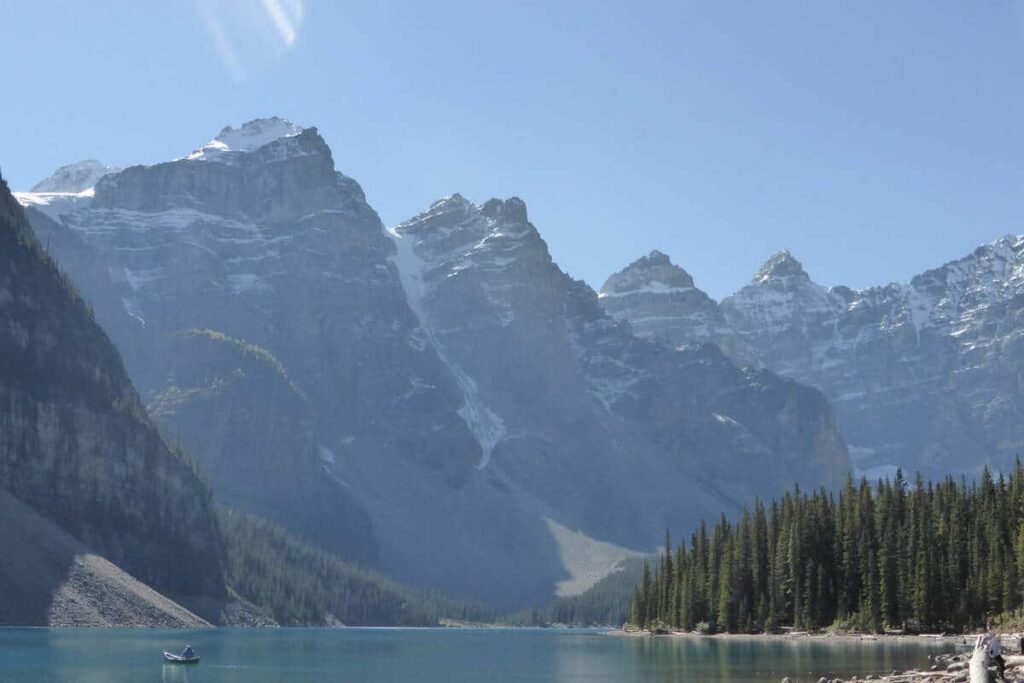 Moraine Lake is one of the most iconic locations within Banff National Park. Boasting incredible views, it's no wonder this glacial lake is at the top of many travelers' lists. 
The famous Ten Peaks are a picturesque backdrop to the turquoise waters, creating an unforgettable landscape.
To best capture the scenery, head over to the Rockpile Trail. This short 0.8-kilometer (875 yds) trail is perfect for all ages and fitness levels. Once you've reached the top of the rock pile, you'll be rewarded with unrivaled views of the Ten Peaks towering over Moraine Lake.
Another easy activity is hiking the Moraine Lake Lakeshore trail. It offers a leisurely, flat hike along the lake's edge. Clocking in at just 2.9 kilometers (1.8 mi), this trail takes you in and out of the forest while affording fantastic views of the lake and surrounding mountains. 
You can even admire the scenery from the water. Just rent a canoe and glide across the lake. How's that for a unique perspective?
ALSO READ: The Ultimate Guide to Moraine Lake
Sentinel Pass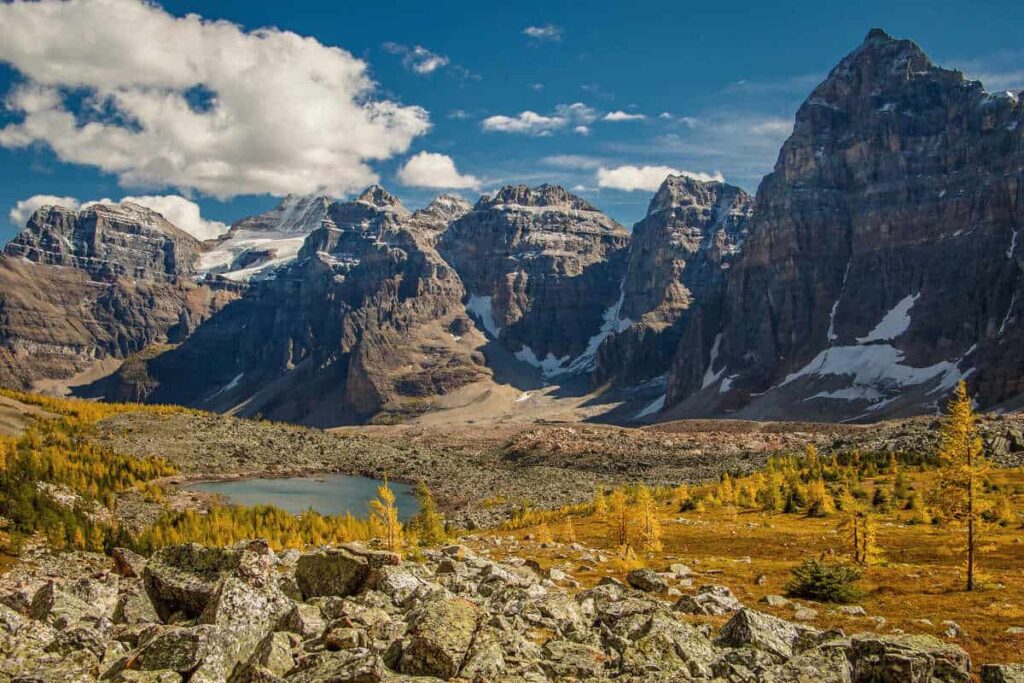 Sentinel Pass offers unbeatable views that you can't afford to miss. The Sentinel Pass Hike is a challenging yet rewarding adventure, taking you through the stunning Larch Valley and giving you a chance to discover the world-famous Valley of the Ten Peaks.
As you make your way up the Larch Valley trail via switchbacks, you're rewarded with spectacular views of the ten peaks, including Fay Glacier. On sunny days, Moraine Lake can be seen glowing with an electric turquoise color that's truly magical.
The Sentinel Pass trail is rated as hard, with a distance of 13.6 kilometers (8.45 mi) and a 925 meters (3,035 ft) elevation gain. The hike takes 5 to 7 hours. To get to the trailhead, you'll need to take a shuttle from Banff or Lake Louise, as Moraine Lake Road and the parking lot are closed to personal vehicles.
Prepare for this hike by bringing sturdy hiking shoes and poles – trust me, you'll be grateful you have them! As you reach the top of Sentinel Pass, the panoramic views of the rugged slopes and breathtaking Paradise Valley make every step worth it. 
Consolation Lakes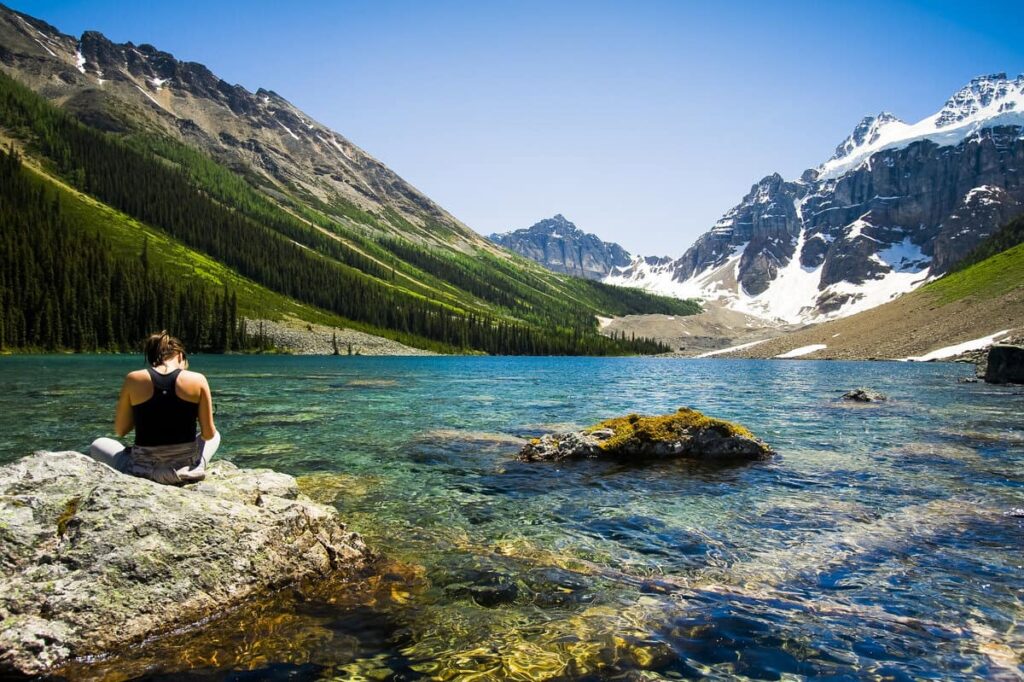 One of the unbeatable views within Banff National Park is at Consolation Lakes. This relatively easy hike takes you through various landscapes, making it an excellent option for all types of adventurers. The trail is 5.8 kilometers (3.6 mi), so you'll have plenty of time to soak in the scenery.
As you set out on your hike to Consolation Lakes, you'll pass the iconic Moraine Lake Rockpile and walk through remnants of an old rockslide off the Tower of Babel. The trail then leads into a lush forest walk along the shores of Babel Creek.
When you reach Consolation Lakes, you'll be staring at the crystal-clear waters surrounded by towering peaks. This spot is often less busy than other popular viewpoints.
The Consolation Lakes trail is most commonly hiked from March to November.
Icefields Parkway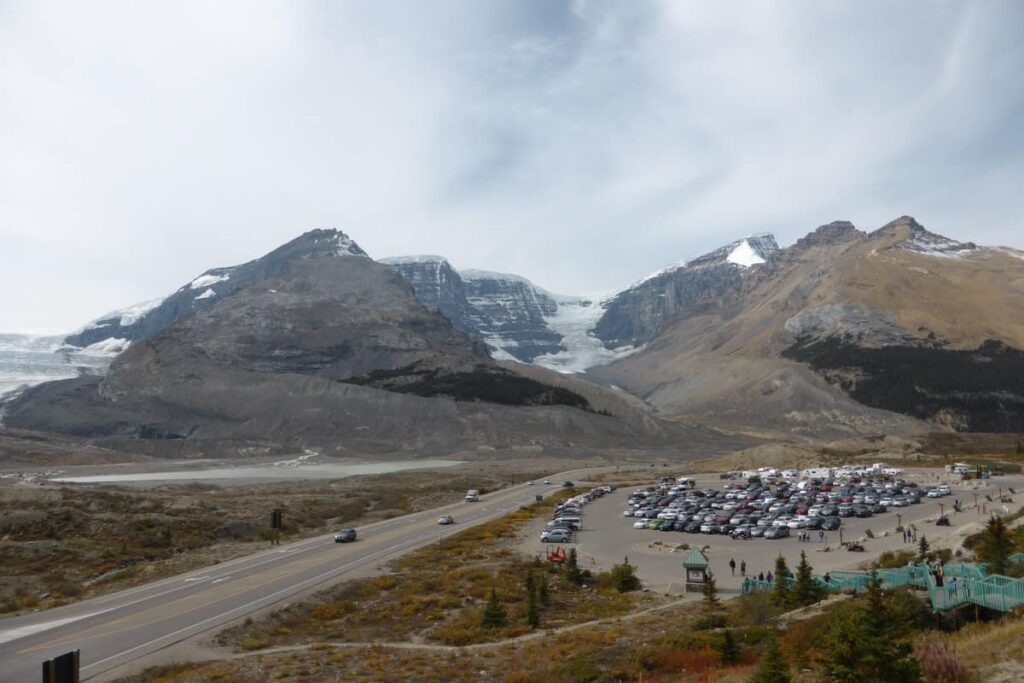 The Icefields Parkway is a must-see when exploring Banff National Park. This 230-kilometer-long stretch of highway (143 miles) winds through Banff and Jasper National Parks, connecting Lake Louise with Jasper. It's a scenic and accessible route – a two-lane paved highway (Highway 93N).
As you drive along the parkway, you'll encounter numerous picturesque stop-offs adorned with glaciers and towering peaks. One notable point is the Columbia Icefield, a massive icefield that covers a large portion of the parkway. It boasts a mesmerizing view, and you can also venture onto the ice via the Ice Explorer tour.
Make time for other stunning stops like Peyto Lake and Bow Lake. These turquoise lakes provide perfect photo opportunities and are ideal for a leisurely stroll around their shores. If you have enough time, you can hike into the backcountry. You'll be rewarded for your efforts, promise!
Road conditions and weather vary significantly throughout the year, so check before you embark on your adventure along the Icefields Parkway. 
Bow Lake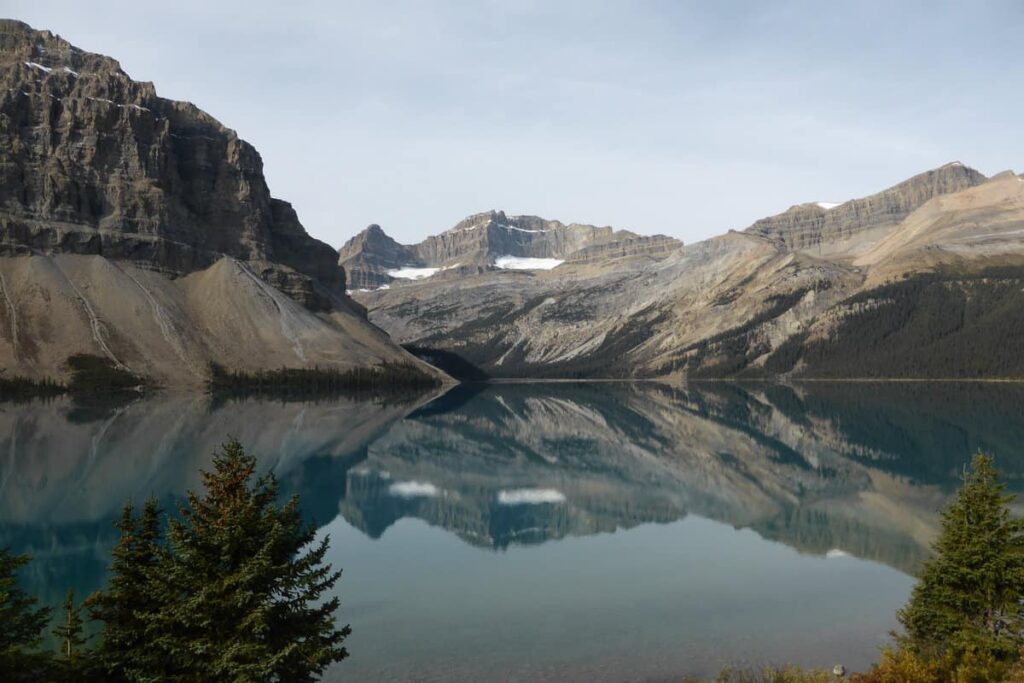 Bow Lake is one of the top recommendations for a stop along the Icefields Parkway in Banff National Park. As you venture to this picturesque destination, you'll quickly understand why it's a favorite among travelers.
What sets Bow Lake apart is its stunning turquoise color, a product of being a glacier-fed lake. While experiencing this breathtaking sight, you'll have plenty to do during your visit. There are numerous activities to explore, from photography and hiking to canoeing, kayaking, and fishing. In the winter, consider snowshoeing or backcountry skiing for an exciting adventure.
One of the most beloved aspects of a visit to Bow Lake is the opportunity to hike along its edge. This family-friendly hike covers 3.4 km and is suitable for all skill levels. Walking along the shore, you'll have unparalleled views of the surrounding mountains and landscape.
ALSO READ: The Ultimate Guide to Bow Lake
Peyto Lake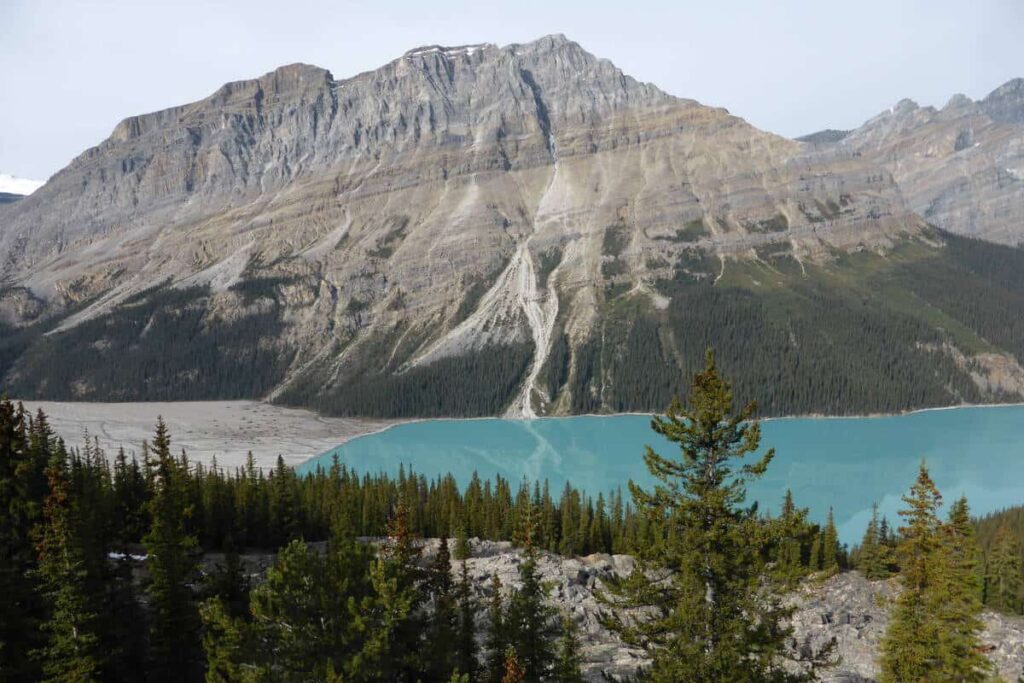 Another unbeatable view in Banff awaits you at Peyto Lake. This super touristy glacier-fed lake, known for its distinctive turquoise color, is accessible via the Icefields Parkway.
After a two-year closure for a parking lot extension, Peyto Lake reopened on October 9, 2021. So with more people able to park there, be ready to see lots of people on the trail leading up to the lake and the viewpoint and overlook.
The lake's stunning blue color, especially in summer, is a natural phenomenon in many glacier lakes. Glaciers grind rock into fine particles, called "rock flour", which gets carried downstream into the lake. This rock flour is responsible for producing Peyto Lake's breathtaking blue hue.
While visiting Peyto Lake, here's what you can expect:
Easy access: The lake is conveniently located between Lake Louise Village and Jasper, along the Icefields Parkway (Highway 93 N).
Short hike: You're not coming here for a challenging day hike. Instead, expect a brief journey to epic views. The path to Peyto Lake is a relatively easy yet rewarding hike.
Picture-perfect moments: Don't forget your camera! Capture memories of the spectacular sight that is Peyto Lake, surrounded by picturesque mountain ranges.
The best time to visit Peyto Lake is during the summer when the lake's color is most vibrant. 
Mistaya Canyon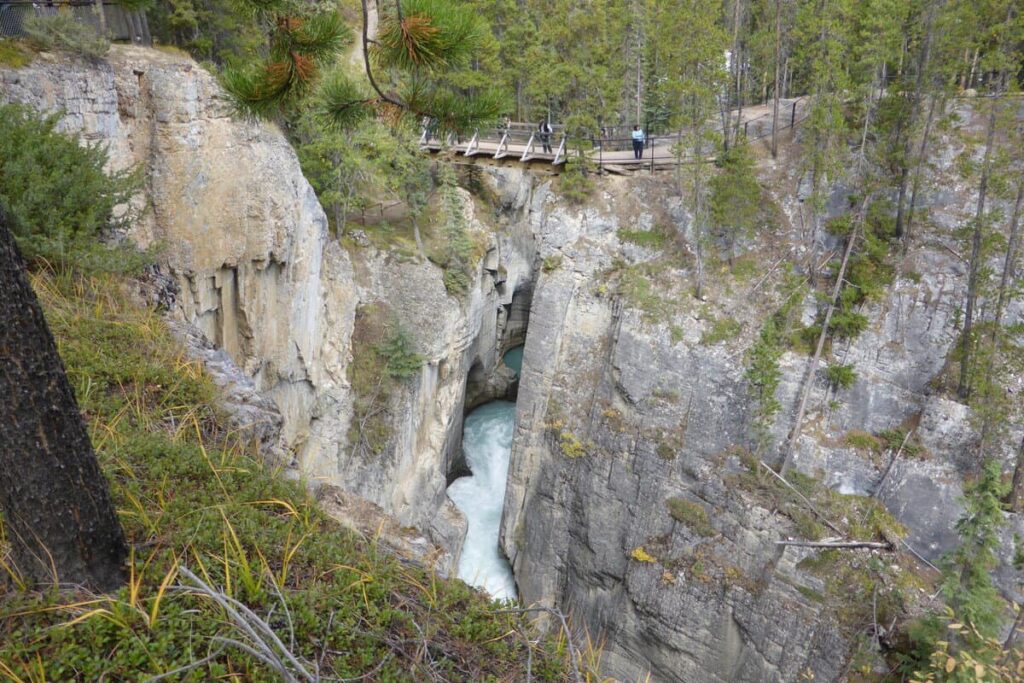 Mistaya Canyon is a must-see attraction along the Icefields Parkway in Banff National Park. This scenic gem is about 5 km south of the North Saskatchewan River. It is easily accessible from a parking lot just a short walk away.
As you stroll through the forest, you'll reach a wooden bridge crossing the Mistaya River. You can look down the deep canyon and its curvy limestone walls here. The rushing water of the Mistaya River, originating from Peyto Lake, has sculpted these walls and eroded pothole depressions in the rock, creating a unique landscape.
Many people find this their favorite stop on the Icefields Parkway. Its accessibility and breathtaking scenery make it the perfect place to stretch your legs and snap photos.
Whether you're on a day trip from Lake Louise, which is just a 1-hour drive south, or exploring the park's many attractions, Mistaya Canyon should definitely be on your list of unbeatable views in Banff. 
BONUS: See Banff National Park from a Helicopter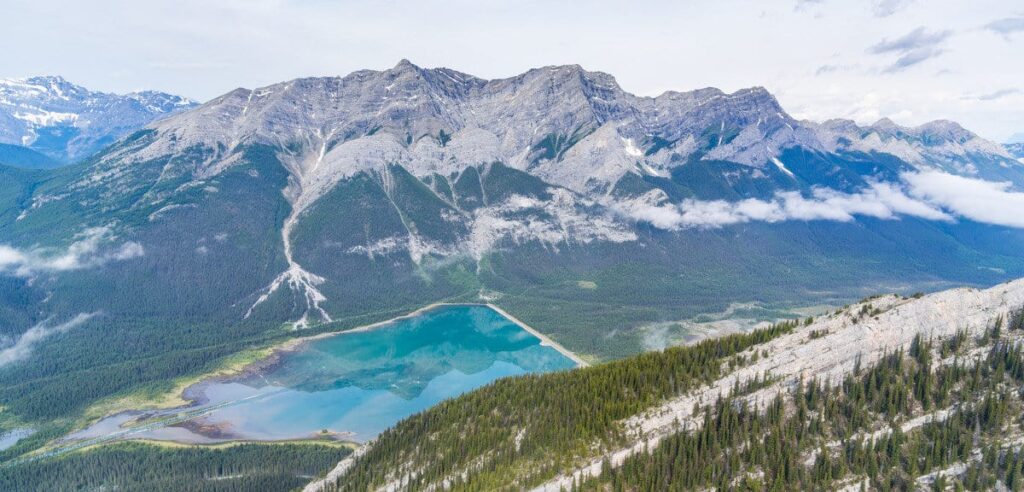 Taking a helicopter tour is undoubtedly one of the best ways to experience the unbeatable views in Banff National Park. Soaring high above the ground, you'll get a bird's-eye view of the breathtaking landscape of the Rockies.
Several tour options are available, with flights ranging from 25 minutes to 55 minutes. You can choose a Three Sisters Peaks tour that lasts for 25 minutes or an extended tour that includes glaciers, icefalls, waterfalls, alpine lakes, and 11,200-foot peaks on every flight.
Embarking on a helicopter tour allows you to see the beauty and diversity of Banff National Park from a unique perspective. 
When planning your helicopter tour, accessibility is a thing. Most tours are located in nearby Canmore, about 25 minutes away from the town of Banff. Also, helicopter tours are weather dependent, so be prepared for the possibility of rescheduling.
The map below indicates all the views describe above. Just zoom in if you want to have a closer look.
Anyhow, a Banff National Park helicopter tour is a once-in-a-lifetime opportunity to see this incredible region from a vantage point few people experience. 
ALSO READ:  Helicopter Tours in Banff
MAP: Where to Find These Unbeatable Views
Banff Travel Guide and FAQ
Where is Banff National Park, Canada?
Banff National Park is in the southwest of the province of Alberta. It's home to the towns of Banff and Lake Louise and borders the province of British Columbia in the west of Canada. You can easily access famous places like Lake Louise, Moraine Lake, Peyto Lake and the stunning Icefields Parkway from these locations.
Banff and Lake Louise are situated in the Rocky Mountains of Alberta, close to the boundary with British Columbia, as shown on the map of Banff National Park below.
Is Banff, Canada safe?
Generally speaking, yes. Like most areas, Banff has crime, but it's still a safe travel place. But Banff has a lot of wildlife, including bears and cougars, so you should always carry bear spray and exercise caution when hiking in the mountains.
What is the best time to Travel to Banff, Canada?
The best time to travel to Banff, Canada, depends on your reason for visiting the park. If you're going for the stunning nature the park's famous for, you'd better visit from June to September. The best months to ski are from January through March. 
WEATHER IN BANFF, CANADA: AVERAGE TEMPERATURE
The worst months to visit Banff National Park are November, April and May. It's too chilly to go sightseeing in November, and there isn't enough snow on the slopes yet. The iconic lakes in the park are still frozen in April and May, and it can still be quite cold.
How do I travel to Banff, Canada?
Want to fly to Banff? Calgary International Airport (Code: YYC) is the closest airport. It's 130 kilometers (81 mi) to the east of Banff.  
Several cities, including Toronto, Chicago, Seattle, and Dallas/Fort Worth, have direct flights into Calgary.
Pick up a rental vehicle at Calgary International Airport, or take a private transport service to your destination. The trip to the park takes about 1 hour and 40 minutes. 
Viator has several good options. Click the link to check the options and latest rates.
Banff Car Rental
Want to rent a car during your stay in Banff National Park? Rent one at Calgary International Airport or in the city of Calgary. Yep, there are rental firms in Lake Louise and Banff, but as these are small towns, your rental options can be limited.
Avis is a reputable car rental company, which I've used many times. Book now with Avis
What do I pack for Banff, Canada?
The time of year will affect what you should bring with you on your trip to Banff, Canada. If you plan to spend your summer vacation in Banff National Park, you should be okay with light-colored, breathable clothing. Bring a few sweaters, too, as Banff's summer evenings can be chilly. You're in the mountains, after all. 
When visiting in winter, bring a heavy jacket, such as a parka, and other winter clothing, such as warm pants, long underwear, and (fleece) sweaters. Don't take it lightly because Banff's wintertime lows can reach well below zero.
Banff Travel Planning Guide
Do I need a visa for Banff?
Most likely not. Citizens of the US, most European countries, Australia and New Zealand don't need a visa to enter Canada. Not sure? Click the link to see whether you need a visa or not. The typical length of stay in Canada for people with visa-exempt passports is 90 days.
Do I need travel insurance for Banff?
You bet. Feel confident while traveling with a plan from Travel Insurance Master, one of the top names in travel insurance, for just USD 10 on average per day.
What's the best way to book my Banff accommodation?
If you plan to book a hotel, hostel or bed & breakfast, Booking.com is your best bet. It has the most hotels listed and often offers the best rates.
Do I need to rent a car in Banf?
Absolutely. While Banff is one of the few national parks in North America with a sizeable public transport network, I strongly advise renting a car if you want to make the most of your visit.
Will my phone work in Banff?
It depends. In the towns of Banff and Lake Louise, you should have good to excellent reception. However, in more remote areas, the signal is spotty. In many places, there will be no signal at all.
What's the best site to buy Banff flights? 
If you're looking for cheap flights to Banff, I recommend Skyscanner. No surprises with suddenly increased rates (for taxes, seats or luggage) upon checkout. What you see is what you get.