The most comfortable and luxurious way to travel to Banff National Park is by private jet. If you intend to do that, you've come to the right place. This article answers all your questions. 
Probably want to visit Banff National Park because of the majestic scenery. Or maybe you want to fly to Banff because of the three ski resorts in the park.
In either case, a variety of nearby airports can serve private jet traffic. Before you decide on what airport to fly to, you'll also need to know the rules in Canada regarding flying to the country on a private jet. 
You also might wanna know the top operators that can accommodate your trip to Banff National Park on a private jet and their ground services.
Private jets can often be arranged at short notice, accommodating last-minute plans and changes. 
Time to check it out!
What Are the Closest Airports to Banff for Private Jets?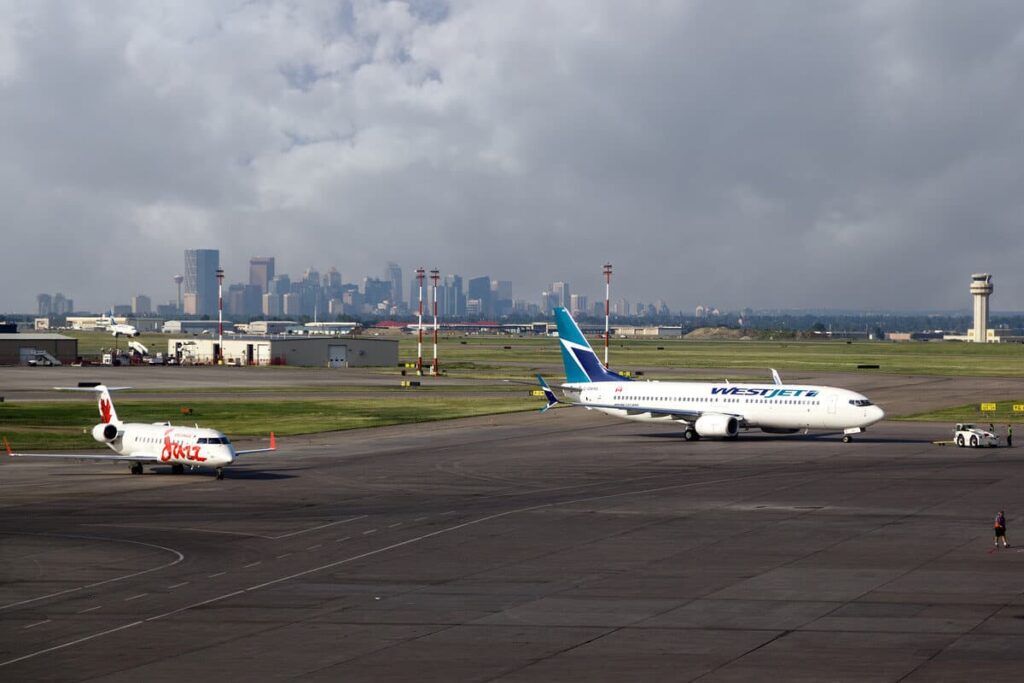 When planning a trip to Banff on a private jet, knowing which airports are nearby and can accommodate your aircraft is essential. 
Alberta has two so-called Airports of Entry (AOE): Calgary International Airport (YYC) and Edmonton International Airport (YEG). These airports are authorized as an "airport of entry for clearance of all classes of scheduled and unscheduled aircraft".
The closest airport to Banff is Calgary International Airport. It's only 130 kilometers (81 mi) away from the park gates. Driving to Banff will take you about 90 minutes.
If you also plan to travel to Jasper National Park, the closest airport is Edmonton International Airport (393 kilometers or 244 mi to the town of Jasper).
Aside from the above two airports, there are two other more or less nearby options to consider. These are Kelowna (YLW) and Kalispell (FCA) in Montana, close to the Canadian border. These airports are farther from Banff and require a second flight or several hours' drive to the park. 
Therefore, arranging a car rental or booking a private car service may be an excellent solution for your trip from the airport to Banff. Your private jet charter company can often arrange this for you.
While Banff officially has its own airport, Banff Airport (YBA), just north of town, it's not open to private jet landings. Reopenend in 2007, this airstrip (that's all there is to it) is exclusively used for emergency and diversionary landings. The airstrip is operated by Parks Canada. 
Distance table
Below you'll find the distances from the abovementioned airports to the park's towns of Banff and Lake Louise. 
| AIRPORT | DISTANCE TO BANFF | DISTANCE TO LAKE LOUISE | DURATION |
| --- | --- | --- | --- |
| Calgary (YYC) | 144 km (89 mi) | 198 km (123 mi) | 1.33/2.07 hours |
| Edmonton International Airport (YEG) | 388 km (241 mi) | 440 km (273 mi) | 3.42/4.20 hours |
| Kelowna International Airport (YLW) | 412 km (256 mi) | 469 km (291 mi) | 4.36/5.13/ hours |
| Kalispell City Airport (FCA) | 485 km (301 mi) | 480 km (298 mi) | 5.13/5.08 hours |
Distance table private jet airports to Banff National Park
How to Charter a Private Jet to Banff?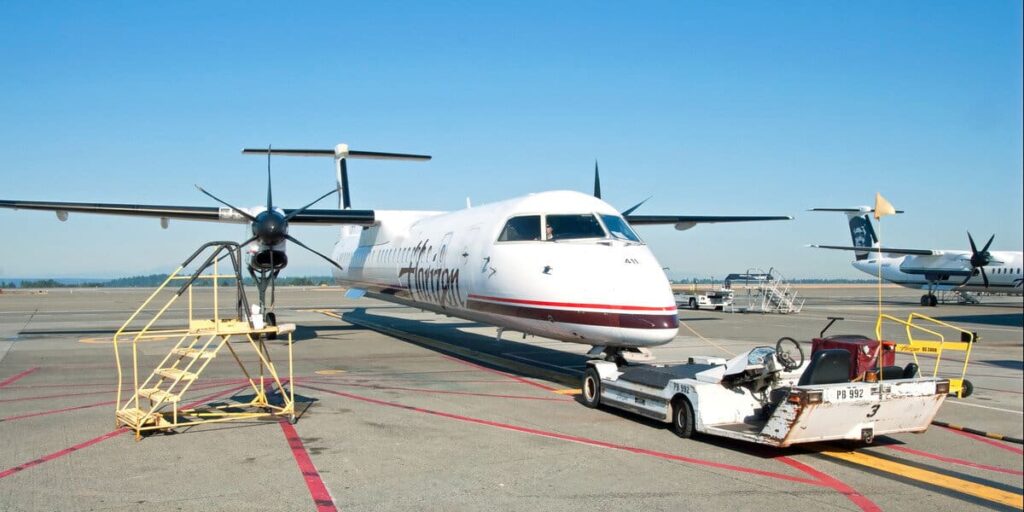 To charter a private jet to Banff, you can contact several companies offering private jet charter services to an airport close to the park.
One option to consider is Mercury Jets. It provides tailored quotes based on your specific needs. You can fill out their request form or call their agents available 24/7 at +1 212 – 840 8000.
Another company offering private jet charter flights to Banff is Executive Fliteways. You can reach them at + 1 800 – 533 3363 to book your charter flight.
evoJets is another service that arranges private jet flights to Banff. Banff Airport (YBA) is their preferred choice, conveniently located within the city. You can reach them at +1 877 – 970 5387.
Finally, Priority One Jets offers Banff private jet charter and air charter services. They boast access to over 7,000 aircraft worldwide. You can reach them at +1 888 – 671 5387.
If you would like an immediate online estimate of the cost to fly to Banff from your location in the US, you may want to check out Monarch Air Group. Their online booking tool also allows you to select the type of aircraft. You can call them at +1 877 – 281 3051
For a more affordable private jet experience, You can also check out JSX. JSX operates smaller flights, capping the number of passengers at 30, and uses private terminals and hangars for a more upscale feel. Give them a call at +1 800 – 435 9579. 
What to Consider When Renting a Private Jet for Banff?
Flying a private jet to Banff means luxury travel. This comes in many different sizes and shapes. There are several things to keep in mind.  
For one, the size of the aircraft and the meal options (some private jet charter companies may offer a set menu, while others may customize menus for each flight) are potential deciding factors. 
The company's hours of operation is another thing to consider when choosing your operator. While some services may only operate during certain hours, others may offer a full range of departure times at your request.
Another factor to consider is the company's service. Some companies go beyond "just" arranging your flight. They may also be willing to arrange your local transportation to the park, car rental, and accommodations. Ask your aviation company about these options. 
In any case, most private jet companies will go the extra mile for their clients.  
Top Private Jet Operators and Services
If you're interested in learning about the most prominent private jet companies, Private Jet Card Comparisons offers a comprehensive list of the top operators, such as FlyExclusive, Jet Linx Aviation, Solairus Aviation, and Jet Edge. 
These companies have experienced significant growth in charter hours, making them popular among private jet users.
Average Cost of a Private Jet to Banff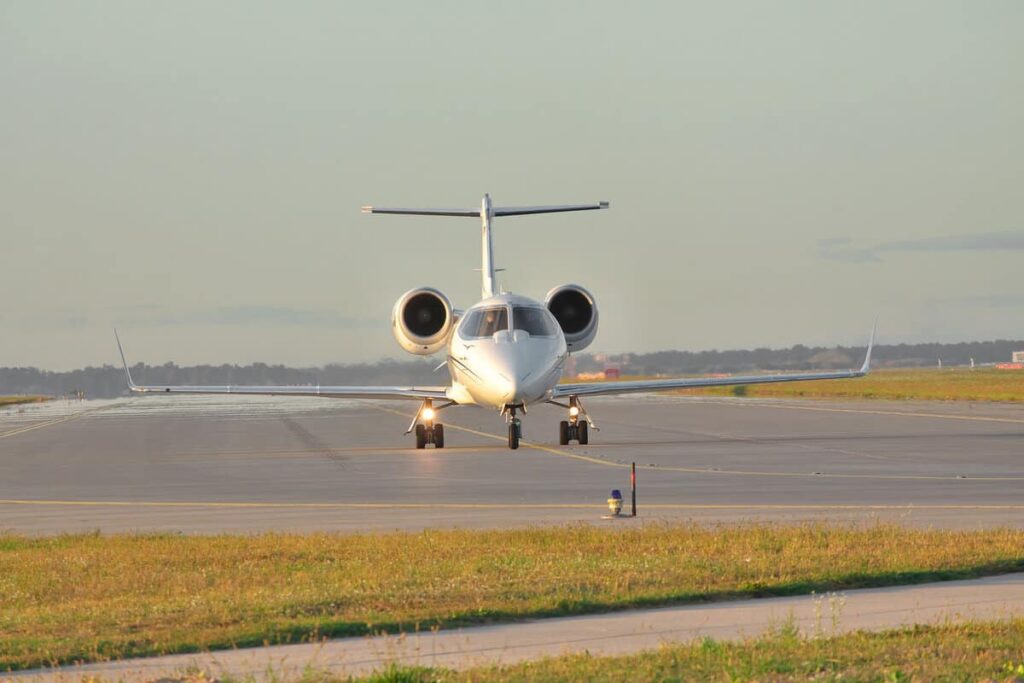 When planning a trip to Banff on a private jet, your cost will depend on factors like the distance from your location to Banff, the service level you require and the aircraft type you choose. 
Calculating based on flying hours is a good starting point to give you a proper indication of the cost. On average, you can expect to pay between $1,300 and $3,000 per flying hour for a turboprop or small jet plane, which usually seats 4 to 6 passengers. For a midsize jet that accommodates up to 9 passengers, the price range increases to $4,000 and $8,000 per flying hour.
Private jet charter companies, such as evoJets, offer customized charter options to Banff.
Prices can vary significantly between different private jet companies. Do some research and compare quotes to find the best deal for your Banff flight. There can be significant differences in quotes and options. 
To give you a better idea of the differences in cost, for example, Simple Charters mentions that prices at Banff Airport can range from $1,350 per hour for a turboprop to $12,950 per hour for a luxury large cabin jet.
Types of Private Jets to Fly You to Banff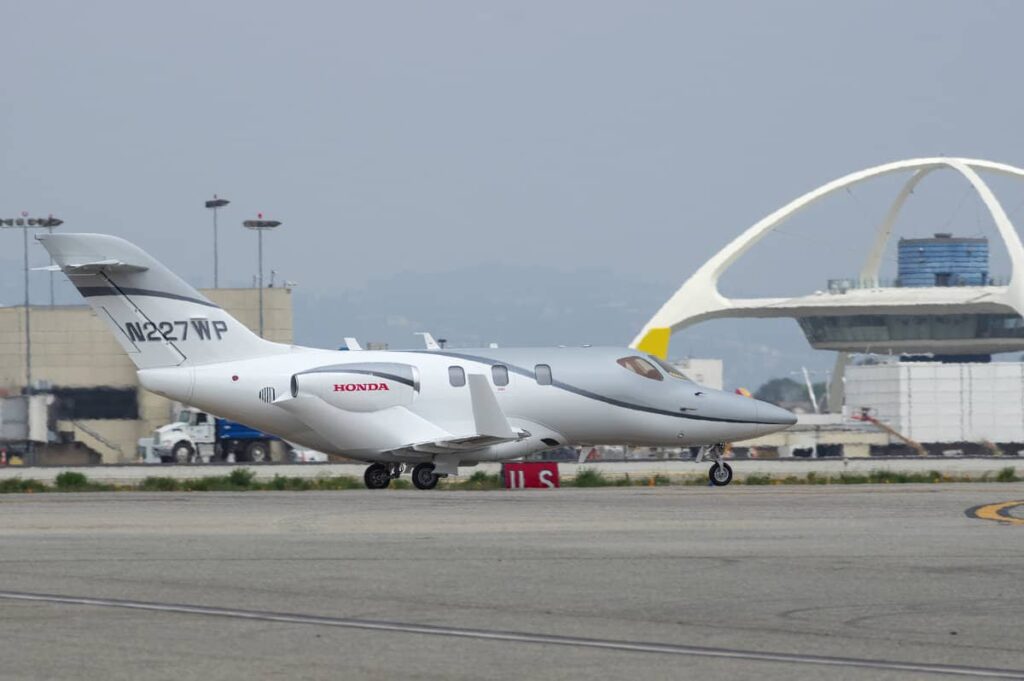 If you wish to take a private flight to Banff, you have access to a considerable fleet of options. There are different models for each jet type.  
Let's have a look.    
Very Light Jets (VLJs)
These are small, single-pilot certified jets with a range of up to 1,000 miles. They are ideal for short trips and can be more cost-effective than larger jets.
Models
Cirrus Vision Jet
HondaJet HA-420 (see pic above)
Eclipse 550
Light Jets
These are slightly larger than VLJs and can carry up to eight passengers. They have a range of up to 2,000 miles and are ideal for regional travel.
Models
Cessna Citation CJ3+
Embraer Phenom 300E
Learjet 75 Liberty
Midsize Jets
These jets can carry up to nine passengers and have a range of up to 3,000 miles. They are suitable for longer regional trips and can fly non-stop between major cities.
Models
Bombardier Learjet 60XR
Gulfstream G150
Hawker 900XP
Super Midsize Jets
These jets can carry up to 12 passengers and have a range of up to 4,500 miles. They are ideal for transcontinental flights.
Models
Bombardier Challenger 350
Cessna Citation Longitude
Gulfstream G280
Large Cabin Jets
These jets can carry up to 19 passengers and have a range of up to 7,000 miles. They are ideal for long-haul flights and feature amenities such as full-size beds and showers.
Models
Bombardier Global 6000
Gulfstream G650ER
Dassault Falcon 8X
Turbo Props
These small, propeller-driven aircraft are ideal for short trips and can land on shorter runways. They are often used for regional travel and can carry up to 10 passengers.
Models
Pilatus PC-12
Beechcraft King Air 260
Beechcraft King Air 350i
The characteristics and capacities of private aircraft vary widely because each category has many types, many more than the three listed here for each category. 
If you want to know more about the above aircraft, click the links. 
Tips for Traveling by Private Jet to Banff
When planning a trip to Banff on a private jet, you need to consider several factors for a smooth and hassle-free journey. 
The key is selecting a reputable charter company such as evoJets or Coastprivate. They ensure a seamless experience. But the same goes for any reputable private jet charter company, so no worries there.
Since there is quite a bit of paperwork to complete and you don't want to forget anything important at the last minute, make your flight reservations well in advance. 
Even though the procedures are pretty straightforward, it's good to know a few things about visiting a foreign country. Pay attention to all prices, and don't hesitate to ask more than once if necessary. 
Also, make sure you know the total cost of your booking. Some airlines may include all charges under one heading, while others may list them individually.
Don't forget to check online reviews. The most straightforward approach to decide if the service is good for you is to read reviews of previous users who have tried the service.
Are There Any Special Requirements for Flying Privately into Canada?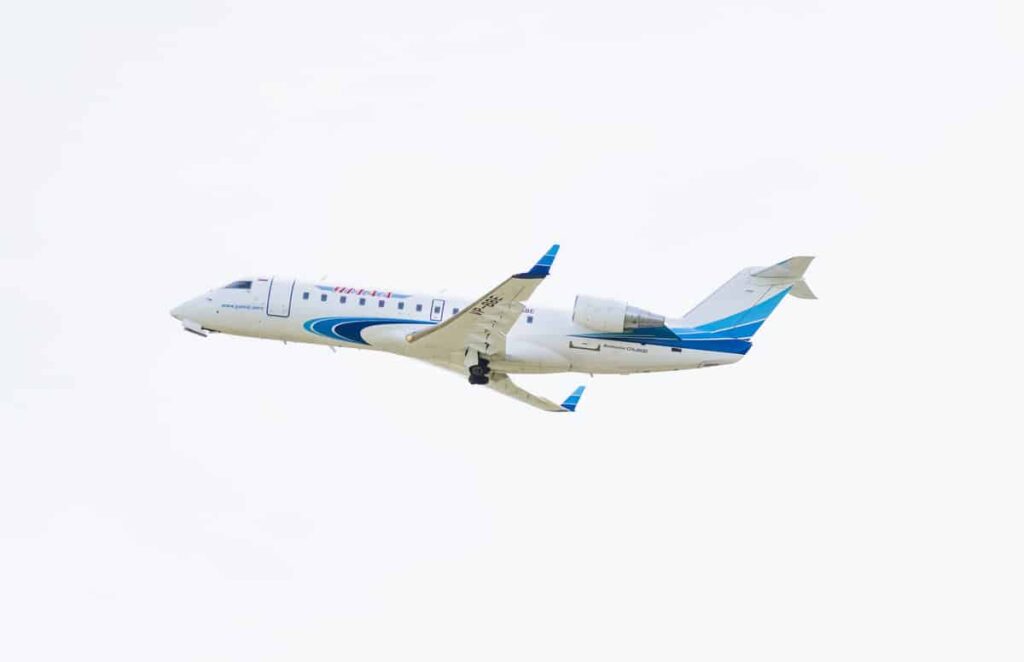 When flying on a private jet to Banff from abroad, there are some requirements to consider before embarking on your journey. 
CANPASS Program
One important program to be aware of is CANPASS – Private Aircraft. 
This program simplifies the border clearance process for private aircraft carrying no more than 15 people, including the crew, traveling from the United States to Canada. This means sped-up border crossings for frequent, low-risk, pre-screened travelers from the United States into Canada.
Before entering Canada, you will need to complete a Declaration Card. This card will be provided to you on board, and you need to fill it out before arrival. 
You can find more information on the entry process on Travel.gc.ca's Entering Canada page.
Regarding travel entry requirements, you'll need some documents to fly into Canada. Travel.gc.ca's Traveller entry requirements page provides a comprehensive list of what you need to know.
You can find the latest guidelines on the AOPA's Canada page.
Good to know: When traveling to or through Canada, CANPASS members who are lawful permanent US residents (green card holders or other comparable legal proof of US status) do not need an Electronic Travel Authorization (eTA). 
However, you should always carry a legitimate document proving your status as a lawful permanent resident of the United States.
ArriveCAN Program
Another program worth mentioning is the government of Canada's ArriveCAN program. This advance declaration will save you time at the border. 
It also provides the Canada Border Services Agency (Customs) with advance notice of your travel plans. You can register and create an account online or download the ArriveCAN mobile app.
ArriveCAN may ask you to provide identification, such as your passport or other form of travel authorization, contact and itinerary information, and information about customs declarations related to previous travel.
Frequently Asked Questions
Does Banff have a private airport?
Yes, Banff has an airport called Banff Airport (CYBA). However, this airstrip is exclusively used for emergency and diversionary landings. The airstrip is operated by Parks Canada. 
Can I fly directly to Banff?
No, you can't fly directly to Banff, unfortunately. The Banff airstrip is exclusively used for emergency and diversionary landings. Your closest possibility to land with a private aircraft is at Calgary International Airport (YYC), 144 kilometers (from Banff. 
How much does it cost to fly on a private jet?
The cost of flying on a private jet varies depending on the distance, aircraft type, and flight duration. For instance, evoJets offers private flights to and from Calgary, with an option to receive a quote based on your specific requirements.
How much is a private flight to Canada?
The cost of a private flight to Canada, like Banff (Calgary), depends on factors like the departure city, aircraft chosen, and travel time. Consult with a private jet charter service like AirSprint or NetJets to obtain an accurate quote for your journey.