Want to camp in Zion but with a bit of luxury? Say hi to glamping! The park offers several options for this camping experience while enjoying hotel-like amenities. Read on to learn all about glamping in Zion National Park. 
Zion National Park is blessed with good weather most days, making the park an excellent location for a pleasant glamping experience. Add to that the magnificent and rather unique surroundings, and you can't go wrong with this luxurious style of camping. The park has many options.  
Sounds good? Then let's dive in!
What Is Glamping?
First, let me explain what glamping is and where the word comes from.
Glamping, or glamorous camping, combines the beauty of nature with the comforts of home. It's perfect if you love the outdoors but aren't keen on traditional camping. You can have the best of both worlds while experiencing the picturesque landscape of Zion National Park.
Picture this: You wake up to birds chirping and a magnificent view of towering sandstone cliffs without having to sleep on the cold, hard ground. This is the essence of glamping. You'll enjoy a cozy, comfortable lodging experience, complete with plush beds, electricity, and other amenities you'd expect in a nice hotel.
There are several types of glamping accommodations, like spacious tents, yurts, or even tiny homes. For example, you can stay at an upscale glamping site such as Under Canvas Zion, where luxury tent lodgings cater to your every need.
Glamping is not just about the lodging. It also offers exciting, unique experiences. You might go stargazing under the clear night sky, roast marshmallows by a campfire, or explore Zion's incredible landscapes on a guided hike. 
Why Choose Glamping at Zion National Park
Zion National Park is famous for its awe-inspiring landscapes and iconic hikes, such as Angels Landing and the Narrows. 
By staying at a glamping site, you'll be close to all the action, making it easier to start your adventures early in the morning. Additionally, after a long day of hiking and exploring, you'll definitely appreciate returning to a cozy, well-appointed space.
Some benefits of glamping at Zion National Park include:
Comfortable, unique accommodations
Proximity to popular hiking trails
Stargazing opportunities in the dark skies
A taste of luxury while surrounded by nature
Glamping provides a connection to nature, and you'll also have the chance to meet fellow travelers who share your passion for exploration. Glamping near Zion National Park can provide a social experience you may not find at a traditional campground.
Pros and Cons of Glamping
If you're considering glamping in Zion National Park and want a general understanding of what to expect, it's good to know the pros and cons. 
I've listed them in the table below: 
| PROS | CONS |
| --- | --- |
| Comfort – Glamping provides more comfort than traditional camping. Glamping accommodations often include real beds, furniture, electricity, fans/heaters, and private bathrooms. This allows you to experience nature without roughing it too much. | Price – Glamping is expensive compared to regular tent camping, often costing more like a hotel stay. The upgraded amenities come at a premium cost. |
| Convenience – Glamping is turnkey and requires minimal gear. Tents/cabins are already set up with amenities. You don't have to have all the equipment, cookware, etc. of regular camping. Makes it easier for beginners. | Proximity to Nature – Glamping shields you from the elements more than tent camping. You don't always feel as immersed in nature due to the cushier accommodations. |
| Locations – Glamping sites are often set up in unique areas not accessible to regular camping, like mountain ledges, beaches, vineyards, and safari parks. This allows you to camp in stunning settings. | Space Constraints – Glamping tents/cabins are often small with less storage than an RV or car camping setup due to their pre-assembled nature. You have to pack lightly. |
| Accessibility – Glamping opens camping to people unable or unwilling to do traditional camping. The added comforts and amenities make it accessible for families, older adults, and people with disabilities. | Availability – Glamping sites need to be reserved well in advance as they are growing in popularity but are limited in number. Last-minute trips are hard to find. |
| Social Setting – Glamping sites often have communal spaces for socializing. You can meet fellow glampers while still having a private tent/cabin for sleeping. Makes it perfect for group getaways. | Lack of Flexibility – You can't be as freeform with activities/meals because glamping accommodations are fixed structures rather than the gear you can move around. |
| Eco-Friendly – Some glamping accommodations utilize eco-friendly building materials like canvas tents and reuse materials and have a lower environmental impact than hotels. | Dependence on Provider – You depend on the glamping provider for site maintenance, services, and supplies. Issues are out of your control. |
| Unique Experiences – Glamping allows unique accommodations like yurts, treehouses, covered wagons, teepees, and transparent bubbles, opening up novel ways to experience the outdoors. | Adverse Weather – Glamping sites are sometimes not designed well to handle adverse weather compared to sturdy tents/RVs. Activities can be constrained by weather conditions. |
Pros and cons of glamping in Zion National Park
Best Time for Glamping in Zion National Park
Pick the best time when planning your glamping trip to Zion National Park. The weather and time of year can significantly affect your trip, so let's consider some essential stuff.
Spring (April to June) is a popular time for experienced and newbie glampers. During this season, the temperatures are pleasant, hovering around 60s to 70s°F (16-24°C). Wildflowers bloom, which provides a beautiful touch to the already stunning landscape. 
However, be prepared for occasional rainfall, and bring appropriate rain gear.
Summer (July to August) offers warmer temperatures, often soaring above 90°F (32°C). While heat-loving glampers might find this appealing, hiking and other outdoor activities can be more challenging. 
On the plus side, you'll enjoy extended daylight hours. Just be prepared for crowds, as this is the peak season for visitors.
Fall (September to November) brings cooler temperatures and less rain, making it an ideal choice to escape the summer heat. Expect daytime temperatures to range from 60s to 70s°F (16-24°C), gradually dropping as winter approaches. 
Fall foliage tends to peak in late October, so plan accordingly to witness the vibrant colors.
Winter (December to March) is the least crowded time to visit Zion National Park. While glamping options may be more limited, you'll find lower rates and a more tranquil atmosphere. 
Snowfall is quite common, presenting a unique opportunity to explore the park's frosty landscapes. Daytime temperatures typically range from 40s to 50s°F (4-10°C), but nights can be significantly colder. So be sure to pack warm clothing and sturdy winter gear.
Glamping Options at Zion National Park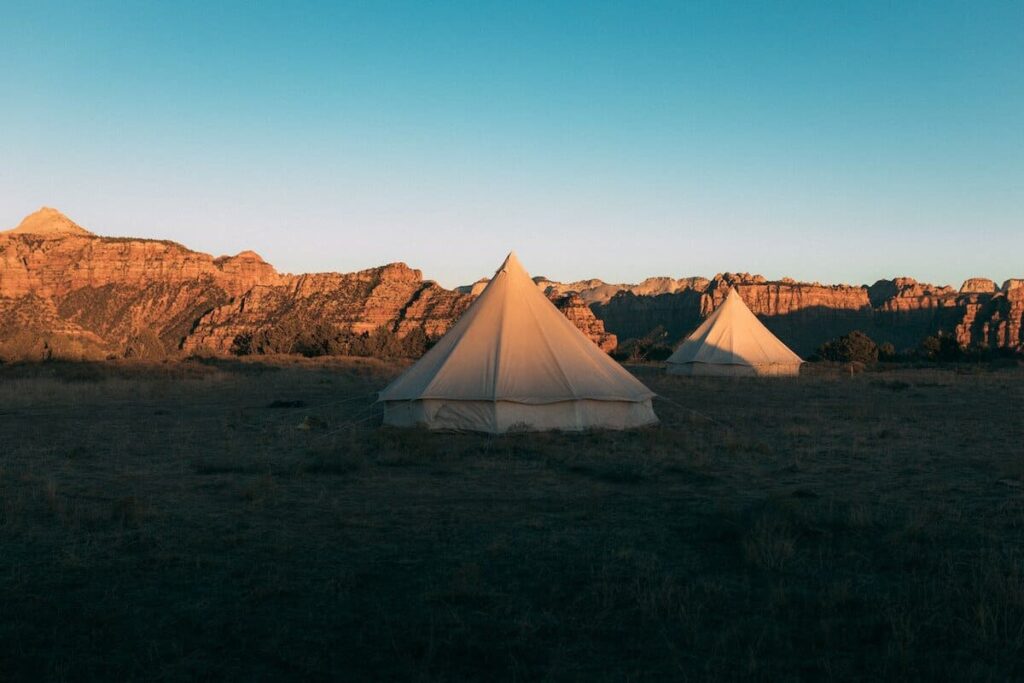 If you're considering glamping in Zion National Park, it's good to be aware of the different types of accommodations available. They vary quite a bit, so check out the list below to understand which type of glamping accommodation suits you best.
Luxury Tents
Experience the beauty of nature without sacrificing comfort by staying in one of the upscale Luxury Tents near Zion National Park. These tents have cozy beds, private decks, and hot showers. 
Imagine immersing yourself on this deck, enjoying the stunning views of the park surrounded by top-notch amenities.
Eco-Pods
If you're searching for environmentally friendly accommodations, consider staying in an Eco-Pod. These sustainable structures provide all the necessary amenities while minimizing your environmental footprint. 
Eco-Pods are also designed to blend seamlessly with the natural surroundings.
Treehouses
Get a bird's eye view of Zion National Park by staying in a unique Treehouse. These elevated dwellings provide spectacular views of the park and a truly one-of-a-kind experience. 
Nestled among the trees, treehouses allow you to connect with nature in a whole new way.
Cabins
Cabins in Zion National Park offer an excellent alternative to tents and treehouses if you prefer a more solid structure. These cozy accommodations have comfortable beds, kitchenettes, and private bathrooms. 
Cabins allow you to enjoy all the comforts of home, surrounded by Zion's majestic scenery.
Getting to Zion National Park
So, you're planning a glamping trip to the beautiful Zion National Park? Let's talk about how to get there.
First, you should know that Zion National Park is located in southwestern Utah, near the small town of Springdale. The most common way to reach the park is by flying into Las Vegas McCarran International Airport (LAS), about a 2.5-hour drive from the park. Alternatively, you can fly into Salt Lake City International Airport (SLC), but it's a slightly longer drive, around 4.5 hours.
Once you land, you'll need to rent a car to make your way to Zion. It's essential to reserve a vehicle early, as rental cars can be in high demand, especially during peak travel seasons like summer and fall. 
When driving from either Las Vegas or Salt Lake City, you'll find that the journey is quite scenic, offering plenty of breathtaking views along the way.
Upon arriving at the park, you'll be glad to know that there are several convenient entrances:
The Zion Canyon Visitor Center: This is the main entrance to the park, located just off Highway 9 in Springdale.
The East Entrance: This entrance is located on the park's east side and accessible from Highway 9.
The Kolob Canyons Entrance: This entrance is on the park's northwest side, accessible via Interstate 15.
Make sure to have some cash on hand, as the park has an entrance fee. As of September 2023, the cost is $35 per vehicle, valid for 7 days. Also, watch the Zion National Park website for any updates on closures or park regulations that may impact your visit.
How Much Does Zion Glamping Typically Cost?
Knowing the costs is important if planning a glamping trip near Zion National Park. Luckily, various glamping accommodations are available, each with different prices and amenities. Prices may vary depending on the time of year, location, and extra services offered.
At the lower end of the price range, you can find tent options with basic amenities starting at around $120 per night. For example, a hilltop tent overlooking the park can be an excellent option for you.
If you're looking for something more luxurious, you'll find higher-priced accommodations with more amenities and services. One such option is the safari-like tents at Under Canvas Zion, which have a more upscale feel and offer rates starting at around $350 per night. These tents can offer warmth and comfort, making your stay more enjoyable.
Within the mid-price range, starting at around $100 per night, you might also come across Desert Sage Retreat, which includes free private parking and access to a sauna. 
Located in Colorado City, Arizona, it offers a convenient location between Zion National Park and the North Rim of the Grand Canyon.
What Amenities Can I Expect at a Zion Glamping Site?
When you go glamping in Zion National Park, you can expect a unique and comfortable camping experience with various amenities. Many glamping sites offer amenities like showers, flushing toilets, and campfire areas for a more convenient and enjoyable stay. Some sites even have stargazing areas to marvel at the night skies.
Each glamping site is unique, so the accommodations may vary. For instance, you might find options like hilltop tents overlooking the park or cozy tiny houses for a more intimate experience. 
While some Zion glamping sites may be off-grid, meaning no power or Wi-Fi, others offer unique accommodations with added comforts like electricity, cozy beds, and heating and air conditioning. So research your options before booking. It's essential to ensure the site meets your needs and expectations.
Tips for First-Time Glampers in Zion
So, you're planning your first glamping trip to Zion National Park? Great choice! Before you embark on this wondrous adventure, here are some tips to help you have an unforgettable experience.
Choose the right glamping site: With so many glamping options in Zion, it's important to find one that suits your preferences. Are you looking for luxury or a more rustic experience? Consider the amenities, ambiance, and location to ensure you choose the perfect site for your needs.
Pack wisely: Make sure you bring the essentials to your glamping stay in Zion. 
Don't forget that glamping still involves some camping.
Bring clothing suitable for various weather conditions, as temperatures can fluctuate in Zion.
In addition, pack a good pair of hiking boots, sunscreen, bug spray, and a reusable water bottle.
Even if your glamping site provides some essentials, it's always best to be prepared.
Plan outdoor activities: One of the most rewarding aspects of glamping in Zion is exploring the beautiful landscape. You can do popular hikes like Angel's Landing, The Narrows, or Emerald Pools. Don't forget to pack a camera, as you'll want to capture the stunning views you'll encounter.
Connect with fellow glampers: One of the underrated joys of glamping is meeting like-minded travelers. Be open to engaging with others at your campsite, sharing stories around a campfire, or swapping tips about Zion's best hikes and activities. It will enhance your glamping experience.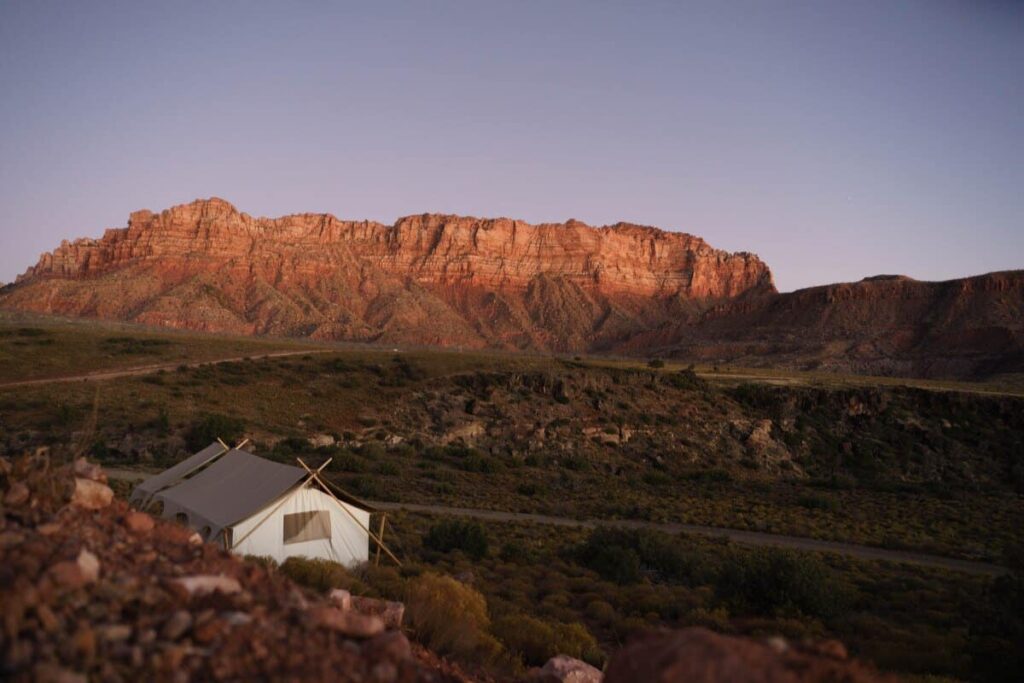 Can I Book Glamping near Both Zion and Bryce Canyon?
Yes, you can book glamping accommodations near Zion and Bryce Canyon National Parks. In fact, there are a few different options for you to choose from. These options allow you to visit both parks while enjoying a comfortable glamping experience.
One option is to book a glamping site near either park and commute between the two. This way, you can stay in a single location and just drive to the other park whenever you like exploring it. Staying near one of the parks also gives you easy access to the respective park's features and attractions, so you can make the most of your time there.
Another option is to book a glamping site near one park for a certain period, then move to a glamping site near the other park for the remaining time. This approach allows you to fully immerse yourself in each park while having the convenience of a glamping accommodation.
Alternatively, you can look for glamping sites between Zion and Bryce Canyon National Parks in one town. This way, you'll benefit from being centrally located, allowing easier access to both parks. Plus, it will enable you to explore other attractions and activities in the surrounding areas.
Some popular glamping options near Zion National Park include Zion Glamping Adventures and Under Canvas Zion.
For Bryce Canyon, you can consider booking a stay at Under Canvas Bryce Canyon or check out the top glamping options near Bryce Canyon National Park.
Plan and book your glamping accommodations in advance, as these sites can fill up quickly, especially during peak travel seasons.
Top Glamping Providers at Zion National Park
Some fantastic options are available if you plan a trip to Zion National Park and want to go glamping. Here are a few top providers for a memorable and comfortable experience.
Zion Wildflower Resort – This brand-new glamping destination is just minutes from Zion National Park's entrance. They offer a range of accommodation options, such as canvas tents, bungalows, and RV sites, ensuring you have everything you need for a glamorous camping experience.

Hilltop Tent Overlooking Zion – Situated at a terrific glamping location, this durable and waterproof tent immerses you in beautiful views and stunning sunrises. Enjoy this hilltop tent's serenity while being close to the park for easy exploration.

Base Camp 37° – This eco-friendly glamping site offers canvas tent accommodations with breathtaking views of Zion National Park. The location is secluded, allowing you to fully connect with nature while still having access to modern amenities.
Book your glamping in advance, as these popular spots can fill quickly. 
Packing List for Glamping in Zion National Park
Packing for your glamping adventure in Zion National Park is easy if you know what essentials to bring. Since you'll enjoy the comforts of a more luxurious camping experience, you can focus on key items and leave some traditional gear behind. Here are some must-have items for your packing list.
Ensure you have clothing adapted to the weather conditions. Zion National Park can get warm during the day, so pack lightweight and breathable clothes like shorts, T-shirts, and hiking pants. Bring a fleece or light jacket for evenings, as the temperature can drop significantly. Don't forget to pack comfortable hiking shoes or sturdy sandals to help you navigate the trails.

Take along some essential personal items. Since you're glamping, you may have access to showers and restrooms on-site, so pack travel-sized toiletries like shampoo, conditioner, body wash, and a toothbrush. A quick-drying microfiber towel will come in handy as well. Sun protection is important, so include a hat, sunglasses, sunscreen, and lip balm with SPF in your bag.

Now, let's have a look at outdoor necessities. A reusable water bottle is crucial for staying hydrated while hiking in the park. You should also consider bringing a light daypack to carry your essentials on your adventures. An insect repellent and a small first aid kit will also cover you for those unexpected situations.

Also, think about entertainment options for your downtime after exploring the park. A paperback book, a deck of cards, and a portable speaker for listening to music will help you relax and unwind after a long day on the trails.

Is Glamping in Zion Available Year-Round?
Glamping in Zion National Park is typically available year-round. To help you get started, the following locations are open year-round:
Basecamp 37
Cave Lakes Canyon Ranch
AutoCamp Zion
Zion White Bison
Zion Wildflower
Zion Ponderosa Ranch
However, there are some important considerations to keep in mind:
Weather: While glamping accommodations in and around Zion National Park are available throughout the year, the weather can vary significantly depending on the season. Spring and fall are generally the most popular times for glamping due to milder temperatures. Summer can be pretty hot, and winter can bring cold temperatures and sometimes snow, particularly at higher elevations. So check the weather forecast and plan accordingly for your specific dates.

Accommodation Availability: Glamping accommodations may vary based on the time of year and demand. Popular seasons like spring and fall may have higher demand, so I advise you to make reservations in advance.

Park Regulations: Zion National Park has specific regulations and guidelines for camping, including glamping. Be sure to check the park's official website or contact them directly to understand any seasonal restrictions, permit requirements, or changes in rules that may have occurred.

Private Glamping Operators: There are also private glamping operators in Zion National Park. Their availability may differ from the park's campgrounds, so scour the internet and contact them directly to inquire about year-round availability and/or any specific considerations.
Can I Bring My Dog to My Zion Glamping Trip?
Many Zion glamping locations allow dogs, although most charge an additional fee. For instance, Zion Glamping Adventures allows two pets of any size and charges $25 per pet per stay.
Other places that accept dogs are AutoCamp Zion, Zion View Camping, Under Canvas, Basecamp 37, and Zion Wildflower. Just remember that the Pa'rus Trail is the only permitted place for dogs. So, your four-legged pal has little range of movement.