Cascade Mountain is probably the most famous mountain in Banff National Park. With its 2,998 meters (9,836 ft) elevation, the mountain dominates the view of Banff Avenue to the north. For the daredevils who want to hike up "Cascade", this article tells you everything you need to know based on my own experience – an account of a stupid undertaking.
Hiking up Cascade Mountain is a challenging undertaking. It's a long hike that will take about 8 to 10 hours to complete (out and back), and it's also slightly risky. You'll have to tread across small ridges, ledges, and rims, scramble to the top and even use your hands to keep going. So it's not for the faint of heart. 
But the reward is well worth it. You'll be treated to a fantastic view over the Rockies, including Lake Minnewanka, Twojack Lake, Mount Norquay, Sulphur Mountain, Tunnel Mountain, Rundle Mountain, the Bow Valley and the town of Banff, of course. 
Just make sure you come prepared. When I attempted this mountain a few years ago, I did most things wrong. I'll tell you all about it below, so you'll know what NOT to do. Let's dive in.
Cascade Mountain Facts
Before I tell you all you need to know about hiking up this stunning mountain, here are some facts to know what mountain you're about to take on. 
| | |
| --- | --- |
| Altitude | 2,998 meters (9,836 ft) |
| Prominence | 938 meters (3,077 ft) |
| Elevation gain | 1,806 meters (5,925 ft)  |
| Distance | 20.1 kilometers (12.5 mi) |
| Duration | between 8 and 10 hours (out and back) |
| Best time to hike | July through mid-September |
| First ascent | 1887, by Tom Wilson |
Facts about Cascade Mountain
Preparation
Preparing well for Cascade Mountain is essential. It is not your average hike in the park. Why? Because, first of all, it's a looong one. 20.1 kilometers (12.5 mi), to be exact. While there are more hikes in Banff that are of a similar distance, or even longer, it's by no means a distance to take flippantly. 
Secondly, make sure the weather conditions are good (enough). Check the forecast the evening before. Sunny and not too much wind or rain is what you want. When snow is predicted (yes, even in summer – I've seen it snow in August in Banff), postpone your trip.
Thirdly, bring a warm jacket and/or sweater, as it can be windy and cold at the summit. Also, put on sturdy hiking boots. Especially after the forest section, you'll need decent footwear.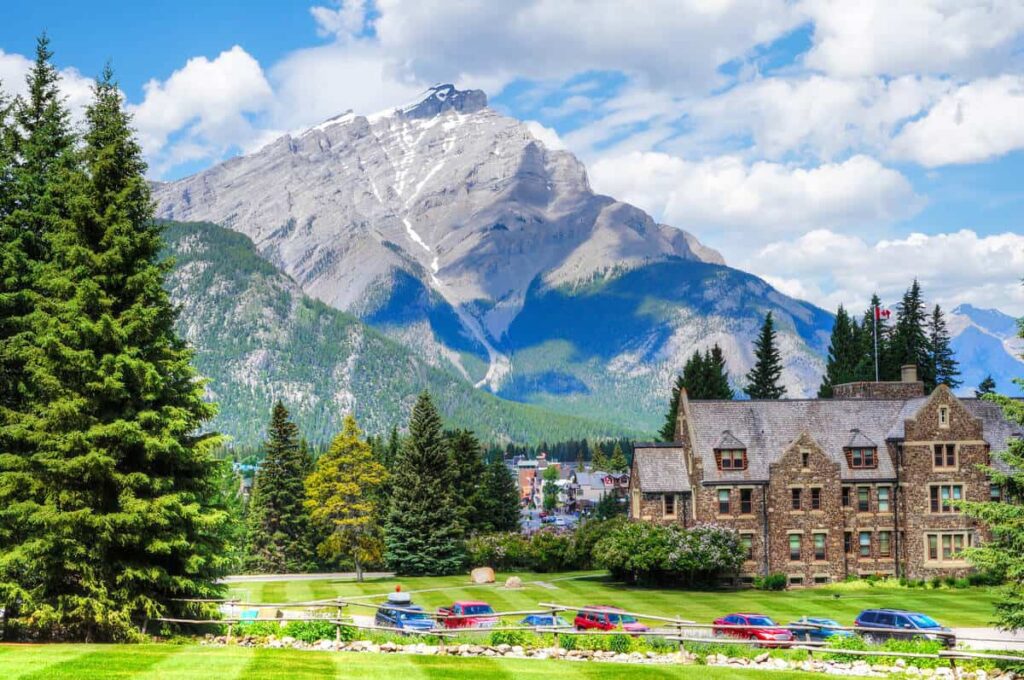 Fourthly, bring enough food and drinks in your backpack, especially on hot summer days. And don't forget bug repellent. One summer might be better than another, but it can be awful. I know by experience.
Finally, you should bring your GoPro or another action camera, as the trip will provide many spectacular images. And, of course, don't forget to bring your smartphone or camera to take shots during the hike. 
Other Items to Bring
Satellite phone, in case of an emergency, as you won't have a cell signal on the mountain
Torch
Swiss army knife
Hiking poles 
Best Time for the Hike
Cascade Mountain is covered in snow most of the year. It could pose a serious threat when hiking to the top. So only try to go when the snow is (almost) entirely gone. 
This suggests you should only attempt to summit it from July through mid-September.  
Regarding the time of the day: this is a long hike which will take you pretty much the entire day to complete. Don't start too late! You might end up hiking back in darkness, and you don't want that (see below).
How Challenging is the Cascade Mountain Hike?
The answer to this question probably depends on who you ask. While I didn't find it very challenging, it certainly isn't easy. That has to do with the hike's length of more than 20 kilometers (12.5 mi) and the scramble near the top. 
It's not a beginner's hike, that's for sure. If you're a beginner and aim to summit Cascade Mountain, it's probably a good idea to try other, more accessible hikes in Banff first. Then attempt this one. 
The Hike, the Story

Let me tell you what the hike up Cascade is like by me revisiting my memories of the hike. They are a mix of good and bad things. And these bad things, in particular, can be of value to you because they'll teach you what NOT to do. 
Well, here goes. 
I was working in a shop on Banff Avenue, so as soon as I stepped out the door at looked to the left, I saw Cascade towering high above Banff. 
It had become a familiar sight over the previous months, but one day in August, it appeared to me that it would be rather cool to stand on the top of that iconic mountain. 
I talked to my Japanese co-worker Tetsuya about a trip to the summit. Asked him if he was up for it. Four days later, when we were both off from work (Banff has pretty much a 24/7 economy), we went for it. 
The Start of the Hike
We were lucky. It was a bright, sunny day. We put on some hiking boots, I stuffed my backpack with bottles of water and some food – including spaghetti leftovers from the day before and some snacks – and we started walking straight from our staff accommodation. 
Because Cascade appears to be at the end of Banff Avenue. How far could it possibly be to the trailhead? It would prove a big mistake – as we would find out many hours later.
So off we went. We had inquired in town about the trailhead, and we knew it started from the Norquay parking lot. We walked to the train station, passed over the Trans-Canada Highway, and went straight to Norquay Mountain. 
It was a long, winding road up to the Norquay parking lot. When we finally got there, we needed to take a right turn behind the Mount Norquay Day Lodge. And yes, there it was, the trail. We crossed a wooden bridge across a rivulet and soon walked on a narrow path among the pine trees.
Mosquitoes
There wasn't much to see except trees and the sandy path that extended before us. It wasn't even steep. So far, so good. Not much later, we realized many mosquitoes terrorized the forest. No, many isn't the right word here. Crazy many. Heaps. Loads. Massive amounts. You catch my drift.
Apparently, one summer can be worse than another regarding mosquitoes; this time, it was terrible. We both pulled out a handkerchief from our backpacks and waved them around our sweating bodies, hoping to ward off those bite-eager bugs. 
It took us a couple of hours before we finally left the forest, leading up the flanks of Cascade Mountain. To be honest, it wasn't all that great. We didn't get to see much more than trees. No glimpses of the surrounding area, nothing. But the summit of our friend at the end of Banff Avenue motivated us to keep going.
The Amphitheatre
Suddenly we saw some alpine meadow in front of us. Here and there, a tuft of trees. In the distance, giant boulders lay at the bottom of the backside of Cascade. It was a massive wall in the shape of an amphitheater. Hence its name (Canadian spelling). Hundreds of meters of rock were towering above us.
A mountain goat bolted upon seeing us, and we sat on one of the boulders to have lunch. We took out the spaghetti to calory up for what was about to come. Which obviously would be the most challenging part. 
The view over the valley north of Cascade Mountain was impressive. As far as we could see, trees were draped on the mountains like a blanket. There was no road to be seen or any other sign of civilization. Just nature, pure, wild nature. 
After we had gobbled up our lunch, we crossed the terrain toward the forest. Earlier, when we had emerged from the trees, we had seen this accessible ridge, and we figured that's where we should continue our hike. 
Once we got to the ridge, we saw a sign on a wooden pole. It indicated several routes to the top. Aside from the one leading across the ridge, other routes were marked, seemingly shorter. 
But they were indicated with an apparent reason: To deter us from using those 'shortcuts'. Crosses marked the place where people had fallen and died. I'm not sure anymore, but I think I counted nineteen crosses.
The Path to the Summit
The sign was as clear as day. This was no undertaking to be taken lightly – we'd better follow the path that crossed the ridge. And so we did. We climbed on a few big rocks and continued our trek. We immediately found ourselves in a rocky, moon-like landscape. We saw rocks and here and there a bush. That was it.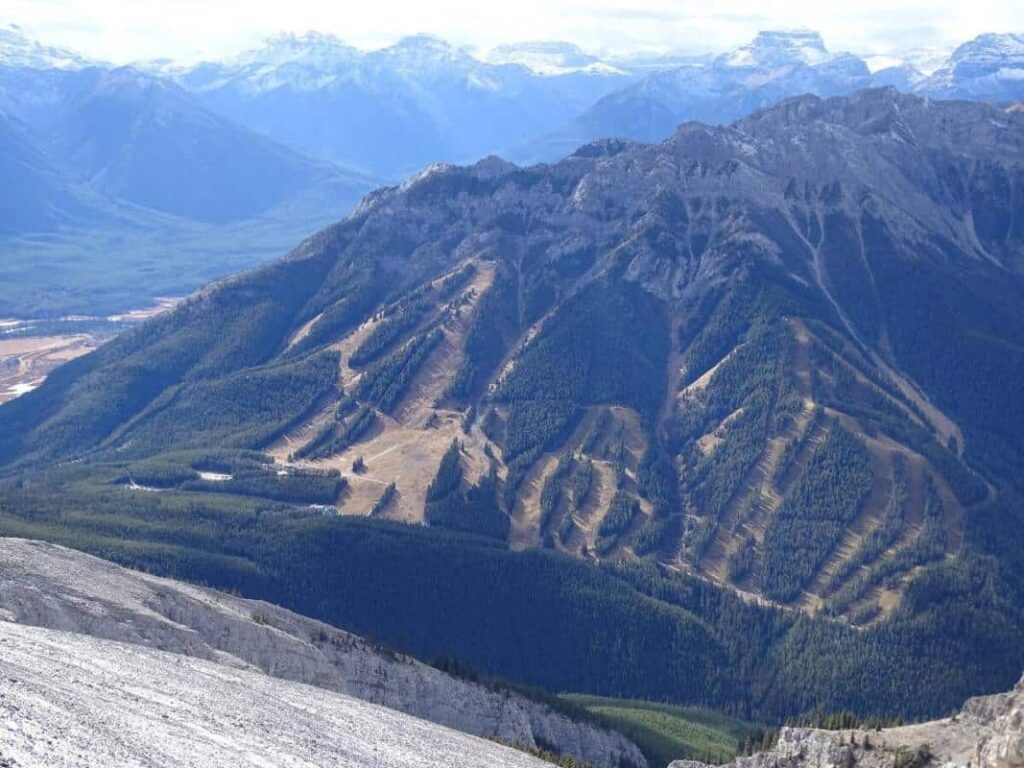 The beginning was relatively easy. The ridge was not too steep and, for the most part, solid rock. We had stunning vistas everywhere we looked. To our right, we spotted Mount Norquay, and the many paths where the trees had disappeared indicated ski runs. 
We continued like that for an hour or so, taking in the views, enjoying our hike and saying hi every now and then to people who returned from the summit. 
It was getting quite late. It was 4 pm already, and we still had a significant climb ahead of us. Bright orange markings on rocks (not always very easy to spot in a sprawling grey landscape) kept us on track. 
The False Summit and the Town of Banff
The hike had become a bit more strenuous, but still not too difficult, when we came close to a big rock, pointing at the sky: the false summit of Cascade. I didn't know at the time, but later I found out that's what it's called. To my surprise, the path led around it to the front of the mountain. 
While it was obvious we had to get around it to be able to continue (instead of over it), I hadn't expected the hike would take us to the front side of the mountain. 
We were suddenly presented with an amazing birdseye view of Banff and the Bow Valley. I realized how different the view was from here compared to the famous view from Sulphur Mountain. It felt like a reward. We were looking at Banff from a location few people will ever see.
I was surprised to see snow because, from town, it seemed that Cascade was totally snow-free; it was August, after all. Luckily, it wasn't a hazard or anything like that. We could easily navigate around it. But I could also imagine that if you got here when there's still a lot of snow, it could be dangerous. 
Following the path from here was easy. It was clearly worn out among the mountain debris. At times, we came close to the edge though I never felt it was getting too risky. The wind got increasingly intense, but nothing too scary – it added to the excitement.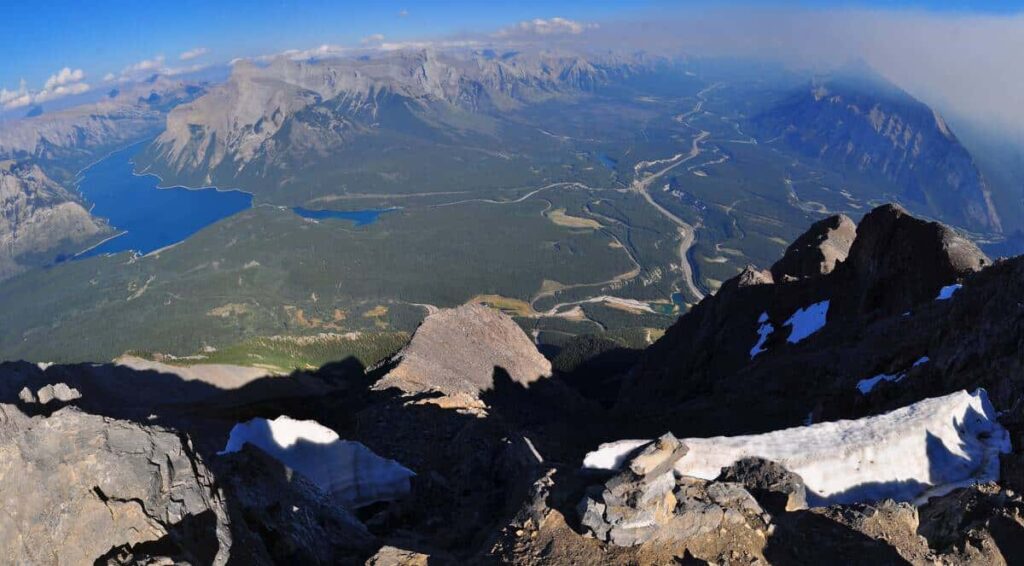 The Scramble
In the distance, we noticed a group of four men coming down a ledge, seemingly right in the middle of Cascade's front and backside. It looked impressive and scary at the same time. 
We would soon cross it. I must admit, traversing the ridge wasn't as bad as I expected. Actually, I hadn't found the hike very hard up to this point. 
But that was about to change.  
Once we passed the ridge, I could see the top rising right in front of me, steep and intimidating. We were getting close now, and loose rocks were everywhere. Soon there was nothing but scree. 
In the beginning, it was okay. We carefully watched our steps. But at some point, we started to slide down. Just a little, nothing to be overly worried about, though enough to make you feel insecure. So we began using our hands to ensure we kept in control. 
We continued like that for about twenty minutes, and there it was. The summit. We stepped onto it, and a feeling of joy engulfed us. We high-fived and silently gazed around us for a while. The wind blew quite strongly as if it wanted to emphasize the silence of being on top of the world. 
There were three other people at Cascade's summit. After we had said hello, we started to take pictures. Of course we did. We had put so much effort into getting here, so we needed proof that we had been here. 
We weren't exactly tired, but, as untrained hikers, we sure felt we had covered quite some distance. We had started at Banff Avenue, after all.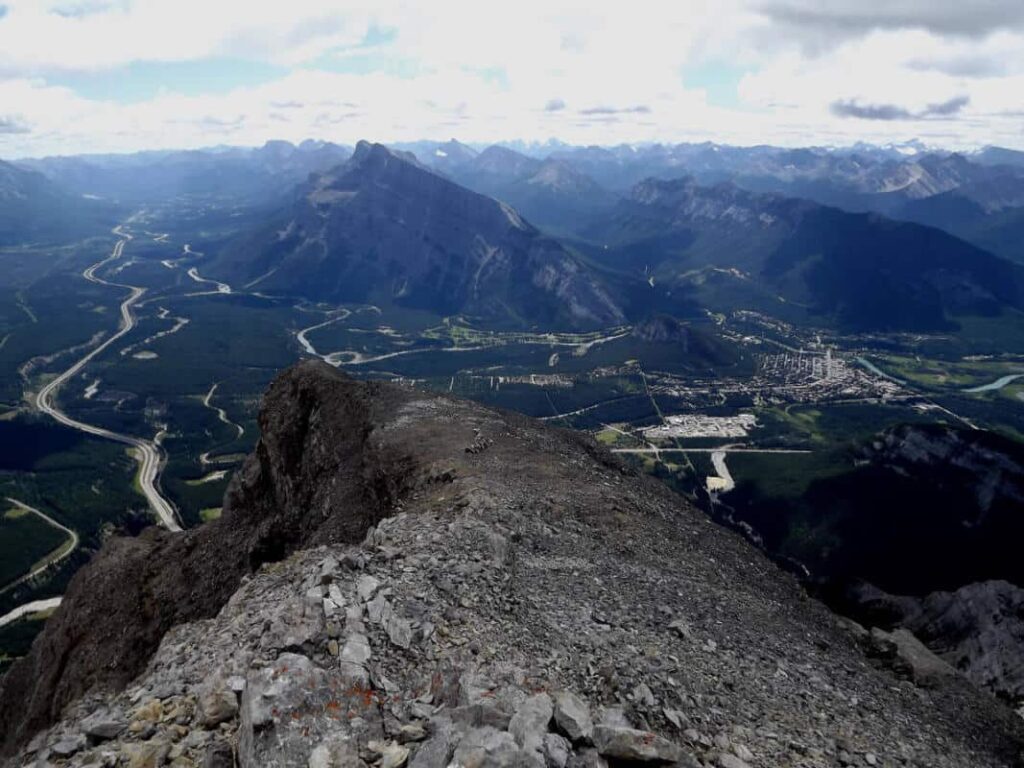 The Descent
We spent about ten, maybe fifteen minutes at the top, then we started our descent. It was almost six pm, and we needed to hurry up to get back before it got dark.
Of course descending was much easier and faster than ascending. At least, it was during the first hour. But treading on this uneven landscape of scree and rocks had wreaked havoc on our untrained feet. We were still above the treeline when we admitted to feeling an aggravating pain. 
We knew we still had quite some time to go. It wasn't truly worrying yet, but we absolutely felt uncomfortable. And because our feet hurt, we weren't as fast anymore.
Our feet were seriously hurting when he finally made it back to the amphitheater. And we still had a long walk through the forest ahead of us. I'm not sure what time it was now, but it had to be well past 7 pm. Due to our feets' condition, we hadn't descended quickly.
Back in the Forest
We weren't alarmed about the time of the day when we again entered the forest. We needed to walk another 7.5 kilometers (4.66 mi) to the parking lot. We just kept trodding, trying to ignore the pain. But as the pain increased, our tempo dwindled. 
After an hour or so, we desperately wanted to rest to give our feet some peace. We couldn't. The sun was setting, and we realized we had to hurry up. Soon it would be dark; we were still in the forest; we had no navigational equipment, nor did we have a torch in case it became too dark to see well (enough). 
It didn't take long before twilight was setting in. We could still discern enough to keep walking for a while, but sunset doesn't last long. Soon, we were only able to discern silhouettes. We weren't sure anymore what the object in the distance was. When we came close, it appeared to be just a rock. On another occasion, it was a tree trunk. 
Bears
As the darkness increased, we became increasingly insecure, bordering on fear. The silhouette over there, could it be a bear? We were worried about it at every new corner. We just didn't know what the dark shape was; we could hardly see anything. We kept talking and making noises to scare away bears. 
Meanwhile, our feet had become truly painful. We were not walking anymore but stumbling. Then, around 8.30 pm, we were finally back at the Norquay's parking lot. It wasn't the end of our ordeal, as we had to walk back to Banff down the mountain. 
We sighed in distress. It was too much. The hike from the parking lot is already 20 kilometers (12.5 mi); we had made it about 35 kilometers (22 mi) long by starting on Banff Avenue. 
The Punishment
No preparation, no proper reading about the hike itself, what to expect on the mountain, nothing. And now, while we were already in quite some pain, we had to walk another 7.5 kilometers (4.6 mi) to town. It was our punishment for being naive and stupid.   
So we continued stumbling downhill. This had nothing to do with walking anymore. We were just putting one foot before another, quietly walking next to each other. 
The Rescue
We had been walking like this for five minutes or so when a car approached us from behind. It was a black truck, and the driver stopped next to us, asking us if we wanted a ride. He had seen how we walked and thought we could use a lift. We clambered inside his truck and five minutes later, he dropped us off near our staff accommodation on Banff Avenue. We thanked him excessively. Home. Finally home. 
Can You Hike Cascade Mountain with Kids or a Dog?
As should have become clear from the story above, summiting Cascade Mountain is not easy. I suppose you could hike up there with kids and a dog, but the scramble toward the top can be risky at times, and I wouldn't want to worry about my kid going up the mountain. 
The same goes for dogs. Their behavior might be somewhat unpredictable and unintendedly cause dangerous situations.
So if you're in Banff with kids and/or your dog, it's wiser to not hike up Cascade Mountain.