Banff National Park is great to explore by car, but for someone who likes to see the Rockies in a more spectacular way, a helicopter flight might just be the thing to do. Several tour operators offer helicopter flights.
Most of us have never flown in a helicopter. When you can do this for the first time in one of the most beautiful natural parks in the world, you know it's a good idea. Let's have a look at what is possible in Banff in terms of tourist helicopter flights.
Why a Helicopter Flight in Banff National Park?
With a helicopter flight, you can see the overwhelming landscape of the Rocky Mountains in a unique way. Moreover, you will see the nature of Banff National Park from an unusual perspective. It allows you to look at the beautiful mountains, forests, and lakes with entirely different eyes. Skimming between two mountain peaks in a helicopter is an experience you will never forget.
Advantages of a Helicopter Flight
Most people only know about flying in an airplane. Flying in a helicopter, however, has several advantages:
1. A helicopter maneuvers very flexibly. It can move in ways not available to airplanes, such as taking off straight without accelerating first. Helicopters can fly in all six axes in addition to hovering.
2. The relatively compact size of a helicopter and its ability to take off more or less vertically means that a helicopter can land in multiple places. In this, a helicopter is much more flexible than an airplane. For example, a helicopter can relatively easy land on a mountain.
3. Another advantage is that a helicopter can fly much lower than airplanes. It makes for spectacular views in the Rockies, although a minimum flight height applies for safety reasons.
4. A helicopter flight gives you a unique perspective of the Rocky Mountains. Suitable for spectacular, memorable photos and a spectacular tour experience. And, not to mention, a memory for life.
5. A helicopter flight is an ideal gift for your loved one. Because, unlike most airplane flights, you can easily make a helicopter flight a private affair. This is possible because the maximum number of passengers in a helicopter is limited.
Disadvantages of a Helicopter Flight
Helicopter flights also have disadvantages. Read on to find out which ones.
1. Helicopters have a smaller range than planes and are slower than planes. While this is true in general, it is not a problem in either case if you want to experience a tour of the Rockies. The helicopter doesn't have to fly (really) far. Besides, you want to have a chance to enjoy the scenery, so it's just right that you don't pass through the area at high speed.
2. Another disadvantage is that a helicopter flight is usually more expensive than a flight in an airplane. This is partly due to the small number of passengers that a helicopter can carry. Also, a helicopter requires more maintenance than an airplane.
3. A third disadvantage is that you are dependent on the weather for helicopter flights. Only when the weather is good, a helicopter will fly out. So your flight may be canceled at the last minute because of heavy snow, storms, or heavy rainfall. If you want to book a flight, it is good to ask about the cancellation conditions of your flight.
Is a Helicopter Flight Safe?
First the bad news: more accidents occur with helicopters than with airplanes on scheduled services. At the same time, the number of accidents with small (private) aircraft is actually (much) higher than with helicopters.
These statistics come from the National Transportation Safety Board (NTSB), an independent U.S. government research agency responsible for investigating civil aviation accidents.
In general, you could say that a helicopter flight is a safe mode of transportation. The chances of it going wrong are tremendously low. According to the same NTSB, 9.34 crashes per 100,000 flying hours in a helicopter. For airplanes, that number is 7.28. This means the chance of a helicopter crash is about 35 percent greater than a plane crash in general.
How Fast Does a Helicopter Fly?
An average helicopter can reach a top speed of about 260 km/h (160 mph). Some helicopters can fly well over 400 km/h (247 mph), but the helicopters that take you on a tour of the Canadian Rockies do not reach those kinds of speeds.
How Much Does a Helicopter Flight in Banff National Park Cost?
The cost of a helicopter flight in Banff National Park depends on the tour you book and the tour operator. The cheapest flight will cost you CAD 200. There are many options with different providers. The costs vary considerably depending on the tour you choose. Usually, there is a minimum participation of two people. For children, you pay less with most tour operators.
The minimum length of a helicopter flight is 20 minutes. There are many options, up to flight times of even 150 minutes (depending on tour and operator).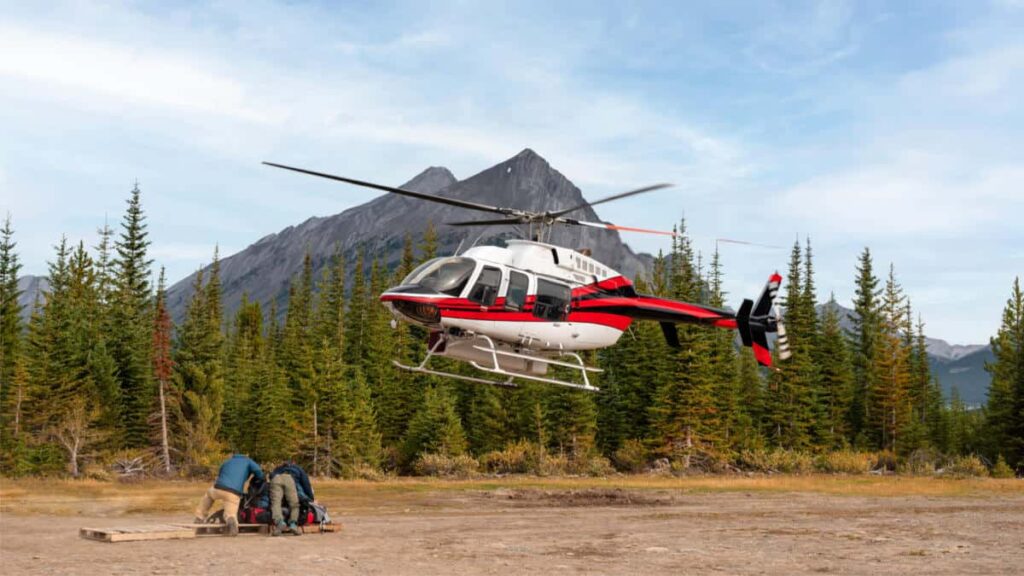 Where to Take a Helicopter Flight?
If you want to take a helicopter flight over Banff National Park, you are forced to travel to a heliport located just outside the park boundaries. The Canadian government does not allow commercial flights to and from heliports in a national park. However, you can board a helicopter outside the park to view the Rockies from the air.
Numerous heliports in Alberta offer commercial helicopter flights, but specifically, two heliports qualify:
Canmore Municipal Heliport, 91 Bow Valley Trail, Canmore
Cline River Heliport, 20 Cline River Heliport Highway #11, Clearwater County.
Getting there without a Car
If you don't have a car at your disposal, you can also reach the heliport in Canmore from Banff and Lake Louise by public transport or cab.
Bus
Transportation company Roam Transit provides bus transportation in the Bow Valley. Via Roam Transit's route 5 (Canmore Local), you can get on at Banff Avenue. Once you arrive in Canmore, you need to get off at the Benchlands Trail Overpass stop. Then it is a 1.3 kilometer (0.80 mi) walk to the heliport.
From Lake Louise, you take Route 3 (Canmore – Banff Regional). This route runs between Lake Louise and Canmore. Once you arrive in Canmore, you should also get off at the Benchland Trail Overpass stop.
Cline River is unfortunately not accessible by public transportation.
Taxi
Of course you can also take a cab to the heliports. There are two taxi companies in the Banff area:
Banff Taxi (24/7 tel: +1-403-762-4444)
Cab Taxi (24/7 tel: +1-403-762-0000)
Transportation of (larger) groups is also possible.
Unfortunately, Lake Louise no longer has a local cab service. If you need a cab from Lake Louise to the heliport, you can call one of the providers above.
Where to Book a Helicopter Flight in Banff National Park?
Below is an overview of some tour operators that offer helicopter flights in Banff National Park. I have selected the companies that operate out of Canmore and Cline River. Those heliports are closest to the park boundaries.
From What Age Can You Join a Helicopter Flight?
The age of a passenger for a helicopter flight basically doesn't matter. Babies can also usually join you on board. Ask your tour operator about it.
What Will You See on a Helicopter Flight?
It depends on the tour operator you book with and which tour you book. Helicopter flights over the Rocky Mountains come in different prices and lengths (number of minutes). 
Can You Be Taken to a Mountain by Helicopter?
You can indeed. Several flights facilitate this. You can stay on the mountain for a while to enjoy the view and then fly on. Some flights drop you off on a mountain, after which you start a hike. It is even possible to start a sled dog trip this way in winter.
Can You Get Off at Another location?
Unfortunately, this is not possible. The heliports in Canmore and Cline River use the same start and end destination for their flights.
What About a Marriage Proposal by Helicopter?
Yes, it is possible to make a marriage proposal by helicopter. Several tour operators have special flights for this, including champagne and a photo on location.
When you are with your partner in Banff National Park, the top of a mountain is a stunning and unique setting for your marriage proposal. Especially if you've just been taken there by helicopter. Your fiancé is already in a special mood anyway because of the helicopter ride experience in itself. And because of the many fantastic views, not to forget.
What Types of Helicopter Flights Are There?
You can book a helicopter flight for a wide variety of flights. You'll find these listed below.
Sightseeing: a flight through (a specific) part of Banff National Park. This is by far the most booked option with the various tour operators.
Sled dog tour: you will be dropped off by the helicopter on a mountainside where a guide with sled dogs will be waiting for you with the sled and the dogs. 
Heli-hiking: you will be dropped off on a mountain after which you will begin your hike down through the wild nature of the Rockies.
Heli-horseback: you fly to a location where horses are waiting for you for a ride through the wilderness. When your trip on the back of a horse has ended, you'll fly back to the heliport.
Heli-fishing: fly by helicopter to a hard-to-reach lake to fish for trout and other fish in peace and far away in the Rockies.
Heli-glamping: for the adventurer who likes to camp in luxury, you can fly to your destination by helicopter and be picked up there later. 
Heli-wedding proposal: fly with your partner to a peak in the Rockies. Get down on your knees in the eternal snow while the world is at your feet.
Heli-skiing: fly to slopes that are otherwise very difficult to reach and ski down on virgin powder snow.
Heli-snowshoeing: fly to a mountain meadow or another unique location where you start a tour on snowshoes. At the end of the hike you'll fly back to the heliport.
Please note that not all of these activities take place in Banff National Park. This list is only meant to inform you of the options available to you through the heliports in Canmore and Cline River.
Can You Do a Helicopter Flight in Winter?
You can also explore Banff National Park from a helicopter in winter. The various tour operators offer their service throughout the year. A helicopter flight in winter is highly recommended if you want to see the Rockies in its breathtaking winter coat.
One drawback is that there is a greater chance of cancellation than in summer. This is because of the often extreme winter weather. Also, driving to the heliport in winter can sometimes be tricky because of the weather conditions. Driving from Banff to the heliport in Canmore is still doable. The distance is only thirty kilometers.
The Cline River Heliport is a much longer drive from Banff or Lake Louise. Also, that heliport is pretty remote on a road that is worse maintained in winter than the Trans-Canada Highway and the Icefields Parkway (which in turn is worse maintained than the Trans-Canada Highway).
Can You Do a Helicopter Flight When Pregnant?
If you are pregnant, it is safe to board a helicopter. Helicopters fly relatively low. Therefore, you do not have to deal with a pressurized cabin, which can be harmful to a pregnant woman because there is less oxygen in pressurized cabins. This can be harmful for your unborn child.
So it's up to you to judge whether you can still do it comfortably or not. It is always a good idea to consult a doctor beforehand. Make sure you book a helicopter flight that guarantees easy entry and exit (not at the top of a mountain, for example).
It is a good idea to make sure in advance that you are able to climb in and out of the helicopter by yourself. The same goes for getting in and out of your seat and fastening your seatbelt yourself. In a helicopter, you sit differently than in a regular chair. You sit low and (therefore) with your knees high.
Can You Fly From Banff to Other Cities by Helicopter?
Because helicopters are not allowed to take off and land in the park for commercial flights, you can't fly to another city from Banff or Lake Louise. If you want to go to Vancouver or Kelowna, for example, taking the plane from Calgary is an option.