Living in Banff is like living in paradise, with stunning scenery everywhere you look. But even Banff has its downsides. If you're considering (temporarily) moving here, read this post first about the most important pros and cons of living in Banff.
Whether you're a Canadian student who wants a cool summer job, a participant in the Working Holiday Program, or a pensioner seeking a nice place to spend some fantastic stressless time, the town of Banff might just be the best place on earth. But beware of its downsides. It's up to you and your desires and wishes whether Banff suits you. Let's have a look.  
The Pros of Living in Banff 
Banff has many pros for living there. These pros make people flock to the national park from all over the globe, year after year. More than 4 million annual visitors can't be wrong, right? Let's see what these pros entail.
Banff is Quite Safe
The town of Banff is a small community with only 9.386 residents (statistic: town of Banff) where people are known to watch each other's backs. The town has seen a steady decline in (violent) crimes over the last twenty years and is a very safe place to live. 
Compared to the rest of the province, the crime rate is slightly higher, but concerning the millions of tourists visiting the town annually, you can safely conclude Banff is safe.
Good Tax Rates 
Alberta has very low income taxes. You only pay 10 percent on the first CAD 131,220 of taxable income. Many provinces have a lower tax rate in the first tax bracket, but the cap is much lower. For example, Yukon Territory's first tax bracket is the second-highest after Alberta at CAD 49,020 of taxable income. Residents pay 6.4% of tax until they reach this amount of taxable income. 
Banff Is Family Friendly
Banff is very family-friendly. The great number of outdoor possibilities, the low crime rate, the schools and a plethora of other amenities that other towns the size of Banff usually don't have, make it a very family-friendly place. On top of that, the town hosts events year-round and there are a lot of family-friendly restaurants. Need I say more?
Banff Is LGBTQ+ Friendly
Banff doesn't have a gay scene, but it is known for being open to gay people. It has its yearly Banff Pride and has had a rainbow crosswalk on Bear Street since 2018 to emphasize its support for the LGBTQ+ community. Still (as of 2022), there are no gay bars and restaurants. 
You Can Get Anywhere in Banff on Foot
The town of Banff is very compact, which makes it possible to get basically anywhere in town on foot. There are some more remote locations, but no destination is really far. The center is easily reachable on foot from any neighborhood. 
Even the neighborhood beyond the bridge over the Bow River behind the Park Administration building is still not far from the center. Parking in Banff is a problem anyway, so going on foot is probably your best choice anyway.
Banff Is Spacious
This one is kind of obvious. Sure, the town itself isn't necessarily spacious; Banff consists mostly of neighborhoods and most houses in Banff have regular-sized lots. But the immediate surroundings are spacious, to say the least. You're in the Rockies after all!
If you want to get away from the everyday hassles, you can. With ease. Even in the middle of summer when hundreds of thousands of tourists flock to the park every month. There's always a lovely spacious, secluded place to enjoy yourself privately.     
Banff's Scenery Is Nearly Unbeatable
Another obvious one, but its' probably Banff's biggest pro. You'll be overwhelmed by the natural beauty simply everywhere if you've never been. The views from Banff Avenue (both in northern and southern directions) may become normal, but getting used to it is nearly impossible. It is just so incredibly beautiful. And that's just one street. Being able to take in this beauty every day makes you feel privileged. 
Banff Has Many Employment Opportunities
Thanks to the thriving tourism in Banff (even during covid, Banff was relatively busy), there's always a lot of work to be found. Shops, hotels and restaurants are always looking for staff. In winter, you can add the ski slopes to this and everything related to skiing. 
It makes it relatively easy to find a job. There are jobs outside tourism, of course, but those are much rarer and much more difficult to find. So if you're looking to work in Banff, be ready to work in the tourism industry. 
You Don't Pay PST
Because Banff is in Alberta, PST (Provincial Sales Tax) is not added to the prices. You only pay GST (Goods and Services Tax). This comes down to a VAT (value-added tax, or the total of the combined PST and GST) of only 5 percent. 
It's the only province in the country that doesn't charge PST (the Canadian territories in the north also don't, but they are territories and not provinces with their own governments). In neighboring British Columbia, you pay 12 percent, and in the Maritimes you even pay 15 percent (VAT). 
There's a Lot to Do in Banff
You don't have to get bored in Banff, for apparent reasons. First and foremost, the outdoor opportunities are seemingly endless. On top of that, there are numerous shops, restaurants and bars in the town of Banff. Some bars offer live music. There are festivities and festivals year-round, many at the Banff Centre for Arts and Creativity, a world-class cultural venue.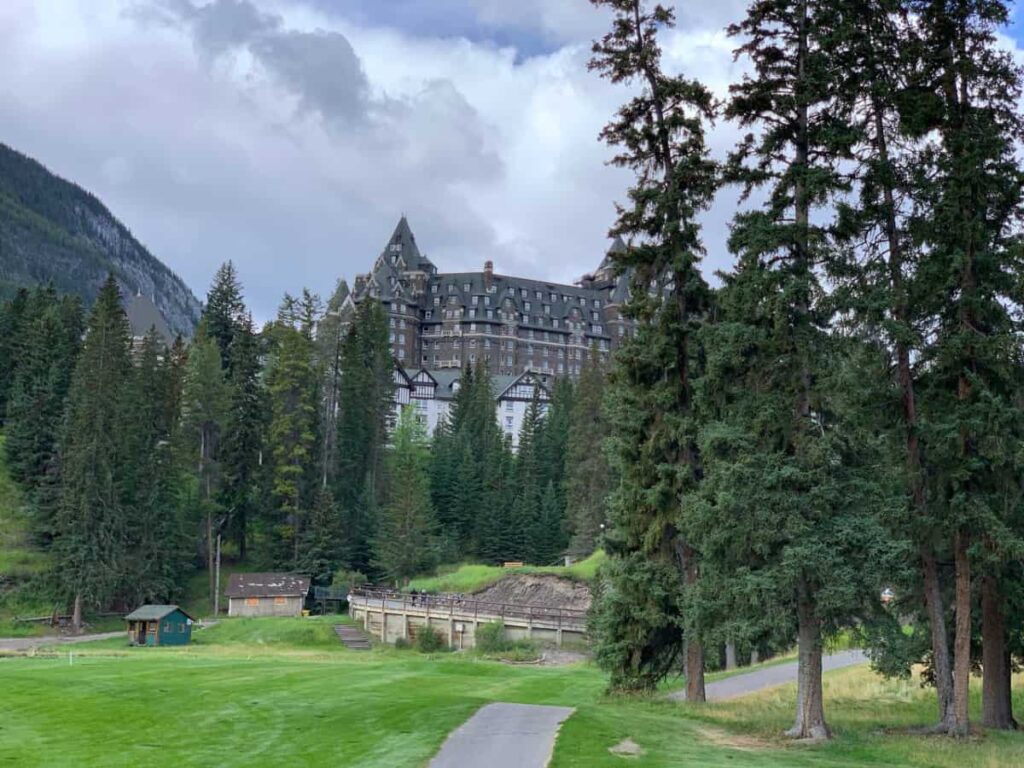 The Cons of Living in Banff 
Sorry, don't want to be a party pooper, but Banff actually does have quite a few downsides. Read the list to see how much it would bother you to decide whether Banff is an excellent place to (temporarily) move to.
Banff Is Extremely Expensive
Probably the main con of living in Banff. It is expensive. Banff is a bustling resort town and as a result, prices sometimes soar to unprecedented heights. I mean, 350 CAD per night as an average price for a kind of rundown hotel in high season is a tad bit on the high side. 
Also, everyday goods like groceries are expensive. The same goes for houses, rent and gas. So if you're considering moving to Banff, you either need a well-paid job, run a successful company, have a big budget or a good pension.  
Property Prices Are Very High
When you consider moving to Banff, you obviously need a place to live. Owning a property in Banff means you can call the town home. But you need a hefty budget to purchase a house in the resort town. The most affordable dwellings are apartments, generally starting at about CAD 450.000. Bring close to a million Canadian dollars if you're looking for a freestanding house. Want to check out the current offerings? Visit realtor.ca.  
Health Care Facilities Are Limited
Banff has family doctors and a hospital. Still, health care facilities are pretty limited. The local Mineral Springs Hospital has limited service. For instance, it doesn't have an obstetric department anymore, which requires you to go to Canmore. The latter hospital's facilities aren't extensive either, meaning that you're required to go to Calgary, which is 130 kilometers away, for a lot of your (more serious) medical needs.
Are you going to be a temporary worker in Banff? Read more about the pros and cons of a working holiday in Banff.
Banff Is too Busy in Summer (and in Winter too)
Banff is a bustling resort town. With more than 4 million annual visitors to the park and Banff, it gets swamped in town. Especially because Banff is the only community of size within the park. In summer, Banff Avenue is jampacked with tourists. Be ready for all the tourists. If you can't stand it, Banff won't be the right place for you to live. 
There are ways to escape the crowds in Banff. Read this post about avoiding tourists in the park if you want to know how.
Banff Can Prove Difficult to Make Friends
If you don't have a job (anymore) with many colleagues or don't partake in Banff's vibrant nightlife, it can be challenging to make friends in town. Particularly because locals tend to keep to themselves. Luckily there are several clubs you can join and get to know locals.  
Banff Gets Very Cold in Winter
Banff is situated in the Rocky Mountains and Canada has a continental climate, meaning it gets cold in winter. In the coldest months, the average daily temperature drops below -10° Celcius (14° F). Temperatures below -20° Celcius (-4° F) are pretty common. 
The Rocky Mountain Weather is Unpredictable
Coldness in winter is a given in Banff. Good weather in summer not so much. Yes, it does get hot in summer, making for amazing days, but you never know what to expect because you're in the Rockies. It can snow in the middle of August. It can hail, it can rain. And in general, this kind of weather occurs suddenly. Sometimes on the same day. 
Banff Has Limited Employment Niches
Above you read that there are many employment opportunities. While this is true, it is also true that 90 percent of job openings are related to the tourism industry. If you're not into working in this industry, it'll prove difficult to find a satisfactory job in Banff. Moreover, if you do find a job in tourism, most jobs are pretty poorly paid (see the post on working in Banff) and most employers offer limited career opportunities.
Prices Are Excluding VAT (Which Will Be Charged Separately)
Think of it; this is just, eh, stupid. Why not just include VAT (value-added tax) in the price, so you know exactly what to pay when you go to the checkout. You must pay VAT anyway, so why bother putting price tags on products WITHOUT VAT. 
I know, the system is like this almost everywhere in Canada and the US. So if you're from one of these countries, you're probably used to it. But come on, and I repeat: This is somewhat stupid. Sorry.
Parking Is Very Difficult
Due to the small size of the town of Banff and the many tourists, parking in Banff has become very difficult. To make this problem manageable, the town council introduced paid parking in most places. Furthermore, parking in residential areas is prohibited, unless it's your own property of course.
If you're just planning on visiting Banff you might want to check the post 7 Reasons to AVOID Banff National Park to make up your mind wether the park will be your next destination or not.