The Banff Springs Golf Course is one of Canada's premier golf courses, with breathtaking mountain views and challenging fairways. Whether you're a seasoned golfer or starting out, a round at Banff Springs is a must-play experience. In this article, you'll find everything you need to know about this renowned course.
Playing golf at the Banff Springs is the epitome of enjoying nature's marvel while playing your favorite sport. An exaggeration? It's probably not. 
Sure, you can find many stunning courses throughout North America – and in many other places in the world, for that matter – but the Banff Springs is of another level.
Why? Because its 27 holes are situated amidst the Rocky Mountains, along the Bow River, with its unbelievably pretty turquoise color. The course is also home to a variety of wildlife. Don't be surprised when an elk appears on the tee during your round. 
Need more convincing? How about the stunning five-star Fairmont resort hotel sitting next to the golf course?
If you're interested in learning more about this Canadian golfing gem, I advise you to read on. Let's dive in!
Banff Springs Golf Course – Facts and figures
| | |
| --- | --- |
| Number of Holes | 27 |
| Courses | Stanley Thompson Course, 18 holes (built in 1927); Tunnel Mountain Course, 9 holes (built in 1989) |
| Length | 6,344 meters (6,938 yards) |
| Design | Stanley Thompson (1928) |
| Minimum elevation | 1353 meters (4,439 ft) |
| Maximum elevation | 1393 meters (4,570 ft) |
| Season | May – October |
| On-site Facilities | Full-length Driving Range with 20 stalls and private area, 3 Putting Greens, 1 Chipping Green, Practice Sand Bunker |
Banff Springs Golf Course Facts & Figures
Green Fees
The green fees at the Banff Springs Golf Course depend on the course you want to play and the month of your visit. Prices vary between CAD 80 and CAD 239. The months of May and October are the cheapest.
Tee Times
Tee times for the Stanley Thompson Course and the Tunnel Mountain Course are 12 am until 10 pm. You can book a tee time through banffmountaingolf.com.
May and October
Stanley Thompson Course (18 holes): CAD 182 (ex VAT)
Tunnel Mountain Course (9 holes): 80 CAD (ex VAT)
June – September
Stanley Thompson Course (18 holes): CAD 239 (ex VAT)
Tunnel Mountain Course (9 holes): 100 CAD (ex VAT)
Course Handicap
Listing a complete list of the course handicaps here would be excessive. You can access an official record on the Banff Springs Golf Club's website about the Banff Springs course handicaps. Just click the link.

How to Book?
Visit banffmountaingolf.com to book the 9 or 18 holes course.  
Getting There
To get to the Banff Springs Golf Course, drive to the Fairmont Banff Springs Hotel. Cross the bridge across the Bow River on Banff Avenue and take a left turn onto Spray Avenue. Follow the road until you reach the Banff Springs Hotel. 
Parking
To find parking close to the golf course, use the parking lots at the Banff Springs Hotel. At the Banff Springs Hotel's southeast corner is a parkade where you can leave your vehicle. 
The parkade borders the golf course. Drive to the hotel to get there. Turn right and proceed under the overpass at the traffic circle just past the main entrance. The parkade is to your right.
Parking during the day is CAD 3.00 per hour, while overnight parking costs CAD 25.00 for self-parking and CAD 39.00 for valet parking. Parking facilities are open 24/7.
Dress Code
According to the Banff Springs Golf Club's dress code, players are expected to "dress properly". This code prohibits wearing blue jeans, short shorts, collarless shirts, hockey jerseys, stenciled T-shirts, and sweatpants. Regarding footwear, shoes with mild spikes or soft soles are preferred.
Membership
Becoming a Banff Springs Golf Club member requires you to be a Bow Valley resident. Becoming a member won't be easy, even if you're a Bow Valley resident. The club can only accommodate 200 adults and 100 juniors.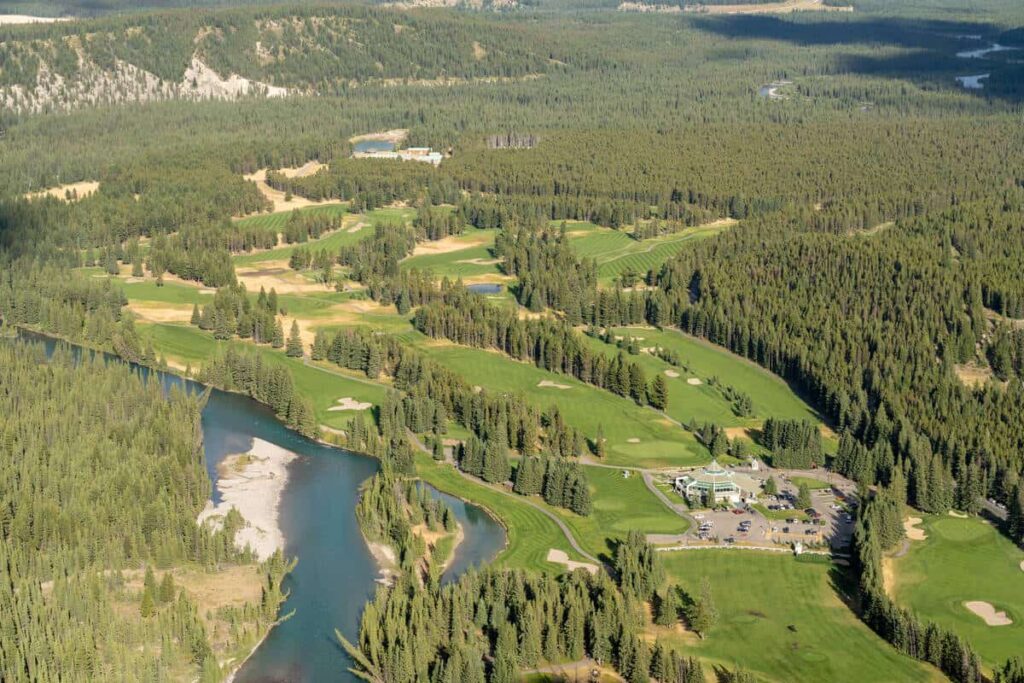 Golf Packages
While you can book tee time every day during the season, you can also book packages. The Banff Springs Golf Course has the following:
Heritage Golf Experience
The Heritage Golf Experience includes playing golf at the 18-hole Stanley Thompson course. You'll get a taste of what it was like to play golf on Thompson's 1928 course design. During the golf experience, you will use genuine golf equipment from the era to play the game.
Prices start at CAD 199. 
Banff Golf Vacation
The Fairmont Banff Springs Hotel offers so-called Banff Golf Vacations. This package deal includes the following:
Round of golf on the Stanley Thompson championship course for two adults 
One night in a luxurious room
Golf clubs storage
Free of charge self-parking
You can book this deal through the hotel's website. Click the link to go there. Prices start at about CAD 1000 for two people. Availability is from mid-May to the end of September.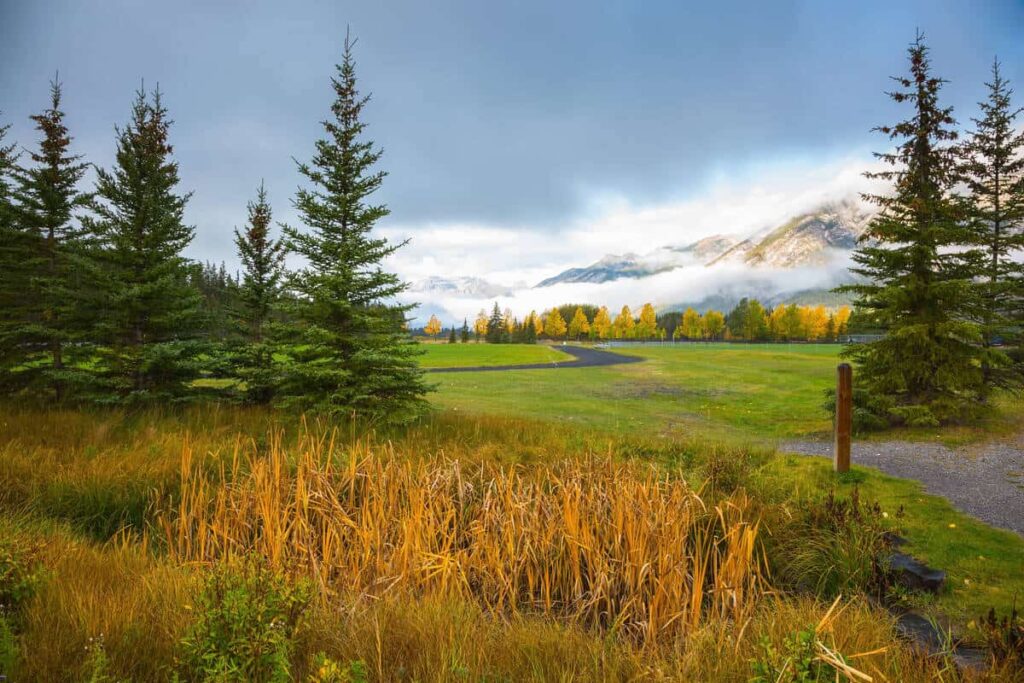 Other Packages
Several Hotels in Banff offer their own golf packages. The Rimrock Resort Hotel, the Inns of Banff, and the Banff Caribou Lodge are three of them. 
More package deals:
Golfing in Groups
The Banff Springs Golf Course also accommodates golfing in groups. An excellent idea for wedding parties or team outings with colleagues, corporate events and even custom golf outings. 
There are lots of possibilities. If you've never played golf, the course can provide instructors, clinics, warm-ups, and full-day training programs. Additionally, shotgun starts and tee times are both offered.
For mere information or reservations, you can contact the reservations team of the course at +1 403 – 762 6801. Or e-mail them at bsh.golfreservations@fairmont.com.
Golf Lessons
Visiting Banff and interested in learning how to play golf? The Banff Springs Golf Course offers lessons. You can give them a call to learn about the possibilities: +1 403 – 762 1765.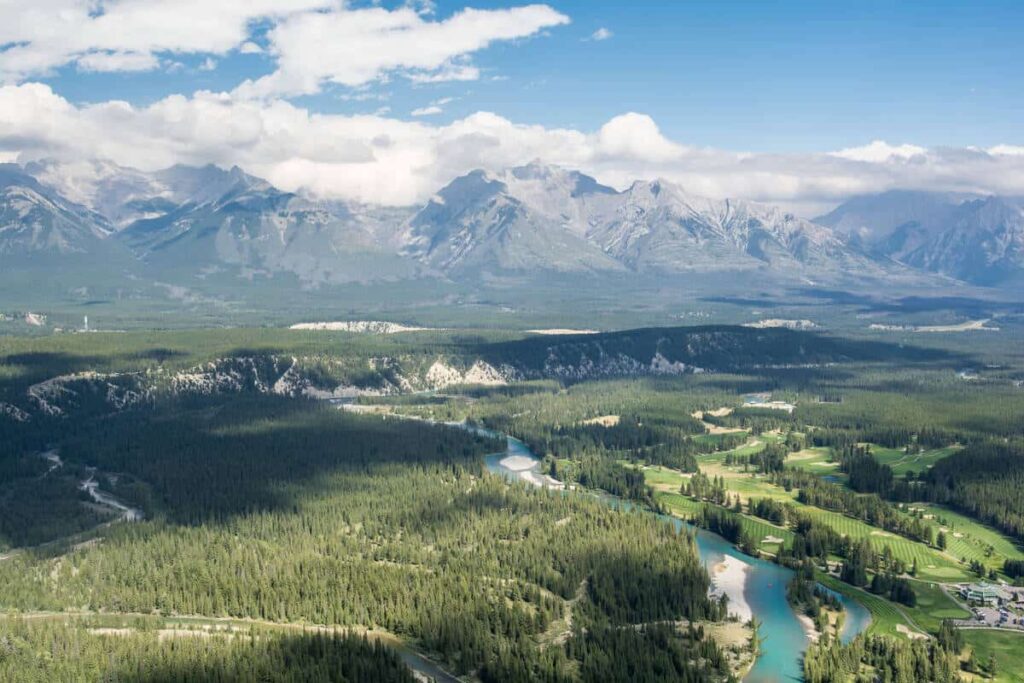 Golf Rental
The Banff Springs Golf Course offers rental packages, so you don't have to bring golf equipment. Their rental package include: 
The most recent TaylorMade SIM2 MAX line golf clubs 
A sleeve with golf balls with the Banff Springs logo
For more information, you can call +1 403 – 762 6801 or shoot an e-mail to bsh.golfreservations@fairmont.com.
RENTAL PRICES 
Rental prices vary upon playing 9 or 18 holes.  
18-holes: CAD 75/set (ex VAT)
9-holes: CAD 50/set (ex VAT)
Gift Cards
As golfing at the Banff Springs Golf Course is a truly unique experience, it makes for a nice present. Several retailers and companies sell gift cards to play golf at the legendary course. A brief overview:
Nearby Golf Courses 
The Canadian Rockies have plenty of golf courses for you to play. Here's a list of courses in relatively close proximity to the Banff Springs Golf Course:
Websites
Want to read more about golfing at the Banff Springs Golf Course or in the Canadian Rockies?
Here are some useful websites to start with:
General Information
Banff Springs Golf Course
Address: Golf Course Road, Banff
Phone: +1 403 – 762 6801
Website: fairmont.com
E-mail: bsh.golfreservations@fairmont.com