Banff is an excellent place to explore just by yourself. You just need a car and money and you're all set. Okay, and some camping equipment, in case you want to camp out. This post will give tips for making the most of your solo travels in Banff National Park.
There are obvious pros and cons of traveling solo. I didn't list them here. I tried to focus on park-specific information as much as possible. If that sounds good, I invite you to read on. 
Why Banff Is Good for Solo Travel
As I stated in the intro to this article, Banff is an excellent place to explore just by yourself. So why is that? 
First and foremost, you can focus entirely on yourself, explore the park at your own pace, and carve out some time for yourself while you're at it. Moreover, the park is calm and serene, allowing you to escape everyday life's stress. That might sound like a cliche, and it probably is, but it's especially true in Banff. When you're there, you'll know what I mean. The feeling of freedom in the park is unparalleled (my opinion)…    
Now we've gotten all that out of the way, let's focus on some other aspects of solo traveling in Banff. 
Where to Go as a Solo Traveler in Banff
To answer this question straight away: Wherever you want to. I could list several places in the park worth visiting as a solo traveler, but I recommend you scour this site to get some ideas. Because there is no such thing as solo traveler-specific activities. Any attraction in the park is as good for a solo traveler as it is for two, three, four or more people. You only need to decide what you want to do and see and go for it. 
Advantages of Traveling Solo in Banff
The advantages are pretty obvious: When you're visiting Banff National Park by yourself, you're in the luxurious position to explore one of the most beautiful places on the planet. And you can do so in the way you want it, how you want it and when you want it, without settling for someone else's plan. It's your plan and ONLY your plan. How about that for a good idea?
Flexibility
You can be flexible about your program. If you want to spend an extra day on the Icefields Parkway? No one's stopping you. Want to take a last-minute decision to do an extensive hike with overnight camping instead of a one-day hike? You can. Banff is so full of possibilities that your time in the Rockies will likely be too short. So if you change your mind about your itinerary, you can. Being flexible with so many opportunities at hand is an absolute virtue.  
Traveling Solo in Banff is Perfect for Getting Company
Yes, it sounds contradictory, but it's true, especially in Banff. Or at least it could be true. It all depends on your personality and your openness are to new contacts. 
In fact., you're much more likely to meet new people when you're traveling alone than when traveling as a couple. If you would like to meet some interesting new people, spend nights in one of the many hostels in the park. The town of Banff already has three. 
You'll typically share a room with several people, making it pretty much impossible not to be in contact with others. When I first moved to Banff, I was surprised by how easy it was to meet new people. 
Other opportunities are Banff's vibrant nightlife and the big population of seasonal workers in winter and summer. They are known for being open to meeting new people. That's what they set out to do by coming to Banff in the first place. You might meet quite a few in one of Banff's hostels, by the way.
Unique Memories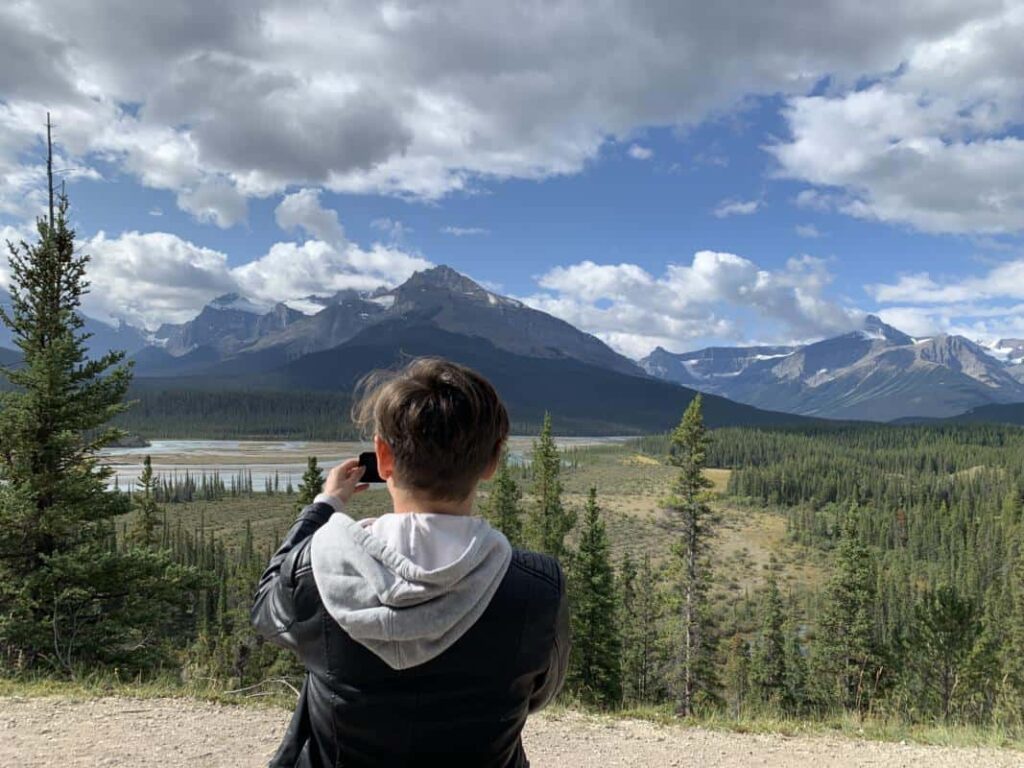 Traveling solo in Banff means creating a life-lasting memory. Visiting this extraordinary park will be unlike any other travel experience. Good you have the pictures of your journey, but you'll never forget your travels in the Rockies anyway.   
TIP: If you want to do some hikes near the town of Banff I highly recommend reading the post 11 Easy Hikes Near the Town of Banff.
Disadvantages of Traveling Solo in Banff
There are always disadvantages to everything, even to the good stuff. I'm afraid traveling solo in Banff National Park is no exception. 
Expenses
One of the most significant disadvantages that immediately spring to mind is money. Why? Because you need to cover all costs yourself. Hotel room, car rental, gas, food, you name it. I agree this is true for solo traveling in general, but especially in Banff, this can be a disadvantage as most things in the park are overpriced.
Yes, you can voice the counter-argument that you only need to provide for yourself, buy one plane ticket, need less food, etc. But when it comes to Banff, it's definitely an advantage when you can share the cost of, for instance, lodging and car rental. Accommodation is very expensive in the Rockies and a car is almost indispensable. 
Alone among Wildlife
If you can't find someone to come with you on a hike, you're at a greater risk of startling a bear or other wildlife and putting yourself in danger. Why? Because you're less likely to make noise as you're not talking to someone, not laughing. 
Sure, you can shout every so often (and you should) to scare off possible bears in your vicinity, but after a while it gets annoying, and you tend to forget to do so. 
So if you're going on some (extended) trip alone, always carry bear spray. Really, take it with you. It could save your life. You can buy them in Banff and Lake Louise or rent them. If you want to know more about this subject, I recommend you check out the post 19 Things You Need to Know about Bear Spray.
Further reading: Complete Guide for Solo Hikers in Banff
Alone When Dealing with Trouble
Banff National Park is all about the outdoors; hiking, mountain biking, cross country skiing, snowshoeing, ice skating, etc. Something might go wrong during these activities. You might fall and injure yourself; the weather might change drastically (in the Rockies, almost any type of weather is possible at any time of the year) and you're not prepared for it. I could go on (but I won't). 
If you're alone, getting yourself out of trouble is more challenging. And don't count on cell phone reception to call Search and Rescue. There isn't any in most parts of the park. 
How to Reduce Risk
Now we've identified the potential trouble that looms overhead, let's look at how to reduce these risks. You can do so in several ways:
Study the route. Learn about the length of your journey, how long it will take, and the difficulties you will encounter. In short: know what to expect and prepare accordingly. You can look up information in travel guides, search online, or use an app. All Trails has a good app; 10adventures.com has a very informative website.
Plan the route. When is the best time to go, and on what day? Generally, hiking early is wise, so you'll not be stuck on a mountain slope after dark.  
Check the weather. Always do this, even a few hours before you leave. Circumstances in the mountains can change suddenly and drastically. Make sure you know what to expect.
Bring enough food and drinks, appropriate for your trip. The longer the trip, the more food and drinks you need, obviously. But choose wisely what to bring along. What food provides enough calories and the necessary nutrients for your trip?
Inform someone where you'll go and how long you plan to stay away. You could even notify your accommodation's staff about your plans.
Pack right. So bring everything you need, not more, to avoid carrying unnecessary weight. Make sure you bring extra clothing for sudden weather changes. You'll also need it when you stay out longer than intended. Temperatures in the Rockies quickly lower after sundown.  
Take along a comfortable pack. Keeping an unfit backpack on your shoulders for hours could make your trip very unpleasant. It could even become agonizing if you still have a long way to go. 
Wear decent footwear when hiking. Don't wear sneakers, for instance, when you have many kilometers to cover. I did so once when hiking to the top of Cascade Mountain in Banff. At 75 percent of the descent, I could barely walk decently anymore. Besides, it's dangerous not to wear proper hiking boots on a strenuous trail like this. 
Bring a satellite phone. These things are expensive, but please get one if you can afford it. It allows you to call for help, no matter where you are, even when there's no cellphone reception. A Garmin inReach (starting from about $ 300) or an Iridium satellite phone (if you have a bigger budget) are good options. You can use its GPS for navigation, which has a possibly live-saving emergency button to alert Search and Rescue.  
Want to know more about wildlife in the park? I recommend reading the comprehensive guide to wildlife in Banff National Park.
Lodging in Banff for Solo Travelers
At the beginning of this article, I wrote Banff accommodations are costly, to put it mildly. In the high season, expect prices of CAD 250 or more for a hotel or bed and breakfast. Trying Air B&B won't help you. You'll find similar prices on there.
If you don't mind sharing your room with strangers, your cheapest alternative is to spend the night in a hostel. It doesn't sound appealing to many people, but you could make some new connections (see above). It could make your solo trip to Banff even more worthwhile.
If you want to see what hotels are available in the park and compare them quickly in a handy overview I recommend you to read the Ultimate Overview of Hotels in Banff National Park.
What to Bring When Camping Solo in Banff? 
If you don't like spending your budget on outdated and overpriced hotels, camping is the way to go. As you travel in the mountains, come prepared and bring the necessary items. Below you'll find a list.
Tent
Sleeping Bag
Flashlight
Headlamp
Survival Gear (compass, map, flask)
Knives & multitools
First Aid Kit
Firestarter
Fire and Grill Necessities
Backpacking chair
Bug Spray
Sunscreen
Camp Kitchen Items
Warm clothing
Rainwear
Banff has plenty of front-country and backcountry campsites. I've written an extensive post about these front-country campgrounds. Check it out if you want to know more about it.