With more than 4 million annual visitors, Banff National Park is hugely popular. It implies many people with disabilities visit it. But how good is the accessibility of the park? In this post, you'll read that it's pretty good but could use some improvements. 
First the good news: Canada has many facilities for people with disabilities nationwide. The government keeps focusing on this. As of July 11, 2019, the Accessible Canada Act came into force for a 'barrier-free Canada'. 
But it doesn't necessarily mean that if you're a wheelchair user or physically challenged, you'll have good access to everything in Canada. Every municipality makes its own decisions on this topic.
Regarding Banff National Park, the town of Banff's city council and Parks Canada (national government) are responsible for facilities for disabled people in the park. How are they managing? 
What about the accessibility of the hotels? Are there American Sign Language (ASL) interpreted tours available in the park? Let's find out. 
General accessibility of Banff National Park
The general accessibility of Banff National Park is good. The major attractions in the park are all easily accessible by road and most of them have accessible restrooms and parking lots for disabled people. Viewing points besides the road are paved or at least easily accessible. 
In the town of Banff and Lake Louise Village you'll find quite a few disabled parking places in public places. On the other hand, many shops and restaurants lack proper wheelchair access. 
The major attractions around Banff and Lake Louise are also accessible by wheelchair-friendly public transport. Roam Transit is the operator. For more information, visit the Roam Transit website.  
Transport to the Park
There are two ways to reach Banff, by car or by train. By car is the most used transportation mode to get to the park. Though traveling to Banff National Park by train is a good possibility.
By Car
There's only one (!) company – as far as I know – that offers wheelchair-friendly transportation by car between Calgary, Canmore and Banff. That's On-It Regional Transit. Below you'll also find their contact information as this company requires you to inform them of your needs beforehand. 
On-It Regional Transit
On-It Regional Transit has buses that are wheelchair accessible. However, they require a one-week notice to ensure an accessible coach is available at your time of arrival. Their transit service runs from Calgary and has stops in Canmore and Banff.  
Fares:
CAD 10 per person
On-It Banff & Canmore
Phone: +1 587 – 534 0542
Website: onitregionaltransit.ca
E-mail: onitsupport@southland.ca
You could also travel with Banff Airporter, Airport Express Shuttle and Brewster Banff Airport Express, but their buses require you to be carried on board or step up the stairs into the bus yourself (if you can). They let you store your wheelchair in the bus' luggage compartment. 
They all have stops in Canmore and Banff. Brewster Banff Airport Express and Airport Express Shuttle also stop in Lake Louise and Jasper.  Though their buses not a desirable solution to your needs, obviously.
Train
Another way of getting to Banff is by train, in case you're coming from Vancouver or Kamloops BC). The Rocky Mountaineer operates the route and runs from late April to early October in 2022. You can board this luxurious tourist train between once and four times a week, depending on the time of the year. It is wheelchair accessible and stops in Banff and Lake Louise.
The Rocky Mountaineer is equipped with a hydraulic lift, allowing you to easily access the train in a wheelchair (maximum width 58 centimeters, or 23 inches). Upon request, you can also get the company's staff's pre-boarding assistance. 
Your wheelchair must be foldable to pieces of a maximum of 26 kilos (58 lbs), so staff can easily handle it. You will have your own 38 cm (15 inches) wheelchair during your trip, enabling you to easily move down the railcar's aisle.     
Wheelchair Accessible Hotels in the Park
Probably the most important thing when visiting Banff National Park as a wheelchair user is finding a wheelchair-friendly place to stay. The good thing about Banff is that it has many hotels, so wheelchair users have quite a bit of choice. 
This doesn't mean facilities couldn't be better. Because many hotels are not wheelchair accessible. Now let's focus on the hotels that ARE wheelchair accessible. Here's an extensive list, by location:
Banff
Professional Development Centre Hotel
Canmore
Beautiful Canmore Mountain Getaway
Days Inn By Windham Canmore
Lake Louise
Backcountry Lodges
If you want to read more about this topic, I've written an extensive post about hotels in Banff National Park that's absolutely worth checking out. You'll also find more information about the hotels mentioned above.
Wheelchair Accessibility of Major Attractions
Banff's major attractions are well accessible for wheelchair users. Below you'll find an overview of these attractions. 
Major Attractions Access by Car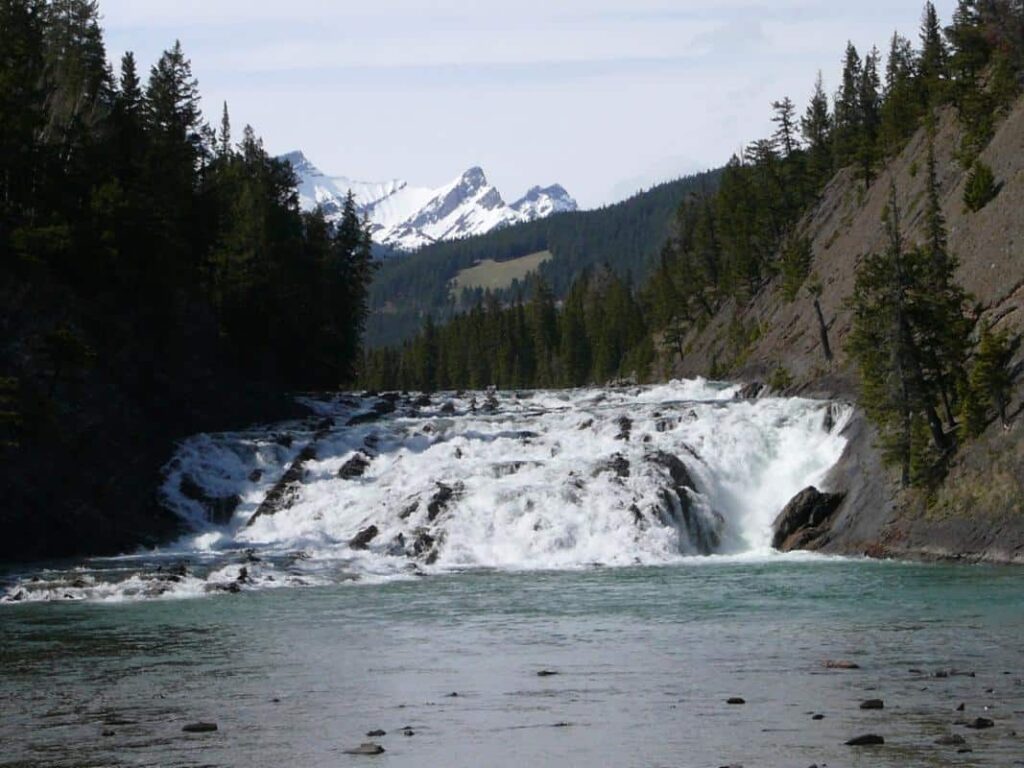 Because Banff National Park is pretty big, a car is more or less mandatory for exploring the park. Especially when you're a wheelchair user, this can be a very convenient way of enjoying the park's stunning beauty.  
Regarding the lakes, Vermilion Lakes, Lake Minnewanka, Two Jack Lake, Lake Louise, Moraine Lake, Bow Lake, and Peyto Lake are all accessible by car. Though getting close to the lakeshore is not always possible. 
At Bow Lake, for instance, you need to climb down from the adjacent parking lot to reach the lakeshore. Luckily you have a fantastic view from the parking lot, so you can still take in the sheer beauty of this lake and its surroundings. 
Close to the town of Banff, you'll find the Bow Falls. The parking lot borders the Bow River and the falls. Next to it, you'll find some crushed gravel along the riverbank, allowing you to get close to the water and have a good view of the Bow Falls.  
You can't get to the lakeshore at Peyto Lake either, but you can park close to the viewing point. The trail leading there is paved and has a slow incline. It could be helpful to have someone with you to get your wheelchair on the platform. 
Sunwapta Falls is a stunning stop along the Icefields Parkway. Wheelchair access is available from the parking lot to the bridge through a paved path with a manageable decline. After the bridge, however, the path goes up and is not paved anymore.
Along the Icefields Parkway, you'll also be able to visit the Athabasca Falls. But keep in mind this location's accessibility is limited for wheelchair users. It only allows you to get to the viewing spot next to the parking lot. The other one requires walking down steps through a deserted gorge.
If you want to know more about the mesmerizing road between Lake Louise and Jasper, read our exhaustive guide on the Icefields Parkway.
Banff Gondola
The Banff Gondola is accessible for wheelchairs. The building has wheelchair access and the facilities at the top of Sulphur Mountain – the gift shop and the Sky Bistro restaurant, are also wheelchair accessible. However, the boardwalk covering the ridge and containing nearly 400 steps isn't.
Banff Upper Hot Springs
The Banff Upper Hot Springs facility has good wheelchair access as you can park your car near the entrance. A narrow lane leads around the back of the building to some parking spots for the handicapped. You can borrow submersible wheelchairs at the reception desk, depending on availability. This is on a first-come, first-served basis. 
Cave and Basin
The famous Cave and Basin National Historic Site, Banff's birthplace, is generally well-accessible for wheelchairs, including a handicapped-accessible bathroom. However, the access to the museum is pretty steep. Also, the path to the cave might pose some challenges as it is relatively narrow.
Johnston Canyon 
Johnston Canyon is not entirely wheelchair accessible, but you can reach the lower falls. Some parts of the trail are very narrow, however. They leave just enough room for a wheelchair to pass. 
When you visit the canyon in summer, this can be stressful as many visitors will be on the trail. Therefore it's advisable to come to Johnston Canyon either early in the morning, before 8 am, or later in the day, after 7 pm.
Saskatchewan River Crossing Viewpoint
This viewpoint has a crushed gravel surface allowing wheelchair access. The location provides views of the confluence of the Saskatchewan, Mistaya and Howse rivers to form the North Saskatchewan River. It is officially known as the Howse Pass Viewpoint. The location has a handicapped parking spot and a wheelchair-accessible restroom. The trail to the viewpoint is short, making it easy to get to. 
Columbia Icefield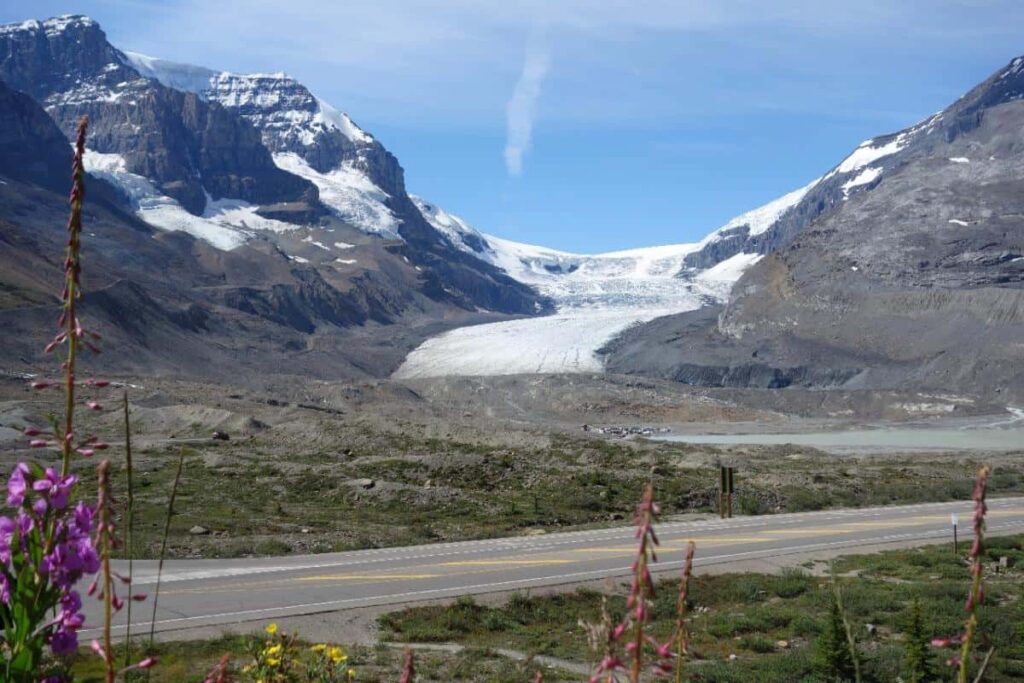 The major attraction at this super touristic location along the Icefields Parkway is the Athabasca Glacier. Their so-called Ice Explorers drive onto the Athabasca Glacier, and two of them are accessible for wheelchairs. Furthermore, the Skywalk, a few kilometers further down the road, is fully accessible for wheelchairs as well. 
The super touristic Columbia Icefield seems to be a well-thought-of location for disabled people as they have good facilities for wheelchairs. The three-story main building has lifts allowing people in wheelchairs to reach all floors. So, yes, you can also get to the Altitude restaurant on the top floor. 
There's one major caveat, however. People with physical disabilities need to give a 72 hours notice (!) if they want to take a ride on the Ice Explorer or eat at one of the two restaurants at this location. 
According to owner Pursuit Collection, this allows staff enough time to accommodate your needs and align lift-equipped Ice Explorers' schedules. Also good to know: electric wheelchairs are too heavy for the Ice Explorer lifts. You are asked to bring your own manual wheelchair. 
Wheelchair Accessible Trails and Viewpoints
Banff National Park offers an abundance of hiking trails and viewpoints. Fortunately, some trails are wheelchair accessible. I've listed them below.
Bow River Trail
This trail combines paved and crushed gravel sections. It's wide and easily accessible, making for a nice path along the edges of the Bow River and downtown Banff.    
Fenland Trail
This 1.77-kilometer (1.10 mi) loop near Vermilion Lakes is an excellent trail when you have some extra time to spare. It typically takes 30 minutes to complete the trail. Its surface is paved, making it wheelchair-friendly. 
In this wetland environment, you have a beautiful view of the mountains through the trees. Expect other people on the path as it's a popular trail, also used by mountain bikers. 
Hoodoos Viewpoint & Hoodoos Trail
The Hoodoos Viewpoint on Tunnel Mountain Road offers fantastic views over the Bow Valley. It has several handicapped parking places. A couple of hundred meters down the same road, you'll find the trailhead for the Hoodoos Trail. The first stretch of this path has a crushed gravel surface, making it accessible for wheelchairs, though it's pretty narrow. 
Lake Minnewanka Scenic Loop Drive 
This road stretches north from the upper end of Banff Avenue. It takes you along Lake Minnewanka and Two Jack Lake and it has several wheelchair-accessible viewpoints. 
Sundance Canyon Trail
This calm and beautiful trail near the town of Banff starts at the Case and Basin National Historic Site and hugs the Bow River for kilometers on end. It's paved, which makes it very wheelchair-friendly. It also has a slight incline, but nothing too daunting. 
Watch out for cyclists and horses as they frequent the trail as well. The end of the paved road indicates the actual trailhead to the Sundance Canyon Trail and this part is inaccessible for wheelchairs, unfortunately. Nevertheless, the runup to the trailhead is worthwhile with several beautiful viewpoints.  
Banff Legacy Trail
This beautiful trail connects Banff and Canmore. It was built in honor of the park's 125th birthday and is fully paved. At 22.3 kilometers (13.83 mi), completing this trail in a wheelchair is not for the faint of heart. Keep an eye out for cyclists on this popular trail.
Especially because returning to Banff doubles the distance. The good news is that you can take a Roam Transit bus back to Banff. These buses are wheelchair-friendly.  
Lake Louise Trail
At Lake Louise, you can do the Lake Louise Lakeshore Trail, providing you with all kinds of lovely perspectives of the most famous lake in the park. The path hardly inclines and it leads from the hotel to the back of the lake. It's (very) crowded in summer, but it shouldn't pose any problems because the trail is pretty broad.
Not (Easily) Accessible Attractions
The Surprise Corner Viewpoint in the town of Banff is not at all wheelchair-friendly, as you need to climb quite a few steps to get there. Luckily, the parking lot for this viewpoint allows you some views through the trees, but it's far from ideal. In general, the car park is very busty. Cars could block the good viewing points from this location. 
Unfortunately, Mistaya Canyon isn't easily accessible for wheelchair users. Close to the Icefields Parkway, this gorgeous canyon has a wheelchair unfriendly rocky path leading to the bridge over the canyon. 
Moraine Lake itself is accessible and you can enjoy the stunning views the lake has to offer, but it's difficult to follow the trail on the lake's right-side edge. In theory, you could. It's a crushed gravel trail. But rocks and tree roots make it an arduous path to traverse in a wheelchair.
Museum Accessibility in the Park
The accessibility of the museums in Banff National Park is good. They are accessible for wheelchairs (sometimes through a ramp leading up to the entrance). The Cave and Basin National Historic Site in particular has several facilities for people with disabilities.  
ASL Interpreted Tours
Banff National Park seems to fall short considerably in American Sign Language (ASL) interpreted tours. There aren't really any facilities. An option might be downloading a Gypsy guide for GPS self-guided tours. 
You can find their app on the PlayStore or AppStore on your smartphone. I would also recommend you visit the Visitor Centre in Banff or Lake Louise. They might be able to help you on this topic.  
Mobility Scooter Rentals
If you require a local mobility solution, you might want to check out the Banff Scooter Company. It provides mobility scooter rentals. You'll find the Banff Scooter Company at the Banff Train Station (327 Railway Avenue). According to their website, you can have the scooter delivered at and picked up from your hotel. You can rent a mobility scooter at a daily or weekly basis. 
More information
If you want more information on facilities for people with disabilities, you can go to the Banff and Lake Louise Visitor Centres. These centers are both wheelchair accessible. The staff can provide you with specific information if need be. 
Banff Visitor Centre
Opening hours (daily): 9 am – 5 pm
Address: 224 Banff Avenue, Banff
Phone: +1 403 – 762 1550
E-mail: pc.banff-vrc.pc@canada.ca
Lake Louise Visitor Centre
Opening hours (daily): 9 am – 5 pm
Address: Samson Mall, 201 Village Rd, Lake Louise
Phone: +1 403 – 522 3833
E-mail: pc.lakelouiseinfo-infolakelouise.pc@canada.ca
If you want more information about visiting Banff National Park with a disability, visit disabledholidays.com.
This post contains affiliate links and any sales made through such links will reward this site a small commission – at no extra cost for you.