If you're visiting Banff with growing kids, I imagine you want them to learn a bit while enjoying the park's great outdoors. Look no further. This article lists six activities that are both fun and educational!
Why not combine the useful with the pleasant, eh? In Banff National Park, this is as easy as it gets. There are several interesting places in the park to visit that are exciting and educational at the same time. 
Wanna know what these are? Let's dive right in! 
Visit the Sulphur Mountain Interpretive Centre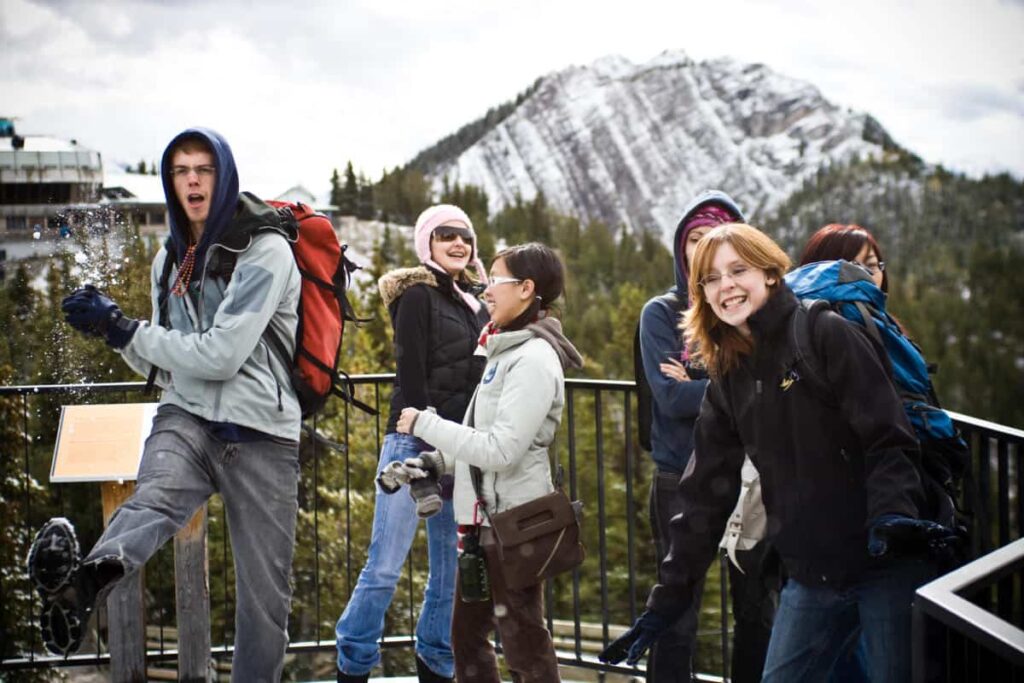 The Sulphur Mountain Interpretive Centre in Banff is a fantastic destination if your kids are interested in learning about the geology and ecology of the Canadian Rockies.
It's located in the Banff Gondola upper terminal on top of the summit of Sulphur Mountain. Located on the second level, you'll find interactive interpretive exhibits with lots of information about Banff. 
The Interpretive Centre includes the Above Banff Theatre. This 48-seat multi-sensory theater plays a six-minute drone-shot film showcasing the breathtaking grandeur of the Canadian Rockies.
Family Experience 
If you show up with your kids between 8am and 10 am, your kids have free admission to the Banff Gondola and the Interpretive Centre (One child admitted free with each regular-priced adult). 
Considering the Banff Gondola is VERY expensive, this is an excellent deal. 
The Family Experience also includes a treat for your kid(s). 
Play Agents of Discovery 
Agents of Discovery is an interactive exploring game to "spark kids' sense of adventure". Through an app, your kids will look for challenges in the many interpretive signs on the Banff Gondola Mission. They will be rewarded for exploring the top of Sulphur Mountain. 
It's best to download the app before you visit Sulphur Mountain.
HOW TO GET THERE
The Banff Gondola is located at 1 Mountain Avenue in Banff, not far from the town of Banff. It's easy to find as the gondola's parking lot is at the end of a dead-end road. 
ADMISSION
Starting at CAD 55 (date-depending)
Cave and Basin National Historic Site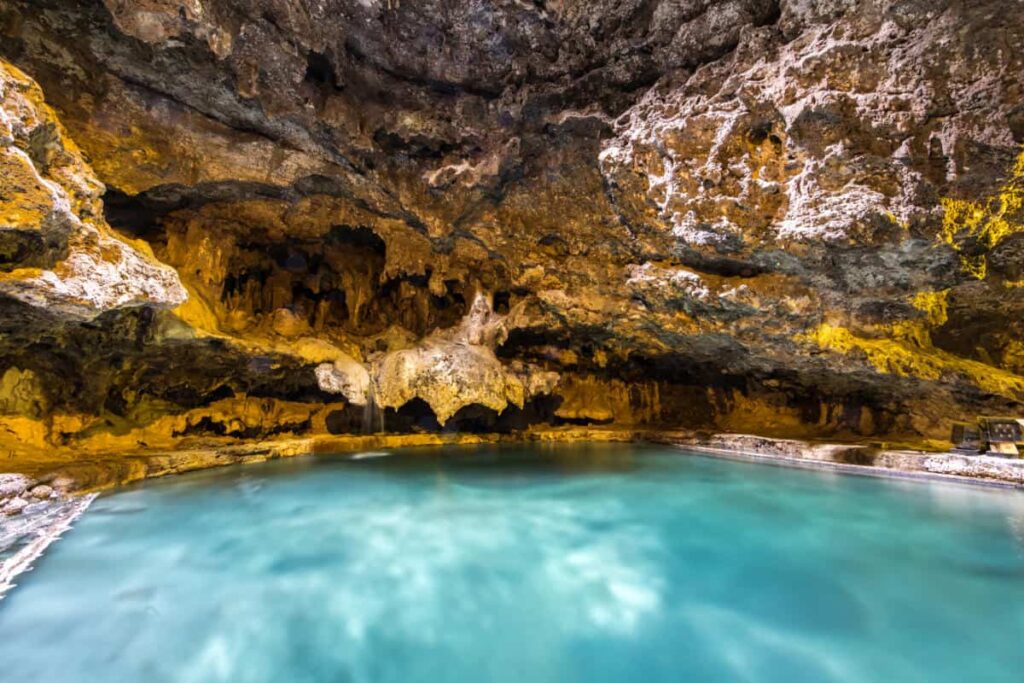 The Cave and Basin National Historic Site in Banff National Park is a must-see if you want to learn about the birth ground of the park and enjoy the beautiful scenery at the same time. 
At this location, three railroad workers discovered thermal mineral springs in 1883. It led to the foundation of Banff, the first national park in Canada.  
But the site's history goes much farther back. It has been a special place for Indigenous Peoples for over ten thousand years.
Cave and Basics Tour
You can take the fascinating 30-minute Cave and Basics Tour at the Case and Basin to learn more about the Cave and Basin area. During this tour, a guide will take you and your kids inside the cave and tell you about the site's and park's history. 
The tour is beautiful, interesting and not too long. In my experience, this makes it very worthwhile for kids.
Natural History Tour
Outside there's an interesting 45-minute Natural History Tour of the site, explaining how the springs emerged and their ecological influence on the area. 
Several boardwalks take you and your kids past interesting locations like the endangered Banff Snail. Exploring the site requires effort, as you'll need to climb several wooden stairs.  
Lantern Tour
If you're in for a spooky tour, you can join the Lantern Tour at the Cave and Basin. This 40-minute tour is held on Saturday evenings. 
The ghost of David Galletly, the first pool keeper at the Cave and Basin, hosts tales of the past through stories, sounds, and a touch of magic.
Xplorers Programme
There's also the Xplorers Programme, which runs at several Parks Canada sites across the country. Cave and Basin is one of them. 
The program is essentially an activity booklet that guides your children through fun activities to help them explore the Cave and Basin site and introduce them to the park's wonders.
As participants, your children will receive an official souvenir.  
Oh, before I forget, you have free admission with an annual park pass.
A caveat to all activities: you'll smell rotten eggs due to the sulfur.    
ADMISSION
Adults (18-64): CAD 8.50
Seniors (65+): CAD 7.50
Youth (17-): free 
HOW TO GET THERE
Cave and Basin is located at 311 Cave Avenue in Banff. Cross the bridge over the Bow River at the south end of Banff Avenue and turn right onto Cave Avenue. Just follow the road, and you'll arrive at the Cave and Basin parking lot.   
Bankhead Ghost Town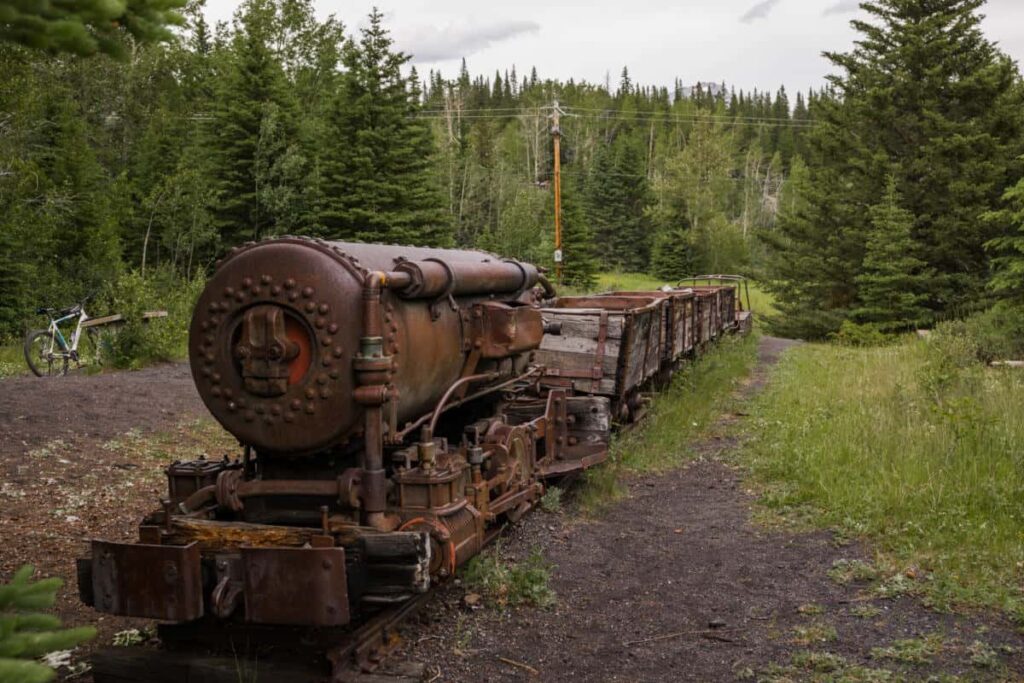 Bankhead Ghost Town is just east of the town of Banff. It offers a unique opportunity for your kids to learn about the park's history and industrial heritage. The town was established in 1903 as a company town to provide coal to CPR locomotives and hotel boilers, like the Banff Springs Hotel. 
By 1905, the frontier community was dotted with homes, shops, community buildings, and a school, and it quickly grew into a town with more the 1,000 residents.
Self-Guided Walking Tour
An excellent educational activity for kids at Bankhead is the self-guided walking tour. 
Your kids can explore the town and learn about its history through interpretive signs and exhibits. Just follow the Bankhead Ghost Town Trail. 
You'll stop at the old mine site, the former townsite, and the ruins of the old school and community hall.
A special place of interest is the Briquette Building. With multiple walls and arches, it's one of the Bankhead's more structurally intact remains.
Another interesting site is the remains of the Tipple Building, where coal was sorted from the rock. It used to be a massive building 30 meters high.
And what to think of a rusted coal mining train engine and coal mine cars? Once used in the nearby town of Canmore, it's not the one that was used in Bankhead, but it's very similar. 
The Bankhead Ghost Town Trail passes across coal waste piles as well. The slack heaps consist of rocks, dust and waste coal that couldn't be sold.
Hopefully, you don't mind your kids getting dirty… 
ADMISSION
Free
HOW TO GET THERE: 
Drive to the northeast on Banff Avenue. After the bridge, this road becomes the Lake Minnewanka Scenic Drive. After about two kilometers (1.25 mi), take a right turn to the Lower Bankhead parking lot.
ALSO READ: The History of Ghost Towns in Banff National Park
Buffalo Nations Luxton Museum
The Buffalo Nations Luxton Museum in Banff National Park is dedicated to preserving the history and culture of the Indigenous Peoples of the Canadian Rockies. 
Your kids will love the looks of the museum, as it resembles an old wooden frontier fort. Inside you will find artifacts, photographs, and exhibits that showcase the traditions and way of life of the region's Indigenous Peoples.
And your kids can listen to tales about their interesting past and learn about their culture and influence on the area. 
The museum is open year-round, seven days a week, from 10 am to 6 pm. 
ADMISSION
Adults: CAD 12.00
Seniors (60+): CAD 11.00
Youths (7 to 17): CAD 6.00
Children under 7: Free
HOW TO GET THERE: 
The Buffalo Nations Luxton Museum is located at 1 Birch Avenu. To get there, cross the bridge over the Bow River at the south end of Banff Avenue and turn right onto Glen Avenue. Just keep following the road. 
After the intersection, the road turns into Birch Avenue. You'll find the museum after two hundred meters on your left-hand side. 
Ski or Snowboard Lessons in Banff
As Banff National Park has three ski resorts, there's a variety of ski and snowboard lessons for kids of all ages and skill levels.
These so-called SkiBig3 resorts – Banff Ski Resort, Lake Louise Ski Resort, and Mt. Norquay – offer kids ski and snowboard lessons divided by age group and experience. 
They have dedicated kids' areas with gentle slopes and terrain parks explicitly designed for kids. 
Lessons are available for kids aged 3-17 and are taught by experienced instructors specializing in teaching kids.
The Sunshine Village and Lake Louise Resorts also offer daycare services for younger kids, so you, as a parent, can hit the slopes without worrying too much about your offspring.
In addition to the SkiBig3 resorts, various independent ski and snowboard schools in Banff National Park offer lessons for kids.
ADMISSION
Prices Depend on the program you take.
HOW TO GET THERE
All three ski resorts are very well accessible. They're all close to the Trans-Canada Highway. 
Norquay Mountain Ski Resort: Mount Norquay Road (drive to the end of the road)
Sunshine Village Ski Resort: 1 Sunshine Access Road
Lake Louise Ski Resort: 1 Whitehorn Road
ALSO READ: Banff Ski Resort Comparison
Visit the Wildlife Interpretive Centre
The Wildlife Interpretive Centre in Lake Louise is an excellent destination for kids interested in learning about the wildlife of Banff National Park. 
This small but interesting center displays the principal wildlife in the Lake Louise region, including stuffed grizzly bears, black bears, cougars, lynx, and mountain goats. 
There are also information boards about local wildlife, there is digital and video programming, and you can touch and feel animal pelts, skulls, claws, and (fake) droppings.
And if your kids have any questions, the friendly staff will take their time to answer them.
Also good to know: Every day at 10am and 2pm (weather permitting), the interpretive team offers free 15-minute educational talks near the observation platform. They will discuss geology, glaciers, wildflowers, bears and other local animals!
Guided Interpretive Hike
You and your kids can also explore the area around the Interpretive Center. A guide will take you on a hike across the upper-mountain trails at Lake Louise and tell you and your kids about your surroundings. 
You'll also get an exceptional view of the gorgeous Lake Louise Valley and its towering peaks.
You have several hikes to choose from: 
Trail of the Great Bear (June 3 – October 9): a short hike through bear country! A bear safety workshop will give you the necessary information on how to use bear spray, what to do if you see a bear, and how to recognize bear presence indications in your area.

Duration: 45 minutes
Elevation gain: 30 meters (98 ft)
When: daily, from 10 am – 4pm; August 1 – October 4, an extra tour starts at 5pm
Meeting point: front desk Interpretive Centre
Admission: CAD 22.95

Trail of Discovery (June 3 – October 9): this is a longer guided hike, taking about two hours to complete. The trail is off-limits to the general public. Your guide will help you and your children learn about the landscape's ecology, geology, and history as you walk through open meadows and subalpine forests.

Duration: 2 hours
Elevation gain: 200 meters (656 ft)
When: daily, from 10am to 1pm
Meeting point: front desk Interpretive Centre
Admission: CAD 56.95
HOW TO GET THERE: 
Hop on the Lake Louise Sightseeing Gondola to the Wildlife Interpretive Centre. The base terminal is near the Lake Louise Ski Resort parking lot, just off the Trans-Canada Highway near the village of Lake Louise. 
ALSO READ: Banff's Sightseeing Gondolas Compared
Distances Table
In the table below, you'll find the distances in kilometers and miles to the educational activities. I have listed the distances from the Town of Banff and the Village of Lake Louise and the driving time. 
| Activity | Distance from Banff | Distance from Lake Louise | Driving time (Banff/Lake Louise) |
| --- | --- | --- | --- |
| Sulphur Mountain Interpretive Centre | 4km (2.49 mi) | 62 km (39 mi) | 7/48 min |
| Cave and Basin | 1.8 km (1.12 mi) | 60 km (37 mi) | 5/45 min |
| Bankhead Ghost Town | 7.7 km (4.8 mi) | 63.5 km (39 mi) | 11/43 min |
| Buffalo Nations Luxton Museum | 450 m (492 yds) | 59 km (37 mi) | 2/42 min |
| Norquay Mountain Ski Resort | 7.4 km (4.6 mi) | 62 km (39 mi) | 12/45 min |
| Sunshine Village Ski Resort | 19 km (12 mi) | 57 km (35 mi) | 20/42 min |
| Lake Louise Ski Resort | 60 km (37 mi) | 4.3 km (2.7 mi) | 41/7 min |
| Wildlife Interpretive Centre | 60 km (37 mi) | 4.3 km (2.7 mi) | 42/7 min |
Distances table educational activities for kids in Banff National Park