You've got your working holiday visa, so now you can work in Banff; congratulations! The time to dream has started. And the time to arrange your trip and your stay. In this article, I laid out everything you need to prepare before you go and what to do once you've arrived in Banff. 
All vacation-goers can relate to the thrill of getting ready to leave. It's a lot of fun to check out hotels, apartments, or other lodgings and things to do at your location. 
When you're about to go on a trip as a temporary worker, this excitement is much bigger. At least, going by my own experience. While I didn't go straight to Banff (I worked several months in Toronto first), I always intended to go there. It was my ultimate destination. That's why I spent a lot of time researching the town before setting off for Canada.
In hindsight, I can conclude that was the smart thing to do, but there still were many things for which I was unprepared. I had to find out things on the go. While that's cool in some ways, there are some things I wish I'd known in advance.
To make things easier for you, I wrote down everything worth knowing in this post. Let's dive in. 
Things to Arrange Before You Fly to Banff 
Dreaming about your time as a temporary worker in Banff is nice and all, but as soon as your visa application has been approved, it's time to take action. And there are some things you should take care of well before your departure.
Make Sure You Save Up Enough
This is the one that will make or break your experience in Banff. You can gamble on finding a job in time to cover your expenses. And you might succeed. 
Still, you don't know beforehand whether you'll find a job with staff accommodation. The cost of renting a house or apartment in Banff makes it difficult for employees to make ends meet if they do not have staff housing as part of their employment package (yes, it exists in Banff).
In that case, some decent savings would come in very handy. Though I would recommend searching for another job that includes staff accommodation. Or start working and keep looking for a job that comes with staff accommodation.
So how much savings should you have when you arrive in Banff? That's a tricky question to answer. It depends on the time you intend to spend in Banff. And maybe you plan on working in different, cheaper locations as well? 
The Working Holiday Program (also known as the IEC program) requires you to have savings worth CAD 2500. As this program is aimed at Canada as a whole, it's not based on the much higher Banff prices. That's why I would advise you to have savings of CAD 5,000 or more if you can. 
Update Your Resume
It's probably wise to update your resume just before your trip to Canada. This way, it has your latest working experience and you'll be all set to enter Banff's job market. 
If you're unsure what it should look like, you can find many good templates online that you can use to make or update your own. 
Make sure you find a template that lives up to Canadian standards. If you have working experience as a volunteer, by all means, mention it. Canadian employers love it. 
Scour Online Job Boards 
Scour online job boards to orient on the job market. Employers in Banff have openings all year long and usually list when a job starts. If you find a job you like, apply. 
If you're lucky, you'll land a job before you arrive in Banff. In other instances, you might be invited to an interview in Banff. That's way better than arriving in Banff without any job possibilities yet. 
When you apply, ensure you have your visa to show to your future employer. If not, they might want to turn you down just because you don't have a visa yet. 
There are several good job boards for Banff. If you want to know more about it, I highly recommend reading the post Work in Banff, You Can too.
Buy an International Travel Insurance
If you're a foreigner working in Banff, you need special insurance. In essence, you need medical and travel insurance, covering things like hospitalization, theft and damages during your stay abroad. 
Several companies specialize in this kind of insurance. You'll be able to find plenty online, but be careful and read their policies well. Many insurers won't cover any medical complications that pertain to an illness or medicines you have had six months before your departure. Be wary. 
The prices of these insurances are not crazy high. You generally pay somewhere between CAD 40 and 75 per month. 
If you have good insurance, you'll be surprised what's possible. I remember I had my own physiotherapist and acupuncturist at one point. It was all covered by my insurance company. 
Don't Take Too Much Stuff With You
Carefully plan what you're taking with you. There are obvious things like clothing, shoes, towels, a laptop, sunglasses, a toothbrush, toothpaste and other toiletries. 
For the rest, don't get crazy. The more you take with you, the more you need to carry. Banff has many shops. You can get pretty much get anything you need there. I don't advise you to buy everything in Banff, just don't take more than the essential stuff. 
I am speaking from experience when I say you'll accumulate quite a bit during your time in Banff. You'll be bound to leave most of it behind when your time in Banff is up.
Things to Do When You've Arrived in Banff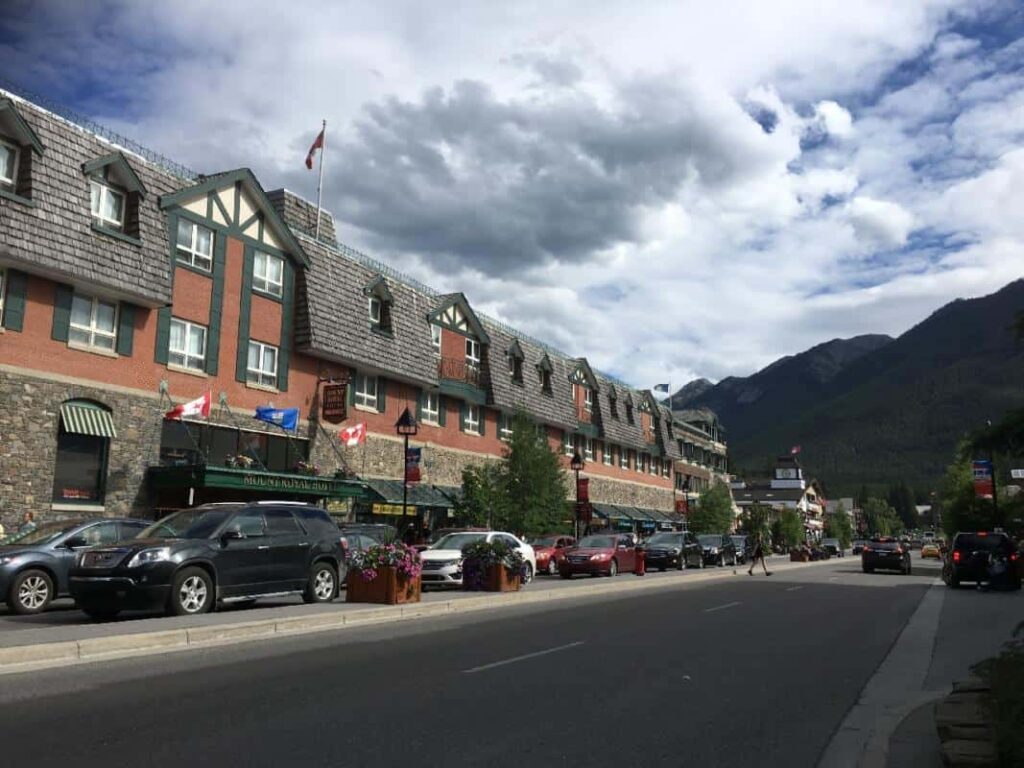 Congratulations again! Now you're in Banff, your crazy mountain adventure is about to begin. While it's tempting to party in some of Banff's many bars and nightclubs, stay in bed until noon and generally enjoy the good life, some stuff needs arranging. 
Sorry, don't want to be a party pooper, but that's how it is. What those things are, you wonder? Keep reading.
Get a New Sim Card for Your Phone 
When you have arrived in Banff, you don't want excessive roaming costs on your home cellphone number. So the first thing you want to do is get a local number with plenty of data. 
Banff has several shops where you can buy a new sim card. They operate on either Rogers or Telus Mobility, the only two providers in Banff and Lake Louise. These are:
BANFF
Rogers
Address: 317 Banff Avenue, Concourse 20 Cascade Mall
Fido
Address: 317 Banff Avenue, Concourse 20 Cascade Mall
The Source
Address: 317 Banff Avenue, Cascade Mall, Unit M1-M3
Telus
Address: 208 Buffalo Street
Wi-Com Solutions
Address: 103 Caribou Street
LAKE LOUISE
Experience Lake Louise
Address: 101 Lake Louise Drive #2
This sim card will also allow you to call locally without breaking the bank. Just be wary of long-distance calls. Canada is enormous, and calling to a town or city that doesn't seem too far away might already be long distance. 
Open a Bank Account
Opening a bank account is essential for obvious reasons. Just take your passport, temporary worker's visa and social insurance number and you should be fine. Get informed about the possibilities of several bank cards. There are five banks in Banff (BMO, CIBC, RBC, ATB Financial and the Bow Valley Credit Union) and they all have different offers. 
If you're not from North America, you should know that Canada's (and the US's) banking system is old-fashioned. It's not nearly as modern as what you have at home (probably), so be ready to be surprised. 
Online banking is still difficult and the possibilities are limited. Furthermore, it's still normal for your employer to hand you a physical paycheque with your last two weeks' earnings (most employers pay bi-weekly). You need to feed this paycheck to an ATM to get the money into your account. Seriously. The good news is that electronic direct deposit is on the rise.
Start Applying for Jobs as Soon as You Can
This one is also obvious. Yes, there are numerous jobs in Banff if you arrive well before the high season (and you should. Read here why). But many other temporary workers will come to Banff, just like you, which means competition. 
You want to be picky about a job with staff accommodation because a job without it means you won't be able to afford to live in Banff. So start applying as soon as you can. You still might be able to be picky and find a cool job with staff accommodation at a suitable location in Banff. 
I had a job in the middle of Banff Avenue with staff accommodation right above the shop. I was lucky, but I can tell you: that's what you want. Living in the middle of all the action and easily being able to go anywhere interesting on foot is worth a ton.
If you want to know more about the oh-so-important subject of staff accommodation in Banff, read the post The Ultimate Guide to Staff Accommodation in Banff and Lake Louise. You'll find everything you need to know.