Sure, plenty of classic activities like hiking, driving and sightseeing in Banff exist. But the park also offers some genuinely one-of-a-kind experiences found (almost) nowhere else. I think you should know about them. So here are nine of the most extraordinary things to do on your visit to Banff.
1. Via Ferrata
If you're seeking an adrenaline rush unlike any other, try scaling Via Ferrata (Italian for "iron road"). Developed by the Italian military in World War I to move troops through the Dolomites, a via ferrata is a protected mountain route outfitted with fixed cables, iron rung ladders, and suspension bridges. 
Climbers wear a specialized harness that clips to the safety cable, allowing them to traverse vertical cliffs and clamber up rock faces that would typically only be reachable by professional climbers with sophisticated gear.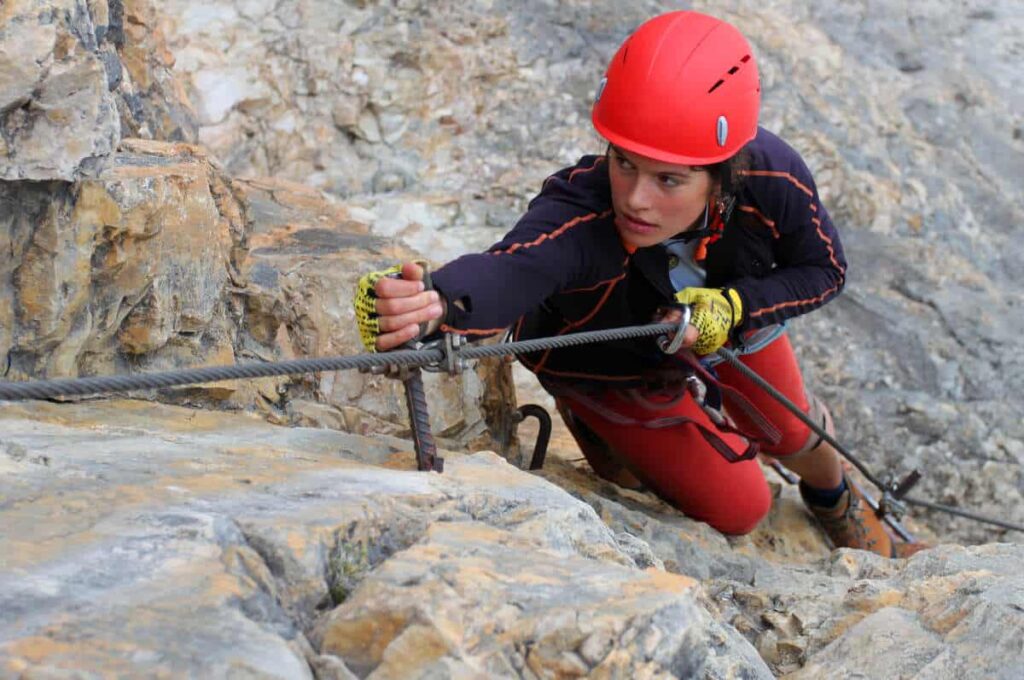 It's an incredible way for amateur alpinists to access dramatic exposed scenery and get the thrill of climbing without technical mountaineering skills.
Banff offers spectacular world-class Via Ferrata routes, conveniently just minutes from downtown Banff. 
The Norquay Via Ferrata scales a sheer 300-foot limestone cliff high on the imposing east face of Mount Norquay. Over 60 cliff-hanging metal stairs bolted right into the vertical rock, and a series of narrow exposed suspension bridges let you work your way up the steep rock face one rung at a time. 
As you slowly make your way up the exposed rock wall spidering dozens of meters in the air, an unbeatable panorama over Banff and Vermilion Lakes unfolds far below. Finally, cresting over the cliff edge onto the upper ledge gives an immense feeling of triumph and relief! 
The only prerequisite is arm fitness, as you'll get an upper body workout heaving yourself up the rock face while clinging to the cable! 
It's a unique adventure to access Rocky Mountain landscapes typically only reachable by expert climbers.
The route suits beginners, so don't worry if you lack experience. Most people do. What's more, you can only ascend the Mount Norquay via ferrata route with a guide on a commercial tour. 
If all this sounds too daunting, Banff still has plenty of mellower adventures. But if you're seeking the ultimate Rocky Mountain thrill, strapping on a harness and climbing up these iconic peaks offers an experience found at few places.
ALSO READ: Via Ferrata in Banff
2. Canoeing on Moraine Lake and Lake Louise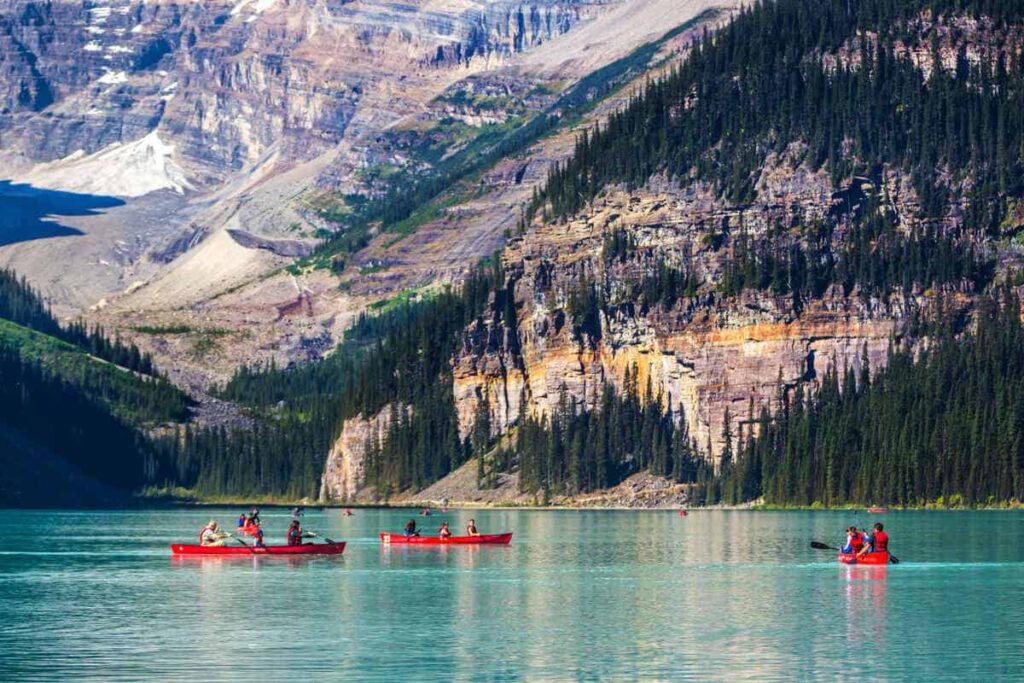 Paddling on the breathtaking waters of Moraine Lake and Lake Louise is, without exaggeration, an iconic Banff experience. These glacially-fed lakes are world-famous for their brilliant turquoise waters reflecting jagged granite spires. 
Getting out on the water allows you to become fully immersed in the grandeur of the landscape. 
Hearing nothing but the gentle dip of your paddle is a relaxing experience as you're surrounded by snow-capped peaks sparkling in the azure waters.
Moraine Lake has an otherworldly allure, with its small rocky canoe dock providing easy access for renting canoes. 
For the ultimate Moraine experience, try to paddle across to the famous natural Rockpile rocky outcropping. Here you can pull up your canoe and climb uphill, scrambling over boulders to reach one of the most jaw-dropping vistas in Banff. 
Known as the "Twenty Dollar View" (the Valley of the Ten Peaks used to be depicted on the backside of the Canadian twenty-dollar bill), the panorama of the entire Valley of the Ten Peaks with the aquamarine lake below is priceless. The Ten Peaks' reflection on the waters is indescribably beautiful.
Meanwhile, Lake Louise offers flat water ringed by the peaks of the Sawback Range. Paddling here allows you to explore all sides of this world-famous lake. 
The canoe dock near Château Lake Louise provides easy access to rentals. On a windless summer evening on Lake Louise, the surrounding mountains are illuminated in a pink glow as the setting sun reflects off the calm waters.
The tranquility of dipping your paddle against the dramatic backdrop of Lake Louise is guaranteed to become a cherished memory.
3. Stand-Up Paddleboarding on Vermilion Lakes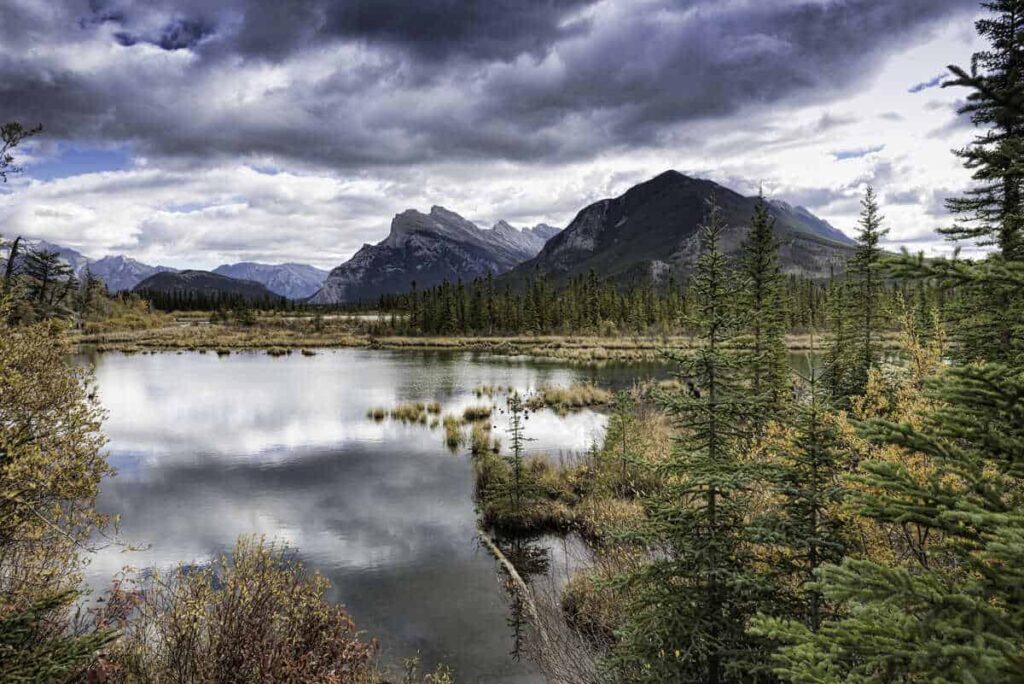 Try stand-up paddleboarding for a fun and unique way to admire Banff's beautiful Vermilion Lakes. Vermilion Lakes is a chain of shallow lakes just minutes from downtown Banff, nestled beneath the east face of Mount Rundle. 
The calm waters are ideally suited to stand-up paddleboarding (SUP). Rent a board right on-site from the Banff Canoe Club and spend a delightful day paddling around the lakes, viewing Mount Rundle and the Sundance Range.
Stand-up paddleboarding is ideal for beginners, with the stable wide boards easy to balance on after a short lesson on land. 
Paddlers often spot beavers, muskrats and waterfowl in these wetlands. Try it out; you won't be disappointed!
ALSO READ: Water Activities in Banff
4. Horseback Riding Trips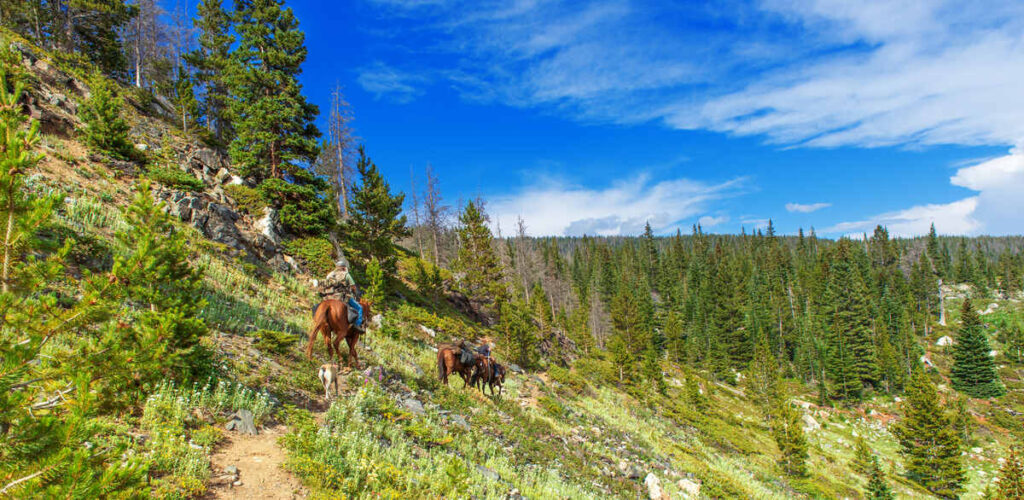 For a quintessential Rocky Mountain experience, join one of Banff's horseback riding adventures. Exploring wooded trails and alpine ridges on horseback provides a connection with the landscape that's impossible to find hiking. 
You'll gain access to flower-filled meadows, mountaintop vistas and sapphire lakes that most park visitors never experience. Plus, the horses do (most of) the work while you're enjoying the views!
There are guided trail rides tailored for all skill levels. For beginners, Warner Stables offers short, easygoing rides around the scenic Bow Valley that get you comfortable in the saddle at a leisurely pace. 
Riders meander through aspen groves, amble across rushing rivers and climb through forests on horses chosen to match your skill level. Glimpses of wildlife like elk, deer, moose and black bears are common along the way. 
Experienced riders can join backcountry horse trips to cozy hostels with outfitters like Home on the Range or Timberline Tours for multi-day wilderness adventures. 
Picture yourself traversing fields of colorful wildflowers. You'll spend nights sharing cowboy meals and swapping stories around a campfire. It's a timeless cowboy experience.
Sunrise or sunset trail rides are also magical times to ride in the mountains. The golden light and long shadows blanketing the peaks make for sensational scenery. 
Banff's outfitters guide the trips and share stories of the park's nature, history, and folklore. Being on horseback is a romantic way to experience the Rockies that harkens back to Banff's frontier heritage.
Don't miss this rare opportunity to experience the mountains just as Banff explorers like Tom Wilson and Jim Brewster and Aboriginal tribes like the Stoney Nakoda people did well over a century!
ALSO READ: Horseback Riding in Banff
5. Helicopter Tours
One of the most thrilling things you can do in the Rockies is see the mountains from the sky on an helicopter tour. Taking a helicopter flight (obviously) allows you to access remote places and see the landscape from perspectives not possible any other way. 
You'll swoop over icefields, alpine lakes and limestone peaks. The helicopters provide more flexibility than fixed-wing planes, bringing you up close to cliff faces, waterfalls and glacial lakes. There is no better way to fully appreciate the scale and grandeur of the mountains than viewing them from a helicopter.
Tours with Alpine Helicopters include options like the Mount Assiniboine Helicopter Tour, which flies you over the majestic peak known as the "Matterhorn of the Rockies". You'll get close to the Assiniboine and Gloria glaciers on this tour. 
So buckle up, and keep your camera ready for an unforgettable eye-popping aerial adventure!
ALSO READ: Helicopter Tours in Banff
6. Scuba Diving at Lake Minnewanka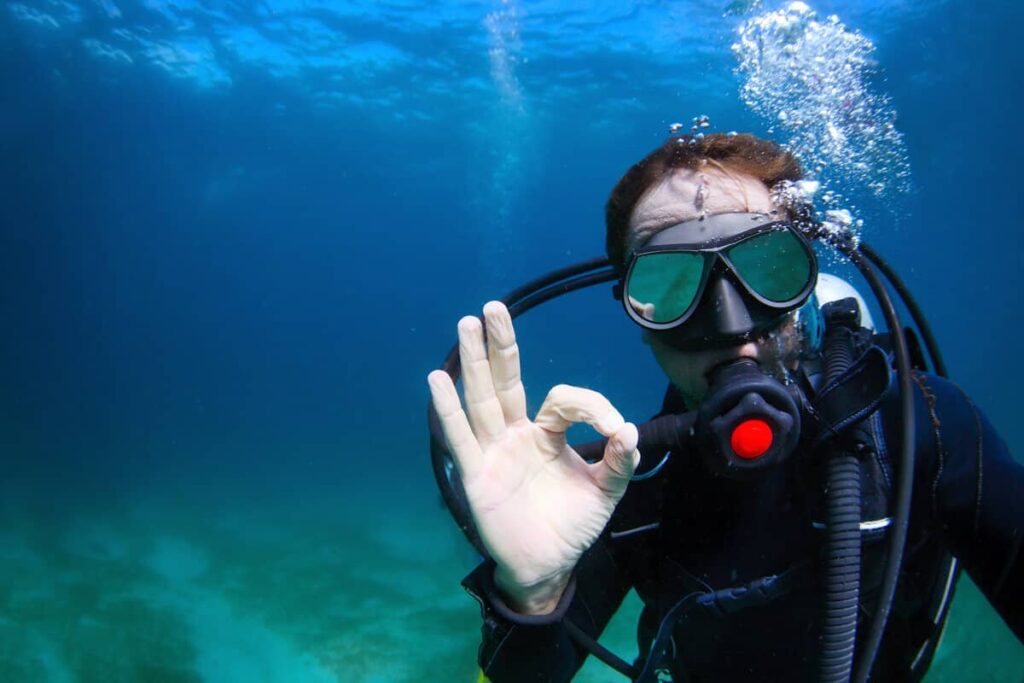 Did you know recreational scuba diving in the Canadian Rockies is possible? Beneath the surface of stunning Lake Minnewanka lies an unexpected landscape. 
At the Minnewanka Landing Dive Site, near the eastern corner of the park's largest lake, you can discover walls of rocky reefs, giant moss-covered boulders, and even a wholly submerged abandoned village!
That's right – before the construction of the Lake Minnewanka Dam in 1941, the lake was much smaller. The damming flooded the former mining town of Minnewanka Landing, which once stood on the lakeshore.
Remnants of concrete foundations, century-old steam pipes, cables, and debris from the abandoned buildings still rest beneath the waters today. Dropping below the surface, you can explore these remains encrusted with marine life.
In addition to the human artifacts, Lake Minnewanka offers remarkably clear freshwater with sometimes over 20 meters (65 ft) of underwater visibility on sunny days.
While cold temperatures, challenging logistics, and brief seasons limit access, guided dives provide everything needed for an incredible high-alpine scuba experience. If you're new to diving, you will want to hire a dive master. The Dive Outfitters can help you with that. 
Don't miss this rare chance for a scuba experience as unique as the Rockies!
ALSO READ: Diving in Banff
7. Skating Frozen Abraham and Minnewanka Lakes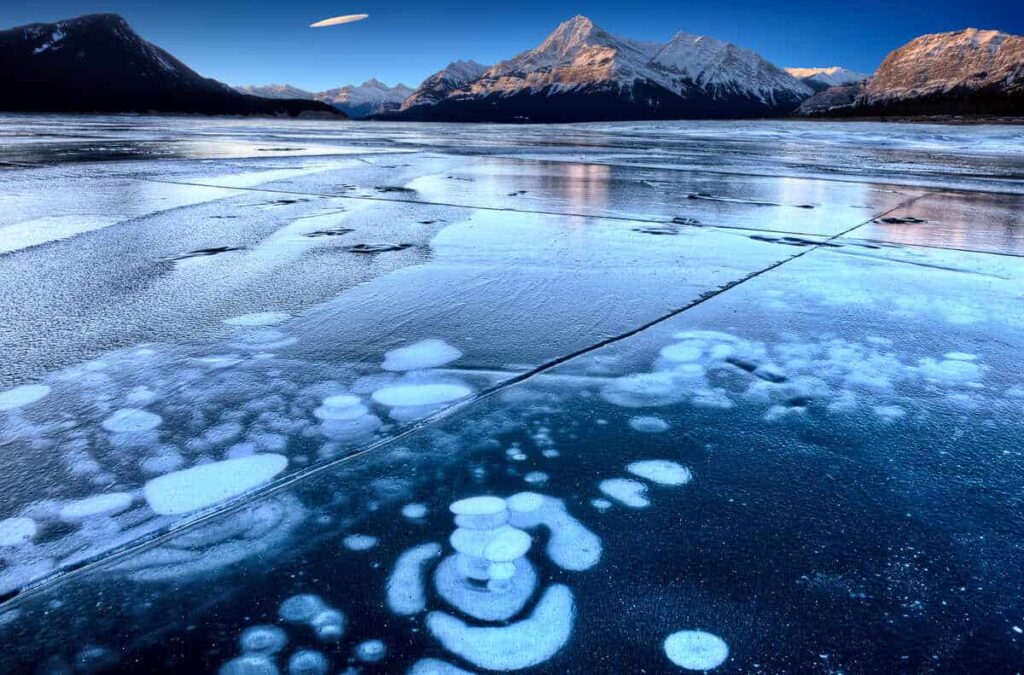 When the bitter cold of Rocky Mountain winter arrives, the peaks surrounding Banff transform into a frozen wonderland. A quintessential way to experience the winter splendor is by skating across the frozen surfaces of Lake Abraham, Lake Minnewanka, and, to a lesser extent, Vermilion Lakes. 
On Lake Minnewanka, you can glide beneath the spectacular peaks of Mount Girouard, Mount Aylmer and Mount Astley. One unique feature is that the lake even has natural "bubbles" of methane gas suspended and frozen into the ice. 
These frozen bubbles appear due to the rotting of plants and tree limbs buried there. Methane gas is emitted during this process, causing bubbles in the water.
You can see them far below your skates as you skim over this natural phenomenon. However, the best sections are often at the far end of the lake, more than 20 kilometers (12 mi) from the road. 
While just outside the park's boundaries, Lake Abraham is the classic favorite from mid-December to mid-February. 
It doesn't receive as much snow as Lake Minnewanka, exposing the ice and methane bubbles. Expect lots of people here as the lake is easily accessible.
8. Ice Climbing Frozen Waterfalls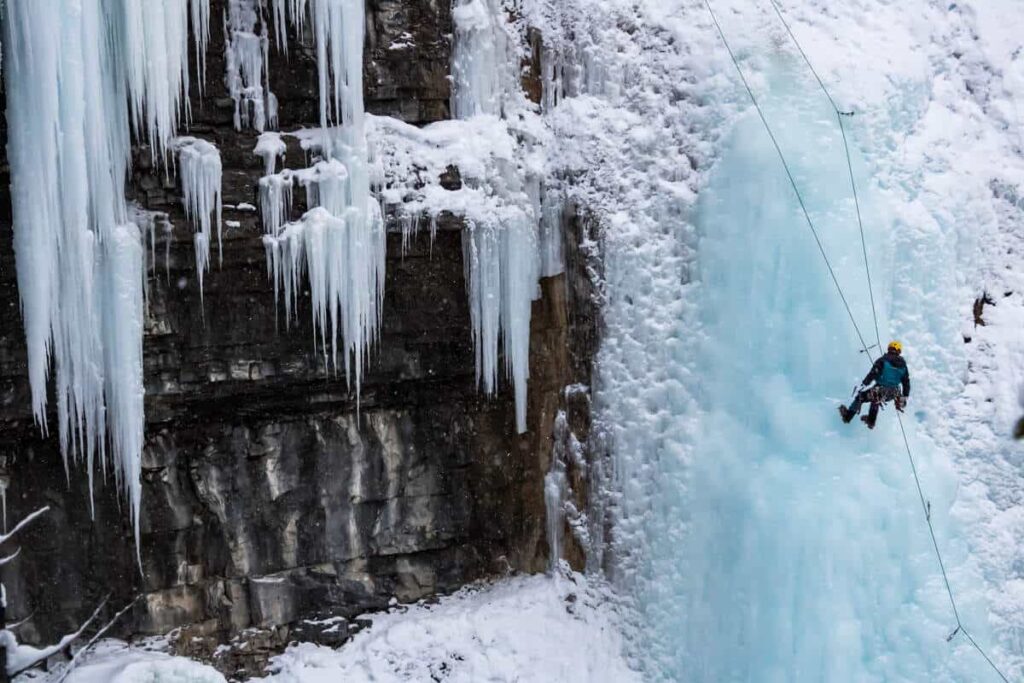 For extreme alpine thrillseekers, strap on crampons and grab your ice axes to ascend Banff's frozen waterfalls! The powerful cascading waterfalls around Banff undergo an incredible transformation come winter. 
The frigid temperatures morph the rushing summer torrents into hundreds of feet of climbable blue ice. Scaling these frozen behemoths with axes and spikes is a full-body workout requiring equipment and techniques. 
Popular ice climbs of all levels are relatively easily accessible in the park. For beginners, the tiered flow and various angles on Professor Falls on Rundle Mountain offer excellent training for starting. 
Just up the Trans-Canada Highway (Highway 1), the stunning 90-foot cascade of Grotto Canyon Falls near Canmore transforms into a narrow icy canyon with aqua-blue ice. 
And the imposing 180-meter (591 ft) Weeping Wall along the Icefields Parkway (Highway 93) will challenge the with overhanging bulges and many, many meters of vertical ice.
For rookie climbers, local guide companies like Yamnuska and Alpine Air Adventures offer introductory ice climbing courses to learn techniques like swinging axes into the waterfall ice and properly using crampons. 
The latest axes, harnesses and rope systems allow you to try ascending the frozen cascades. Scrambling up these icy cathedrals is pretty much the ultimate winter adrenaline adventure.
In warmer months, the waterfalls provide remarkable beauty to admire from below. But experiencing their frozen alter ego up close is an exhilarating winter opportunity.
9. Dog Sledding Tours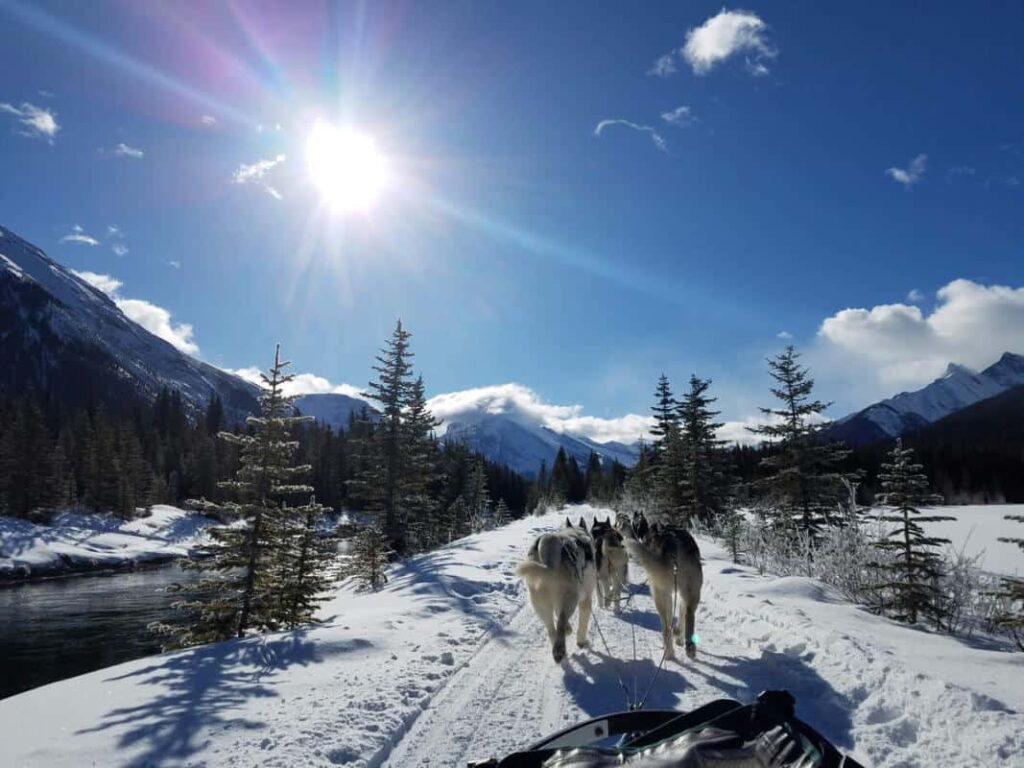 To experience the Canadian Rockies like early pioneers, join a dogsledding tour with a working sled-dog team! Roaring through the snowy backcountry wilderness on a dog sled is a time-honored winter tradition. Modern sled dog companies help keep traditions alive by offering dog sled experiences.
Historic sled-dog companies like Snowy Owl Tours in Canmore have operated for over twenty years. A pack of huskies, malamutes, or Canadian Inuit dogs will greet you. 
Mushers will demonstrate outfitting the pups in harnesses and attaching them to the sled. Within moments the dogs are straining against their lines, waiting for the command to go. 
Before you know it, you'll be zipping through the snowy forests behind your team on an unforgettable dogsled ride. The powerful dogs love to run and work together, with front dogs setting the pace while the team follows their lead. 
Your musher will teach you how to drive the sled using commands like "Gee" (right), "Haw" (left) and "Whoa" (stop).
Multi-day lodge-to-lodge dogsled tours are also available for an extended trip deep into the backcountry. 
Snuggle into the coziness of a mountain hostel at night under the northern lights after feeding and bedding down your team of sled dogs.  
Experiencing the teamwork and power of these dogs to journey through the wilderness is a one-of-a-kind adventure. Visiting the sled dogs lets you appreciate how vital they were for survival and transportation in the Rocky Mountain winters before roads and trails.
ALSO READ: Dog Sledding in Banff
Banff Travel Guide and FAQ
Where is Banff National Park, Canada?
Banff National Park is in the southwest of the province of Alberta. It's home to the towns of Banff and Lake Louise and borders the province of British Columbia in the west of Canada. You can easily access famous places like Lake Louise, Moraine Lake, Peyto Lake and the stunning Icefields Parkway from these locations.
Banff and Lake Louise are situated in the Rocky Mountains of Alberta, close to the boundary with British Columbia, as shown on the map of Banff National Park below.
Is Banff, Canada safe?
Generally speaking, yes. Like most areas, Banff has crime, but it's still a safe travel place. But Banff has a lot of wildlife, including bears and cougars, so you should always carry bear spray and exercise caution when hiking in the mountains.
What is the best time to Travel to Banff, Canada?
The best time to travel to Banff, Canada, depends on your reason for visiting the park. If you're going for the stunning nature the park's famous for, you'd better visit from June to September. The best months to ski are from January through March. 
WEATHER IN BANFF, CANADA: AVERAGE TEMPERATURE
The worst months to visit Banff National Park are November, April and May. It's too chilly to go sightseeing in November, and there isn't enough snow on the slopes yet. The iconic lakes in the park are still frozen in April and May, and it can still be quite cold.
How do I travel to Banff, Canada?
Want to fly to Banff? Calgary International Airport (Code: YYC) is the closest airport. It's 130 kilometers (81 mi) to the east of Banff.  
Several cities, including Toronto, Chicago, Seattle, and Dallas/Fort Worth, have direct flights into Calgary.
Pick up a rental vehicle at Calgary International Airport, or take a private transport service to your destination. The trip to the park takes about 1 hour and 40 minutes. 
Viator has several good options. Click the link to check the options and latest rates.
Banff Car Rental
Want to rent a car during your stay in Banff National Park? Rent one at Calgary International Airport or in the city of Calgary. Yep, there are rental firms in Lake Louise and Banff, but as these are small towns, your rental options can be limited.
Avis is a reputable car rental company, which I've used many times. Book now with Avis
What do I pack for Banff, Canada?
The time of year will affect what you should bring with you on your trip to Banff, Canada. If you plan to spend your summer vacation in Banff National Park, you should be okay with light-colored, breathable clothing. Bring a few sweaters, too, as Banff's summer evenings can be chilly. You're in the mountains, after all. 
When visiting in winter, bring a heavy jacket, such as a parka, and other winter clothing, such as warm pants, long underwear, and (fleece) sweaters. Don't take it lightly because Banff's wintertime lows can reach well below zero.
Banff Travel Planning Guide
Do I need a visa for Banff?
Most likely not. Citizens of the US, most European countries, Australia and New Zealand don't need a visa to enter Canada. Not sure? Click the link to see whether you need a visa or not. The typical length of stay in Canada for people with visa-exempt passports is 90 days.
Do I need travel insurance for Banff?
You bet. Feel confident while traveling with a plan from Travel Insurance Master, one of the top names in travel insurance, for just USD 10 on average per day.
What's the best way to book my Banff accommodation?
If you plan to book a hotel, hostel or bed & breakfast, Booking.com is your best bet. It has the most hotels listed and often offers the best rates.
Do I need to rent a car in Banf?
Absolutely. While Banff is one of the few national parks in North America with a sizeable public transport network, I strongly advise renting a car if you want to make the most of your visit.
Will my phone work in Banff?
It depends. In the towns of Banff and Lake Louise, you should have good to excellent reception. However, in more remote areas, the signal is spotty. In many places, there will be no signal at all.
What's the best site to buy Banff flights? 
If you're looking for cheap flights to Banff, I recommend Skyscanner. No surprises with suddenly increased rates (for taxes, seats or luggage) upon checkout. What you see is what you get.