Situated in the Rocky Mountains, Banff National Park offers many opportunities for climbing enthusiasts. Think of hiking, rock climbing and ice climbing. But there's more. You can also do via ferrata. In this post, you'll read what this mountain activity entails.   
Imagine clinging to iron cables, ladders or rungs while ascending a crag. The sun is throwing your shadow on the rocks and the only sound you hear is the subdued noises of your efforts helping you get higher and higher. 
It's all part of via ferrata. And the good thing is, you don't need to be an experienced climber to experience the thrill of nature in the alpine. 
What Does Via Ferrata Mean?
First off, let's explain what Via Ferrata means, before we dive in. Via ferrata comes from Italian and means 'iron road'. It embodies a course on steep and rocky terrain, equipped with a fixed metal rail, metal rungs or ladders as an aid to get to higher altitudes safely. It holds the middle between scrambling and rock climbing.
Via ferrata differs from rock climbing in that climbing aids are permanently fixed, whereas rock climbers bring climbing equipment and search their way to the top.
In general, via ferrata surfaces are much less steep. This makes it one of the most accessible forms of climbing and is, therefore, also suited for beginners. 
Mount Norquay Via Ferrata
In Banff, Mount Norquay is the only location in the park where you can go via ferrata. It offers you several exhilarating trips. 
Mount Norquay is the mountain just north of the town of Banff. Banff Norquay operates six via ferrata routes on the cliffs above the ski resort situated on the mountain. You'll find them just above the North American chair. 
These routes vary in length, difficulty and duration. Inquire about the route(s) that suit you best (you'll find contact information below). All routes are subject to availability. 
The Banff Norquay via ferrata routes start at a 2000 meter (6562 ft) elevation and ascend to 2450 meters (8038 ft), which is close to the top of the 2522 meters (8274 ft) high mountain. 
If you're considering doing a via ferrata route in Banff, keep in mind that weight and age restrictions are in place. The minimum weight is 40kg (88lbs), the maximum weight is 140 kg (308 lbs). This applies to all routes due to the safety leash's operational weight range. 
Minimum ages also apply. For two routes, it's 12 years old. The other routes have a 14-year minimum age. 
Other important information 
It's also good to know that Mount Norquay via ferrata tours require a minimum group size of two participants. Before heading out for your tour, you must sign a liability waiver. 
| ROUTE | DURATION | DISTANCE | MINIMUM AGE |
| --- | --- | --- | --- |
| Explorer | 2 – 2.5 hours | 1 km (0.62 mi) | 12 years |
| Ridgewalker | 3.5 – 4 hours | 1.4 km (0.87 mi) | 12 years |
| Alpinist | 4 – 4.5 hours | 1.9 km (1.18 mi) | 14 years |
| Skyline | 4.5 – 5 hours | 2.5 km (1.55 mi) | 14 years |
| Summiteer | 5.5 – 6 hours | 3.2 km (1.98 mi) | 14 years |
| Mountaineer | up to 8 hours | 3.7 km (2.29 mi) | 14 years |
Via Ferrata routes on Mount Norquay in Banff National Park
All these routes provide stunning views of the Bow Valley, the town of Banff and the formidable Rundle Mountain, rising high above in the background. So make sure you bring your camera (or smartphone).
How to get to Mount Norquay
Mount Norquay lies just north of the town of Banff, right at the Trans-Canada Highway (Highway 1), to the left of the famous Cascade Mountain (the one that rises above Banff Avenue). 
Take the westernmost intersection near Banff in the direction of Lake Louise. The road takes you straight up the mountain. A bit further uphill, you'll find a big unpaved parking lot as it's home to a big ski resort.
You can get there by car and by free shuttle bus. This bus is on a first-come, first-serve basis. It has four pick-up locations in Banff (Peaks Hotel on Lynx Street, the Mt Royal Hotel parking, the corner of Elk Street and Banff Avenue and the Banff train station). Check banffnorquay.com https://banffnorquay.com/plan-your-visit/getting-here/shuttle-service/ for the latest schedule. 
If you're staying in Banff, you could even walk or cycle there. Though don't underestimate this. I once walked up there myself, straight from Banff Avenue. And yes, it's doable, but it's further than you think. And when you're done with your trip, satisfied but tired, you still need to walk or cycle back.
While there is public transport in the Bow Valley (a bus service operated by Roam Transit), it doesn't stop at the mountain, unfortunately. 
Book Via Ferrata Tours in Banff
There are several tour organizers in Banff where you can book a via ferrata tour. Here are the three most noteworthy:
The prices of these tours range between CAD 180 and CAD 460. 
Banff Norquay
Address: 2 Mt Norquay Road
Phone: +1 403 – 762 4421
Website: banffnorquay.com
E-mail: info@banffnorquay.com
Banff Adventures
Address: 211 Bear Street, Banff
Phone:  +1 403 762 – 4554
Website: banffadventures.com
E-mail: info@banffadventures.com
Discover Banff Tours
Address: 215 Banff Avenue, Banff
Phone: +1 877 – 565 9372
Website: banfftours.com
E-mail: info@banfftours.com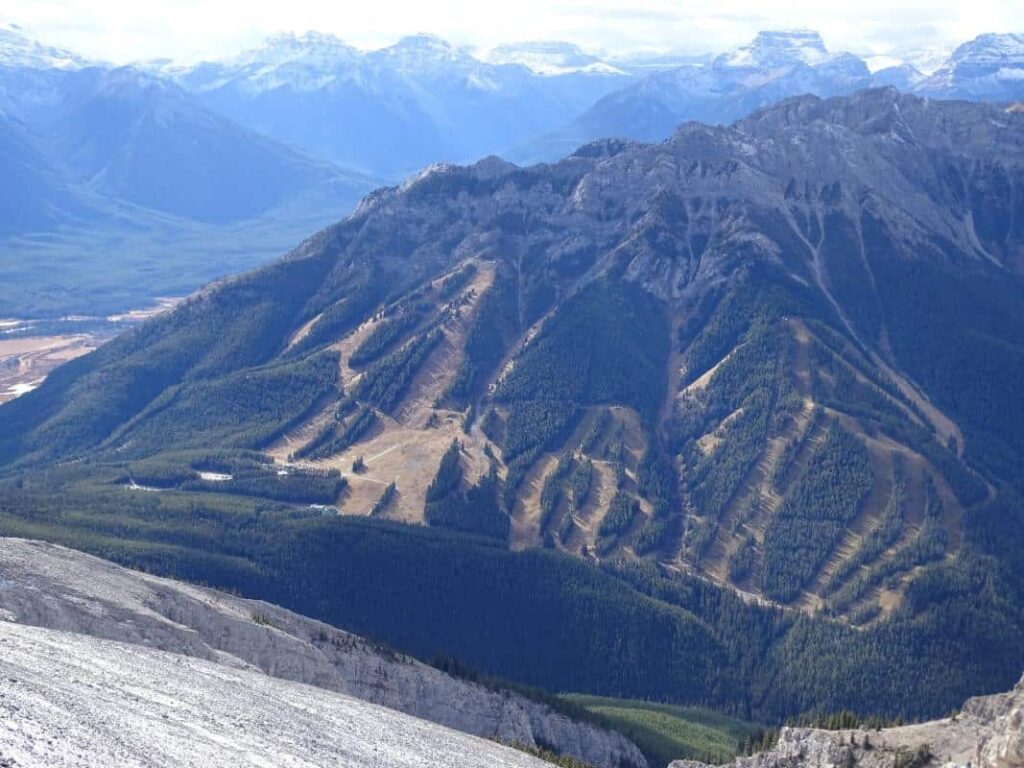 How about Via Ferrata in Winter in Banff?
No, you can't do via ferrata climbing in winter in Banff; tours are only available in summer because Mount Norquay is home to a ski resort in winter, and the via ferrata courses are closed.
If you want to do via ferrata in winter, you won't have many options as most routes in Canada will be closed. There are some, but please bear in mind that during this time of the year, via ferrata is much more arduous as snow and ice can cover the rails, rungs and ladders. 
It also demands much more from your fitness, so you should be physically prepared. Moreover, you need special equipment like crampons and ice axes to do your ascent safely. 
If you're looking for spectacular winter activity in Banff, you might want to check ice climbing. There are ice climbing tours in Johnston Canyon. Check out the ultimate guide to Johnston Canyon to find out more.
What's the Best Weather for Via Ferrata in Banff?
In Banff National Park, June until October are the best months for via ferrata trips. During these months there's less chance of rain, snow and ice, which you'd better avoid. 
Do You Need Experience for Via Ferrata?
No, you don't need experience for via ferrata. The same goes for training. However, it is not for the faint of heart. Expect hiking, climbing, scrambling, bouldering and edging on gullies and mountain peaks. Besides, a decent fitness level is desirable and you shouldn't be afraid of heights.  
How Safe Is Via Ferrata?
Via ferrata is a relatively safe mountain activity. The terrain is often not very steep, and the fixed climbing aids provide significant support for traversing a tricky course. 
This doesn't mean, however, that this activity doesn't come with risks. Always be cautious in the mountains and follow your guide's instructions well.
Do You Need a Guide for Via Ferrata?
Generally, going via ferrata climbing can be done without a guide, which means you can do courses independently, even if you lack experience. Moreover, routes through the mountains are generally open to the public.
But don't underestimate the risks. While via ferrata is meant to experience the alpine in the safest way possible, there is a danger factor involved. So hiring a guide might be a good idea if it's your first via ferrata trip or if you want to take children with you on your trip. A guide can also provide invaluable knowledge of the area.
However, in Banff, taking a guide with you is mandatory. For this, you can book several guided tours (see the section below). 
Besides, there are several good reasons to go with a guide. They will ensure your safety, teach you basic techniques, and demonstrate proper equipment use. 
What to Wear
Via ferrata requires you to dress well. The Rockies' weather can change anytime, from sunshine to rain to snow. Even in the middle of summer. So how to dress?   
Regarding shoes: A mid-cut model would suffice as it allows you to traverse long approaches, screes, rough, slippery paths and shorter approaches that require more flexibility around the ankles. And make sure it has a soal with decent grip.
Ensure the shoes have proper lacing to adjust for all parts of the foot. Adidas, Garmont and La Sportiva carry many good models. 
Furthermore, a light rain jacket will suffice for the fast-changing weather in the Rockies. It should easily fit in your backpack. 
Depending on the temperature, wear a short or a long sleeve shirt. The same goes for (softshell) pants. It could also be a pair of outdoor or running pants. Keep in mind that generally, it's about four degrees Celcius (39˚F) colder on the Mount Norquay slopes than in the valley. 
Via Ferrata Equipment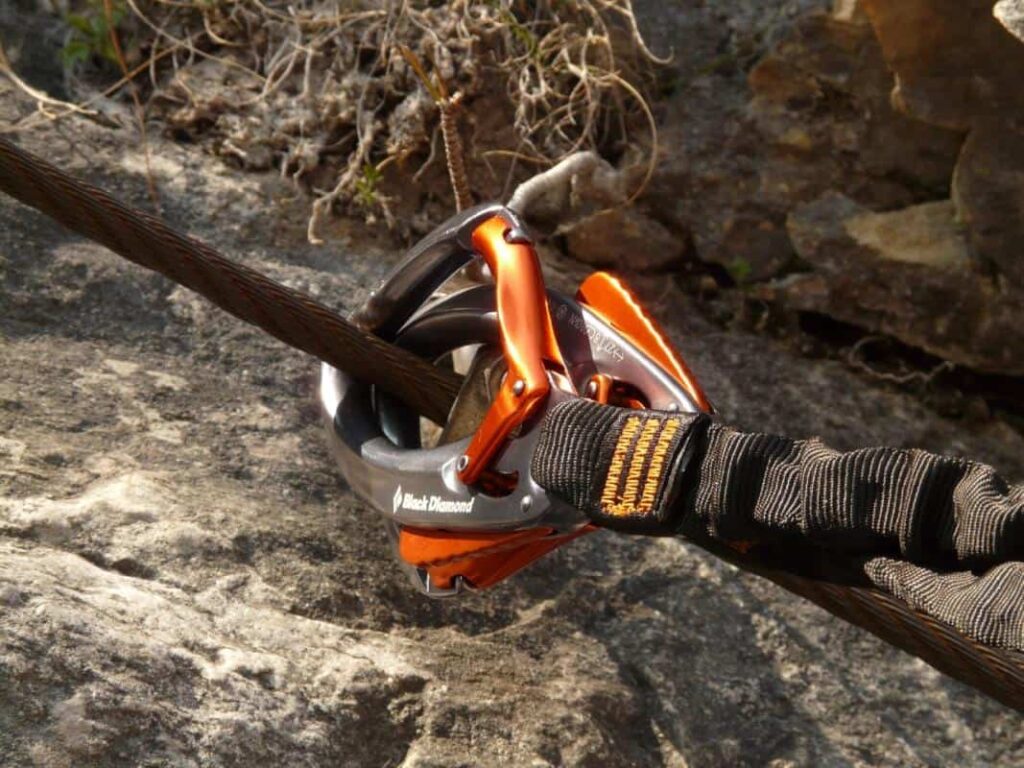 While via ferrata is an accessible form of mountain activity, it's advisable to use specific equipment to ensure safety and comfort during your adventure on a mountain slope.  
You'll need:
A climbing helmet
Via ferrata gloves
A climbing harness (chest or full-body harness)
The equipment mentioned above will be included when you book a tour, so you don't need to worry about it. You can bring your own, but in that case, the tour staff will check whether your equipment meets the current CE and UIAA standards. 
Furthermore, there are some basic things you need to take with you to ensure you'll have a fun and exciting trip.
Other essentials:
Backpack
Sunscreen
Sunglasses
Water (preferably 2 liters)
Energy bars or other high-caloric food
First aid kit
Camera
If you booked a tour with Banff Norquay, you don't need to worry about anything as they have a FREE rental service, including backpacks, hicking boots, gloves and rainwear and even sunscreen. 
Nearest Via Ferrata Alternatives Outside Banff National Park
While Mount Norquay has several via ferrata routes for you to explore, if you desire to do this mountain activity elsewhere, it's necessary to leave Banff National Park as Mount Norquay is the park's only via ferrata location.
ALBERTA
LOCATION
DISTANCE
FROM BANFF
DISTANCE FROM LAKE LOUISE
OTHER INFO
Mount Ernest Ross
169 km (105 mi)
114 km (71 mi)
West of Nordegg, provides great views of Abraham Lake
Mount Stelfox
185 km (115 mi)
130 km (81 mi)
West of Nordegg, provides great views of Abraham Lake
Nearest via ferrata alternatives outside Banff National Park in Alberta
BRITISH COLUMBIA
LOCATION
DISTANCE
FROM BANFF
DISTANCE FROM LAKE LOUISE
OTHER INFO
Kicking Horse Mountain Resort
150 km (93 mi)
96 km (60 mi)
Ski resort, near Golden
Nearest via ferrata alternatives outside Banff National Park in British Columbia
You can book guided via ferrata tours at the abovementioned locations at the website viaferratecanada.com for Mount Ernest Ross and Mount Stelfox in Alberta. Go to the kickinghorseresort.com/the-mountain/via-ferrata for the tour near Golden, BC.