If you want to enjoy your pension by enjoying a relaxing vacation, Banff National Park is the perfect place to go. The park is very well accessible by car, has lots of hotels and shops, and has all kinds of facilities for people with disabilities.
Banff National Park is known for its great diversity in outdoor activities. Many of them require a bit of effort, such as hiking, cycling and climbing stairs. I get it; this might be a bit too much for some seniors, but not to worry. The park offers you many easy activities that are very enjoyable. 
As North America was built with car convenience in mind many attractions and other places of interest are accessible by car. They don't require hiking to enjoy the view. A lot of Banff's overwhelming nature you can even see from the comfort of your vehicle's seat.
And in the town of Banff there's the Banff Gondola that takes you up Sulphur Mountain nice and easy to get a stunning view of the town and the Bow Valley. 
Furthermore, you can visit one of the several interesting museums about the park and its exciting history. And because there are lots of hotels in the center of the town of Banff (and in Lake Louise Village too, for that matter), you'll never have to walk far to get to a shop or restaurant. Banff's and Lake Louise's small scale makes these places perfect for seniors. 
What's the Best Time to Visit Banff?
The obvious answer to this question is 'in summer'. But it also depends on your preferences. Sure, the shoulder seasons between summer and winter (Banff has two high seasons) are less attractive due to the weather, but this also has to do with nature not being at its most beautiful. 
Don't get me wrong, Banff is ALWAYS beautiful, but if you visit Lake Louise in May, for instance, the lake is not yet thawed. The weather can also be quite chilly at this time of the year. 
On the other hand, the shoulder season also has much less touristy activity. This means easier access to all kinds of activities, from visiting one of the park's famous lakes to staying at your favored hotel, or dining at your preferred restaurant without reservation. 
ALSO READ: Best hiking trails for seniors
Activities for Seniors
As a senior, you probably have different desires about what to do during your visit to the park. You can hike, cycle, canoe, dive or raft as much as you want if you seek such kinds of activities. In case you prefer less strenuous endeavors you also have great options. I've listed them here.    
Visit a Museum
Banff and Lake Louise have several fascinating museums that you can visit. It probably won't surprise you if I tell you that they all have a connection to the park. In Banff, there are eight museums, in Lake Louise one. I've listed them below. 
BANFF
Banff Park Museum
The Banff Park Museum is housed in a 1903 log cabin of sorts. The property is protected as a National Historic Site and is the oldest natural history museum in western Canada. In the museum, you will find plenty of information about the history of flora and fauna in Banff National Park. The building's architectural style is typical of the early federal buildings in the park.
* Admission fee (Seniors 65+): CAD 3.75
Address: 91 Banff Avenue
Phone: +1 403 – 762 1558
Website: pc.gc.ca/en/lhn-nhs/ab/Banff
E-mail:  caveandbasin@pc.gc.ca
Buffalo Nations Luxton Museum
The Buffalo Nations Luxton Museum shows you the heritage of the First Nations who lived in the area for centuries. You'll learn about their way of life, illustrated through numerous exhibits of artwork, weapons, tools, clothing and ceremonial items.
* Admission fee (Seniors, 65+): CAD 9.00
Address: 1 Birch Avenue
Phone: +1 403 – 762 2388
Website: buffalonationsmuseum.com
E-mail: info@buffalonationsmuseum.com
Historic Luxton Home
The Historic Luxton Home tells the story of Norman Luxton, Georgina McDougall Luxton and their daughter Eleanor. They formed a pioneer family in Banff that lived there for ninety years, spread over several generations.
In the museum, you get a glimpse into the life of this family. Because many items of Norman, Georgina and Eleanor are on display, you get a good idea of life in the early days of Banff. The adjacent Luxton Garden, designed and laid out in the Arts and Craft Style around 1910, features 120-year-old lilac trees.
* Admission fee (Seniors 65+): CAD 9.00
Address: 206 Beaver Street
Phone: + 1 403 – 762 2105
Website: –
E-mail: – 
Whyte Museum Of The Canadian Rockies
The Whyte Museum Of The Canadian Rockies strives to make the history and culture of the Rocky Mountains accessible. The museum was founded by the couple Peter and Catharine Whyte. Among other things, you'll find art exhibits and an extensive collection of original artwork and photographs.
* Admission fee (Seniors 65+): CAD 9.00
Address: 111 Bear Street
Phone: +1 403 – 762 2291
Website: whyte.org
E-mail: info@whyte.org
LAKE LOUISE
Wildlife Interpretive Centre
The Wildlife Interpretive Centre is full of fascinating and engaging ways for you to learn about everything that makes Lake Louise's area so unique. You will find life-sized displays of many animal species that live in the area and information boards with all sorts of information about the local wildlife. The Wildlife Interpretive Centre is located at a 5 to 10 minutes walk, near the top of the Lake Louise Gondola.
Address: 1 Whitehorn Road
Phone: +1 877 956 8473
Website: skilakelouise.com
E-mail: info@skilouise.com
Have an Afternoon Tea in the Fairmont Banff Springs Hotel
Like to indulge in delicious food from top chefs and drink equally delicious loose-leaf tea while enjoying magical scenery in a similarly magical building? Then the Fairmont Banff Springs Hotel is the place to go. This legendary luxury hotel offers you Victorian scones, dainty finger sandwiches and more. You can visit the hotel for an afternoon tea seven days a week, from 11 am until 4 pm. Reservation is strongly recommended. 
The Banff Springs also has a Royal Tea option, featuring 'ultra-high-end ingredients and beverage pairings fit for a regal'. Please note that you need to make a reservation for this unique get-together 72 hours in advance. You can do so at the hotel's website. 
Address: 405 Spray Avenue
Phone: +1 403 – 762 6860
Website: banff-springs-hotel.com
E-mail: bshdiningreservation@fairmont.com
Visit the Bow Falls
Right behind the world-famous Fairmont Banff Springs Hotel, you'll find the Bow Falls, the only sizeable waterfall near the town of Banff. Set in the Bow Valley, expect mesmerizing views, both in the direction of the falls and down the Bow River before you. There's a parking place very close to the falls. It's probably not much more than a one-minute walk.   
Peyto Lake is undoubtedly one of the park's most famous lakes. This lake is an absolute must-see, known for its fox-head-like shape and unbelievable turquoise water. Seniors can drive up the mountain and get out close to the viewing point. However, you cannot park your car here, so you should have someone with you who can drive back down and park the car in the parking lot.  
Visit Lake Louise and Moraine Lake
Two other lakes that are a must-see. There's a short walk from the parking lot to the lake when visiting Lake Louise, though it's not far and not difficult. There are also no steps you need to take. 
However, the problem with visiting Lake Louise is that it's jam-packed in summer. If you want to make sure that you can park in the parking lot close to the lake, you must be very early. I'm talking about well before 8 am. 
The same goes for nearby Moraine Lake (at about 14 km (8.64 mi) from Lake Louise). It's also easily accessible by car, but it also fills up quickly. 
Combining a visit to both lakes on the same day makes sense. Still, if you're dependent on parking close to the lakes, you'll only manage to be on one of the two parking lots early enough. The other parking lake will be chock-full by the time you arrive there. 
There is a solution to this problem, however. Shuttle buses take you to Lake Louise and Moraine Lake, but it's a bit of a hassle. And please note that these buses require you to climb a few steps to get inside. 
If you want to read more about the shuttle bus services and the lakes, read The Ultimate Guide to Lake Louise and/or The Ultimate Guide to Moraine Lake.
Drive the Sensational Icefields Parkway
This one is a no-brainer if you're keen on seeing Banff's natural marvel. The Icefields Parkway (also known as Highway 93 North) connects Lake Louise and Jasper and is labeled as one of the most beautiful roads in the world. For a good reason. The vistas are plain stunning, gorgeous or whatever superlative you want to use. 
What's more, most tourist attractions along the way are easily accessible by car. In fact, you don't even have to get out of your vehicle to be overwhelmed by the sheer beauty of this road. There are countless beautiful lakes, waterfalls and viewpoints en route. If you're lucky, you might also spot a bear or two. And then there's also the primary attraction, not to forget: the Columbia Icefields and the adjacent Skywalk.
Please note that it's probably a good idea to spend the night in Jasper. The Icefields Parkway is 230 kilometers (142 mi) long, so once you enter Jasper, you probably don't want to turn around and drive the entire distance back to Lake Louise (or Banff) on the same day. Besides, Jasper National Park is also gorgeous, and the quaint little town of Jasper is well worth a visit. 
Take a Gondola Ride in Banff or Lake Louise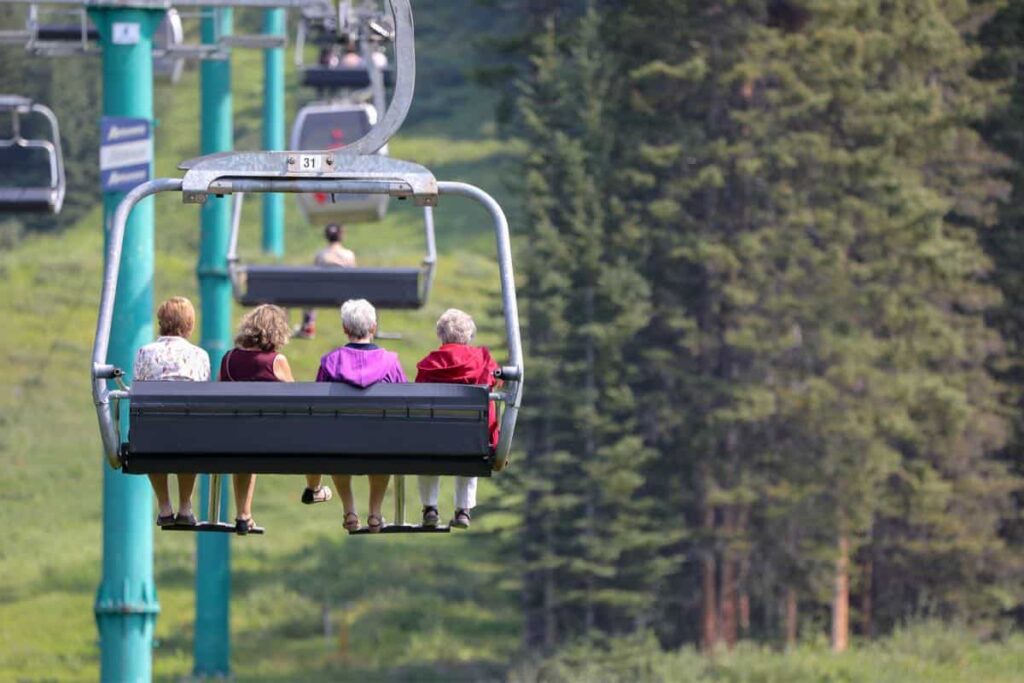 If you don't want to or you can't hike up a mountain, you can visit two gondolas in the park. In the town of Banff, there's the Banff Gondola which takes you up Sulphur Mountain in 8 gorgeous minutes, covering an elevation difference of 698 meters (2290 ft). 
On the summit at 2281 meters (7486 ft), you can enjoy jaw-dropping views of Banff and the Bow Valley, visit the old Banff Meteorological Observatory, walk the Banff Skywalk onto Sanson's Peak and even have lunch at the Sky Bistro. The Skywalk requires quite a bit of walking and many staircase steps, so beware of this if you're having difficulties walking. Even if walking the Skywalk is not possible for you, there's plenty to do and see at the top of Sulphur Mountain. 
Then the one in Lake Louise. Originally intended as a ski lift, this gondola is deployed as a sightseeing gondola in summer. The SkiLouise.com website claims it takes 0 % effort and is 100 % mind-blowing. I suppose they got that right. The good thing is that the gondola is next to a big car park. After a fourteen-minute ride, you get out at 2088 meters (6850 ft) on Mount Whitehorn. By then, you've covered a whopping elevation difference of 1070 meters (3510 ft). 
What makes this gondola stand out from the one in Banff is the much higher probability of seeing a grizzly bear while you're soaring through the skies. Furthermore, the gondola provides some fantastic views on Lake Louise Village, the surrounding Rockies, and the area's glaciers. And yes, that also includes the world-famous Lake Louise and the Victoria Glacier.
Once you've arrived at the upper slopes of Mount Whitehorn, you can reach the Whitehorn Bistro by a short stroll through alpine meadows. There you can treat yourself to some fantastic food. 
Banff Gondola 
Address: Mountain Road, Banff
Phone: +1 866 – 756 1904
Website: banffjaspercollection.com
E-mail: via form on the website
Lake Louise Gondola
Address: 1 Whitehorn Road, Lake Louise
Phone: +1 403 – 522 3555
Website: skilouise.com
E-mail: info@skilouise.com
Book a Helicopter Tour
If you want to do something extraordinary and see the Rockies from a different perspective, taking a helicopter ride is an excellent idea. It's exclusive and private due to the limited number of people that can board a helicopter. See the lakes, the mountains, the glaciers, the rivers, the waterfalls from above. It's a spectacular experience, something you will never forget for sure. 
If you want to know more about this activity, I advise you to read the extensive post The Ultimate Experience: Book A Helicopter Flight In Banff. There you'll find all the information you need to know about this remarkable and worthwhile experience.
Take a Boat Trip on Lake Minnewanka
The biggest lake in Banff National Park offers boat trips across the lake, including drinks and food. It's a lovely way of spending a relaxing afternoon on the water, getting a suntan and enjoying the fantastic and diverse vistas the lake provides. 
From the boat, you can explore a large part of the lake, such as the so-called Devils' Gap, a glacier path carved by Lake Minnewanka into the foothills of the Rockies. Several tour operators offer boat tours. You can go to Banff Adventures, Banff Jasper Collection, Discover Banff Tours and Viator.
Spend the Night at an Easily Accessible Hotel
If you have difficulties walking and/or climbing stairs, it might be a good idea to spend your nights in the park in hotels that are wheelchair accessible. Even if you don't rely on a wheelchair to get around, it's good to know which hotels are wheelchair accessible because it means their facilities are in your favor.
I've listed the hotels that are wheelchair accessible below. You'll also find the walking distance from the center of the towns of Banff and Lake Louise.
Banff
Lake Louise
Easily accessible hotels in Lake Louise
Backcountry Lodges
| HOTEL NAME | DISTANCE TO THE CENTER |
| --- | --- |
| Castle Mountain Chalets | N/A |
| Crossing Resort | N/A |
| David Thompson Resort | N/A |
Easily accessible backcountry lodges in Banff National Park
I've written an extensive post about hotels in Banff National Park with all kinds of valuable information. The article The Ultimate Overview of Hotels in Banff National Park makes choosing the right hotel for your needs a breeze.
Discounts for Seniors
In Banff, you can get a lot of discounted prices for seniors. Museums, many touristic attractions, and tours have discounted rates for people 65 years and older. This also applies to hotels, which can save you quite a bit of money. Also, check out Pursuit, which offers special deals, including discounts on hotels, restaurants and shuttle bus services. 
If you want to find out how you can save money while in Banff – the park is VERY expensive – check out the post on this topic: Where to Find Amazing Deals for Your Stay in Banff (Handy Overview).