Banff National Park offers endless hiking opportunities, including many easy yet scenic hikes perfect for seniors. Even for those with limited mobility or stamina. Below you'll find information on how to prepare, what equipment you'll need, and a list of Banff's best trails. 
Reading this guide is all you need to know to have a successful senior hiking adventure in Banff. First off, the park is generally very accessible, to begin with. You'll be able to get (very close to) some of the most famous tourist attractions by car. But if you're looking for more of an adventure, venturing into the woods is a great idea.
To ensure it's feasible for your ability and stamina, I've outlined the best gently graded trails under 5 kilometers, ideal for older adventurers.
The bottom line is: With proper preparation and reasonable precautions, hikers of 65 and older can easily venture into the splendor of the Canadian Rockies on rewarding trails. Don't let age or fitness stop you – get ready to be rejuvenated by the beauty of Banff!
Choosing Senior-Friendly Hiking Trails
Selecting suitable trails ensures an enjoyable hike in Banff National Park. With seemingly endless trails traversing subalpine forests, alpine meadows, rugged passes, and backcountry, there's always a beautiful and easy hike to enjoy. 
To be able to judge whether a hike is suited to your abilities, I'd advise you to consider the following elements when choosing Banff trails for seniors:
Trail Length – Many seniors find hikes over 5 kilometers too demanding. Out-and-back trails with distances under 3 kilometers to an end viewpoint are ideal, as you can always turn around sooner if energy flags. Loop trails around 2-3 kilometers work well, too, by adding interest. Avoid epic backcountry routes with 10+ kilometer distances unless you plan to camp overnight.
Elevation Gain – Steep climbs requiring rapid elevation gain will quickly exhaust most senior hikers. Look for trails with total elevation gains under 150 meters (500 ft); less than 100 meters (325 ft) gain is even better. 
Check if switchbacks are graded – a 150-meter (500ft) climb over two gradual kilometers is easier than a 150-meter gain in just 500 meters miles. Spreading elevation gain over distance makes it more achievable. 
Trail Gradient – Related to gain is the overall grade. A constant uphill hike is challenging, but short steep sections also present difficulties if assistance like steps or railing are lacking. Scan topographic maps for gradients and be realistic about capabilities. Gradual slopes under a ten percent grade are comfortable for most.
Trail Surface – Groomed dirt trails with some gravel offer secure footing, avoiding the instability of rocky trails with loose rocks and slippery surfaces. Compacted gravel paths are okay but avoid rutted 4×4 roads. Paved trails are ideal for eliminating tripping hazards. Senior-friendly trails will be well-maintained.
Trail Width – Trails under 1 meter wide with steep drop-offs cause anxiety for some people. Seek at least moderate-width trails allowing two people to pass comfortably. If sharing with cyclists, 1.25 meters (4 ft) is best. Ensure width accommodates any assistive walking devices used.
Rest Areas – Benches or open resting spots by the trailside give welcome opportunities to take breaks as needed. Scenic lookouts, lakeshores, and meadows are great for recharging. Even short but steep trails should offer intermittent rest areas.
Amenities – Other indicators of senior accessibility include interpretive signs, viewing platforms, bridges over tricky creek crossings, guardrails on inclines, and stepping stones over muddy sections. They all enhance safety and enjoyment.
Loop vs. Out-and-Back – Choose loop trails without significant elevation gain for variety. For trails with more climbing, opt for out-and-back layouts. You can always turn around early once energy starts flagging.
In other words: Attention to these details when browsing trail maps and guides allow you to identify the most suitable routes to match your abilities. The park offers plenty of options for older adventurers to explore without overexerting yourself.
Choosing wisely means an enjoyable hike! 
Essential Hiking Gear for Seniors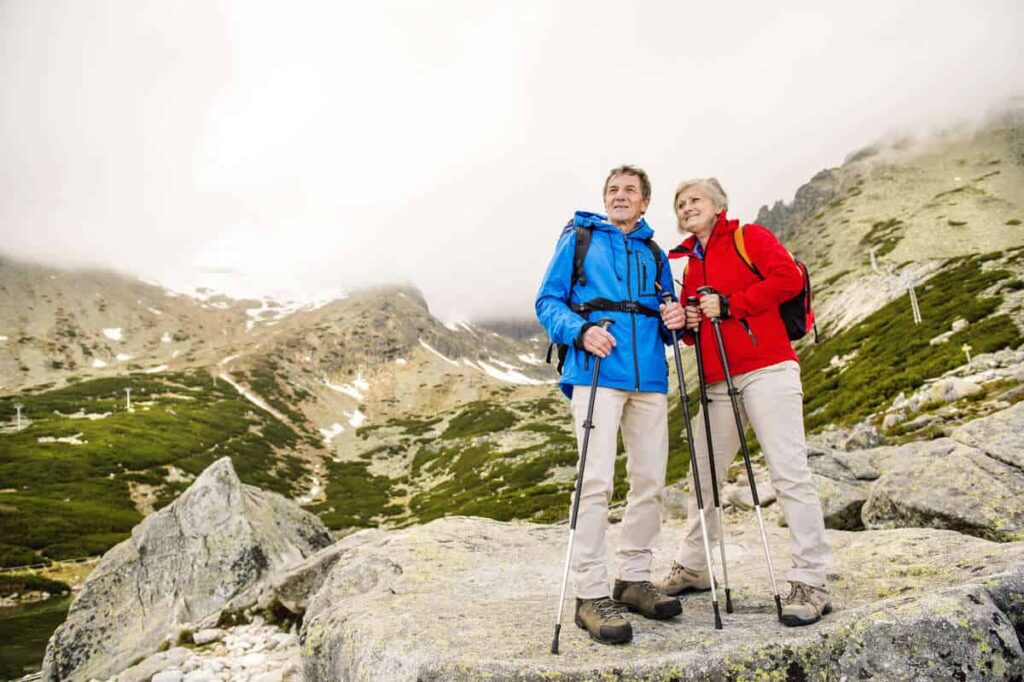 Properly equipping yourself makes hiking safer and more comfortable. Here are some must-have items for the senior hiker:
Trekking Poles – Poles enhance stability, improve balance, and reduce strain on knees and ankles on rough terrain. Cork-handled poles provide shock absorption. Flick locks let you adjust pole length. Carrying two adjustable poles suited for your height is a good idea.
Footwear – Only sturdy hiking boots with traction soles prevent slips and ankle rolls on uneven surfaces. Waterproof boots keep feet dry. Wear already broken-in boots to minimize blisters. Also, wear proper athletic socks. They'll wick moisture and prevent hotspots.  
Nutritious Snacks – Trail mix, protein bars, and fruits supply energy between meals. Bring extra snacks in case you're out longer than expected. Avoid sugary candy that can cause crashes. Cured meats, cheese, and crackers offer protein. 
Water – Hydration is vital in Banff's high alpine climate. Bring more water than you think you'll drink in insulated bottles. Know water refill spots in case supplies run low. Electrolyte tablets like Nuun add mineral replenishment.
Layers – Banff's variable mountain weather can quickly turn sunny to stormy. Pack breathable base layers, insulating fleeces, waterproof-breathable outer shells, gloves, and a warm hat.
Bear Spray – Be prepared to deter aggressive bears. Ensure your bear spray is accessible and secured to a pack belt or chest harness. Know the proper deployment range and direction into the oncoming wind. Replace annually. Don't underestimate this. Don't ever forget to bring the spray. You never know when you'll need it, and it's always sudden.
ALSO READ: How to use bear spray
Whistle/Noisemaker – Make loud noises periodically to avoid startling bears. Elk cows can also be defensive of calves. Scream something like "Hey bear!" around blind corners. 
First Aid – A basic kit with bandages, gauze, medical tape, antiseptic wipes, pain relievers, and blister pads is handy for minor scrapes and injuries.
Map/Compass – Carry navigational aides even on more accessible hikes if you become disoriented. Learn to read terrain, follow marked trails, and use a compass.
Flashlight – If hiking early or late when light is low, carry ample illumination like a headlamp with extra batteries. The red light option preserves night vision.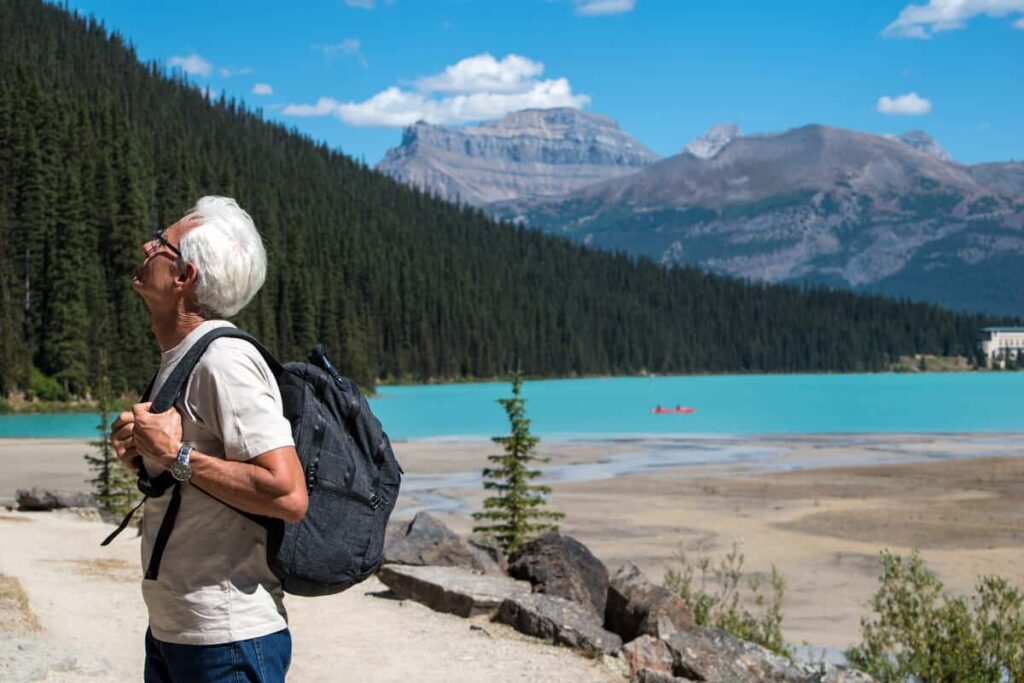 Helpful Hiking Tips for Seniors
In addition to choosing the suitable Banff trails and packing proper gear, following these tips can make hiking easier and safer:
– Check weather reports – Know the forecast, looking for any storms forecasted that could produce lightning, high winds, hail or snow at high elevations. Avoid icy, muddy or flooded trails. Note if any heat advisories are in effect.
– Take plenty of breaks – Stop often to hydrate, fuel up, and rest muscles. Use breaks to enjoy views rather than rushing through. Hiking steadily without long breaks prevents over-fatigue.
– Know your limits – Listen to your body and don't over-exert yourself. Turn around if energy plummets or pain increases. Don't push excessively. Remaining in your aerobic zone keeps hiking fun.
– Watch the clock – Note the actual time as you start and turn around, so you know exactly how long you've been hiking. Have the latest turn-around time based on your pace. Don't get caught out after dark.
– Start early – Start hikes by 7 AM to take advantage of cooler temperatures and finish before late-day storms. It allows plenty of extra time in case you hike slowly. 
– Know the route – Carry a trail map and know your route even if trails are signed. Understanding intersections helps avoid getting lost. Study the route prior and know what to expect.
– Review trail maps/guides thoroughly – Never just show up and pick a random trail. Study topographic maps beforehand for total mileage, elevation gain, gradient, and amenities. Being informed allows matching trails to your fitness and mobility levels.
– Always tell someone your hiking route and expected return time. Things are not likely to go sideways during your hiking adventure, but you never know. That's why it's good to tell someone about your plans. 
The Best Easy Senior Hikes in Banff
Now let's explore prime examples of trails in Banff National Park suitable for seniors based on terrain, amenities, distance and elevation gain. The trails below are the most accessible yet offer some of the most breathtaking scenery in Banff National Park.  
Johnson Lake Trail
| LENGTH | ELEVATION GAIN |
| --- | --- |
| 5 kilometers (3.1 mi) round trip  | 40 meters (131 ft) |
Nestled against the mountains of the Bow Valley, the Johnson Lake Trail meanders through shady conifer forest on gently graded switchbacks. 
Handrails and stone steps make short uphill sections less strenuous. The trail soon opens up to reveal the pristine waters of Johnson Lake. 
Take a break at the benches lakeside before heading back. Total elevation gain is minimal, but numerous rest stops with epic Canadian Rockies panoramas make the gentle climb seem effortless. 
With its Kamloops trout, you may see anglers fishing on the lake's calm waters. The Johnson Lake Trail's ease, mild gradient, and tranquil lake vistas make it a perfect Banff hike for seniors.
Marsh Loop Trail
| LENGTH | ELEVATION GAIN |
| --- | --- |
| 1.3 kilometers (0.8 mi) loop | Minimal |
For wildlife lovers, the Marsh Loop Trail circles through a wetland ecosystem right inside Banff town limits. Meandering boardwalks provide level walking and float out over open water for up-close sightings of aquatic birds and animals. 
Interpretive signs enrich your stroll by describing the ecologically vital marsh habitat. Watch for ducklings trailing their mothers through reeds. Listen for the croak of sandhill cranes among flowering lily pads. 
This compact loop trail immerses you in nature with zero elevation gain. Frequent benches allow resting while you observe beavers chowing on poplar saplings or muskrats peeking from burrowed holes in pond banks.
The Marsh Loop Trail offers one of Banff's most rewarding yet effortless hikes for seniors with its flat grade, raised walkways, and abundant wildlife beneath the peaks. 
Lake Agnes Trail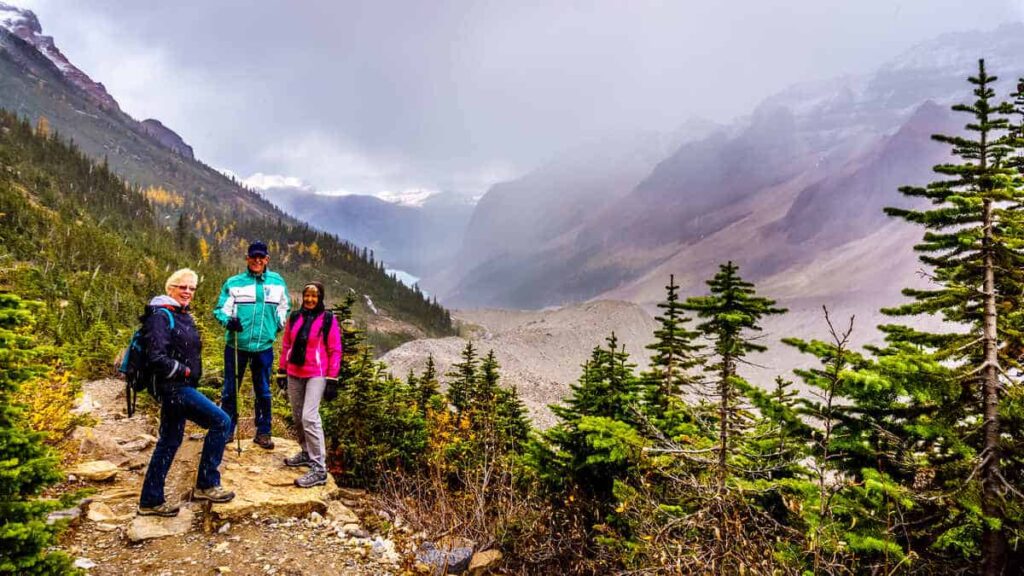 | LENGTH | ELEVATION GAIN |
| --- | --- |
| 7.4 kilometers (4.6 mi) round trip | 353 meters (902 ft)  |
I had doubts about including this trail because it is 4.6 mi (7.4 km) long, and the elevation gain is 353 meters (1158 ft). This makes it a trail you can only do if you're a fit senior with good stamina. I ultimately decided to include it because it's not overly challenging, and completing this stunning hike is very gratifying.
Tracing the glacially fed Bow River, the Lake Agnes Trail leads through the evergreen forest with moderate elevation gain via gravel switchbacks and stone staircases. 
Alpine meadows filled with wildflowers open up at higher elevations. The trail terminates at serene Lake Agnes. 
Stop for homemade scones and tea at the historic Lake Agnes Tea House, established in 1901. With its steady yet moderate grade and breathtaking teahouse destination, the Lake Agnes Trail is absolutely worth it.
Though be aware this trail can be very crowded in summer. 
Moraine Lake Shoreline Trail
| LENGTH | ELEVATION GAIN |
| --- | --- |
| 3.2 kilometers (2 mi) round trip   | Minimal |
Moraine Lake presents a spectacle of fresh alpine beauty located in the gorgeous Valley of the Ten Peaks. This easy hiking trail hugs the lakeshore, providing nonstop views across the lake's turquoise waters to sawtooth summits and glaciers. 
The mostly flat, paved path offers effortless walking with resting places atop glacial moraine boulders. Arrive early when the lake's mirror-flat surface reflects the surrounding mountains in picture-perfect detail. 
Any time of day, the Moraine Lake Shoreline Trail rewards you with calming vistas of one of Banff's most photographed landscapes requiring minimal exertion.
Did you know Moraine Lake was once featured on the Canadian 20-dollar bill?
Upper Hot Springs Trail
| LENGTH | ELEVATION GAIN |
| --- | --- |
| 1.6 kilometers (1 mi) one way | 130 meters (430 ft) |
Bring your bathing suit for the short Banff Upper Hot Springs hike! This brief trail leads up to the Banff Upper Hot Springs on Sulphur Mountain. 
Steady switchbacks take you up the side of the mountain, past the Rimrock Resort Hotel and to the Hot Springs and Banff Gondola gorge, aided by a railing and stone steps. The historic stone bathhouse offers relaxing soaks in the therapeutic mineral waters surrounded by peaks. 
During the high season, shuttle buses provide rides back to town for spent hikers. With its modest elevation gain, helpful amenities, and rejuvenating hot spring reward, the Upper Hot Springs Trail is the ultimate treat for seniors seeking more accessible Banff hikes.
Fenland Trail
| LENGTH | ELEVATION GAIN |
| --- | --- |
| 2.9 kilometers (1.8 mi) loop | Minimal   |
This nature loop passes through the wildlife-filled Fenland Reserve wetlands close to the town of Banff with negligible elevation change. Wander along the gravel path through forest and open meadows full of wildflowers. 
Pause at interpretive signs describing the rich biodiversity. Seek birds and small animals along the Forty Mile Creek corridor, watching for beaver activity and signs. 
Scan marshes for moose foraging on shrubs. The Fenlands are a diverse ecosystem right on Banff's doorstep. The gentle Fenland Trail, with its flat gradient through various landscapes, allows you to get out in nature without getting tired.
ALSO READ: Things to do for seniors in Banff