If you want to experience the wilderness of the Rocky Mountains in all its purity, fishing is one of the best ways to go. And don't worry if you didn't bring any fishing equipment. You can rent all necessary equipment in both Banff and Lake Louise.
As a fishing enthusiast, I don't have to tell you how amazing your hobby is. But if you've never fished in the Rockies, I can assure you that you couldn't wish for a better location. But can you fish in Banff National Park? The answer is a resounding "yes"!

To help you prepare, I've written down the most important practical things you need to know before you head out for a fishing trip in Banff.
What Makes Fishing in Banff National Park Worthwhile?
Fishing in Banff National Park is a must-do for anyone who loves to fish. First and foremost because of the overwhelming nature. No matter where you go fishing, the wild nature of the Rocky Mountains is simply everywhere. In addition, you'll find a special kind of tranquility that is hard to experience anywhere else. And the whitefish, the many trout, and other fish species make the fishing itself a delight. 
Do You Need a Permit to fish in Banff National Park?
The Banff National Park fishing regulations state that anyone wishing to fish in the park will need a permit. It is available at the two visitor centres in the park, most sporting goods stores in the park, and online. In addition, a national park pass is required. A fishing license from the Province of Alberta is not sufficient.
Any angler under the age of sixteen may fish in the lake without a permit if accompanied by someone under sixteen who holds a national park permit. The maximum number of fish to be caught is equal to the limit of the permit holder.
There are two types of permits:
Day permit: CAD 9.80
Annual permit: CAD 34.30
Note 1: It is mandatory to put back caught fish where it was caught.
Note 2: The use of natural bait is not allowed in Banff National Park.
Note 3: You must also have a national park pass in addition to your fishing license.
Fish Species in Banff National Park
In Banff National Park, you will catch mainly rainbow trout, brown trout, brook trout, lake trout, mountain trout, red-chicken trout, bull trout, mountain and lake whitefish and roach and serpentine species. Salmon, unfortunately, cannot be found in the Rockies. If you want to catch salmon, you are better off in the coastal region of British Columbia.
In Banff National Park, you can currently find two endangered fish species. These are the red-throated trout and the bull trout. Should you catch one, you are supposed to put it back where you caught it.
Can You Keep Caught fish?
You cannot keep caught fish throughout the park, except Lake Minnewanka. There you may keep two caught lake trout per permit holder. Other fish must be returned to the lake.
The Best Locations for Fishing
Surrounded by forests, mountains, rivers, and glaciers almost any water in the park is suitable for a day of good fishing. And water is everywhere; Banff National Park has four larger rivers and as many as 450 lakes. But there are, of course, a few spots that are just a bit better than average. If you're planning on spending a day (or longer) fishing in the Rockies, check out the list below first.
Bow River
On the banks of the Bow River, you'll find many places to fish. The river is easily accessible in several areas. It flows through the Banff townsite and borders the Banff golf course for example. The Bow River is also easily accessible from the Trans Canada Highway.
Hector Lake
Located near the Icefields Parkway (Highway 93 N), you know two things for sure: you can park your car not too far from the lake and you are assured of overwhelming nature.
Hector Lake is one of the largest lakes in Banff National Park, but it's a bit challenging to get there. You have to clamber down about sixty meters (196 feet) and walk a bit to reach the shore of the lake.
Because many anglers do not want to take that trouble, there is actually always a nice spot available to fish from. The lake is also surrounded by smaller lakes, streams, and rivers. So plenty of choice for a great fishing spot.
Lake Minnewanka
Lake Minnewanka is the place to fish in Banff National Park. As the largest lake in the park, it offers the most opportunities for anglers. Although Peyto Lake may be a bit better situated in terms of natural beauty, Lake Minnewanka allows you to fish from the shore AND the water.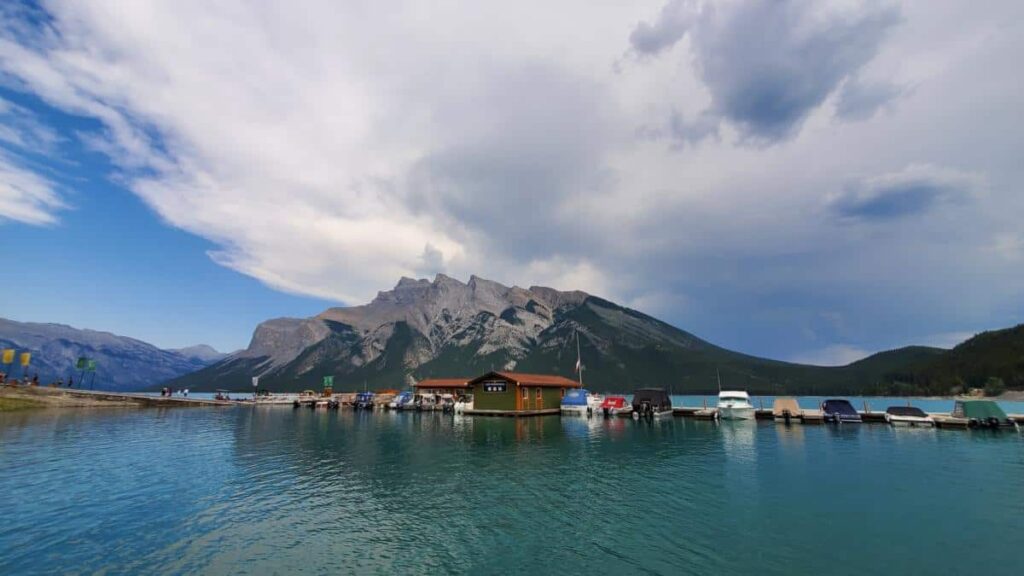 You can rent a boat there or book a fishing trip on the lake. Another advantage is the location. With the Banff townsite just a 15-minute drive away, you can easily set aside several days to go fishing at the lake. And in the evening you can enjoy all the amenities of Banff.
More information about fishing on Lake Minnewanka can be found below.
Peyto Lake
Peyto Lake is best known for its fantastic views. The viewing platform allows you spectacular vistas across the lake with that fabulous blue color and the surrounding mountains. For anglers, of course, the shores of the lake are much more interesting, or the water itself, if you are into fly fishing.
There is quite a lot of parking at the lake, although it can be crowded in the summer. An additional advantage of the lake is that it is located just off the Icefields Parkway (Highway 93 N). It makes Peyto Lake easily accessible.
Peyto Lake is a glacier-fed lake. Located in the Waputik Valley in the northern part of Banff National Park, the lake is surrounded by the breathtaking Rockies.
Good Locations for Fly Fishing
The United States and Canada, particularly the Rocky Mountains, are the mecca for fly fishing enthusiasts. In Banff National Park, the Upper Bow River is considered the best spot. You can go there all year round to catch all kinds of whitefish and trout.
The Bow River is perhaps the most imaginative location. It is especially popular with fly fishers. But, as mentioned above, Peyto Lake is also an excellent location for fly fishing.
Does Banff National Park Have a Fishing Season?
You can visit Banff National Park for fishing all year round. However, restrictions do apply to some locations.
Fishing is allowed year-round in the Upper Bow River – from Hector Lake to the eastern park boundary. On the other hand, ice fishing on the Bow River is not permitted.
Restrictions apply to the following locations (information from Parks Canada):
Ghost Lakes (3), Lake Minnewanka reservoir, Two Jack Lake reservoir, Vermilion Lakes and adjacent instream streams and beaver ponds.
Owen Creek
All Bow River tributaries except the Cascade River (see below).
Cascade River and tributaries above Lake Minnewanka (except closed waters)
All other waters except closed waters.
Closed Waters in Banff National Park:
Babel Creek
Castleguard River – the upper part of the river that is in Zone I – Special Protection Area
Cuthead Creek
Elk Lake
Fish Lakes – the two Fish Lakes closest to campground Mo 18
Helen Creek
Johnson Lake reservoir and surrounding waters, including the outflow creek to its confluence with the Cascade River
Lake Agnes
Little Herbert Lake
Luellen Lake – outflow from the fishing boundary posts, downstream to the confluence of the outflow and Johnston Creek
Marvel Lake
Marvel Lake – downstream from the line between the fishing boundary posts to the confluence of Marvel and Bryant Creeks
Mystic Lake and its outlet downstream to the confluence with 40-mile Creek
Outlet Creek
Rainbow Lake
Sawback Lake
Sawback Creek
Spray River above the reservoir of Spray Lakes
All tributaries and associated lakes in the Clearwater and Siffleur Valley systems, except Isabella Lake
Swamp system of caves and basins
The latest information can be found at the website of Parks Canada.
Restrictions for Fishing in Banff National Park
Unfortunately, there are quite a few restrictions as far as fishing in a national park in Canada is concerned. I have listed the main ones below. The rules come from the Canada National Parks Act.
Prohibited:
Fishing without a park fishing license
Fishing with more than one line at a time
Leaving a fishing line unattended
Fishing in closed waters
Fishing between 2 hours after sunset and 1 hour before sunrise
Placing fish food in the waters of the park
Harassing fish by throwing objects into the water or impeding their movement
To sell, trade or exchange caught fish
To fish in waters where possession is allowed:
Possess more than 2 fish at a time;
To continue fishing after you have reached the maximum daily catch and possession limit;
To allow your catch to be spoiled or wasted.
To fish or be in possession of:
Natural bait and chemical lures
All lead fishing equipment (sinkers, jigs, lures and flies) under 50 grams
Lures with more than 2 hooks
A fishing line that allows you to catch more than one fish at a time
The complete list of restrictions related to fishing in Banff National Park can be found here.
Fishing From a Boat in Banff National Park
It is indeed possible to fish from a boat in Banff National Park. You can do so (exclusively) on Lake Minnewanka, near the Banff townsite. You can rent a boat from 1 June to Labour Day (the first Monday in September) at the lake.
You can launch your own motorboat, but it is also possible to rent one. In all cases, you can do so in the harbor, near the Lake Minnewanka parking lot.
Motorboats cannot be booked online. All rentals are done locally based on availability. You can contact Banff Jasper Collection and Murphy's Boat Rentals.
Renting Fishing Equipment
You can rent materials for fishing in both Banff and Lake Louise. Ideal for those who like to spend a day fishing but don't want to bring lots of equipment to the park.
BANFF
Snowtrip Bactrax
Address: 225 Bear Street
Phone: +1 403 – 762 8177
Home Hardware
Address: 223 Bear Street
Phone: +1 403 – 762 2080
LAKE LOUISE
Wilson Mountain Sports
Address: Building A Samson Mall, 101 Lake Louise Drive
Phone: +1 403 – 522 3636
Fishing Trips in Banff National Park
You can also book fishing trips in Banff. These are held (exclusively) on the 21 kilometer (12.96 mi) long Lake Minnewanka. It allows you to fish in the middle of the lake for beautiful trout and whitefish. Because the lake is vast, you might want to try your luck at different locations.
Where to Book?
If you want to learn more about all the opportunities on and around the lake, read this comprehensive post about Lake Minnewanka. There you can also read the extraordinary story of the lake's underwater city.
Ice Fishing in Banff National Park
Ice fishing in Banff National Park is unfortunately not allowed. However, there are lakes just outside the park boundaries where you can ice fish. Spray Lakes Reservoir, for example, is an excellent location. It lies south of Canmore and it takes about fifty minutes from Banff to get there. 
If you go ice fishing, you need a fishing license. It is advisable to do this with a guide because ice fishing can be dangerous. A guide can easily lead you to excellent and safe spots on the ice.
At Banff Fishing Unlimited, Hawgwild Fly Fishing Guide and Banff Adventures you can book beautiful ice fishing trips.
What about Bears and Fishing in the Rocky Mountains?
You're in bear country, so be aware that you may unexpectedly be joined by a black bear or a grizzly bear. Even when you're walking through the woods, on your way to your fishing spot. Though the chance of encountering a bear is slight, it's helpful to know what to do should this happen.
Here are some tips:
1. Keep bear spray with you
2. Make noise on the way to your fishing spot
3. Stay aware of your surroundings and keep a close eye on them
4. Let someone know where you will be fishing
5. Do not go alone
If you want to know more about a possible bear encounter while fishing, I recommend reading the article Dos and Don'ts of Fishing Among Bears in the Rockies. The above tips are explained in detail and you'll get lots of other helpful information if you want to go fish in bear country.