Based on Canadian crime statistics, Banff appears safer than average. But what are the most common types of crime in the park? And what about the dangers posed by the weather? Or wildlife like bears and cougars? In other words: is Banff safe? In this article, you'll find all the answers.
When visiting Banff National Park, you want to be safe as you would anywhere else. In addition to crime, wildlife and weather, it's wise to consider other safety factors. 
What about safety in hotels and campgrounds? And emergency services and assistance in the townf of Banff and Lake Louise? What do you need to know about winter safety? And how does it differ from summer safety? 
I invite you to read on to find out! 
Safety in Banff National Park, an Overview
As stated in the introduction to this article, Banff National Park is generally safe, but knowing what to look out for will make your visit more enjoyable. Besides, taking precautions is always a good idea. Here's a brief overview of safety issues to consider when visiting the park:
1. One of Banff National Park's most obvious safety considerations is to be aware of wildlife. Because you might come across bears. Or cougars. Or moose. It goes without saying that they are best viewed from a safe distance.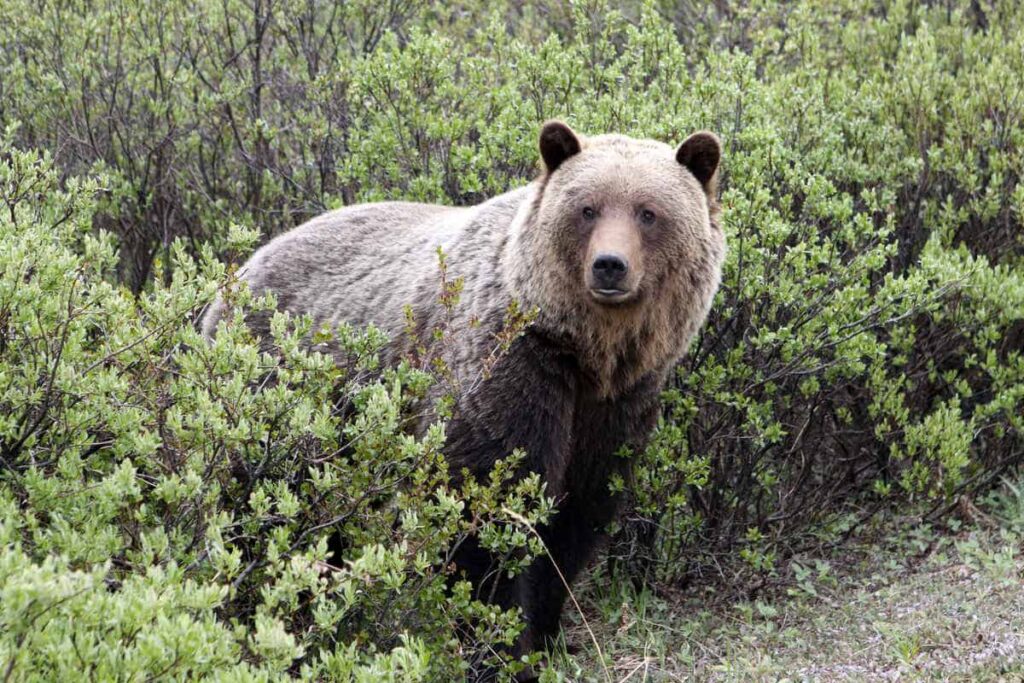 2. Another safety precaution is to travel in groups and not to carry valuables such as large amounts of cash, your passport or expensive cameras while exploring the park to avoid problems with theft. Although this is not a significant problem in the park. 
3. When hiking in Banff, be prepared for changing weather conditions. The weather can change drastically in minutes, even in the middle of summer. You're in the Rocky Mountains, after all. 
Make sure you can dress in layers (just put some extra clothes in your backpack). And bring essential supplies such as water, food and a map. You may also want to let someone know your itinerary and estimated time of return.
4. Be especially aware of the mountain roads to stay safe driving in Banff National Park during inclement weather. Drive carefully and adjust your speed as necessary.
Crime and Personal Security
What Is the Banff Crime Rate?
Banff's crime rate is 61% higher than the national average in Canada. However, this may not be as alarming as it sounds. Millions of tourists visit the town yearly, leading to a higher crime rate than just crimes committed by the local population.
Like any place, Banff National Park has some crime. The good news is that the Banff crime rate is generally low compared to urban areas and primarily consists of property crimes.
Banff is not a hotspot for thieves. It's just that tourists, often distracted by the beauty around them, might neglect to secure their belongings properly. 
Good to know: the most common places for these crimes are parking lots and campsites.
What Type of Crimes Occur the Most in Banff?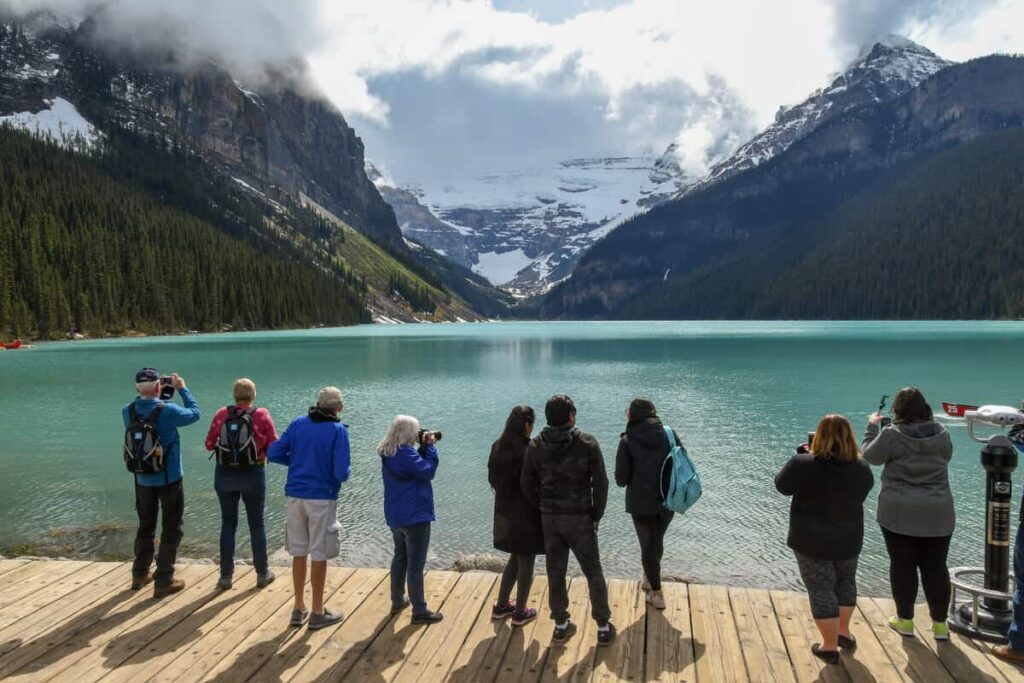 The types of crimes in Banff are different than you might find in a city. The most common crimes in Banff involve property theft. Some examples include theft from vehicles, pickpocketing, vandalism, and break-ins at campsites.
While visiting Banff, you obviously should take precautions like not leaving valuables in your car, being aware of your surroundings, and securing your belongings.
Theft from vehicles typically happens in parking lots. Distracted by the park's excitement, people sometimes leave items visible in their cars. This can attract thieves. And, as the saying goes: opportunity makes a thief. 
Break-ins at campsites can also occur. Sometimes, people don't secure their items when they leave their campsites. Food, equipment, or other things might be taken. 
Vandalism is another issue. Some people damage the park's signs, facilities, or natural features for no reason. Stupid, yeah, but it happens, unfortunately.
How to Prevent Being a Target
What can you do to prevent being a target? It's simple: keep your stuff secure. If you're leaving your car, don't leave valuables in plain sight. When camping, maintain a clean site.
These tips aren't meant to scare you but to ensure you can enjoy the park without any unnecessary worries. Also: while crime in Banff National Park isn't rampant, it's always a good idea to stay vigilant and take necessary precautions.
How Does Banff's Crime Rate Compare to the Alberta Average?
In comparison to Alberta as a whole, Banff's crime rate is slightly higher. However, considering the massive influx of tourists to the area, you can still conclude Banff is safe. The presence of visitors contributes to the higher crime rate.
Most people come to enjoy the park's natural beauty, and the environment doesn't lend itself to the same crimes seen in larger population centers.
Which makes sense. Hence, comparing crime rates between a national park and urban or suburban areas is like comparing apples to oranges. The nature of the places is fundamentally different, making different offenses more common in each.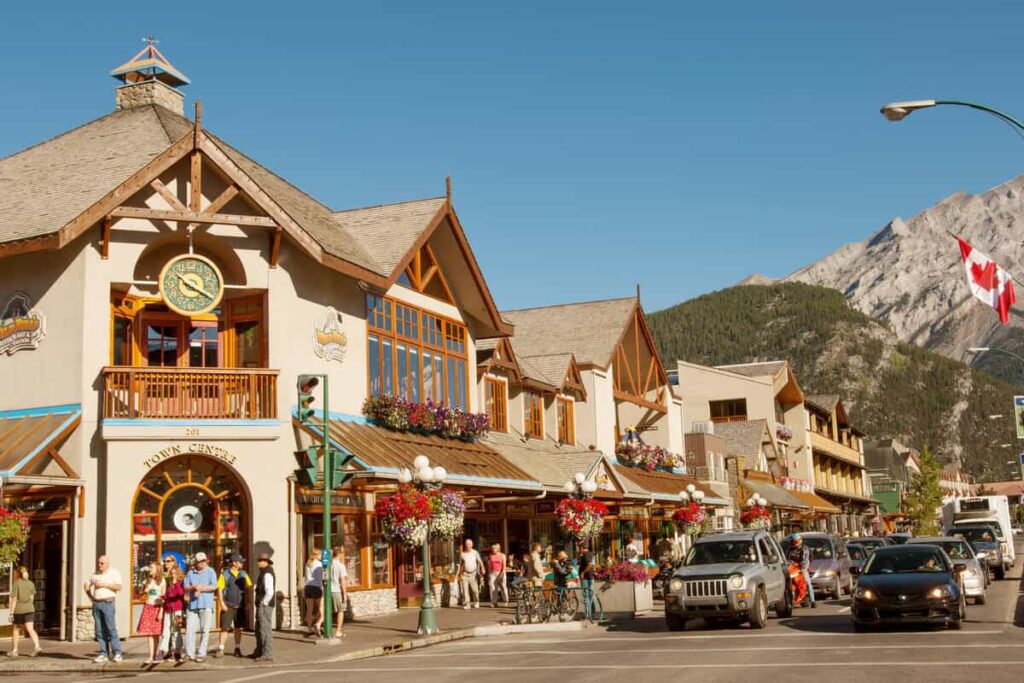 How Does Banff's Crime Rate Compare to the Canadian Average?
While Banff's crime rate is higher than the national average, Canada enjoys a low crime rate compared to many other countries around the globe. Canada is generally seen as a safe country, with low levels of violent crime and intentional homicide, as reported by the Canada Crime Rate & Statistics data.
These numbers are part of the bigger picture. Crime rates can be influenced by many factors, including population size, local law enforcement practices, socioeconomic conditions, etc. 
Emergency Services and Assistance
It's probably reassuring to know that Banff has a number of emergency services to keep you safe.
The Fire Department is responsible for managing public education during National Fire Prevention Week, coordinating emergency services, and handling fire safety and structural fire prevention within the town.
Other services include the Mineral Springs Hospital in the town of Banff, the Police and Royal Canadian Mounted Police (RCMP) and Search and Rescue. 
Search and rescue operations leaders are all adequately trained Mountain Safety Specialists ready to help you in an emergency situation 24/7. 
In case of a general emergency in the park, staying informed is essential. You can sign up for emergency alerts from the Town of Banff, ensuring you're always updated in a crisis (like a wildfire threatening the area).
Social media also plays a significant role in emergency communications, so following the Town of Banff on Twitter (@Banff_Town) or Facebook helps you stay informed.
The Town of Banff offers emergency preparedness resources to prepare you for any situation. Knowing how to act in an emergency and having a plan will give you peace of mind.
If you need assistance or information about emergency services in Banff, don't hesitate to contact local authorities. They are ready to help you.
Roads and Transportation Safety
Driving Safety Tips
When driving in Banff, follow some safety tips. First, remember that all highway signs use kilometers, and speed limits are in kilometers. This might differ from what you're used to, so pay attention to the signs.
In Banff National Park, cell coverage can be limited. So letting someone know your plans before heading out is a good idea. If you need help, emergency services can be reached by dialing 911.
During winter, some roads may require snow chains. They are mandatory on the Icefields Parkway (Highway 93 North) and Banff-Windermere Highway (Highway 93 South). However, if you just stay in the townsite, snow chains are not necessary.
ALSO READ: Driving in Banff in Winter
Public Transportation
Banff offers public transportation options, so you don't have to drive everywhere. One option is the Roam Transit bus service, connecting popular attractions like Johnston Canyon, Lake Louise, Lake Louise Gondola, and Moraine Lake. The bus departs from different locations several times a day.
Public transportation is a great way to enjoy Banff without worrying about road conditions or parking availability. The latter can be a big problem in the summer.
ALSO READ: Parking in Banff National Park
Weather and Climate-Related Safety in Banff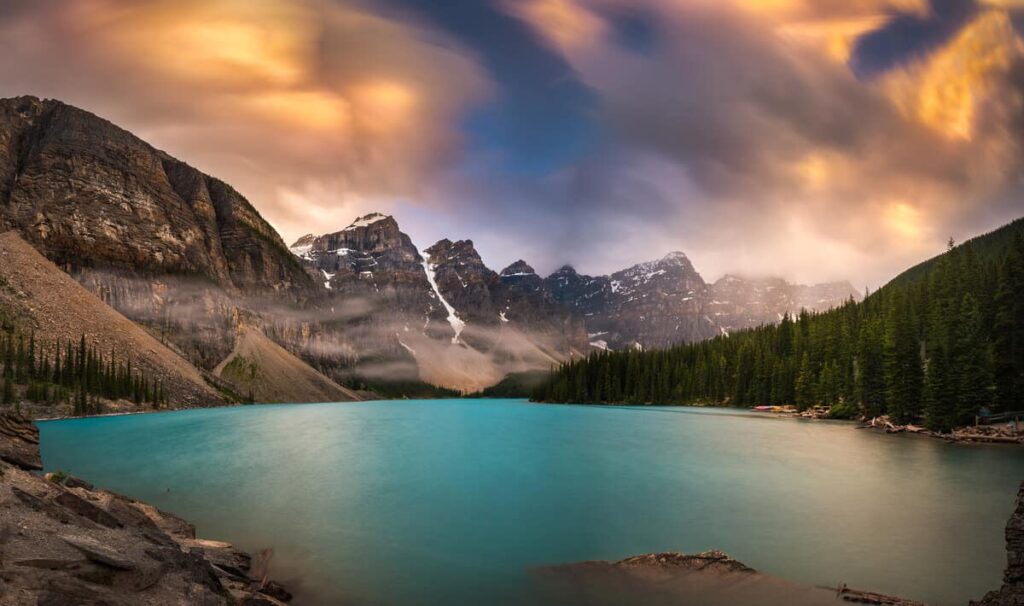 Winter Safety
In Banff National Park, winter brings cold temperatures and snow. It's important to dress warmly, with thick layers of clothing. Make sure you wear a hat, gloves, and a warm coat, as well as waterproof shoes or boots. 
When going out for activities, be aware of the potential for avalanches. Check the avalanche conditions before heading into the park.
ALSO READ: Avalanches in Banff National Park 
Summer Safety
Summer in Banff experiences average highs of 22°C, making it a lovely time for outdoor activities. But it's essential to be prepared for unexpected weather changes, like rain or thunderstorms. You're in the Rockies, after all. Carry a light rain jacket with you and stay informed about the weather conditions in the park. 
Keep an eye on the sky; if a thunderstorm approaches, head indoors or to lower elevations.
Accommodation Safety in Banff
Hotels and Lodges
Banff offers a variety of accommodations to choose from, like hotels, bed and breakfasts and hostels. The hotels and lodges in the area are known for their cleanliness and well-maintained facilities. 
Most hotels have security measures, such as surveillance cameras and locked entrances after certain hours. 
Two tips when you're out discovering the park:
Lock your doors and windows when leaving your room
Store valuables in the provided in-room safe (most hotels have them)
Camping Safety
If you prefer camping in Banff, you're more vulnerable to crime and wildlife, so it's essential to prioritize safety. Many campgrounds have proper facilities and guidelines to ensure a safe camping experience. 
Here are some tips for a secure camping experience:
Choose a designated campsite with access to facilities and resources
Be aware of the local weather conditions and plan accordingly
Store food and scented items in bear-proof containers or lockers provided by the campsite
Keep a clean campsite to avoid attracting wildlife
Follow campfire restrictions and guidelines
It's good to know that facilities are best at front-country campgrounds. Banff also has many backcountry campgrounds. Facilities at these campgrounds are generally minimal. 
Wildlife Encounters in Banff
When visiting Banff, encountering wildlife can be an exciting part of the experience. But it can also pose a serious danger, especially when facing a bear or cougar. 
So be aware of safety precautions and tips to ensure you and the animal remain safe.
Bears and Safety Tips
In Banff, you may come across both black bears and grizzly bears. Just follow some simple rules to keep you and the bears safe. First, keep your distance and never approach or feed them. 
If you see a bear from afar, enjoy the sighting but give them enough space to move and not feel threatened by your presence.
Remember to make noise while hiking to alert bears of your presence, as surprising them can lead to dangerous situations. 
Always carry bear spray with you and know how to use it properly in case of a close encounter. Finally, if you come across a bear, following the proper safety guidelines Parks Canada provides is crucial.
ALSO READ: Bears in Banff National Park
Mountain Lions and Safety Tips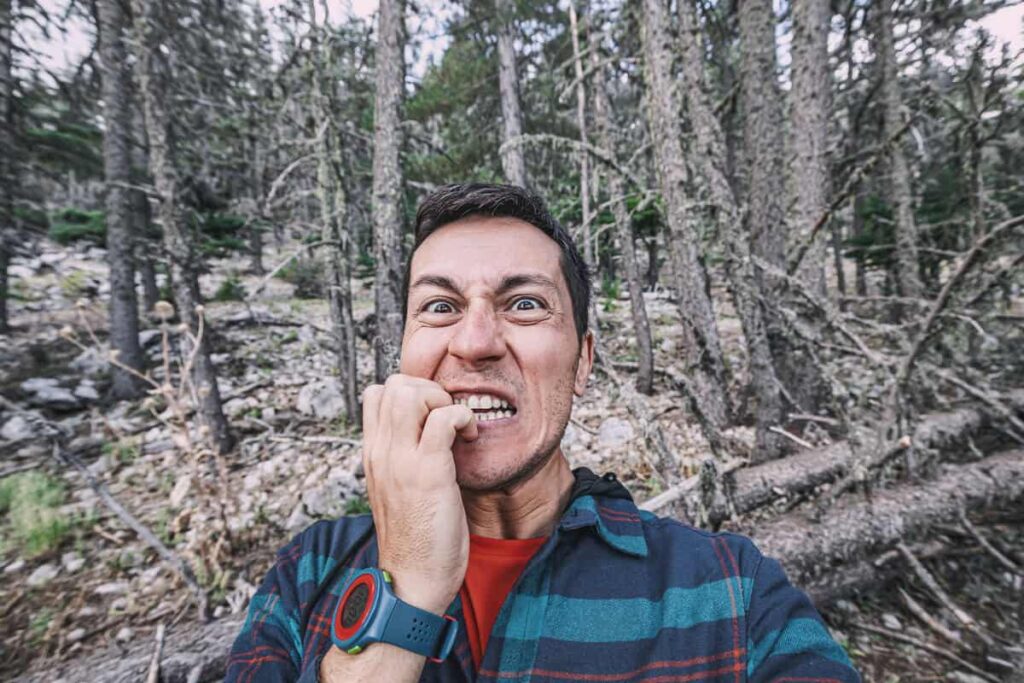 Another possible wildlife encounter in Banff is with mountain lions, also known as cougars. Just like with bears, maintaining a safe distance and avoiding feeding or approaching them is essential. 
Don't run in case of an encounter, as this could trigger an attack. Instead, maintain eye contact, stand tall, and try to make yourself look larger by raising your arms or using a jacket or backpack.
If you have children with you during the encounter, pick them up without bending down and keep them close. If a mountain lion becomes aggressive, fight back using any available items, such as rocks, sticks or even your bare hands. 
ALSO READ: All about Cougars in Banff National Park 
Frequently Asked Questions
What Are the Safety Concerns in Banff?
In Banff, you might encounter common safety concerns such as weather conditions, uneven terrain, and wildlife encounters. Always check the weather forecast before venturing out, and dress appropriately to stay safe. Be cautious while exploring hiking trails; wearing sturdy shoes to navigate the potentially rough terrain is a good idea.
Is the Air Quality in Banff Good?
Yes, the air quality in Banff is generally reasonable. The town is situated in Banff National Park, surrounded by the Canadian Rockies' natural beauty. This location helps maintain fresh air from many pollutants in urban areas such as Calgary. 
However, air quality can change depending on wildfires or unusual weather patterns.
What Precautions Should I Take in Banff at Night?
Stay safe in Banff at night, be aware of your surroundings and stick to well-lit areas. Exploring the town with a group or a buddy is best, especially if you are unfamiliar with the area. 
Carry a flashlight or headlamp if you're walking outside town or on trails during the evening. Also important: Watch for wildlife, as they can be more active during nighttime.
What Is the Risk of Encountering Wildlife in Banff?
Banff is home to various wildlife, including bears, moose and deer. It's rare to visit the park for, say, three days and not see wildlife. In other words, you'll likely see wildlife during your visit. 
As wildlife's behavior is unpredictable, knowing how to reduce the risk of encountering wildlife is essential. So make noise while hiking to alert animals to your presence, keep a safe distance if you encounter an animal, and never attempt to feed or approach them. 
Be aware of recent wildlife warnings in the area, and carry bear spray as an extra precaution.