Banff National Park seems perfect: You're stunned by one dazzling view after the other as you're taking a break from your stressful everyday life. Until you realize the significant nuisance of mosquitoes. What to do about it? You'll read it in this post. 
Mosquitoes are probably the most significant irritation for most people visiting the Rockies. They can be so abundant that they ruin your camping or hiking experience in the park. Fortunately, you can take precautions to avoid this nuisance. Let's dive in.  
When Do Mosquitoes Appear in the Rockies?
In Banff National Park, mosquitoes first appear toward the end of June and last until mid-August. This is due to the fact that these insects prefer a temperature range between 18°C and 34°C (64°F and 93°F). In September, their abundance is often significantly lower unless an Indian summer extends the season. October through May are typically mosquito-free months.
There will be differences from year to year. The number of primarily depends on rainfall and temperature since mosquitoes are sensitive to their surroundings. They thrive in the Rocky Mountains if it rains a lot and gets warm enough for them to survive and reproduce successfully.
The amount of rain that falls, and when it falls, will determine the type of mosquito season that will follow. Additional factors include the duration of the of the cold or warm period and what time of year it occurred.
I suggest visiting AccuWeather.com's mosquito prediction if you want to know the current mosquito situation in Banff National Park. This website provides you with daily updates on the status of the pest scale. It runs from low to very high.
Where Will You Encounter These Biters?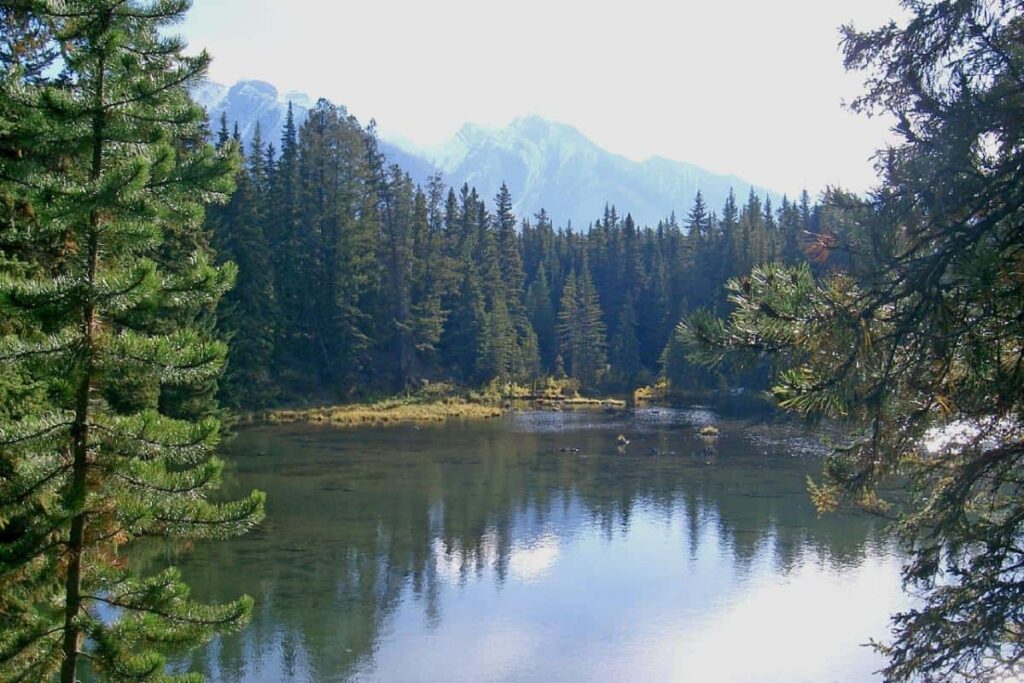 Mosquitoes prefer to live near bodies of water. Think of standing water like lakes, ponds, puddles, ditches, woodland pools, swamps, and marshes, but also flooding streams like rivers. In other words: You can find mosquitoes near permanent or semi-permanent bodies of water.
Also, they hatch in water and their larvae and pupae live there. This does not imply, however, that mosquitoes are limited to water sources. During the day, they also rest in grasses, plants and forests. Yes, there's plenty of all of the above in the park.
Where to Expect Mosquitoes in Banff?
While you may encounter mosquitoes in many places in the park, there are a few notorious mosquito hotspots. I must add that this depends on the time of year and the amount of precipitation.
The locations listed below can be bad. I know from experience. I'm sure there are many more mosquito-infested locations, so if you're missing a specific location, please leave a comment.
Cascade Mountain trail, from the Mount Norquay Parking lot to the Amphitheatre
Fenland trail
Lake Agnes trail, especially by Mirror Lake
The trail out to the Ink Pots
Marsh Loop
How to Avoid Mosquitoes?
Avoiding mosquitoes is pretty much impossible. That doesn't mean you can't do anything about avoiding them (somewhat). One of the most important things to know is that mosquitoes, in general, get out three times a day: During sunrise, sunset and nighttime. In other words, they are much less active in the middle of the day, as the sweltering summer sun can dehydrate these aggravating insects. 
During Activities 
Mosquitoes WILL bug you, whether you're swimming, rafting, mountain biking, or hiking. So how to deal with them during activities when you're most vulnerable to mosquito bites. Here are some tips:
Dress well: wear long sleeves and long pants. It's the most effective measurement against any mossie bites. 
Spray your clothes with permethrin spray. Supposedly as effective as DEET repellent and odorless (to humans).
Wear light-colored clothing. Mosquitoes are attracted to dark and brightly colored clothing.
If you don't want to dress in long sleeves and pants because of the hot temperatures, a good repellent is your alternative. The most effective, however, is a combination.    
Ultra-fine mesh mosquito head net. It prevents you from continuously swatting away mosquitoes in front of your face. 
TIP: If you want to do some hikes near the town of Banff I highly recommend reading the post 11 Easy Hikes Near the Town of Banff.
During Camping 
Nothing is more annoying than a buzzing mosquito near your head while sleeping. You WILL wake up and you probably won't be able to sleep again until you've killed the annoying insect. There are several ways you can minimize this occurrence.
Citronella candles. Distribute them around your campsite. Mosquitoes really dislike the smell of citronella. 
Use a set of lanterns that release a chemical scent it will keep mosquitoes and other bugs at bay. 
Keep your campsite clean. Don't leave any open containers or any unwashed dishes on your site. It attracts lots of unwanted visitors, including mosquitoes. Regarding thrash that you will accumulate over time: don't let it be uncovered. Besides, you're in bear country. You shouldn't have any food near your tent when you're sleeping. 
Be careful with body care products. Their odor might attract mosquitoes and other insects. So don't use scented shampoo, deodorant, colognes, and aftershaves. 
At night, build a campfire. You can on most front-country campgrounds in Banff National Park. It keeps all kinds of insects away, including mosquitoes. 
Zip up your tent's door at night so mosquitoes can't come in. Also, make sure it remains closed during daytime. 
While Staying in an Accommodation
Search for accommodation with mesh window screening. Just ask at the front desk. It can mean the difference between getting a decent night's sleep or not.
Want to book a hotel? Check out the ultimate overview of hotels in Banff with a concise comparison of hotels. It makes your booking process fast and convenient.
Other Factors
Unfortunately, there are other factors as well that make those mossies emerge. They are the weather (is it cloudy?), the temperature (activity peaks around 27°C or 80°F) and the species of mosquitoes present (one species comes out at slightly different moments than others and have different activity and habits).
Best Time of the Day to Venture Out
Based upon the above, we can conclude that your best bet at avoiding vast numbers of mosquitoes is during the middle of the day (in theory).
Best Locations to Avoid Mosquitoes
Another good way of avoiding them is to move to wide open spaces with a lot of sunshine and without lots of shade (I realize that shade is EXACTLY what you want when the weather is sweltering). A windy day is also good. Mosquitoes don't fly well in these circumstances. Also, areas without standing water and dense vegetation are a no-go area for mosquitoes.  
Ideal Circumstances to Avoid Mosquitoes in Banff
Going by the factors summed up above, we can conclude that your best day for some excellent mountain activity in the park is when:
It's very sunny (and not cloudy)
It's windy
Temperatures are below 18°C (64°F) or above 34°C (93°F)
Your activity takes place during the middle of the day
Furthermore:
Move through open spaces 
Avoid water
Avoid dense areas
I get it; it's highly unlikely that the above will coincide, so you'll have to put up with mosquito activity in Banff. And even if all these WOULD coincide, a multi-hour hike would probably still make you end up in clouds of mosquitoes. This brings us to the next remedy: repel the bloody mosquitoes. How to do that, you'll read below.
How to Repel Mosquitoes?
Repelling mosquitoes is inevitable when you're in Banff in the summer. There are two ways to do this effectively: dress well (wear long pants and long sleeves. Yes, also on those scorching hot days) and apply bug spray.
DEET is arguably the most well-known insect repellent. Another option is Listerine. They are available at several places in the park and in Canmore. I've listed some below (there must be more places to get this stuff).
BANFF
Clock Tower Mall Freya's Gifts and Jewellery, 108 Banff Ave
Gourlay's Pharmacy, 220 Bear Street
IGA Banff, 318 Marten Street
Nesters Market, 122 Bear St.
PetroCanada Station, 302 Squirrel Street
Standish Home Hardware, 223 Bear Street
The Bear and The Butterfly, 214 Banff Avenue
Weeds and Seeds, 211 Bear Street
CANMORE
Huckleberry Holistic Inc., 101, 722 – 8 Street
Nutter's Bulk and Natural Foods, 900 Railway Avenue
LAKE LOUISE
PetroCanada Station, 100 Village Road
What If You Don't Want to Use Repellents?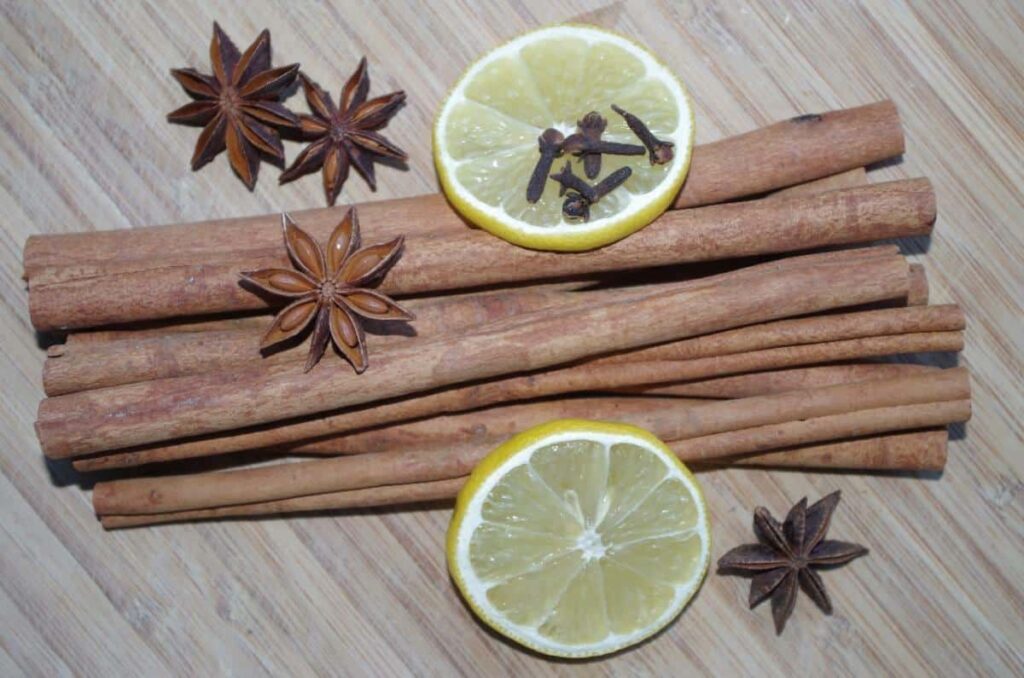 If you don't want to use toxic and chemical repellants, you can resort to using specific natural ingredients to repel those annoying mosquitoes. There are several that will do the job. However, keep in mind that their effectiveness is lower and/or last for a shorter time. Here's a list:
Basil
Catnip oil
Cinnamon oil
Citrus oil 
Clove
Garlic Oil
Lavender oil
Lemongrass oil
Peppermint oil 
Rosemary
Sage
Thyme essential oil
What Other Insects Are Common in Banff?
Alberta houses more than 20,000 species of insects, of which several thousands live in the Rockies. Besides mosquitoes, other common insects are bees, wasps, hornets, spiders, black flies, horse flies and ticks.
Want to know more about summer temperatures? I recommend read the post about the general weather in Banff.