While Banff National Park is one of Canada's most famous national parks, is it also a good vacation spot to visit with a toddler? I'm here to tell you that the answer is a resounding yes! 
Now I know what you're thinking – navigating a rugged mountain landscape with a tiny human who still takes two naps a day and can't even put their shoes on sounds daunting. 
But with some planning and packing all the necessary gear, you can have an incredible time exploring the park at a toddler's pace. 
The key to a successful Banff trip with a toddler is choosing suitable activities, being flexible with your schedule, and knowing where to take breaks when little ones need to recharge. 
That's why I'm sharing all my best tips and recommendations in this guide for navigating Banff National Park with a toddler.
The townsite is highly walkable, with plenty of coffee shops and grab-and-go eateries when you need a quick bite. And while some more strenuous hikes are beyond a toddler's capability, there are still dozens of short, family-friendly trails where they can take their first steps in the woods.
By following my advice on when to visit, where to stay, building your itinerary around naps, and packing all the toddler gear you need, you'll be set up for a fantastic trip to experience Banff's beauty without missing a beat. 
Keep reading for everything you need to know to plan your toddler's first big mountain vacation!
Getting There
There are three main routes that lead to Banff National Park. You're coming from Calgary, Jasper or British Columbia (BC). 
Coming from Calgary
Most visitors come to Banff National Park by flying into the Calgary International Airport, about a 1.5-hour drive from Banff. 
Renting a car is a convenient way to get around the park, allowing you to stop whenever your toddler needs a break. 
Be sure to ask the rental agency for a car seat so you have one less thing to worry about.
Getting to Banff from Calgary (Airport) is as easy as it gets once you're on the Trans-Canada Highway (Highway 1). It runs through Calgary – and is quite close to the airport. It takes you straight to Banff, which passes right by the town. 
So keep driving on the Trans-Canada, and you'll eventually see the exit for the town of Banff. 
Since your little one will need to be changed regularly, it's probably good to know that there are very few gas stations along the way once you leave the outskirts of Calgary. 
Distances are long in Canada; the same goes for distances in the Rockies. It's good to be aware of that. 
Coming from Jasper
Getting to Banff National Park from Jasper is also very easy. You'll need to take the 143-mile (230-kilometer) Icefields Parkway, which connects Jasper to Lake Louise. 
Along this incredibly scenic road, you'll find plenty of breathtaking places to stop, but there aren't many places where you can comfortably change your toddler's diaper.  
There are a handful of hotels along the way. Also, the Columbia Icefield Discovery Center has decent restrooms and restaurants. About halfway there, there's a gas station and some food at the Saskatchewan River Crossing. 
While it may seem like there are quite a few facilities along the way, it's probably a good idea to study the map to see where these places are and plan accordingly. 
The average speed on this road is not relatively low due to some winding sections, and you will want to stop often to take pictures. Allow at least four hours to reach Lake Louise. Then it's another 40 minutes to Banff.
Coming from British Columbia (BC)
If you are coming from British Columbia, there are several directions you can take. You may enter the park near Banff or Lake Louise, depending on your itinerary. 
In general, there are very few gas stations or other facilities that would allow you to care for your infant comfortably. So plan ahead to avoid any unpleasant surprises.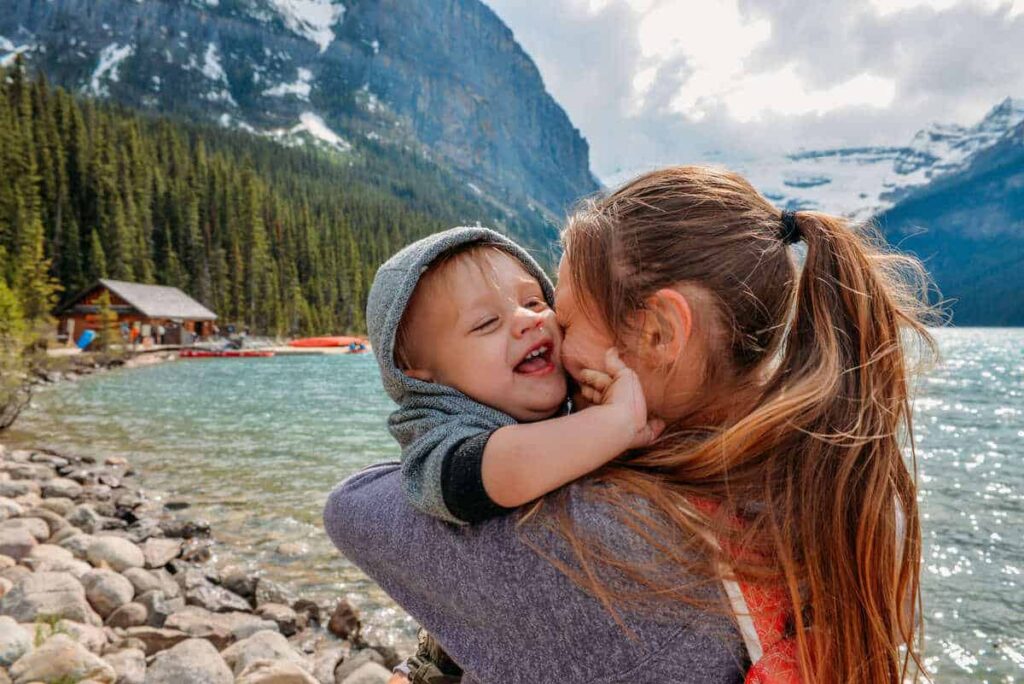 Where to Stay
In terms of accommodations, you'll have lots of family-friendly options to choose from. For convenience, staying in downtown Banff puts you within walking distance of shops, restaurants and the lively town atmosphere. 
Hotel options like the Peaks Hotel & Suites, Charlton Banff Hotels, and Moose Hotel & Suites offer standard rooms plus larger suites with full kitchens and separate bedrooms.
If you want an authentic mountain lodge experience, check out Baker Creek by Basecamp on the Bow Valley Parkway, between Banff and Lake Louise, where you'll get spacious condo-style units surrounded by the forested landscape. 
Or choose from one of many charming B&Bs and inns like the Fox Hotel, Buffalo Mountain Lodge, or Hidden Ridge Resort, which all combine hospitality with comfortable rooms or cabins. 
Out in the Lake Louise area, you may prefer staying right at the iconic Fairmont Château Lake Louise, though prices run pretty high. 
More affordable options include the outstanding Deer Lodge beside Lake Louise or Post Hotel & Spa in a quiet setting. Book well in advance wherever you stay, as places fill fast during Banff's peak summer season.
Babysitting Facilities in Banff
Banff has many babysitting options. While there are no daycare facilities for non-Banff residents, there are several hotel babysitting services:
They are all accredited and licensed, so you know your child is in excellent and safe hands. If you're visiting Banff for skiing, Lake Louise and Sunshine Village resorts have on-site daycare facilities.
Playgrounds in Banff National Park
With all the beauty around you, there's plenty to see and do, but no toddler can leave without a playground. 
The town of Banff has two:
Central Park, at 110 Bear Street
Banff Rotary Park, at the corner of Banff Avenue and Badger Street.
Banff Rotary Park is more suitable for younger children. 
In the village of Lake Louise, there is a new and exciting playground at the Lake Louise Sport & Recreation Centre at 103 Village Road. However, it's more suitable for older children. 
Shop for Toddler Supplies
Banff has some stores that sell infant and toddler supplies. So the town has you covered when it comes to diapers, wipes, pacifiers, and clothing.
While Banff does not have a dedicated infant store, you can find most items you need at a grocery store or pharmacy. 
Below I listed several more children-oriented shops that might have what you're looking for:
Scallywags, 208 Caribou Street, +1 403 – 762 4882
Hatley Boutique Banff, 138 Banff Avenue #107, +1 403 – 762 2420
Hudson's Bay, 125 Banff Avenue, +1 403 – 762 5525
Things to Do with a Toddler
The best part about visiting Banff with a toddler is that many of the park's most famous highlights are also toddler-friendly! At a minimum, be sure to include these top activities in your Banff itinerary:
Summer
– Ride the Banff Gondola up Sulphur Mountain – Enclosed gondola cars ascend to an observation deck with panoramic views. The wooden boardwalk to Sanson's Peak at the top is not stroller-friendly as it contains several steps at several locations. Still, you could hold your toddler while exploring the breathtaking panoramas.
– Visit Lake Louise – This turquoise, glacier-fed lake is one of the most photographed spots in Banff. Gaze at the lake from shore, and stroll on the paved path along the lakeshore. 
– Drive the Icefields Parkway – Pack snacks and drive this scenic mountain road with viewpoints, lakes, and waterfalls. Stop as often as you want your toddler to marvel at the scenery. Prime wildlife spotting!
– Explore downtown Banff – A highly walkable area with lively shopping and restaurants lining Banff Avenue. Grab an ice cream and let your toddler roam around Central Park.
– Take a dip in Banff Hot Springs – Your little one will have a blast splashing around in the mineral-rich waters. Go in the evening for cooler temps. Your toddler is required to wear swim diapers while in the pool. You can purchase them at the facility.  
– Visit Lake Minnewanka – Hop on a boat for a cruise on the park's biggest lake or pack a picnic lunch to eat lakeside.
In addition, Banff offers boundless options for short scenic hikes and nature walks that a toddler can happily handle. The Fenland Trail is a local favorite, winding through marshes and forests nearby. 
Johnston Canyon is also nearby, with a paved lower trail leading to pretty waterfalls. For wildlife lovers, spot grazing elk and deer along the Vermillion Lakes road, or look for bighorn sheep in the Spray Valley.
Winter
If you happen to be visiting Banff in winter, good for you because activities abound! Here are some quintessential endeavors to undertake with your toddler. 
– Go sledding – Bundle your toddler up to a sled, make snow angels, and catch snowflakes. There are many hills to choose from. 
ALSO READ: Sledding in Banff National Park
– Take the gondola up Sulphur Mountain – Despite the freezing temperatures, going up Sulphur Mountain is absolutely worth it in winter! The enclosed gondola cars make for a comfortable ride to the top of Sulphur Mountain. 
When you've arrived at the summit, hold your toddler while exploring the wooden boardwalk to Sanson's Peak and enjoy the breathtaking panoramas.
– Sign up for a family sleigh ride. Take a ride on a large sleigh that will take you on a leisurely ride through Banff, covered in blankets to keep you and your toddler warm. It's a relaxing way to experience a Christmas wonderland while enjoying the magical scenery. 
– Skate on Lake Louise. See the winter beauty of the lake from the ice. It gives you a new perspective, and you can teach your toddler to skate against one of the world's most famous backdrops. 
Whatever you decide, the key is to plan activities in shorter blocks punctuated with downtime. Aim to return to your hotel in time for nap time, and don't overschedule your toddler's capacity. 
Spend one-morning hiking, then spend the afternoon relaxing at the hotel pool. Stop frequently when driving scenic roads so your toddler can marvel at views and look for animals. 
Build in playground time, bring coloring books and toys, and watch for signs when your toddler needs to recharge.
Toddler-Friendly Restaurants 
While Banff offers a bevy of fine dining spots for date nights, you'll frequent more casual, kid-friendly eateries with your toddler in tow. Luckily, the town boasts plenty of excellent cafes, delis, and family restaurants. Here are my top picks for the best toddler dining in Banff:
Hit up Evelyn's Coffee Bar or the Wild Flour Bakery for giant cinnamon buns and other tasty baked treats for breakfast. 
Head to the Magpie & Stump at lunchtime for fresh tacos, quesadillas, and other standard toddler fare. 
Order pizza at the Meatball Pizza & Pasta in the Ptarmigan Inn or Boston Pizza.
Come dinnertime, your best bets in Banff are family-style restaurants like The Keg in the Caribou Lodge, Coyotes Southwestern Grill, or the Old Spaghetti Factory. 
For a special night out, toddlers will delight at the lively Grizzly House Fondue Restaurant. Just don't give them the hot cheese! 
Good options in Lake Louise are Château Lake Louise, with several dining options, and Bill Peyto's Cafe. 
Strategizing mealtimes well is key to surviving dining out with a toddler. Always ask to be seated quickly – hangry toddlers are no fun. Request crayons or placemat activities upfront to keep them occupied. 
Try to dine earlier to avoid big crowds. Let your toddler wander around. And always keep snacks, milk cups, or other distractions in your bag when patience runs low. With thoughtful preparation, you can dine and ditch the ketchup-covered disasters!
Packing List & Handy Items
The gear you pack will make or break your Banff trip with a toddler. Bring these essential items to ensure you're prepared for anything:
Lightweight hiking backpack carrier – For when little legs get tired – Jogging stroller – Ideal for longer days of walking around town.
Car seat – Rent or bring your own for airport transfers and road trips.
Warm layers – Fleece jackets, pants, and snowsuit for cool mountain temps.
Sun hat and toddler sunglasses – Bright sun at high altitudes.
Reusable water bottles – Stay hydrated on the go.
Healthy snacks – Fruit pouches, cereal, crackers to last all day.
Kid-sized daypack – Let them carry their toys, books, and water.  
Portable potty seat – For bathroom breaks on trails and drives.
Baby monitor – For naptime and hotel room wind-downs.
Bath toys and rubber duckies – To entertain in oversized hotel bathtubs!
Favorite books, puzzles, toys, and a tablet pre-loaded with games and shows – For quiet time and before-bed rituals.
Don't skimp on sunscreen, bug spray, bandages, baby pain reliever, hand sanitizer, and an extra change of clothes. 
Gear like hiking poles, a baby backpack, and bear spray can make you more adventurous on appropriate trails.
Proper preparation relieves the stress of traveling in the mountains with a toddler. Shop well in advance for any bigger items to make the trip smoother.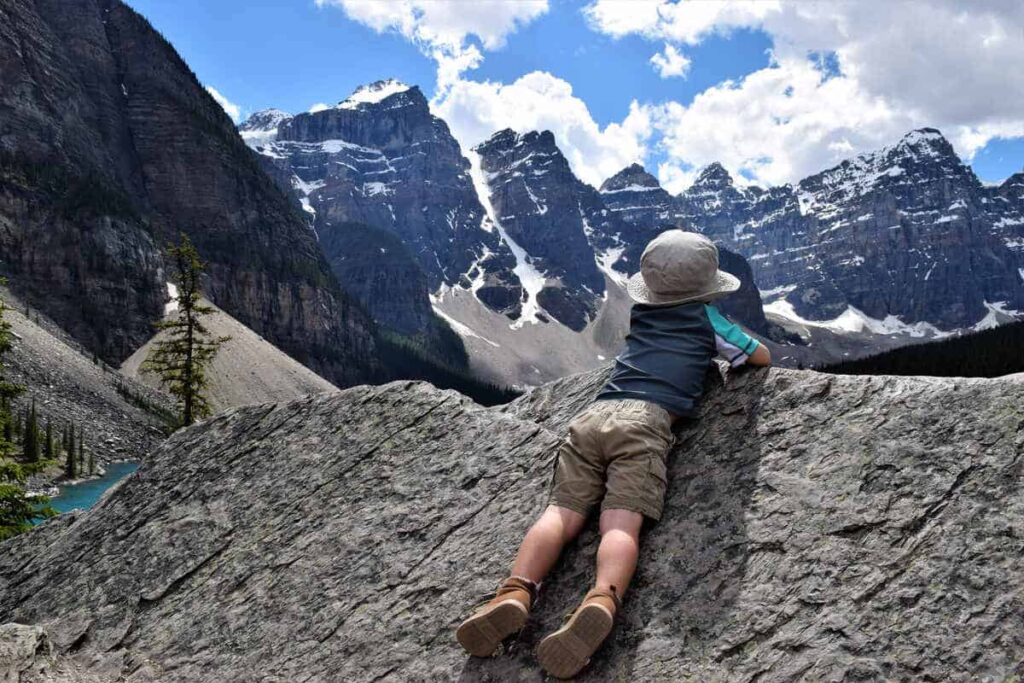 When to Visit Banff with a Toddler
Banff offers stunning scenery and endless adventures in all seasons. But depending on your toddler's interests, certain times of year may be better than others:
Summer (June – September)
Pros: The warmest weather for swimming, pedal boating, and water play. The full range of scenic hiking trails is open. Wildlife like elk and bears are active. Lively festivals and events.
Cons: Peak crowds throughout the park. Harder to find lodging. Risk of wildfires.
Fall (September – October)
Pros: Cooler temps, smaller crowds. Dramatic fall colors. Wildlife prepping for winter. Off-season lodging deals.  
Cons: Limited services as shoulder season. (even more) Unpredictable weather and snow at high elevations.
Winter (November – May)
Pros: Snowy playgrounds! Skiing, sledding, ice skating, and other snow activities. Unique winter festivals. Fewer visitors. Christmas charm. 
Cons: Short daylight hours. Frigid temps limit time outdoors. Some services closed. Driving conditions may be difficult.
Spring (May – June)
Pros: Wildflower blooms, rushing waterfalls from snowmelt. Wildlife babies emerging. Comfortable temperatures later in spring.
Cons: Muddy trails and conditions. Potential for late-season snowstorms. High rivers and avalanche risk. Busy in June.
While I love exploring Banff on a busy summer trip, I'd also consider a spring or fall visit to avoid crowds while still having moderate temperatures. Just make sure to pack extra layers! 
And if you can swing a winter wonderland adventure, toddlers will be thrilled by the snow play. Regardless of when you go, keeping seasonal considerations in mind will help tailor your Banff vacation to your toddler.
Challenges of Traveling Banff with a Toddler
It's good to know the challenges you will face when spending time in Banff with a toddler. Knowing them in advance will avoid unexpected, undesired situations.
Banff Is Crowded in Summer
Banff National Park is a bustling place during summer. Finding appropriate accommodation can be challenging, so book in time. The same goes for winter but to a lesser extent.
Furthermore, there may be large crowds of people everywhere you go in summer. This could occasionally get a little distressing when pushing a stroller ahead. 
Your Toddler Could Get Sick with Altitude Sickness
Some parents may feel apprehensive about bringing their young children to Banff due to its high altitude. Because, yes, your toddler could experience altitude sickness.
High altitude (starting at 1,500 meters or 4,921 ft) causes lower air pressure and oxygen levels to which your toddler must adapt (just like you). Despite your kid's young age, it shouldn't pose any serious risks.
The average elevation of Banff is 1,383 meters (4,537 ft) above sea level, so technically, it's not yet high altitude, but many touristic places in the park are above 1,500 meters. 
According to Dr. MP Samuels in his research on the effects of flight and altitude, the following factors play a role in your child getting sick with altitude sickness. 
Young age
Exercise
Genetic susceptibility 
Recent infection
Rapid ascent
High altitude
State of hydration
Underlying illness 
Additionally, the altitude in Banff can be a bit difficult if you are not used to it, and toddlers are no exception. 
Take breaks often, drink plenty of fluids, and watch for signs of altitude sickness in your little one. Click the link to read about these, as I wrote a post about altitude sickness in Banff. 
Final Tips
To wrap up this guide, I want to share a few final tips for traveling to Banff with a tiny sidekick:
Stop frequently when driving to let your toddler marvel at the scenery. Bring car snacks and toys. 
Allow ample time for naps, breaks, and tantrums. Go with the toddler flow!
Get out early when energy is highest. Save museums and indoor activities for later.
Let your toddler set the pace on trails. Take breaks to play and explore.  
Use a child carrier for more adventurous hikes. Keep expectations reasonable.
Don't overpack your schedule. Alternate active days with relaxing ones. 
Splurge on a scenic helicopter tour or family horseback ride for once-in-a-lifetime experiences. 
Most notably – make incredible family memories exploring Banff's natural wonders together!