Many people don't realize Banff is home to some of the highest altitude elevations in North America. Some people can become sick with altitude sickness. Here's what you can do about it. 
While Banff is a relatively small town, it sits at an elevation of 1,383 m (4,537 ft). Because of this, some people might experience altitude sickness when they visit the park. Altitude sickness occurs when the brain doesn't get enough oxygen.
How Likely Are You to Get Altitude Sickness in Banff?
While possible, you shouldn't worry too much about getting altitude sickness in Banff. According to the National Health Service (UK) and WebMD (US), symptoms of the disease typically appear at elevations of 2,500 meters (8,202 feet) or higher. 
Altitude sickness is most likely to occur at high altitudes. High altitudes range between 1,500 and 3,500 meters above sea level. At 1,383 meters (4,537 ft), the town of Banff technically falls below the lower threshold. Therefore it is not considered to be at a high altitude. 
Banff is located in the Bow Valley, a relatively small valley, meaning that the surrounding mountains more or less block wind and weather that can contribute to the condition. 
However, many places in the park are higher. For instance, the hamlet of Lake Louise lies at 1,600 m (5,200 ft). This elevation does meet the definition of high altitude. But it's still quite far off the 2,500 meters (8,202 feet) threshold for the expected incidence of altitude disease symptoms.  
On the other hand, hikers are likely to get higher than 2,500 meters, and the same goes for ski enthusiasts. Banff has three ski resorts; at two of them, you can reach an elevation higher than 2,500 meters. The Lake Louise ski resort's highest elevation is 2,637 m (8,652 ft). At Sunshine Village, it's even higher: 2,730 m (8,957 ft). 
How Dangerous Is Altitude Sickness?
If you have a predisposition to altitude sickness, it can be dangerous. According to WebMD, the first symptoms are usually headache and nausea; if you don't descend, it can progress to vomiting, diarrhea, mental confusion, and potentially fatal lung or brain diseases. 
While the Banff altitude is not high, it's still important to take precautions if you're susceptible. 
So drink lots of water, take it easy for the first few days to allow your body to adjust, and don't overdo it with hiking or other activities. If you start to feel sick, descending is the best remedy.
What Are the Symptoms of Altitude Sickness?
If you've never had altitude sickness, you might not be able to identify it immediately. Therefore it's good to know the symptoms. According to the NHS, these include: 
Headache
Nausea 
Vomiting 
Dizziness 
Shortness of breath
Loss of appetite
Fatigue 
In more severe cases, altitude sickness can cause difficulty sleeping, increased heart rate, and confusion. If you experience any of these symptoms, it is crucial to seek medical attention immediately.
If you start to experience altitude sickness symptoms, it's essential to descend to a lower altitude as soon as possible. Preferably to an altitude of about 1,200 meters (4,000 ft) or lower.
Then try to: 
Rest where you are
Drink enough water
Avoid smoking, drinking alcohol, and exercising
Not increase your elevation for at least 24 to 48 hours
If you don't ascend to higher elevations, symptoms typically go away within 24 hours. However, they can persist for several days. Moving to a higher altitude while experiencing altitude sickness symptoms can worsen things.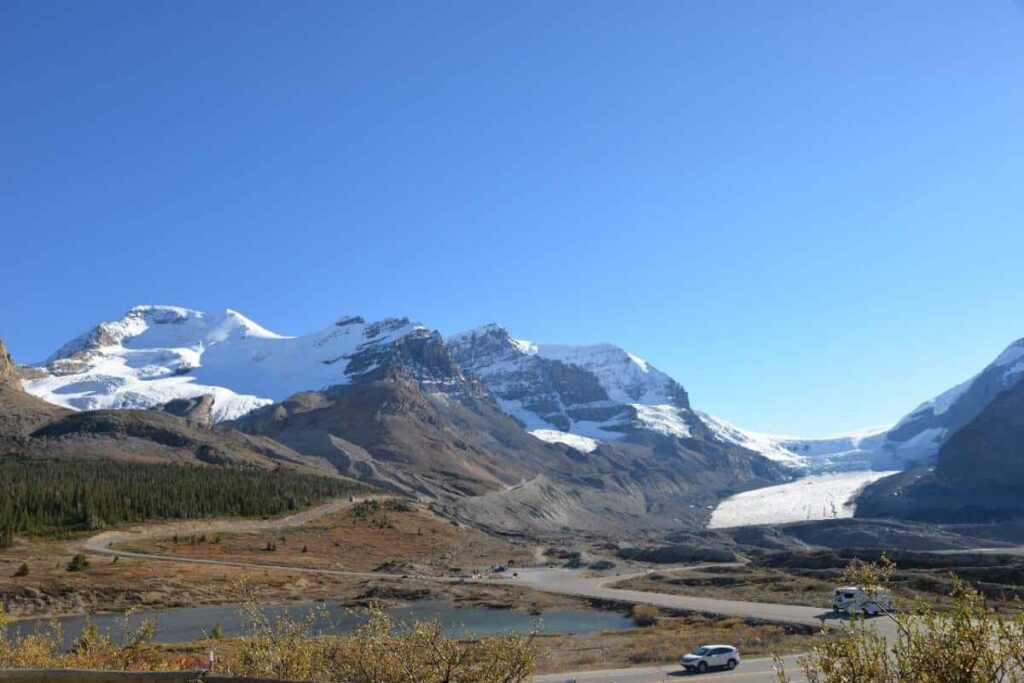 How to Prevent Altitude Sickness in Banff?
If you are planning to visit Banff and are worried about altitude sickness, there are a few things you can do to help prevent it:
Refrain from excessive exercise during your first day in Banff
Try to acclimatize to the altitude by spending a few days at a lower elevation, like Calgary, before going to Banff.
Allow yourself 2 to 3 days to get used to high altitudes before going above 2,500m.
Don't climb more than 300 to 500 meters a day
Stick to a light but high-calorie diet 
Make sure to drink plenty of water to keep hydrated
Avoid alcohol (it increases dehydration)
You can also take vitamins for altitude. Glutathione, an antioxidant, and glutamine, an anti-fatigue vitamin, may aid in preventing the depletion of these amino acids.
What to Do if You're Suffering from Altitude Sickness?
If you have altitude sickness, the best thing to do is to come down from the altitude as soon as possible. If you are already at a high altitude, you should stay and try to rest. 
You can also take pain medication or drink fluids to help with the symptoms. If the symptoms are severe, you may need to be evacuated to a lower altitude by helicopter.
How Many People Suffer from Altitude Sickness in Banff Each Year? 
There is no definitive number people suffering from Banff altitude sickness each year. It is not a condition that is routinely monitored or tracked.
Though it's likely to occur now and then, it's very unlikely to get altitude sickness in the Bow Valley, as I said at the beginning of this article. Be cautious if you're an avid hiker or skier who likes going beyond altitudes of 2,500 meters often and for a more extended period. 
Altitudes of Famous Places in Banff
The table below shows the elevations of famous locations in Banff. Going by these numbers, most of these attractions are at a high altitude.
None of them, however, are higher than 2,500 meters, the point at which altitude sickness is likely to happen.
The Sulphur Mountain boardwalk (see the picture at the top of this post) is the highest point, at 2,286 meters (7,500 ft).
Of course you can get to many places at much higher altitudes by hiking or even get dropped on a mountain by helicopter (there are many helicopter tours in the park). 
| POINT OF INTEREST | ELEVATION |
| --- | --- |
| Banff Upper Hot Springs | 1,585 m (5,200 ft) |
| Bow Lake | 1,920 m (6,300 ft) |
| Canmore  | 1,309 m (4,296 ft) |
| Columbia Icefield Discovery Centre | 1,993 m (6,539 ft) |
| Hamlet of Lake Louise | 1,600 m (5,200 ft) |
| Lake Louise | 1,750 m (5,741 ft) |
| Lake Louise ski resort base | 1,646 m (5,000 ft) |
| Lake Minnewanka | 1,500 m (4,900 ft) |
| Moraine Lake | 1,884 m (6,181 ft) |
| Mount Norquay ski resort base | 1,630 m (5,348 ft) |
| Peyto Lake | 1,860 m (6,100 ft) |
| Sulphur Mountain boardwalk | 2,286 m (7,500 ft) |
| Sunshine Village ski resort base | 1,660 m (5,450 ft) |
| Town of Banff | 1,383 m (4,537 ft) |
| Tunnel Mountain summit | 1,692 m (5,551 ft) |
| Two Jack Lake | 1,475 m (4,839 ft) |
| Vermilion Lakes | 1,378 m (4,521 ft) |
Altitudes of points of interest in Banff
Selected Sources
Singh SN, Vats P, Kumria MM, Ranganathan S, Shyam R, Arora MP, Jain CL, Sridharan K. Effect of high altitude (7,620 m) exposure on glutathione and related metabolism in rats. Eur J Appl Physiol. 2001 Mar;84(3):233-7. DOI: 10.1007/s004210170010. PMID: 11320641.
Dos Santos Quaresma M, Souza W, Lemos VA, Caris AV, Thomatieli-Santos RV. The Possible Importance of Glutamine Supplementation to Mood and Cognition in Hypoxia from High Altitude. Nutrients. 2020 Nov 25;12(12):3627. doi: 10.3390/nu12123627. PMID: 33255790; PMCID: PMC7760805.