You can divide visitors to Banff National Park into two types: campers and hotel guests. But there is yet another lodging category which has been gaining popularity for quite some time: glamping. You have several options for this in Banff as well.
Do you recognize this, cooking with your gas stove on the floor, pumping up your air mattress every night, and changing clothes while lying down because you can't stand upright? Camping may be the cheapest way to spend the night outdoors, but it is not always fun or convenient.
But if you want to spend the night in the wilderness without an RV, then you'll have to, right? Not anymore. Glamping has changed that. Why glamping can be a good choice, I'll explain below.
What is Glamping?
Let me first explain what glamping is and where the word comes from.
Glamping is a contraction of 'glamour' and 'camping'. It encompasses a style of camping that amounts to a mix of camping and staying in a nice hotel. This means that the amenities are a lot more extensive than when camping in a tent on a campground.
Who is Glamping Suitable for?
Glamping is suitable for people who want an outdoor camping experience with the luxury you might expect in a hotel. So it's a mix of both. You're close to nature, but you still have a bed to sleep on, a kitchen to cook in, and an outlet to charge your phone, electric toothbrush, or shaver.
The Options
Several types of lodging qualify for glamping. In Banff, these include oTENTik tents, log cabins, and the so-called yurts from Elevated Escapes. Other variants, such as a treehouse, dome tent, or wigwam, you won't find in the park. Yet I have included them in the overview below because they can be found at a reasonable distance outside the park boundaries.
If you insist on trying one, then, by all means, go ahead. You'll get to know what it is like at least. I've also included suggestions so that you know where to go for a night in an actual treehouse, for example.
1. oTENTik
oTENTik is a gold digger-style tent (also called prospector tent) on a raised wooden floor. It has a wooden A-shaped frame and features a front door, windows, and a porch. Inside, you'll find bunk beds.
An oTENTik is midway between a tent and a log cabin. Spending the night in an oTENTik tent is often categorized as glamping because of its relatively luxurious equipment.
The oTENTik is designed to leave a minimal carbon footprint and no lasting damage to the locations where they are installed.
Locations
In Banff National Park, you'll find oTENTik tents at the Tunnel Mountain Village II campground (21) and the Two Jack Lake Lakeside campground (10).
TIP: If you want to know more about oTENTik, read this extensive blog post to find out exactly what oTENTik is all about.
2. Yurts
Yurts are round, tent-like structures. Traditionally, nomadic peoples in Central Asia used them as portable dwellings. However, yurts can also have a permanent home on a wooden platform.
Wood or metal is often used for the frame, canvas or tarpaulin for the "walls", and Plexiglas for the domes. Yurts are ideal as glamping tents because they are usually quite large. The canvas shell is thicker. This makes it somewhat possible to cool and heat the yurt.
Locations
In Banff, yurts are unfortunately not available. If you want to spend the night in a yurt, your closest option is the Big Woods yurts in the foothills of the Rockies. You'll find these off-grid yurts at 109 km (67.28 mi). 
Further options include Elk Island Retreat in Elk Islands National Park, just west of Edmonton. It's not exactly nearby at 467 km (288.27 mi) from Banff.
A little closer, you can book a yurt at Pigeon Lake Provincial Park. That's 373 km (230 mi) from Banff, over 100 km (62 mi) southwest below Edmonton.
3. Glamping Tents from Elevated Escapes
A tent from Elevated Escapes is pretty much like a regular tent but it is a lot higher, has a wooden floor, and has the necessary amenities. They are a lot better equipped than Parks Canada's oTENTiks.
Moreover, the tents of Elevated Escapes are not located on campgrounds, which are packed during high season. So your stay in these tents offers you much more privacy. All tents are equipped with all necessary bedding and cooking utensils.
Locations
You can stay in tents from Elevated Escapes in Alberta at several locations, including Banff. You can book them on the company's website.
4. Domes
Domes typically consist of a white membrane cover and a high-quality galvanized steel frame. They're often equipped with transparent panels. This gives you a beautiful view of the surroundings and the starry sky at night.
Locations
In Banff, these domes are not available unfortunately. If you want to spend the night in a dome, one of the places to go is Refuge Bay, just west of Edmonton, 440 km (271.60 mi) from Banff.
Another option is again Elk EIsland Retreat in Elk Islands National Park, where you'll also find yurts (see above). Elk Island Retreat is located just west of Edmonton. It's a 467 km (288.27 mi) drive from Banff to get there.
5. Log Cabins
Log cabins often consist of an all-wood structure, or wood is used as the primary element of the stay. One difference from other glamping options is that they are usually available year-round. As such, log cabins are very close to a "regular" house. Or a hotel room, if you will.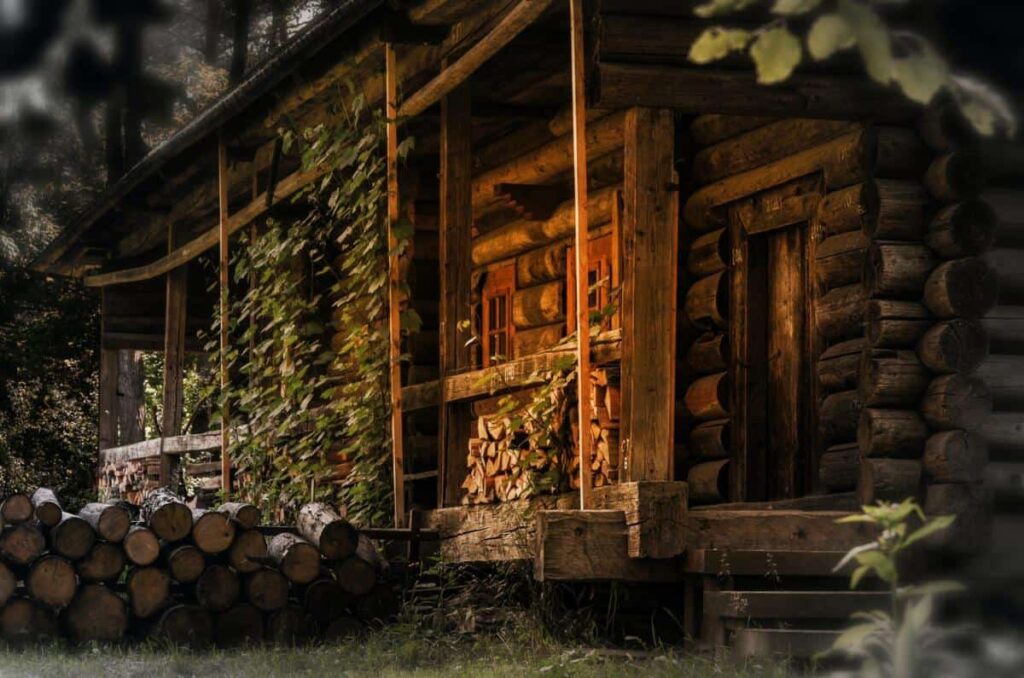 Log cabins are usually the most expensive option, and the experience in a log cabin is closest to that in a hotel. Yes, you're still surrounded by nature, but inside you won't really feel like you're actually in nature.
Locations
In Banff, you have quite a few choices of log cabins. Here are some of the options you have:
Baker Creek Mountain Resort
Castle Mountain Chalets
Johnston Canyon Bungalows
Juniper Hotel Cabin
Paradise Lodge & Bungalows
Storm Mountain Lodge
6. Tree Houses
Who doesn't dream of spending the night in a luxurious treehouse? Treehouses are one of the most popular forms of glamping. You really are in the middle of nature as you literally find yourself among the leaves (or needles) when you wake up.
The downside of a treehouse is that renting one is often not so cheap. But if you want a unique glamping experience, this is it.
Locations
Then the bad news: in Banff, unfortunately, you can't rent a treehouse. The closest location is the Wildwood Cabin + Treehouse in British Columbia. This treehouse is 300 km (185 mi) from Banff. Far from close, but the trip there is beautiful.
If you want to stay in Alberta, the Hidden Treehouse Chalet in Kehewin is the place to go. This adorable abode is a whopping 699 km (431.48 mi) from Banff.
7. Wigwam, Teepee
A tipi (or teepee or tepee) is a cone-shaped structure, traditionally made of animal skins over wooden poles or sticks. Today, canvas materials are usually used. Tipis were initially used by the indigenous people of North America. They work well in varied climates, as they provide warmth in the winter and stay cool in the summer.
Locations
Renting a tipi is also not possible in Banff National Park. However, you do have a pretty close option in Kananaskis Country. There you will find the Sundance Lodges. This destination is 75 km (46.29 mi) from Banff.
Another option is the Clearwater Tipi Park, near Calgary. This destination is 119 km (73.46 mi) from Banff.
And then you have Elk Island Retreat in Elk Islands National Park, just west of Edmonton. It's a 467 km (288.27 mi) drive to get there from Banff.
What Does Glamping in Banff National Park cost?
If you want to go glamping in Banff, you'll need a reasonably well-stocked purse. Glamping is not cheap and in some cases it comes close to a (more affordable) hotel stay in Banff town. The cheapest form is renting an oTENTik tent. That one will cost you CAD 122.64 per night. At Elevated Escapes you pay CAD 200 for an overnight stay. If you have a hefty budget, an overnight stay in a log cabin might be for you. Prices vary, of course, but CAD 400 per night is no exception.
What to Bring with You to Your Glamping Lodging?
Although glamping emphasizes luxury, you will still need to bring a few things from home. But then again, that's the same with staying in a hotel, so it shouldn't be a big problem, I guess.
Nevertheless, for your convenience I've listed some items that might be good to take along to your glamping site:
Map (you may not have reception on your cell phone)
First aid kit (you never know)
Flashlight with extra batteries
Shampoo and soap
Toiletries
Razors and shaving cream
Cosmetics
Towels
Medications
Insect repellent
Sunscreen
Brush or comb
Spare glasses or contact lenses
Mirror
The Pros and Cons of Glamping
Nothing in life is without pros and cons, so the same goes for glamping, no matter how luxurious the amenities are at your glamping site. I've listed them for you below.
Advantages
Accessibility
Glamping sites are almost always easily accessible. You can quickly drive there by car or, if need be, RV. It fits the style of luxury camping. After all, if you want the comforts of home while camping, you want to be able to park your car on the "driveway", right?
Time-Saving
The yurt, dome, wigwam, treehouse, or whatever kind of accommodation is just there. So forget the hassle of pitching your tent after you arrive. You just put your backpack, bag, or suitcase inside and install yourself. And at the end of your stay, just like in a hotel, it's just a matter of packing up and leaving.
Facilities
This is, of course, what glamping is all about: the facilities you have at your disposal as a camper. No air mattress but a decent bed. No gas stove on the ground, but a kitchen with stove, fridge, freezer and coffee maker. And electrical outlets. All in the middle of nature.
Experience
This point should not be underestimated. Next to the excellent facilities, it is probably the most important reason to venture into this particular way of camping. After all, glamping allows you to feel at ease in the middle of nature because you can more or less stick to your daily routine. And you are deprived of many of the inconveniences of camping in a tent.
No destruction and pollution of the environment
A glamping shelter is usually set up to be easily cleaned up without causing significant damage to nature. It makes glamping a relatively responsible way of spending the night in the wilderness. Or, to put it in a modern way: glamping has a small ecological footprint. Afterward, you don't have to feel guilty that you went 'glamping'. Which is great.
Quality time in the wilderness
Glamping allows you to relax in a secluded spot in the middle of nature. This will enable you to leave the hustle and bustle of everyday life behind. It brings you quality time with your lover, family, and/or friends. Because you have your facilities at your disposal, you also experience enough comfort so that you don't have to be annoyed by the inconveniences that 'normal' camping entails.
Eat what you want
You can usually eat what you want during glamping because you typically have access to a well-equipped kitchen. So that means – if you wish – decent meals. Like you're used to at home, but with the scent of the wilderness around you as a special bonus.
Disadvantages

Cost
Whereas camping is the cheapest form of spending the night away from home, glamping is quite pricey. While an overnight stay in an oTENTik tent is still a lot cheaper than an average hotel stay in Banff, it is much more expensive than staying in your tent at Tunnel Mountain Village II. There you pay CAD 122.64 for a night in an oTENTik. At the same campground you pay CAD 33.01 for an overnight stay in a regular tent. So that's just over a quarter of the price of a night in an oTENTik.
Excessive Expectations
Glamping sounds good because of the glamor that would be involved. And this can lead to excessive expectations. You usually book your accommodation based on photos and/or a YouTube video. Once you arrive at your destination, you may find that you had expected more from the facilities. And you might ultimately conclude that you would have preferred a stay in a hotel.
Sure, this is very much dependent on the location. The oTENTik tents in Banff, for example, are "just" on a campground. You still have to go to a separate toilet building to do your business. You're not allowed to eat inside (because of bears and other wildlife) and the cooking facilities are certainly not the same as in your kitchen at home.
In short: weigh up what is really important to you while camping. Do this well in advance. It can help you understand whether glamping is a good idea or not.
If you have never glamped before and are unsure whether it will bring you what you expect, there is only one thing to do: try it, and you will know. Or combine it: partly stay in a hotel and partly stay in a glamping accommodation.
Glamping in Winter in Banff
Glamping in winter is also possible in Banff National Park. Although the choice is quite limited. The oTENTiks are not bookable in winter (nor in part of spring). The same goes for the accommodations of Elevated Escapes.
The bottom line is that you'll have to rely on booking a log cabin in winter. Above you'll find some great options.