One of the most relaxing, beautiful and satisfying ways to explore the beauty of the Canadian Rocky Mountains is by canoe or SUP. In this article, I listed the eight best paddling tours you can do in Banff National Park and beyond.
This post contains affiliate links, and any sale made through such links will reward this site with a small commission – at no extra cost to you.
Banff's outdoors needs to be experienced. What better way to do that than from a canoe or kayak? You go where you want to go, at your own pace, while getting a unique perspective on your breathtaking surroundings. I mean, you're ON one of the park's famous lakes or rivers, right? 
Ensure your phone or camera is fully charged because you'll use it a lot. Trust me on this, I know by experience.
So how do you choose the best paddling trip in Banff National Park? By going through this article, for example!
I listed the best trips with brief descriptions. This way, you don't have to scour the internet to find the best one. I have done the heavy lifting for you. 
Alright, let's have a look!
The 8 Best Paddling Tours in Banff National Park
Below you'll find seven tours that involve paddling. Four are canoe trips, the others are stand-up paddle board trips. What they all have in common is that you'll be treated to spectacular scenery and a rewarding experience.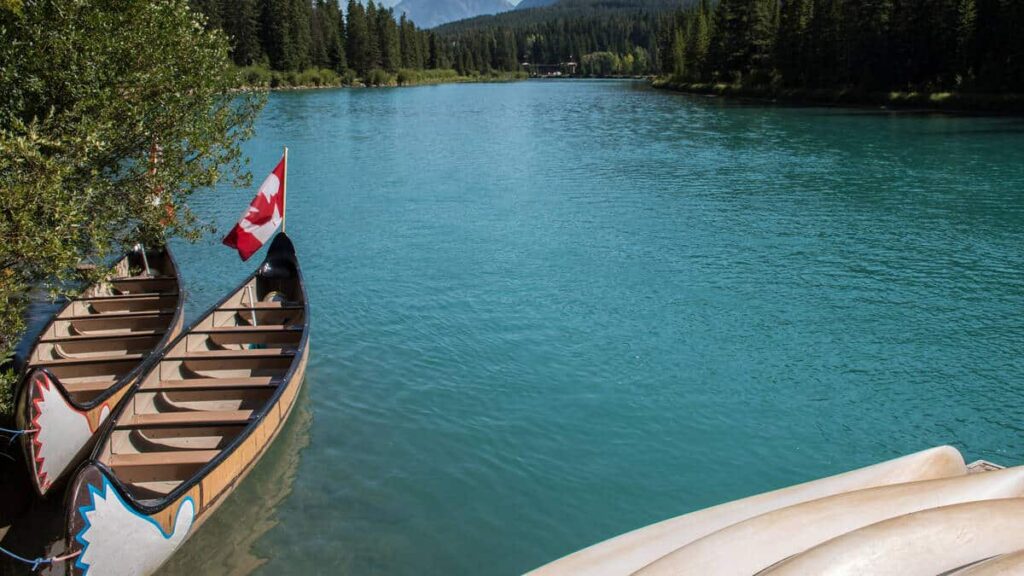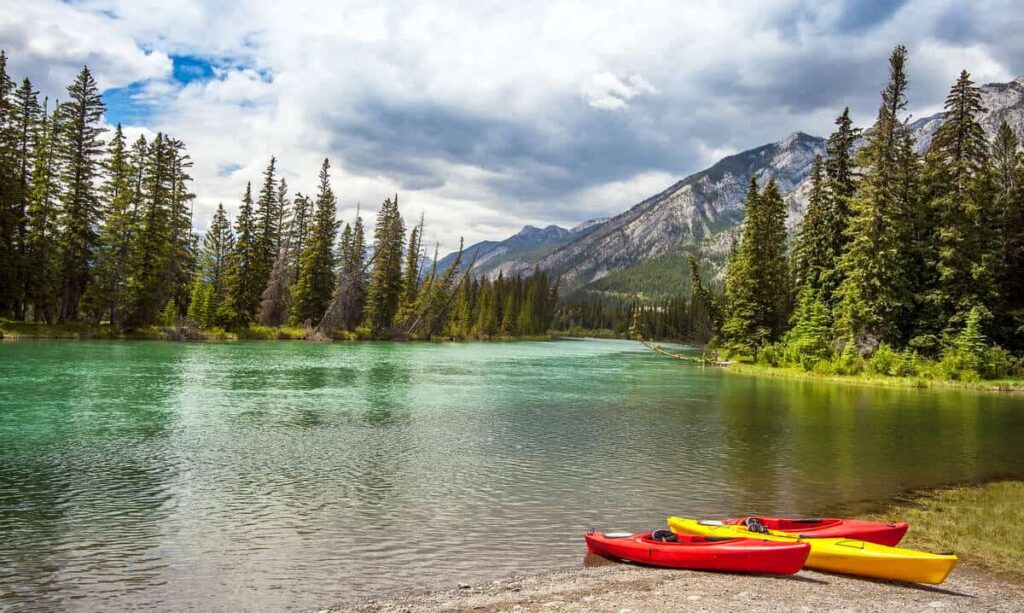 Bow River | 1.5 hour
This affordable trip on the Bow River near Banff Townsite lets you discover the area from Banff National Park's main river. You'll float downstream while admiring the Canadian Rockies around you, including Rundle and Cascade Mountain. Don't worry if you have no paddling experience. Your guide will do the steering while telling you about your surroundings. 
You'll have a special perspective while floating on the Bow River, so bring your camera and/or phone. 
This tour starts and ends at the Banff Canoe Club, on the corner of Wolf Street and Bow Avenue, close to town. You'll be part of a small group (maximum of 24 people). And yes, children are welcome on board. If you have very young children, infant seats are available. In fact, this tour is also accessible for strollers and wheelchairs!
BOOK NOW: River Explorer Tour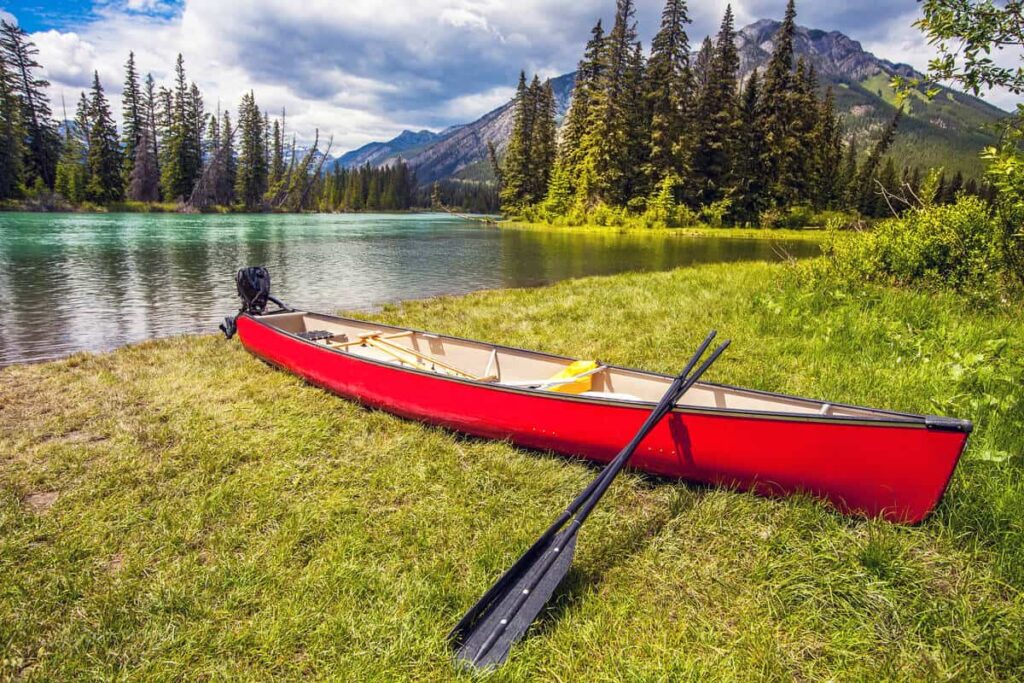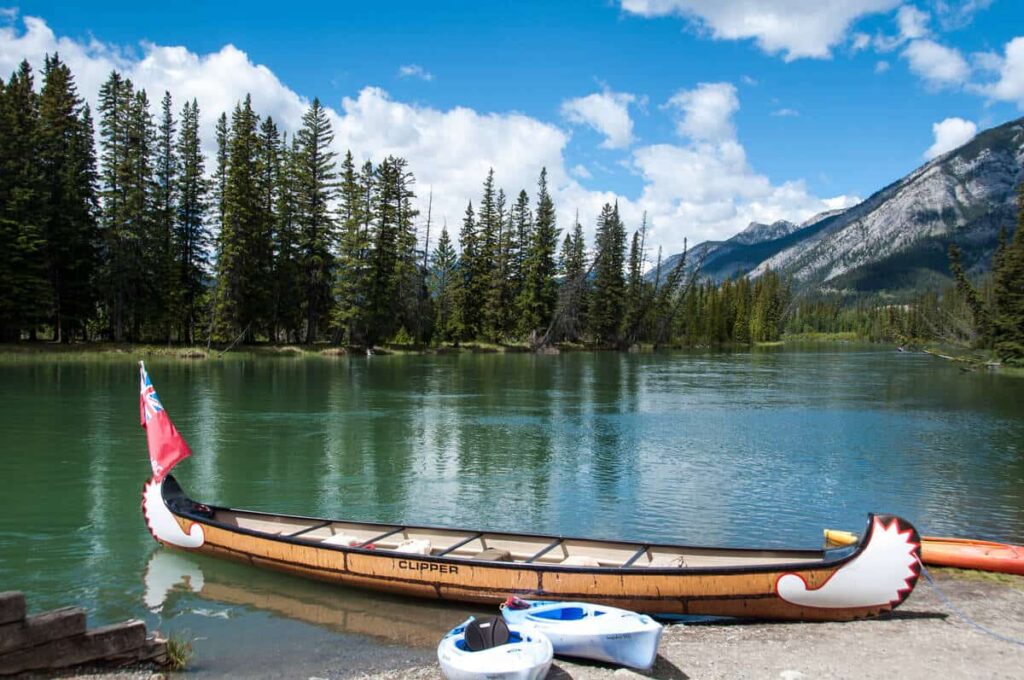 Bow River | 1.5 hours
Looking for a great family adventure? Look no further. The Wildlife on the Bow Canoe Tour fits the bill perfectly as the canoe seats twelve. 
If it's just the two of you, that's fine too! As long as you bring your camera and/or mobile phone. As the tour operator puts it: The river provides an ideal platform for wildlife photography.
So what kind of wildlife is there to see on this tour, you might ask. Well, how about beavers, elk and bald eagles? Okay, no one can guarantee you'll actually see these animals, but because you're off the busy roads and on the water, you're more likely to see wildlife.  
While you paddle and look for wildlife, your guide will tell you about the local history, landscape and wildlife. The tour starts and ends at the Banff Canoe Club on the corner of Wolf Street and Bow Avenue, close to town. It's also accessible for infants, strollers and wheelchairs.  
BOOK NOW: Wildlife on the Bow Canoe Tour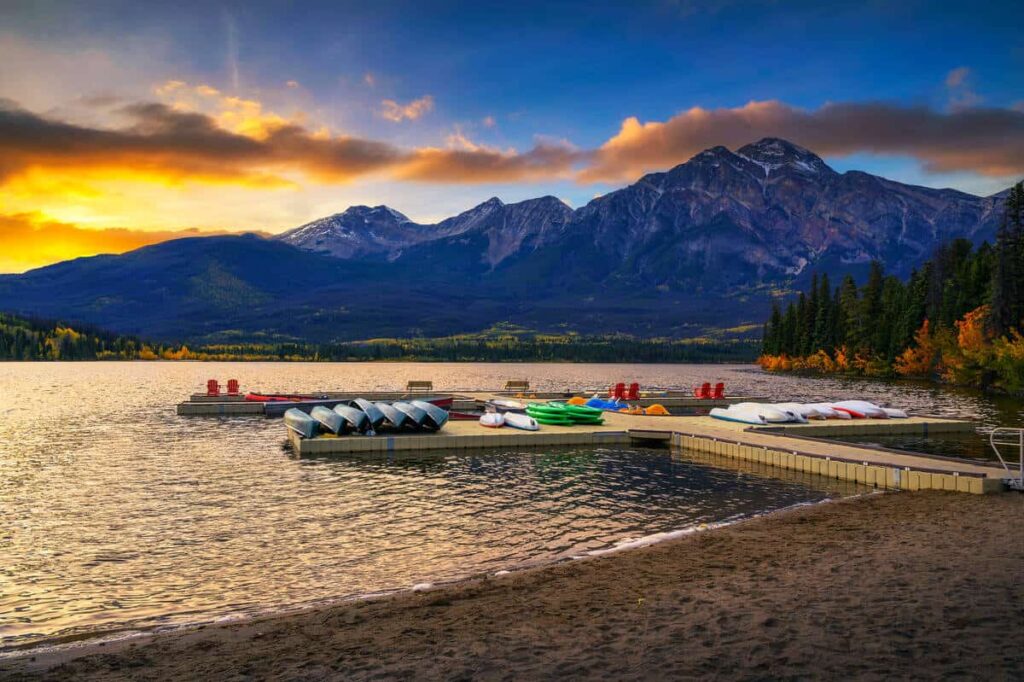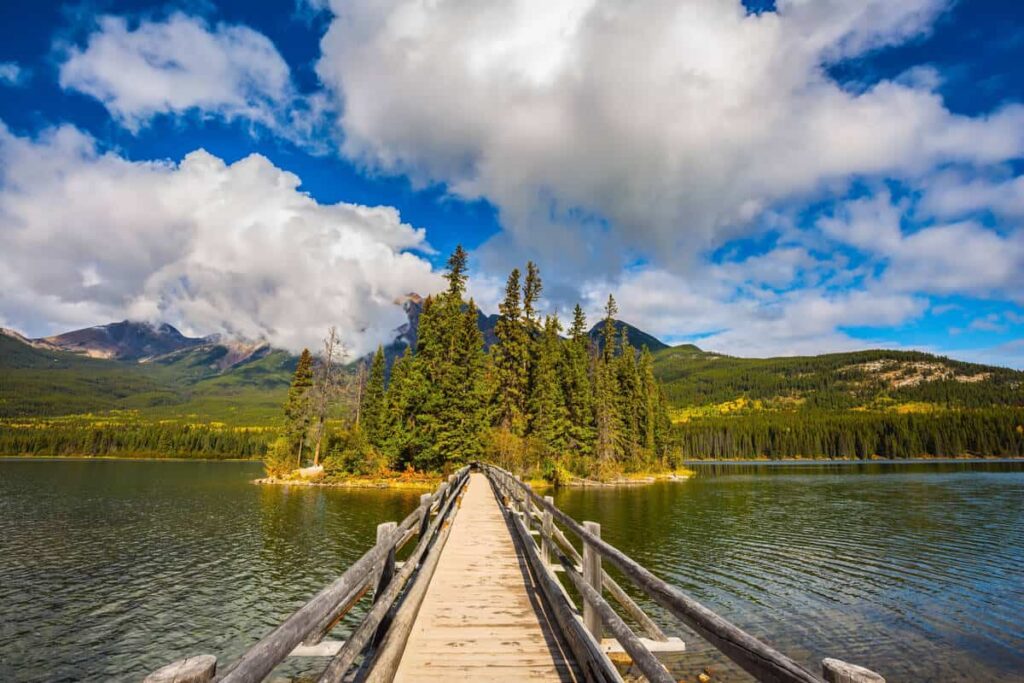 Jasper, Pyramid Lake | 3 hours
Want an extended canoeing experience? The Wild Current Canoe Adventure takes you afloat for three hours. You'll explore Pyramid Lake, situated at the base of Pyramid Mountain in Jasper National Park. 
Your guide will help you spot wildlife along the shoreline. With 360-degree mountain views, you'll have plenty of opportunities to snap some amazing Insta-worthy material.  
Your vessel is a 25-foot, locally sourced, handcrafted cedar strip canoe. How's that for authenticity? 
Before you hop on board, your guide will give you some safety instructions, although the calm waters of Pyramid Lake make this a safe environment for novice canoeists. 
You'll start the tour at the Pyramid Lake Resort, just a ten-minute drive from the town of Jasper. Baked goods and beverages are included for the mid-trip shore stop, a perfect time to stretch your legs after your canoeing efforts.
Your group will be a maximum of 8 people, making this tour a cozy and private get-together.
BOOK NOW: Wild Current Canoe Adventure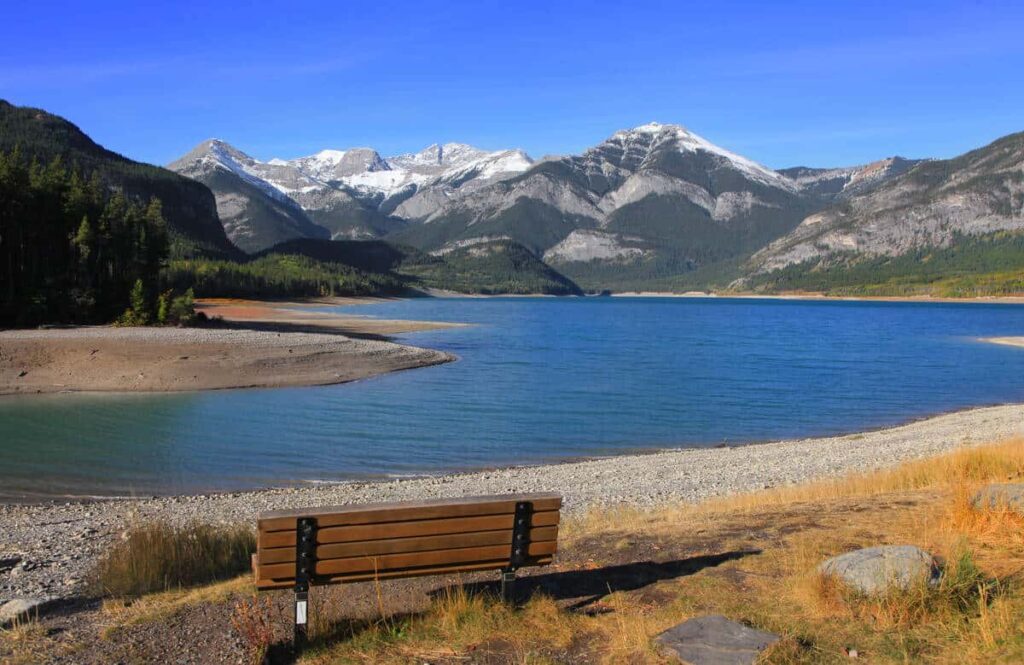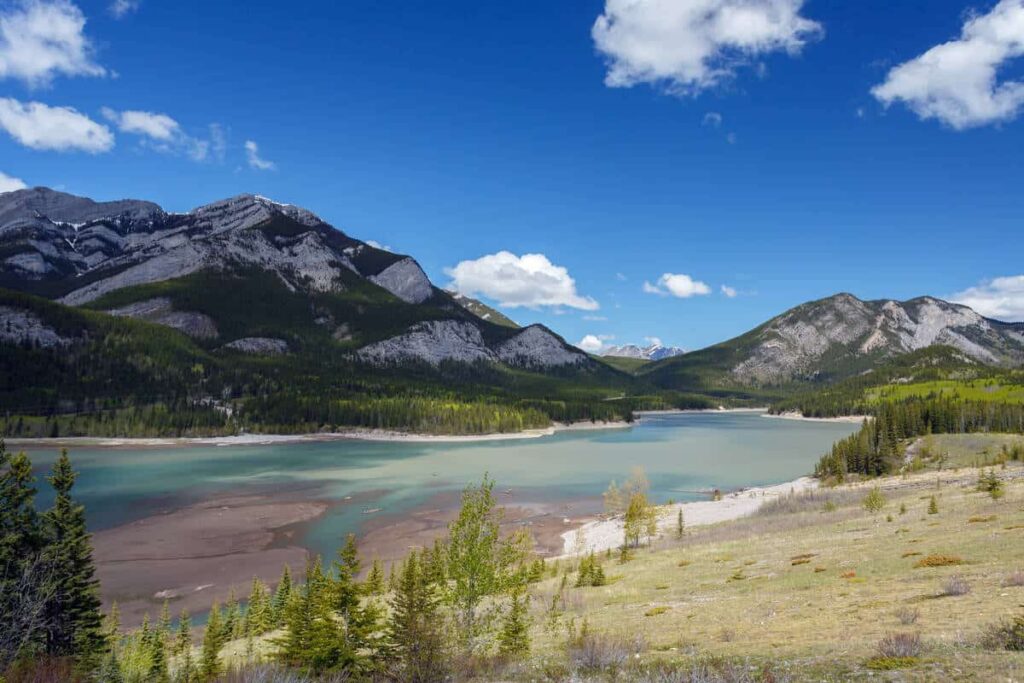 Kananaskis Country, Barrier Lake | 2 hours
Want to learn a little frontier history while taking in the breathtaking scenery of the Canadian Rockies in a canoe? Then the Bog Boat Canoe Tour is for you!
This tour uses a large 25 ft (7.2 meters) Voyageur canoe that seats nine people. The canoe's name is apt, as the Voyageurs were responsible for the western settlement expansion of Canada through the use of large canoes.
A certified guide from Kananaskis Outfitters will take you aboard at Barrier Lake Boat Rentals. He'll give you a brief canoe instruction, then you'll hit the water and learn about the history of the voyageurs and the local flora and fauna.
Barrier Lake is not in Banff National Park. It's in Kananaskis Country. But don't worry, at 65 kilometers from the town of Banff, you won't have to drive too far. 
The tour can accommodate a maximum of nine people; if lucky, you might see some wildlife. You'll also learn how to light a fire without a match. You never know when that might come in handy!  
BOOK NOW: Big Boat Canoe Tour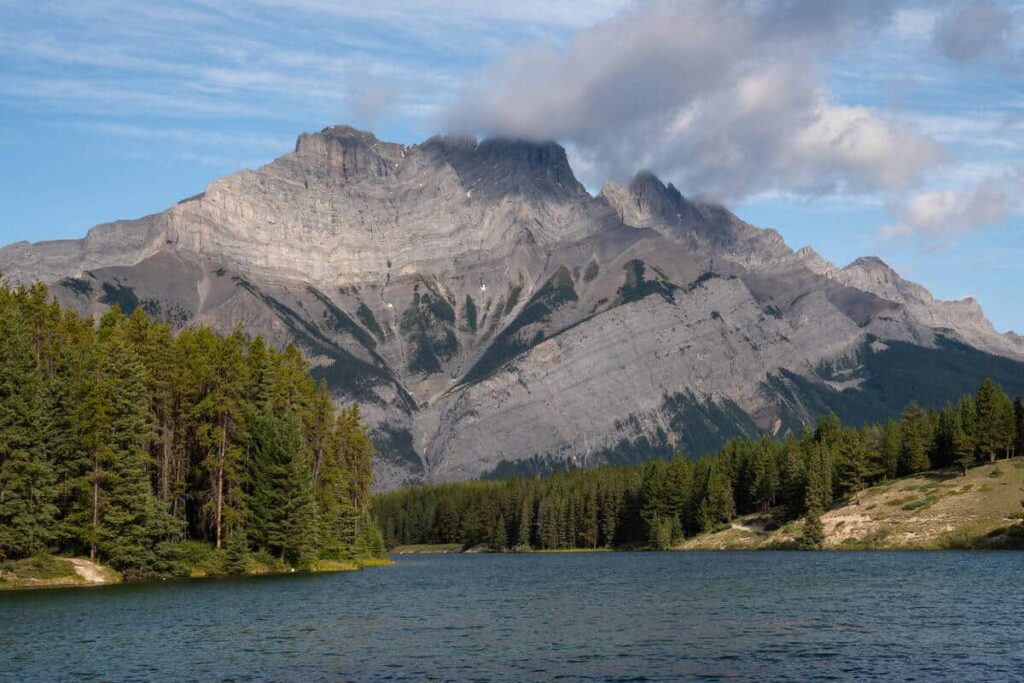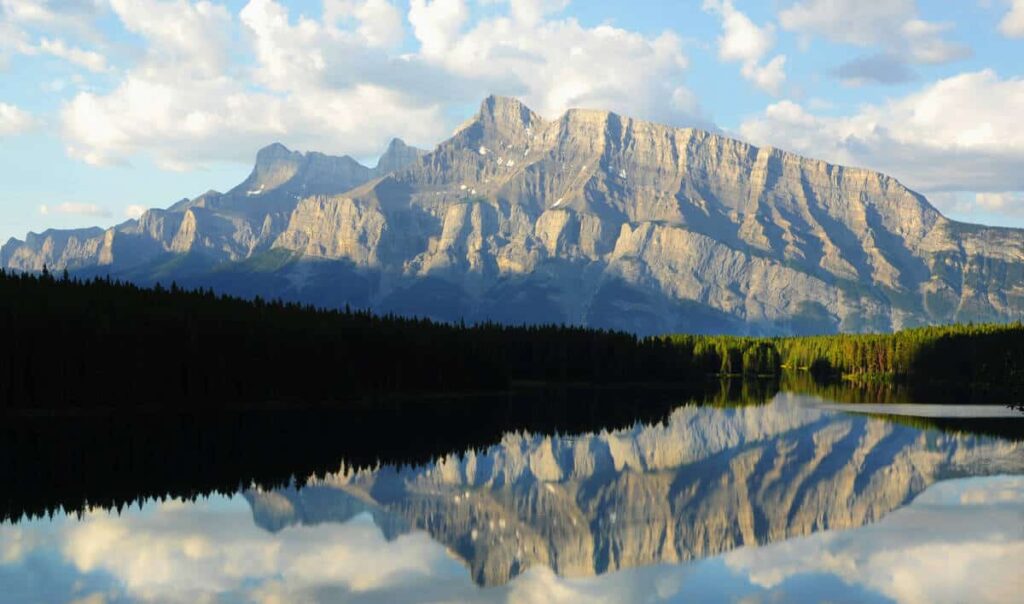 Johnson Lake | 75 minutes
If you've never tried Stand Up Paddleboarding and want to learn, this introduction is for you. Held on Johnson Lake near the town of Banff, a guide will teach you the ins and outs of this fantastic water activity.  
This tour is a workout, a tour of Banff and a scenic excursion all rolled into one. Johnson Lake is a great little lake to learn how to SU. All you have to do is show up at the appointed date and time. The necessary equipment (SUP, paddle, leash, personal flotation device, whistle and booties) will be there for you at the lake. 
This tour is limited to five people, so you're guaranteed a private, small-group experience. It also means you may need to book well in advance, as places fill up quickly. 
Oh yeah, in case you're wondering: The scenery at Johnson Lake is stunning. Can't go wrong with that in Banff. 
BOOK NOW: Intro to Stand up Paddleboarding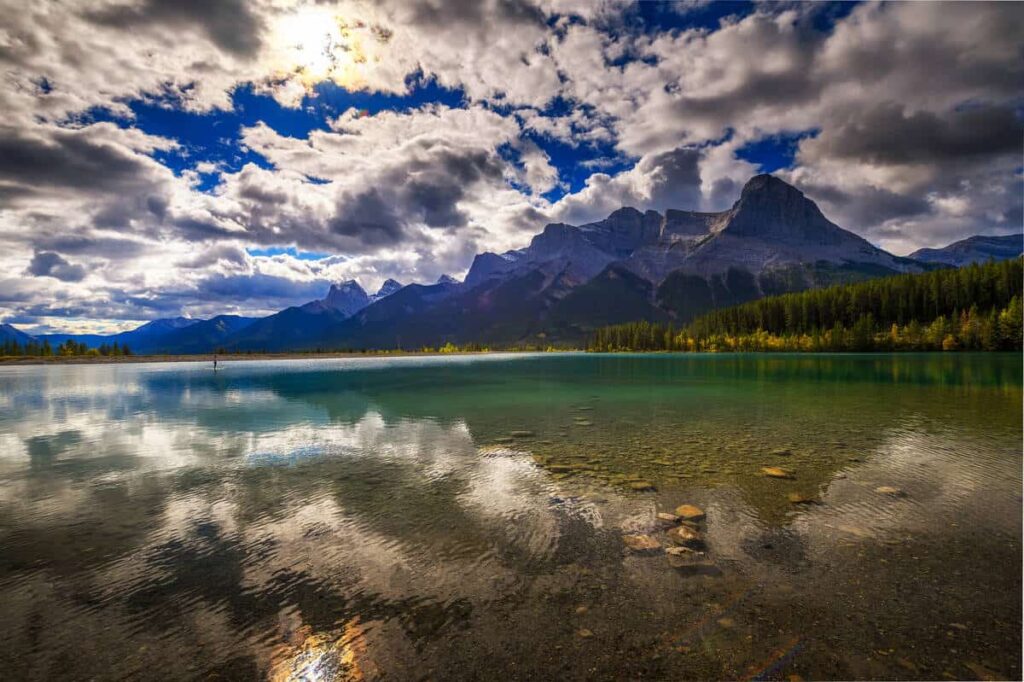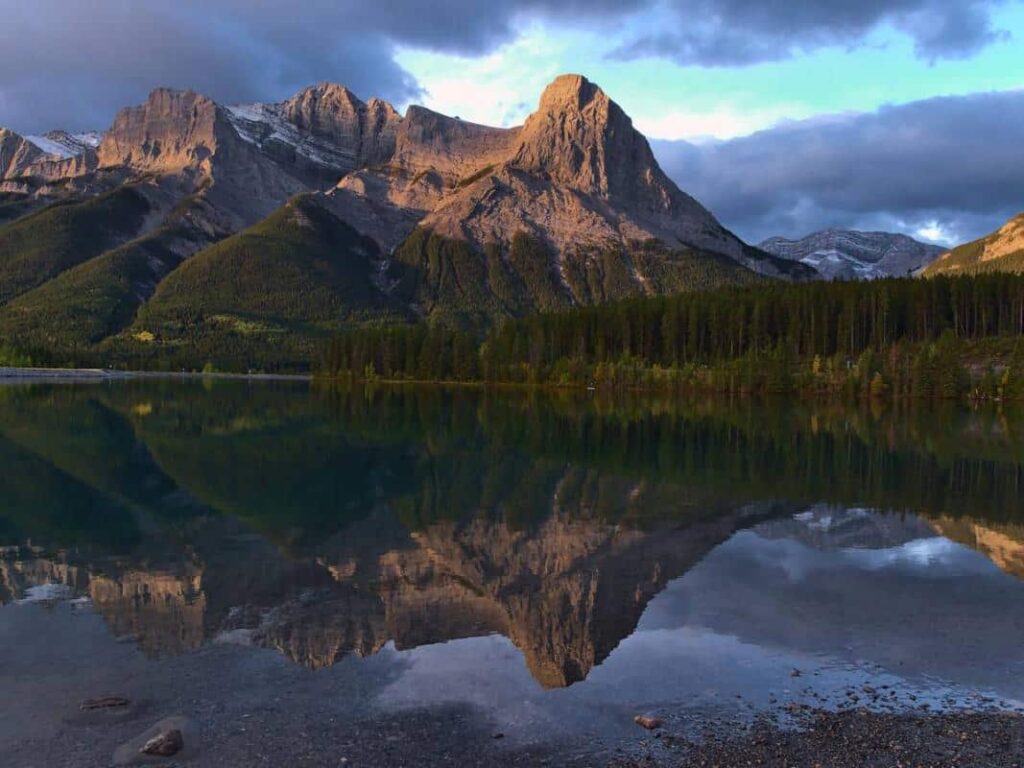 Rundle Forebay Reservoir | 1.5 hours
Just beyond Banff's park boundaries, you can learn to SUP at Rundle Forebay Reservoir, just north of the town of Canmore. It's only a 30-minute drive from the Banff townsite, so distance shouldn't be too much of an issue.
As with the introductory SUP tour in Banff (see above), you don't need any skills to join this tour. All you need to do is show up at the appointed time. All equipment will be provided. 
Before you hit the water, you'll receive a 15-minute safety briefing. Once on your SUP at Rundle Forebay Reservoir, you'll be treated to 360-degree mountain views, including the impressive Ha Ling Peak and Lady Macdonald Peak.
You're guaranteed a get-together en petit comité as the tour is limited to twelve people.  
BOOK NOW: Intro to Stand Up Paddleboarding in Canmore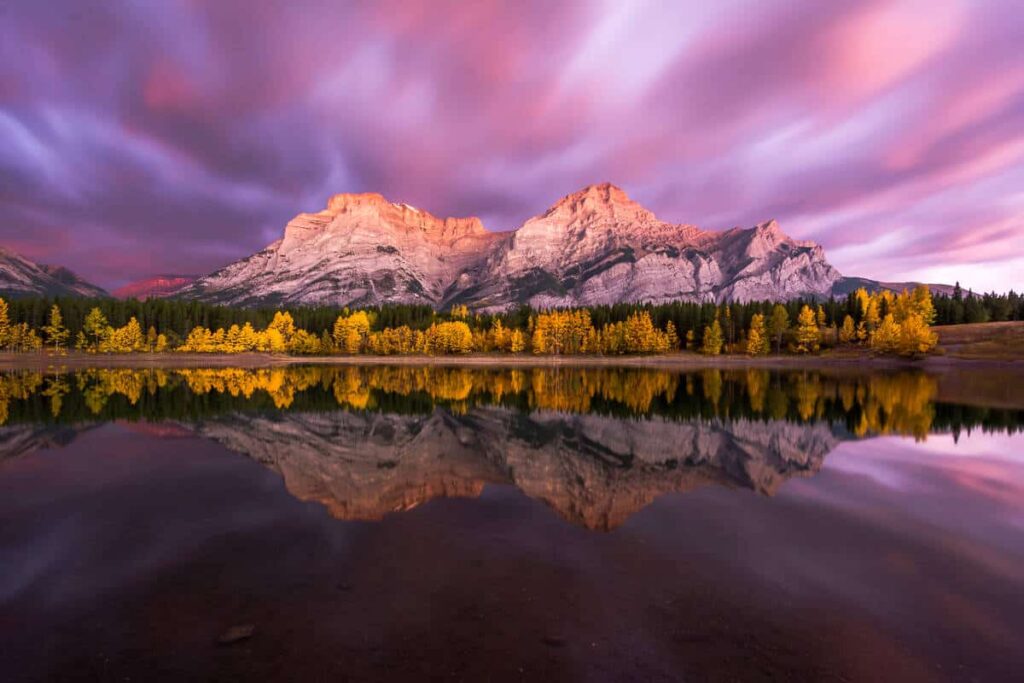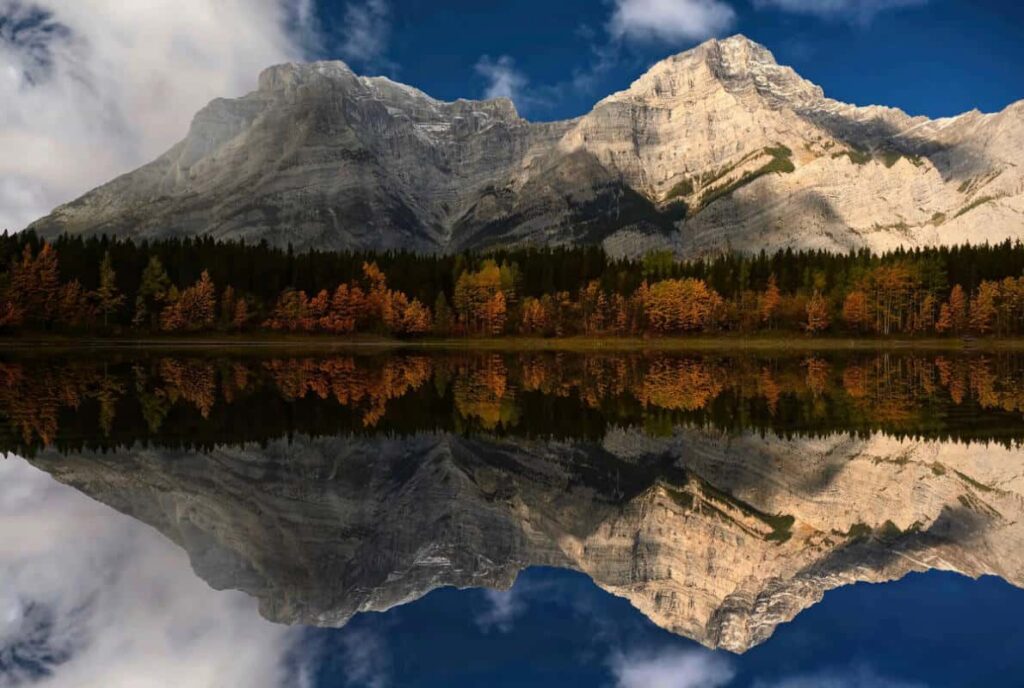 Kananaskis Country, Wedge Pond | 2 hours
If you want a more extensive first-time SUP experience, the Learn to SUP tour is definitely worth it! This tour does not take place in Banff National Park. It's in Kananaskis Country. But at 85 kilometers from the town of Banff, it's probably not that far. 
Where other SUP tours are 1.5 hours, this first-time SUP experience is two hours. Your instructor will give you a thorough dry-land session, then take you out on Wedge Pond, providing 360-degree mountain scenery, including Mount Kidd, the Wedge and Mount McDougall.
This tour is available for four people but can be expanded to six participants for an additional CAD 50 per person. 
BOOK NOW: Learn to SUP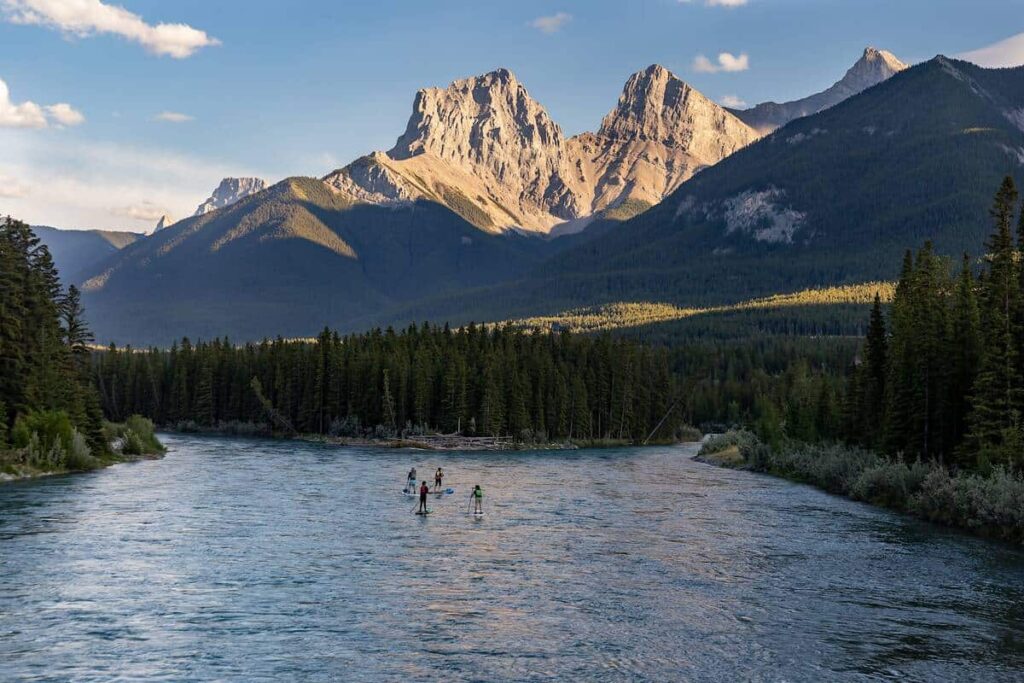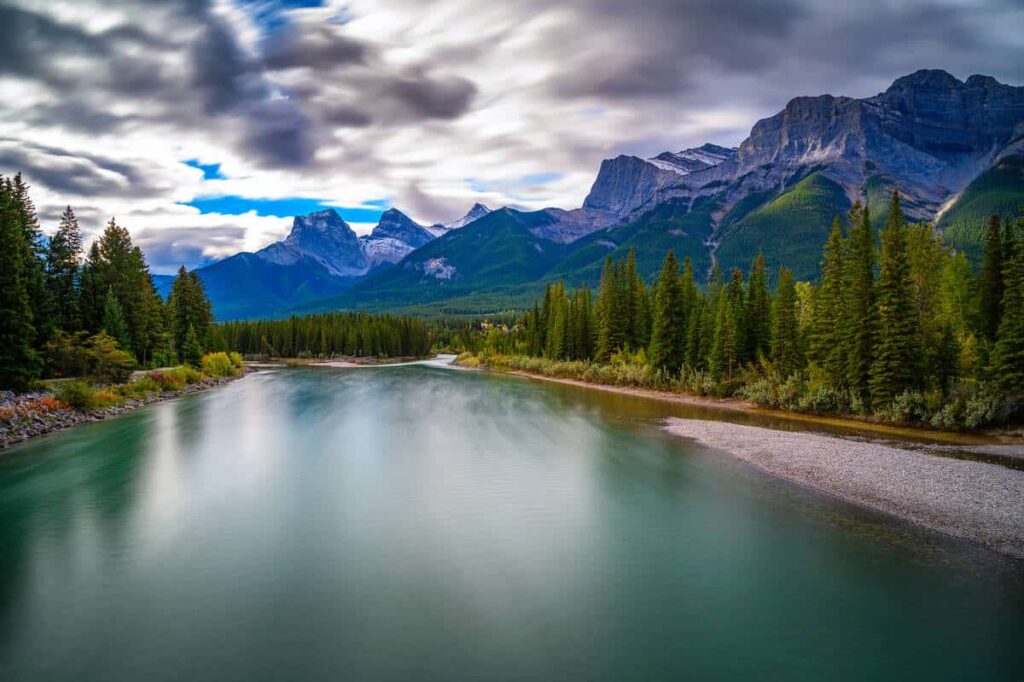 Canmore, Bow River | 3 hours
If two hours of stand-up paddling is not enough, how about a three-hour trip on the Bow River in Canmore? You'll feel excited because you're standing amidst the famous turquoise-colored river that serves as the aorta of Banff National Park. 
Three hours is quite long, so it's quite the workout, but the effort is well-rewarded by the mesmerizing beauty all around you. As you meander downstream, you'll witness impressive peaks like Ha Ling, The Three Sisters and Rundle Mountain.   
You'll enter the water at the boat Launch parking lot under the bridge at 161 Rundle Crescent in Canmore. After three hours, you'll be back at the same location. As with the other SUP tour in this article, gear is included. 
If going down a fast-flowing river sounds intimidating, a Paddle Canada Certified River Guide will ensure you know the appropriate safety gear and paddle techniques. Before you enter the water, your guide will take you through all the steps. 
BOOK NOW: 3 Hour River Stand Up Paddling in Canmore
Banff Travel Guide and FAQ
Where is Banff National Park, Canada?
Banff National Park is in the southwest of the province of Alberta. It's home to the towns of Banff and Lake Louise and borders the province of British Columbia in the west of Canada. You can easily access famous places like Lake Louise, Moraine Lake, Peyto Lake and the stunning Icefields Parkway from these locations.
Banff and Lake Louise are situated in the Rocky Mountains of Alberta, close to the boundary with British Columbia, as shown on the map of Banff National Park below.
Is Banff, Canada safe?
Generally speaking, yes. Like most areas, Banff has crime, but it's still a safe travel place. But Banff has a lot of wildlife, including bears and cougars, so you should always carry bear spray and exercise caution when hiking in the mountains.
What is the best time to Travel to Banff, Canada?
The best time to travel to Banff, Canada, depends on your reason for visiting the park. If you're going for the stunning nature the park's famous for, you'd better visit from June to September. The best months to ski are from January through March. 
WEATHER IN BANFF, CANADA: AVERAGE TEMPERATURE
The worst months to visit Banff National Park are November, April and May. It's too chilly to go sightseeing in November, and there isn't enough snow on the slopes yet. The iconic lakes in the park are still frozen in April and May, and it can still be quite cold.
How do I travel to Banff, Canada?
Want to fly to Banff? Calgary International Airport (Code: YYC) is the closest airport. It's 130 kilometers (81 mi) to the east of Banff.  
Several cities, including Toronto, Chicago, Seattle, and Dallas/Fort Worth, have direct flights into Calgary.
Pick up a rental vehicle at Calgary International Airport, or take a private transport service to your destination. The trip to the park takes about 1 hour and 40 minutes. 
Viator has several good options. Click the link to check the options and latest rates.
Banff Car Rental
Want to rent a car during your stay in Banff National Park? Rent one at Calgary International Airport or in the city of Calgary. Yep, there are rental firms in Lake Louise and Banff, but as these are small towns, your rental options can be limited.
Avis is a reputable car rental company, which I've used many times. Book now with Avis
What do I pack for Banff, Canada?
The time of year will affect what you should bring with you on your trip to Banff, Canada. If you plan to spend your summer vacation in Banff National Park, you should be okay with light-colored, breathable clothing. Bring a few sweaters, too, as Banff's summer evenings can be chilly. You're in the mountains, after all. 
When visiting in winter, bring a heavy jacket, such as a parka, and other winter clothing, such as warm pants, long underwear, and (fleece) sweaters. Don't take it lightly because Banff's wintertime lows can reach well below zero.
Banff Travel Planning Guide
Do I need a visa for Banff?
Most likely not. Citizens of the US, most European countries, Australia and New Zealand don't need a visa to enter Canada. Not sure? Click the link to see whether you need a visa or not. The typical length of stay in Canada for people with visa-exempt passports is 90 days.
Do I need travel insurance for Banff?
You bet. Feel confident while traveling with a plan from Travel Insurance Master, one of the top names in travel insurance, for just USD 10 on average per day.
What's the best way to book my Banff accommodation?
If you plan to book a hotel, hostel or bed & breakfast, Booking.com is your best bet. It has the most hotels listed and often offers the best rates.
Do I need to rent a car in Banf?
Absolutely. While Banff is one of the few national parks in North America with a sizeable public transport network, I strongly advise renting a car if you want to make the most of your visit.
Will my phone work in Banff?
It depends. In the towns of Banff and Lake Louise, you should have good to excellent reception. However, in more remote areas, the signal is spotty. In many places, there will be no signal at all.
What's the best site to buy Banff flights? 
If you're looking for cheap flights to Banff, I recommend Skyscanner. No surprises with suddenly increased rates (for taxes, seats or luggage) upon checkout. What you see is what you get.