Banff can be hot in summer; what's better than taking it easy for a few minutes and indulging in sweet, scrumptious, delicious ice cream. I listed the Banff ice cream parlors below. Enjoy! 
There are six shops on the list, of which one has two branches in town. One thing's for sure: It's easy finding these shops. All except one are located on Banff Avenue. The one that isn't – it's on Buffalo Street – you can find at the southern end of Banff Avenue, literally just around the corner. 
While Banff is a thriving tourist town, you could say it lacks a few decent ice cream shops. There's really only one dedicated shop, and I put it at the top of this list for this reason and this reason only. And, not unimprtant: they might have the best ice cream in Banff!
Still, I included five more because these other shops do sell ice cream and are worth checking out. They're all different as well. So they might just have what you're looking for. 
Alright, enough with the babble; let's dive in. 
COWS Banff
COWS Banff is Banff's most well-known and visited ice cream shop. It's situated in the Mount Royal Hotel Building and is part of a nationwide franchise. However, this branch of COWS is the only one in Alberta! It won't disappoint at satisfying your sweet tooth for sure. 
Just have a look at their plethora of cones and tastes. Moreover, COWS has the most extraordinary flavors and fitting names. What about a Chip Chip Hooray, a Caramoo Apple, Cookie Moonster or a Gooey Mooey? Don't know what to choose? I'd suggest trying the Brownie Explosion. Truly exquisite!
Some of their ice creams come with multicolored sprinkles on the side. Others have nuts on the cone or ice cream containing cookie chunks. Everything's done to ensure you'll ingest enough sugars to get you through the day.
I already made it clear in the introduction to this article, but in case you missed it: this place is simply the best Banff ice cream shop.
The only thing that could be better is their limited options for people suffering from food intolerances. So if you do, it's good to know that COWS ice cream is not gluten, egg and nut-free. You can choose one of their sorbet options if you're suffering from lactose intolerance.
Alright, what are you waiting for? Go check COWS out! You won't regret it. 
Address: 138 Banff Avenue, Unit #111
Phone:  +1 403 – 760 3493
Open hours: 11 am – 9 pm, daily
Google average rating: 4.5
BeaverTails – Queues de Castor (east and west part of Banff Avenue)
This ice cream shop has two branches on Banff Avenue, one on the western and one on the eastern part of the town's busy shopping street. This franchise, originating from the country's capital Ottawa, is about pastries for the most part, but it also sells ice cream. 
So what ice cream to get at BeaverTails? They have several flavors, but they are pretty generic, like vanilla, chocolate and lemon. Yes, it's tasty, but compared to COWS, BeaverTails ice cream isn't as memorable or original. 
On the flipside, BeaverTails conveniently lists their products' ingredients and inform you about nuts, wheat (gluten), dairy (lactose) and other ingredients that people with food intolerances would like to know about. 
Addresses: 120 Banff avenue / 201 Banff Avenue (west) 
Phone: +1 403 – 985 0086 (east) / +1 403 – 985 1977(west)
Open hours: 11 am – 10 pm, daily (both east and west) 
Google average rating: 4.4
Banff's Mountain Chocolates
Situated at the corner of Banff Avenue and Caribou Street, this quaint and exciting shop will have you drool all over. 
As their name clearly indicates, this shop is, for the most part, about chocolate. So expect lots and lots of variants of caramel apples, among many other scrumptious chocolate confectionaries. But, yes, they also sell ice cream. 
Their selection is not extensive, but the ice cream they do sell is excellent. Check out Mountain Chocolate's maple walnut ice cream, their bubble gum flavor and their chocolate ice cream. 
Address: 202 Banff Avenue
Phone: +1 403 – 762 2624
Open hours: Sunday – Thursday: 9 am – 9 pm; Friday: 10 am – 10 pm; Saturday: 9 am – 10 pm
Google average rating: 3.9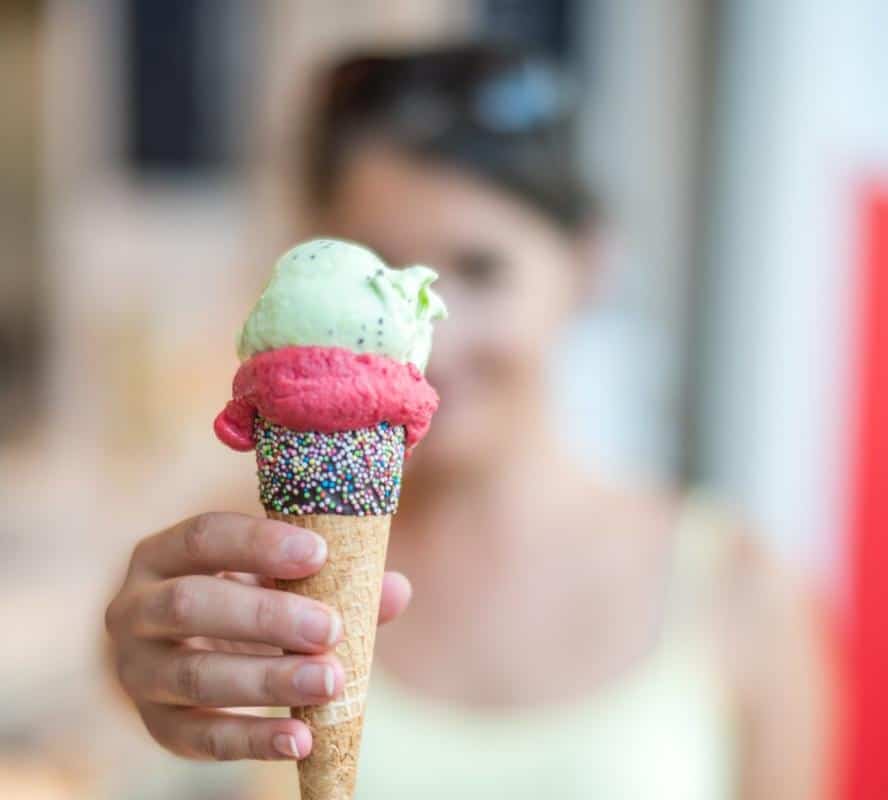 The Fudgery
The Fudgery's bio says they've been making delicious treats since 1976. They're responsible for the typical sweet odor at the Banff Avenue entrance of the Sundance Mall, luring you into their tasty shop. 
They're famous for their chocolate-dipped apples on a stick that ogle at you from their display, though they make a gazillion of yummy chocolate treats.
One of those treats is terrific ice cream. Get their licorice ice cream in a nut-coated waffle cone, for example. Sure, they don't specialize in ice cream, but because this is a confectionary shop, rest assured the ice cream they do sell is delicious. Oh, and before I forget, check out their salted caramel ice cream!
Address: 215 Banff Avenue 
Phone: +1 403 – 762 3003
Open hours: Sunday – Thursday: 9 am – 9 pm; Friday – Saturday : 9 am – 10 pm
Google average rating: 4.4
Banff Convenience Store
This is the only place on this list that's not on Banff Avenue. If you walk towards the bridge across the Bow River, take a right turn just before the bridge. You'll find it on your right-hand side. 
No, this isn't a shop like COWS that specializes in ice cream (the shop's name says it all), and maybe it shouldn't even be on this list, but you can grab a tasty Melona ice cream here to satisfy your sweet tooth. 
Address: 210 Buffalo Street
Phone: +1 403 – 762 9119
Open hours: Sunday – Thursday: 10 am – 10 pm; Friday – Saturday: 10 am – 11 pm
Google average rating: 4.6
Other Locations to Get Ice Cream in Banff
Of course you can get ice cream in more places. Most restaurants serve ice cream as a desert. Depending on the restaurant, it could be excellent. 
And then there's also the good old McDonald's and other fast-food restaurants in town. Each with its own typical ice cream. So, all in all, it shouldn't be difficult to find ice cream in Banff at all!