Finding the right place to eat can be frustrating when dealing with a gluten intolerance. However, many restaurants in Banff National Park now cater to this dietary need. In this article, I explore some of the best gluten free restaurants in Banff for delicious and safe dining.
Ever since I met my wife, I have known how difficult it can be to find a suitable restaurant with good gluten-free options. She is allergic to gluten, aka coeliac disease. 
Countless times she was disappointed with the gluten-free dishes on the menu. Often it was just one dish or the other. Or just one. 
Or none. 
It's annoying, frustrating, and disappointing. Especially when you want to eat out every day while on vacation. 
It inspired me to write this article. To help visitors to the park with a gluten intolerance know where to go without checking one restaurant's menu after the other. 

Let's dive in.
Banff and Lake Louise Restaurants with Gluten-Free Options
Below you'll find a list of Banff and Lake Louise restaurants that offer gluten-free dishes. 
Due to the growing demand for gluten-free options, this list keeps growing. Therefore, I will update this post every year to keep it up to date with the latest options. 
CAVEAT: Before we dive in, I want to emphasize that many restaurants do provide dishes on their menus that are naturally gluten-free. But in many cases, these are not indicated.

So there could be many more restaurants on this list.

However, for this article, I focussed on restaurants that offer gluten-free options for bread, pasta, and other (wheat-based) products that contain gluten and indicate it on their menus.
BANFF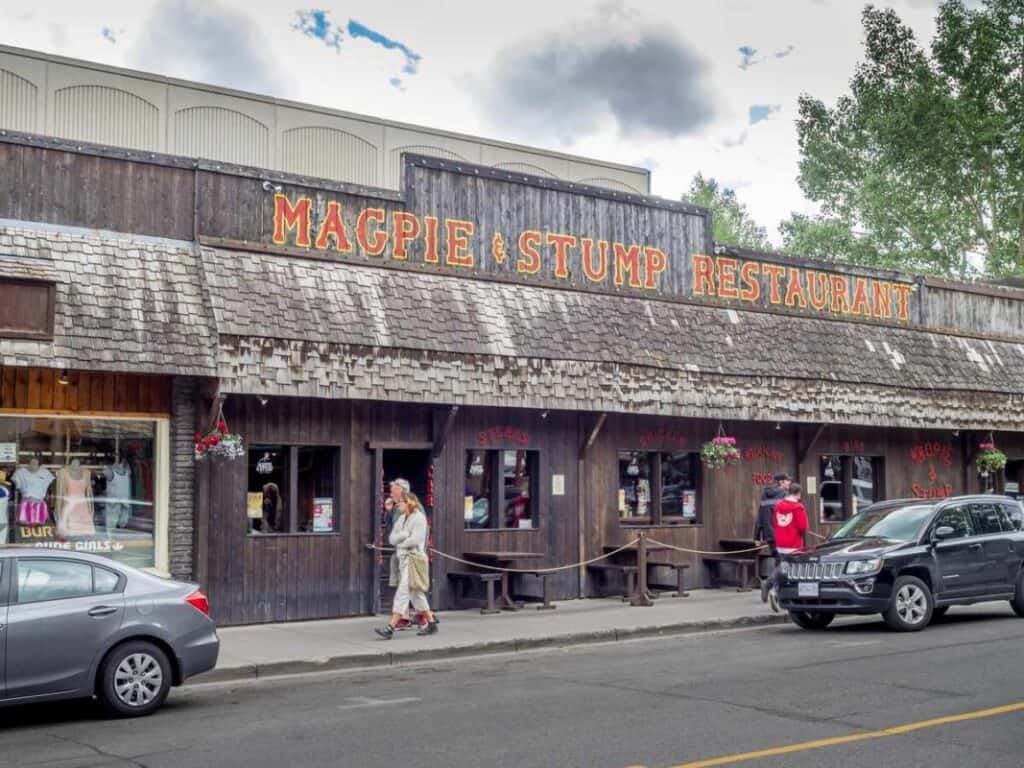 LAKE LOUISE 
Legends Restaurant, inside the Lake Louise Inn. Their menu doesn't indicate which dishes are gluten-free but says that gluten-free options are available.


Inside the same hotel, you'll find Timberwolf Pizza & Pasta. It has gluten-free dough for its pizzas. Hurrah! There are also other gluten-free options, but their menu does not indicate what dishes are gluten-free.


The Whitehorn Bistro – This mountaintop restaurant offers a variety of gluten-free dishes. Cool selection! You won't be disappointed. Though you first need to buy a ticket for the Lake Louise Gondola. You might see a grizzly or two on your way to the restaurant… 

Well, a meager three restaurants, and two inside the same hotel, cater to tourists' gluten-free needs in Lake Louise. It's safe to say that the village hasn't yet adapted well to gluten-free menu options. 
Can You Dine Gluten-Free in the Park's Resort Hotels?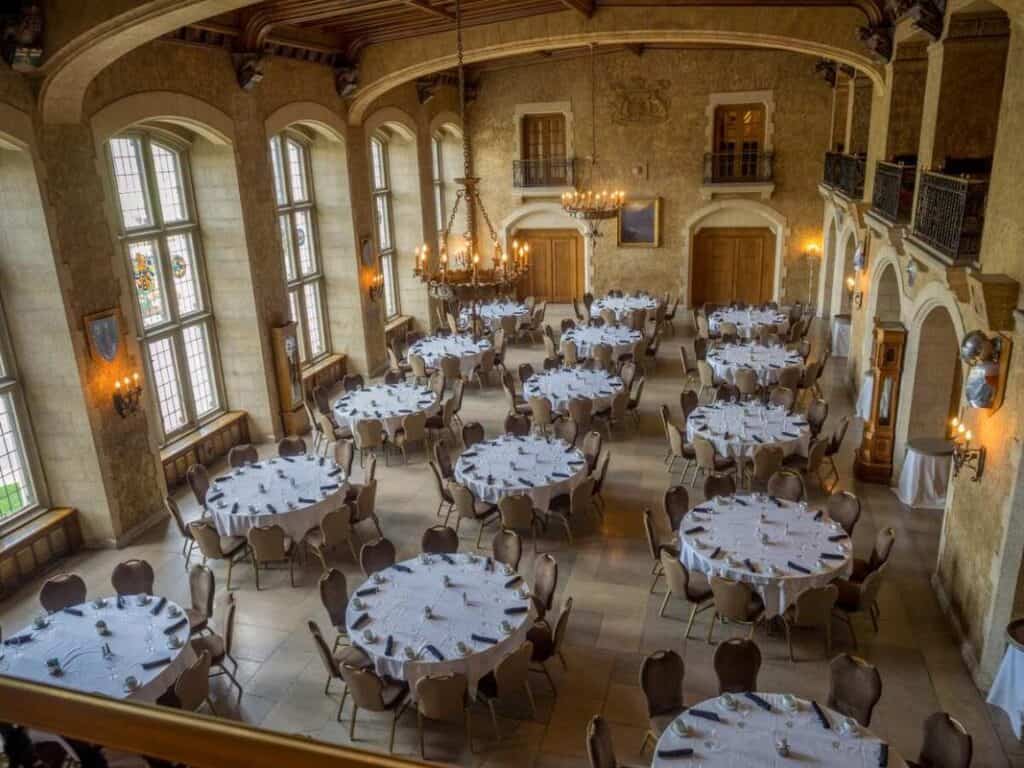 A post on gluten-free restaurants in Banff National Park must cover the restaurants in the big resort hotels. They are the park's most well-known and most prominent hotels and house several restaurants, after all. So here we go:
Fairmont Banff Springs Hotel
The prestigious Fairmont Banff Springs Hotel houses four restaurants and a bar. Let's have a look.
Chop House 1888's menu has no mention of gluten-free dishes whatsoever.
The Vermilion Room serves gluten-free bread with their Avacado Toast. While there are gluten-free dishes on the menu, several others are not due to the nature of the dish (but not indicated). 
The Rundle Bar is mainly a bar, but it also serves food. The restaurant's lunch menu lists a roasted vegetable club sandwich on house-made gluten-free bread. That's it.
The Waldhaus Restaurant, then. No mention of gluten-free dishes whatsoever. 
The same goes for Castello Italiana.
Rimrock Resort Hotel
The Rimrock Resort Hotel is the other prestigious resort hotel in the town of Banff. It's known for its exquisite dining options. Like the Banff Springs, it has several dining establishments. Let's check them out:
The Eden Restaurant: Sorry, no mention of any gluten-free options. 
The Primrose then: Hurray! Several gluten-free options here. Clearly indicated for breakfast and dinner (including gluten-free desserts). Though there is no mention of gluten-free options on their children's menu. 
The Larkspur: Two. One for the Small Plates and one for the Large Plates. Meh. 
On to Divas: One. Warm olives. Really?
Fairmont Château Lake Louise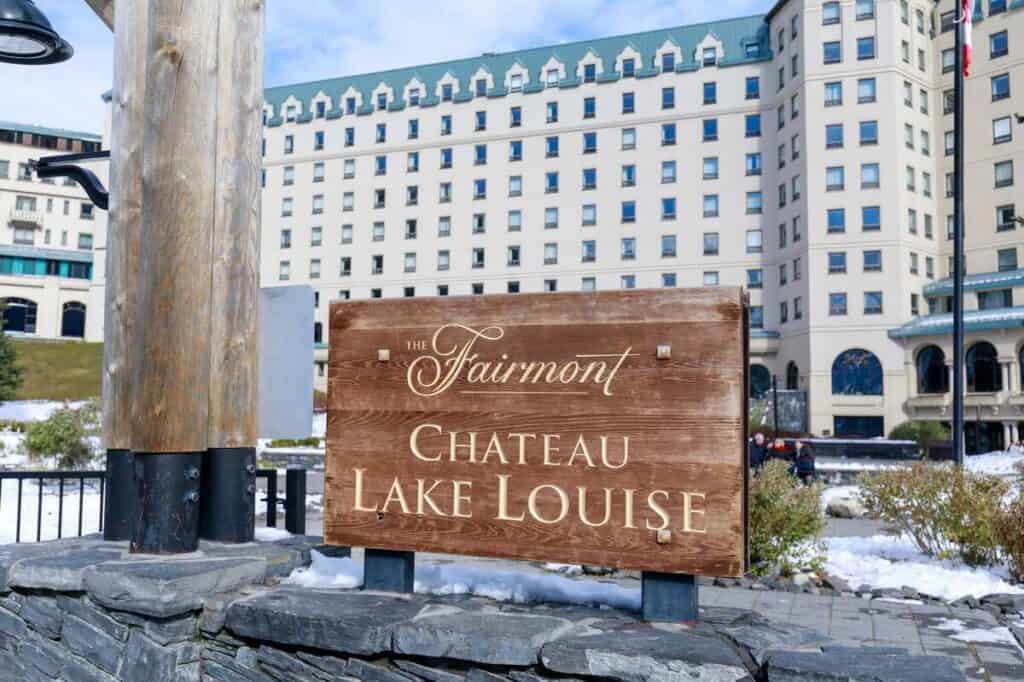 The Fairmont Château Lake Louise is the other Fairmont resort hotel in the park. Like the Banff Springs, it's large and prestigious and boasts several restaurants. Let's check them out:
The prestigious Walliser Stube has no gluten-free options on its menu.
The Fairview Bar & Restaurant only had only one gluten-free dish, a dessert. There are no gluten-free alternatives listed on their Afternoon Tea menu.
The Lakeview Lounge was slightly better, with two gluten-free appetizers and one gluten-free main course, clearly indicated on the menu.
The menu at Alpine Social then. This is cool! It's packed with gluten-free options and all clearly marked. While these dishes are inherently gluten-free, it's still wonderful that the menu makes this clear.
Restaurant Louiza, on the other hand, unfortunately doesn't mention any gluten-free products on its menus.
The Guide's Pantry then. A lot of bread on their menu, no mention of any gluten-free options.
Conclusion
It's disappointing to see that the prestigious Fairmont Banff Springs Hotel and, to a lesser extent, the Fairmont Château Lake Louise had so little gluten-free options on their restaurants' menus.
I would have expected a better, more contemporary menu in hotels of this caliber. Even if many dishes are naturally gluten-free, I think the menu should make that clear. It's very simple to do, and helpful for those who have coeliac disease.
---
Frequently Asked Questions
What Cuisine Is Most Gluten-Free Friendly?
Different cuisines mean different dishes. Some cuisines use more gluten than others. According to Schär, a company that specializes in gluten-free food, the Mexican kitchen is the most gluten-free friendly.
This is because their cuisine is very corn and rise-heavy. You'll have a lot of options, but you should be careful when eating anything fried or processed in a shared fryer.
Top eight gluten-free friendly cuisines:
Mexico
Latin American
Thai
Japanese
Indian
Greek
Middle-Eastern
Italian 
What Foods Contain Gluten
Knowing what foods to avoid is essential for a gluten-free diet. Here's a list:
Wheat
Oats (some)
Rye
Barley
Triticale
The good news is that there are many grains, flours and starches you actually can eat when you're on a gluten-free diet:
Rice, including wild rice
Quinoa
Buckwheat
Corn 
Soy
Gluten-free flours (rice, potato, soy, bean flour, corn)
Amaranth
Arrowroot
Sorghum
Flax
Hominy (corn)
Millet
Tapioca (cassava root)
Teff
What Foods Are Gluten-Free?
Being on a gluten-free diet means skipping the products I mentioned above. Here are some substitutes you can eat for a healthy diet:
Fruits and vegetables
Eggs
Lean, nonprocessed meats, fish and poultry
Beans, seeds, legumes and unprocessed nuts 
Most low-fat dairy products
How Do You Eat Gluten-Free When Traveling?
Eating gluten-free when traveling can be a challenge. Here are some tips to help you with that:
Plan ahead. Finding something to eat on trains, at airports and during flights can be challenging.
Look up the best restaurants for celiacs. Well, this post should suffice for your visit to Banff.
Use language cards for celiac disease. The language cards can be helpful when explaining your dietary restrictions to restaurant employees in foreign countries as they feature translations of various food sensitivities into different languages. Check glutenfreepassport.com for this.
Ask for gluten-free food when making your flight reservations. Upon checking in, confirm with the airline that it will be on board for you. 
Always pack non-perishable "backup food", such as bars, cereal, chips and trail mix, in case you end up in a location lacking gluten-free options.
Ask the front desk at your hotel if the room has a microwave and a refrigerator. 
Look for travel companies that cater to gluten-free customers. There are specialized gluten-free travel agencies.
Gluten-Free or Gluten-Friendly?
In case you don't know: There's an important difference between gluten-free and gluten-friendly. 
Gluten-free dishes are prepared in designated pots and pans. There will never be any gluten-containing food cooked in them. 
Dishes that don't contain gluten but are made in pans and pots that are also used to make dishes with gluten are known as gluten-friendly dishes.  
If you have a severe gluten allergy, make sure your order is gluten-free and not gluten-friendly. The Maple Leaf Grille & Lounge and the Bison Restaurant & Terrace are two gluten-free places in Banff on the list above. 
Confirming with the restaurant staff is always recommended to ensure that their gluten-free options meet your specific dietary needs. Additionally, these restaurants may update their menus or change ownership, so it's always a good idea to call ahead to confirm their offerings.