So you're in love and want to take your date or partner to Banff and are not sure what the best romantic activities are? Look no further! In this post, I'll present you with 22 ideas for a romantic date in the park.
First of all, going to Banff with your beloved is just about the best idea you can have for a date. The park is simply mesmerizing and enchanting. And there are plenty romantic things to do in Banff to impress your date.
There are a gazillion ways to enjoy your time in the park. To make things easier, I listed 22 of the best ideas for a romantic date in the park below. I divided them between summer and winter, eleven each. Let's discover what they are.
SUMMER DATE IDEAS IN BANFF
1. Have a High Tea at the Banff Springs
The Fairmont Banff Springs is not quite your ordinary hotel. Its stunning castle-like appearance is a worthy addition to its equally stunning surroundings. 
In other words: It's a perfect location for a high tea. The fine gastronomic people of the Banff Springs know how to prepare food. Let your loved one, and you be astonished during a delightful afternoon of exquisite tea, food, views and, of course, romance. 
Oh, and plan ahead, as the high tea at the Banff Springs is often booked. You can book here. Or shoot them an e-mail at bsh.diningreservations@fairmont.com, or call them at +1 403 – 762 6860.
2. Bathe in the Banff Hot Springs
Way back when, up on the flanks of Sulphur Mountain, three railway workers discovered hot springs. In 1883 to be exact. It was the very origin of Banff National Park. Now it's yours to discover. Soothe your body in the hot thermal water of about 37 to 40˚Celcius (98 and 104 degrees F). 
The Banff Hot Springs outdoor pool provides stunning views of Mount Rundle, Tunnel Mountain, Cascade Mountain and the Bow Valley. It gives you an extraordinary feeling of exclusivity if you ask me.
There's a big parking lot near the hot springs (shared with the Banff Gondola's parking lot).
Indulge!
3. Discover Banff by Bike
Simple but effective. Simple because you only need to rent a bike, and away you go. Effective because you'll experience the Rockies in a charming and convenient way. Your significant other will surely adore the time biking through the park.
Wanna feel a romantic way of freedom; this is it. You can simply traverse the park's asphalt roads on a fast and light road bike and enjoy the scenery or add adventure and excitement by riding a mountain bike through the woods. Yours to decide. Whichever means of biking you prefer, your partner (and you) won't be disappointed).
4. Go Hike a Beautiful but Not Strenuous Trail
Hiking is the essential activity for every visitor to Banff National Park. If you've never been to Banff before, you might think "nothing special". If that's you: You're wrong. It's absolutely extraordinary. The gorgeous scenery makes a hike through the park very worthwhile, adventurous, and, therefore, romantic.  
There are a gazillion trails you can do. For your convenience, I listed a couple of easily accessible trails from Banff and Lake Louise, as you'll probably be staying in one of these lovely towns. They are also not strenuous, so you'll enjoy hiking together more.
BANFF
Tunnel Mountain
Golf Course Loop
Sundance Canyon
Sulphur Mountain
LAKE LOUISE
Lake Louise Lakefront
Fairview Lookout
Bow River Loop
Louise Creek
5. Visit a Music Festival at the Banff Centre's Shaw Amphitheatre
Visiting a music festival is always fun, right? Now let's imagine you're attending one in the heart of the Canadian Rockies, on a mountain, in a beautiful theater. 
In Banff, you can do precisely that. On Tunnel Mountain. It's a splendid recipe for a romantic day and/or night out. You can do so in summer at the Banff Centre's Shaw Amphitheatre. 
Oh, and the Banff Centre's premises contains the wonderful MacLab Bistro and the Vistas Dining Hall to end your visit in style.
Check the Banff Centre's website for the latest concert dates and ticket prices.
6. Canoe on One of the Park's Lakes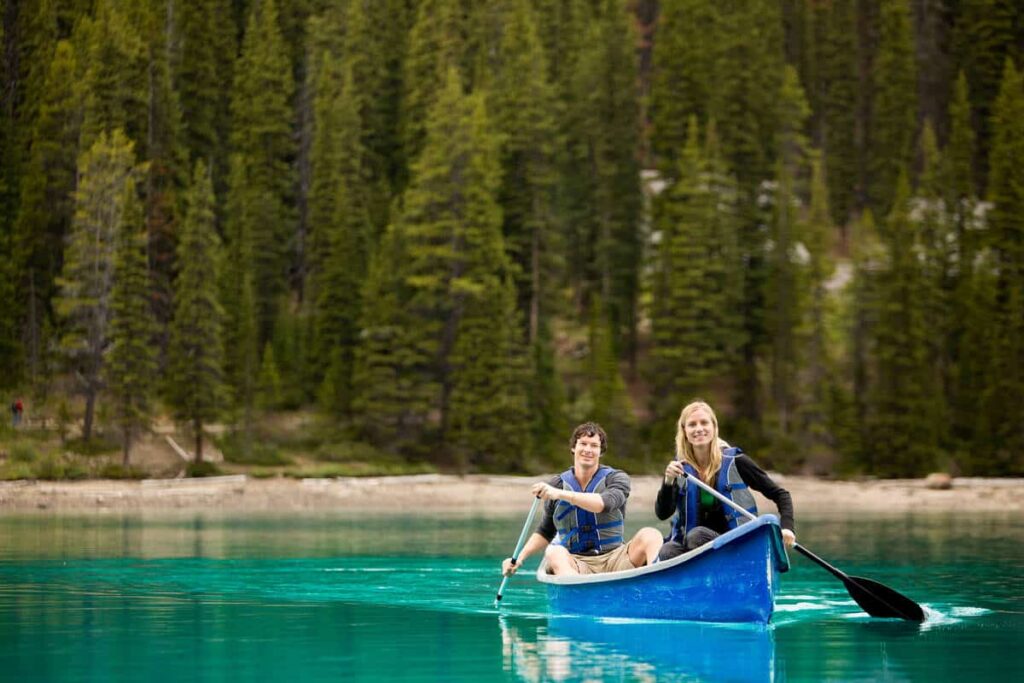 Imagine this: You're sitting in a canoe with your loved one, and the soft wind blows through your hair while the sun warms your skin. The splashing of your paddles in the water makes you feel relaxed; everywhere you look, you see water and mountains. In the distance, you discern an elk on the shore, sipping water from the lake. 
Idyllic? For sure. Realistic? Hell yes. In Banff National Park, it sure can be!
Canoeing makes for a great romantic date with your beloved. And there are several places where you can do so. The most obvious ones are Lake Louise and Moraine Lake. In these cases, you'll have to deal with (very) difficult parking. Another probably better option is canoeing on Vermilion Lakes (see the pic at the top of this page). Not nearly as busy, just as beautiful, and you can do it straight from the town of Banff. 
The abovementioned lakes all provide canoe rentals. If you bring your own canoe, Johnston Lake and Lake Minnewanka are two other stunning options.   
7. Watch Sunrise or Sunset at a Beautiful Location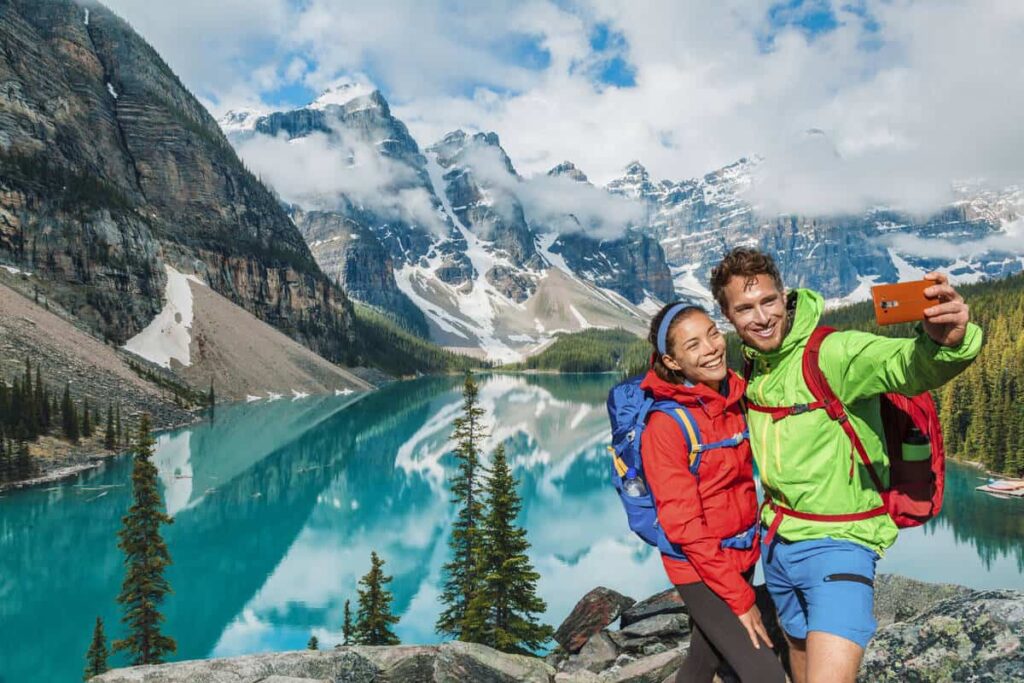 Why not add another dimension to admiring the Banff wilderness? Experience it by sunrise or sunset! Enjoying nature in a different setting is a fantastic way to enjoy the park in a romantic way.
There are several stunning locations for this. Enjoy the spectacular colors of the setting sun while sitting at the Moraine Lake rock pile. Or witness Lake Louise's eerie atmosphere at sunrise thanks to low-lying clouds – talk about romantic!
There are many noteworthy locations to watch sunrise and sunset in the park. Click on the link to read the article Banff by Sunrise and Sunset: the 9 Best Locations.
8. Visit the Bow Falls
Watch the Bow Falls' raging water as its thunderous boom fills the air. You can gaze in astonishment at how Banff's environment quietly merges with human civilization from the area behind the magnificent Banff Springs Hotel. And you and your lover are standing there in awe. 
Watch up the cascade to see Mount Norquay in the distance. Alternatively, swivel your head 45 degrees and look down to witness the untamed Bow River vanishing into the distance while Mount Girouard and Mount Peechee loom above.
In its direct vicinity is the Banff Golf Course, worthy of a pleasant stroll and the aforementioned Banff Springs Hotel, worthy of a visit. 
9. Drive the Icefields Parkway
If you're in for a full day of nature admiration (you probably are when you visit Banff National Park), driving the Icefields Parkway is an unmatched experience. It presents you with about 280 kilometers of breathtaking natural beauty, leading you straight to Jasper. 
Along the way, there are a gazillion stops. Plan a full day for this road because you'll want to stop to marvel at the sights frequently. 
Yup, countless opportunities to snap romantic polaroids of the two of you and capture splendid memories of your fantastic time in Banff.
Oh, as the road ends in Jasper, you'll find yourself in a perfect spot for a romantic hotel stay in the Canadian Rockies.
Oh, before you depart on your journey through the wilderness, make sure you fill up your car. Getting stuck along this long road might be a bit too romantic… 
Wanna know more about the Icefields Parkway? I wrote a lengthy post containing everything you should know about this road, for sure one of the most beautiful in the world.  
10. Take a Dip in Cascade Ponds or Two Jack Lake
Just like going on a hike, you could reason that swimming is nothing special. But as with hiking, swimming in the Rockies is a romantic activity that you won't easily forget. 
First, the bad news: You can't swim in Lake Louise or Moraine Lake. Well, technically, you could. But the water is MUCH too cold unless you fancy skinny dipping in 4˚Celcius (39˚F). 
The good news: I have two super-friendly alternatives for you: Cascade Ponds and Johnson Lake. Both are relatively shallow lakes, and neither is glacier-fed, so water temperatures are at least tolerable in summer and most likely pleasant. Johnson Lake also has a lovely sandy beach for you to comfortably lie on your beach towels and admire the mountains in the most relaxing way.
11. Take a Helicopter Tour
Adventure can be romantic too! Especially when it concerns flying. So I highly recommend taking a helicopter flight above Banff National Park and viewing the Canadian Rockies from a different perspective.
It's unlike anything you've ever done and worth every second. Because you'll have headphones on your head, there won't be too much opportunity to comfortably hug or kiss; I assure you you'll marvel at the beauty around you. 
You'll constantly search your partner's eyes to share the joy while high in the sky, the chopper's blades loudly chopping directly above your head.
If you want to know about your options for a helicopter flight in the park, go check the blog post, The Ultimate Experience: Book A Helicopter Flight In Banff.
WINTER DATE IDEAS IN BANFF
1. Skate on one of the Park's Lakes 
Swirling across one of the many frozen lakes in the park with your significant other. How's that for a romantic date? 
You have many options to enjoy Banff's winter coat on skates. However, below you'll find the most popular and arguably beautiful places in the park to skate.
 Additionally, you'll find a map indicating the listed destinations below:
Bow River (near the Banff Canoe Club)
Banff High School Skating Rink (maintained by the Town of Banff)
40 Mile Creek to Vermilion Lakes
Vermilion Lakes
Lake Minnewanka
Two Jack Lake
Cascade Ponds (if the weather permits)
Johnson Lake (the road to the lake is often closed, however)
Lake Louise 
The map below pinpoints all nine skating locations.
2. Go Snowshoeing
Banff in winter only interesting for skiing aficionados? Not true. The park offers many exciting, beautiful and, yes, romantic winter ops. And snowshoeing is definitely one of them! 
You can visit places with snowshoes that are too tough to reach with ordinary hiking boots. They make it possible to walk through snowy terrain, including alpine meadows and other snowy locations.
While the Rockies aren't a noisy place to begin with, the park is even quieter in winter. It makes snowshoeing such a memorable experience. You'll only hear the crunching of the snow beneath your snowshoes. It's as if you have the entire world to yourself. How's that for romantic?
Here's an extensive list of snowshoe trails in Banff:
| TRAIL | Rating | Distance | Elevation gain | Duration | Trailhead |
| --- | --- | --- | --- | --- | --- |
| Bow Lake | Easy | 4 km (2.49 mi) out and back | 5 m (16 ft) | 1 hour | Behind the Num-Ti-Jah Lodge |
| Fairview Lookout Loop | Easy | 2.6 km (1.62 mi) | 153 m (502 ft) | 1 hour | Lake Louise lakeshore parking lot |
| Johnson Lake loop | Easy | 3.2 km (1.99 mi) | 74 m (343 ft) | 1.5 hours | Parking lot at the end of Johnson Lake Road |
| Johnston Canyon | Easy | 6.7 km (4.16 mi) out and back | 120 m (394 ft) | 2 – 3 hours | Johnston Canyon parking lot |
| Lake Louise Lakeshore | Easy | 4 km (2.49 mi) | – | 1.5 – 2 hours | In front of Château Lake Louise |
| Mirror Lake | Easy | 5.5 km (3.42 mi) loop | 355 m (1165 ft) | 2 – 3 hours | In front of Château Lake Louise |
| Peyto Lake Viewpoint | Easy | 2.3 km (1.43 mi) out an back | 45 m (148 ft) | 1 hour | Peyto Lake parking lot |
| Stoney Lookout Snowshoe | Easy | 4.2 km (2.61 mi) out and back | 232 m (&61 ft) | 2 hours | Mount Norquay parking lot |
| Hoodoos Viewpoint via Surprise Corner | Moderate | 9.6 km (5.97 mi) out and back | 305 m (1000 ft) | 4 hours | Hoodoos viewpoint |
| Tunnel Mountain | Moderate | 4.5 km (2.8 mi) out and back | 266 m (873 ft) | 2 hours | Closed gate at intersection of Tunnel Mountain Drive and St. Julien Road |
| Ink Pots via Moose Meadows | Challenging | 16.1 km (10 mi) out and back | 737 m (2418 ft) | 6 – 7 hours | A few kilometers east of Castle Junction (Bow Valley Parkway |
| Sulphur Mountain | Challenging | 13.1 (8.14 mi) out and back | 906 m (2972 ft) | 4 – 5 hours | Cave and Basin National Historic Site |
| Taylor Lake and Panorama Meadows * | Challenging | 15.8 km (9.82 mi) out and back | 755 (2477 ft) | 5 – 8 hours | Between Castle Junction and Lake Louise on west side of Highway 1 |
Snowshoe trails in Banff National Park
3. Go Dogsledding
Dogsledding may well be the quintessential romantic winter date in Banff. Even better, it may even be THE quintessential romantic date in Banff National Park. 
Go figure: you're sitting in a slay next to your partner, wrapped in a blanket zipping through the woods on a fresh pack of snow while ten dogs pull you forward. How does that sound? You can make it become a reality!
There's a caveat here, sorry: You must be ready for the constant barking and the smell of dog poop. Yup, that's shitty. But the adventure is absolutely romantic and exhilarating. For most people: once in a lifetime.  
Wanna read more about what a dog sledding adventure entails? Read the post Dog Sledding in Banff, the Ultimate Rockies Winter Experience.
4. Go Tobogganing
Revisit your childhood by going tobogganing! Your partner joining in the fun makes it fun and romantic. Basically, any hill will suffice, and in Banff, there are many, as you can imagine.
If you wanna spice things up a notch, you can also try tubing. In the park, you can hurtle down the slopes on a snow tube at the Lake Louise and Norquay Mountain ski resorts.
Cool: you don't need to drag your tube back up the hill. A towing system will do the hard labor for you, so you can quickly go for yet another high-speed race to the bottom of the valley. 
Read the post Sledding in Banff – Possibilities and Opportunities to learn more about everything related to sledding in the park.
5. Admire the Northern Lights over Banff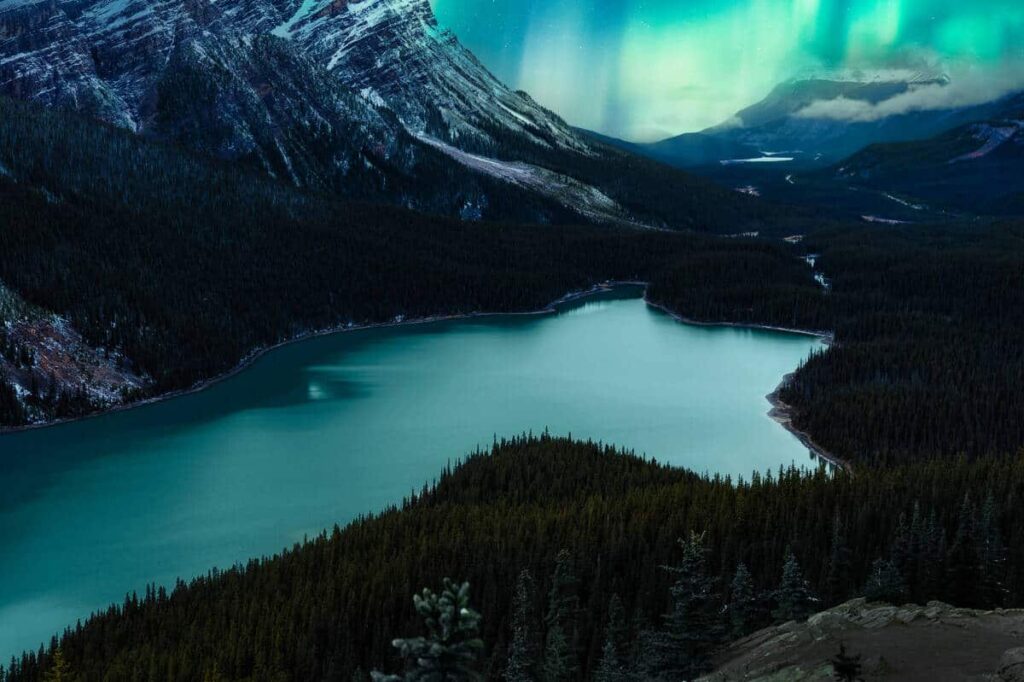 Experiencing the northern lights over Banff is a romantic AND exhilarating experience that would spice up your stay in the park. The magical dancing green, blue and red lights make the park surrealistically beautiful.
So yes, this is a superb idea to surprise your loved one. There's a big but, however. It's challenging to plan to experience this natural phenomenon. Your best bet is to check the forecasts. 
You can find them on Aurora Watch of the University of Alberta or check Auroraforecast.com to see the level of the geomagnetic activity responsible for the northern lights. You can also visit Spaceweather Canada. The site has a separate page on geomagnetic activity.
Now let's assume you've managed to find a night the northern lights are likely to occur over Banff National Park. In Banff, there are several great locations to witness this natural spectacle. 
For Banff National Park, you have the best chance of seeing aurora borealis from December through February.
Here are five excellent locations to witness the northern lights:
Lake Minnewanka
Vermilion Lakes
Castle Junction
Peyto Lake
Icefields Parkway
Doesn't it sound ultra-romantic to hug each other under a multi-colored dancing sky?
Want to read more about the northern lights in Banff, click the link. 
6. Go Stargazing
Now we're into dark, cold, but oh-so-romantic settings: how about going stargazing? Banff has clear skies with relatively little light pollution, allowing your partner and you to throw your head in your neck and admire the beauty ABOVE Banff. 
The only thing you need is a clear sky, in other words: a sky with no clouds, and off you go. Now don't just go anywhere, but go to places known for fabulous stargazing. What are these, you ask? Alright, here goes:
Cascade Meadows (Located on the Lake Minnewanka loop near Lake Minnewanka)
Castle Mountain Junction (The intersection on the Trans-Canada Highway off of Castle Mountain)
Lake Louise
Lake Minnewanka
Morant's Curve (location: 51.3996° N, 116.1287° W)
Sulphur Mountain (go to the top and back to the valley with the Banff Gondola)
Two Jack Lake (located on the south side of Lake Minnewanka)
Vermilion Lakes (within walking distance of the Banff townsite)
Icefields Parkway (Perhaps the darkest part of the park, Bow Lake is highly recommended)
Wanna know more about stargazing in Banff? Click the link. You won't regret it.
7. Hike Johnston Canyon
This is a relatively easy hike, and it's ab-so-lu-te-ly gorgeous. It takes you through a frozen Johnston Canyon – frozen waterfalls included – to enjoy the ice walk along steel catwalks and snow-covered forest paths. 
This might sound like a challenging feat, but the trail is actually considered easy to moderate. Although the snow can make the trail seem daunting, the winter hike still has its appeal.
After all, the iconic waterfalls will be frozen, but you'll still be able to see (and hear!) the gurgling water under the icy shell.
While it's super touristy in summer, this gorge stays relatively quiet in winter. I'd say: Perfect for you and your partner to enjoy this hike's beauty.
8. Discover Banff on a Fat Bike
Yes, even in winter, you can bike through the stunning Rockies. With everything covered in snow, the park has a magical edge, adding to your winter cycling adventure. 
And snow makes for a romantic setting by definition, wouldn't you agree? There are several bike rental companies in Banff where you can rent a fat bike, and off you go! 
If you don't want to go at it alone (just the two of you), you can also book a fat biking tour. Check the post about biking in the park to learn more.
9. Visit the Ice Magic Festival in Lake Louise
Want a romantic background for a romantic winter activity in Banff? Look no further. 
Why? Well, the Ice Magic Festival in Lake Louise (18-19 January 2023) is an annual winter event frequently referred to as Canada's most scenic ice festival. It's right in front of the impressive Fairmont Château Lake Louise and ON the frozen Lake Louise. 
It has a long history of featuring stunning ice sculptures created by the top ice carvers in the world. Watch on when sculptors shape their extraordinary see-through sculptures.  
During the festival, you can also visit the TRIBUTE Craft Spirits Celebration. It highlights top craft distilleries from British Columbia and Alberta. Take your skates if you fancy skating (or rent two pairs on the spot), as there's an ice rink set out on the lake.
10. Visit the Banff SnowDays Festival
The town of Banff has a unique atmosphere, especially in winter. With the streets of Banff covered in snow and surrounded by the snow-covered Rockies, strolling through town can be a romantic experience in and of itself. 
The annual Banff SnowDays Festival is a sweet addition to the center's atmosphere. It has giant snow sculptures, skijoring (an intriguing fusion of cowboy and ski culture), and kid-friendly sledding on the SnowDays Playzone. It runs from January 18 to January 23, 2023.
Secure your spot along the streets of Banff to witness the festivities in January's winter wonderland. There is plenty to eat and drink as well.
11. Take a Helicopter Tour
You might think flying over the Rockies is reserved for the summer, but nothing could be further from the truth. You can in winter as well. The beautiful extra touch is the magic of winter. You'll better understand the "winter wonderland" expression from the sky. Guaranteed!
The ubiquitous snow has drastically transformed the landscape, which allows for entirely different but just as stunning vistas as in summer. 
Otherwise, things are the same as in summer, also regarding your romantic get-together in a chopper. Wanna know more about it? Read section eleven above on Banff summer dating.
Suppose, one day you're ready to get married and you want to pop the question in Banff. In that case, you might want to know what the best locations are for this extraordinary occasion. I wrote a post listing the 9 best proposal locations in Banff, including their pros and cons.