Surprised it can be this hot in the Canadian Rockies and looking for refuge in the heat? Then read this post. I listed 7 excellent locations for you to cool off and keep enjoying the park's stunning beauty. 
Being in the mountains doesn't necessarily mean it doesn't get too hot in summer, as you might have experienced by now. Good hot weather is nice, but not so much when you want to go out and hike or do some other outdoor activities in the park.
Well, I've got good news for you. You can do several things to keep active and not suffer from the heat (too much). Some of them require an admission fee, while others are free. Just keep reading to learn about the cool options you have. 
1. Take a Plunge in Johnson Lake, Cascade Ponds or Herbert Lake
Most lakes in Banff National Park are way too cold to swim. Fortunately, Johnson Lake, Cascade Ponds and Herbert Lake have more or less pleasant water temperatures. If you're staying in the town of Banff, the first two lakes are the closest. If you're staying in Lake Louise (Village), the latter is your closest option.
An interesting fact about Herbert Lake is that it has a diving board on the lakeshore. On the downside, it also has the coldest water of the three, so if you're looking for somewhat warmer water, you'd better take a plunge in Cascade Ponds or Johnson Lake. 
The latter is especially nice because it has picnic tables, outhouses and even a sandy beach. Cascade Ponds is probably best suited for children because it is reasonably shallow.
Want to know more about swimming in the park? Read the guide to swimming in Banff, and find everything you need to know.   
TIP: Own a paddleboard? Bring it to one of these lakes and practice your stand up paddleboarding skills. Just make sure you apply sunscreen to your body. 
Location: Cascade Ponds: latitude: 51.212314; longitude: -115.532119.
Location Johnson Lake: latitude: 51.1915; longitude: -115.4840.
Location Herbert Lake: latitude: 51.459620; longitude: -116.223061.
2. Go Whitewater Rafting
Whitewater rafting is an excellent solution if the weather in the Rockies is sweltering and you're still aiming to do an outdoor activity. Rafting down the Bow River, Kicking Horse River or Kananaskis River is refreshing, no matter how hot the weather is. And it's intensive at the same time. 
Please note that there's only one rafting option inside Banff National Park, which is very close to the town of Banff. It is organized by Banff Raft Tours and their tours start behind the Banff Springs Hotel. However, these trips are scenic floats on the Bow River.   
Location Banff Raft Tours: 1 Golf Course Road, Banff. 
If you want to know more about this topic or the other options you have, please read the post about all ins and outs of rafting when staying in Banff National Park.
3. Visit the Columbia Icefield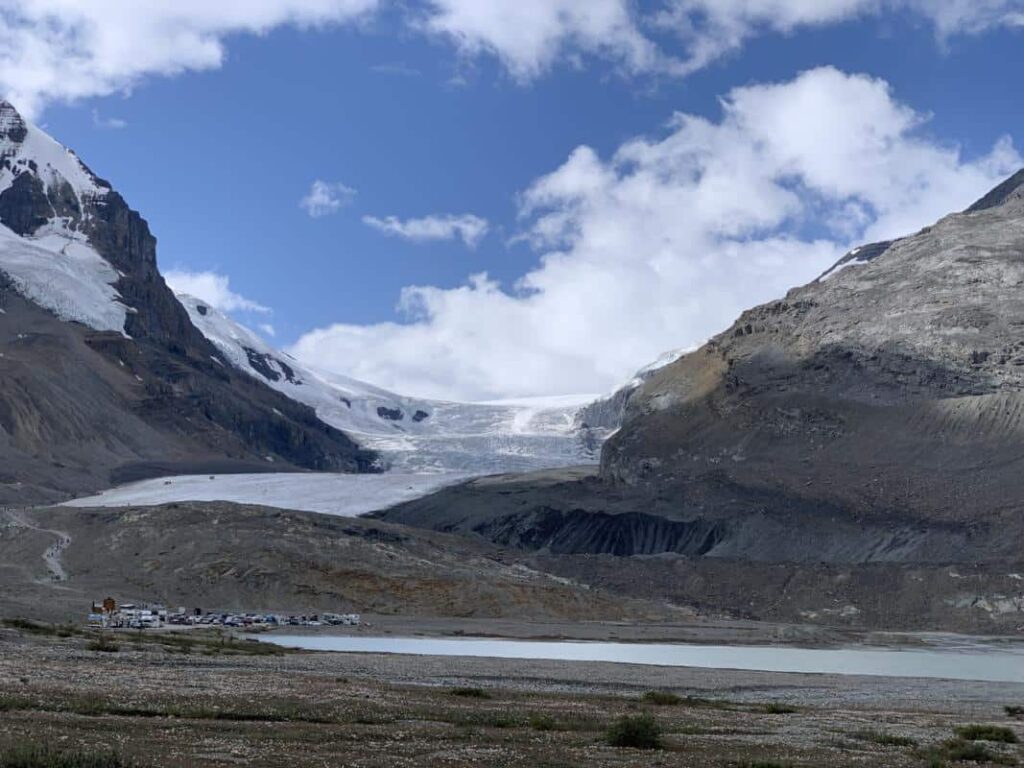 Visiting the Columbia Icefield is always a good idea in summer. It's one of the most impressive and beautiful places in the Alberta Rockies, which you should not miss during your stay in Banff National Park. It never gets hot here at an average elevation of 3,000 meters (9843 feet). The wind has free reign, making the wind chill factor significant.   
I remember going here on a hot day in August and I had to put my coat on to endure the cold. While standing at the foot of the Athabasca glacier, I was still shivering. 
So make sure you take a coat and/or a sweater with you when you go here. Yes, even in the middle of summer on scorching hot days. 
Location: Icefields Parkway, Jasper. Latitude 52°13'10.8″N; longitude 117°13'41.6″W. 
4. Visit the Cave and Basin National Historic Site
Nothing like the shadow on a hot summer day. But no sun at all works even better. How about going inside a cave? You can do so at the Cave and Basin National Historic Site, the birthplace of Banff National Park. 
At this fascinating place close to the town of Banff, you can learn about the park's history and the area's unique flora and fauna. The cave itself is not very big, but it's beautiful. Just beware of the sulfurous smells. Oh, and not to forget, there's no scorching sunlight here.   
Address: 311 Cave Avenue, Banff. 
5. Go Kayaking or Paddleboarding on the Bow River
Two refreshing options for those sizzling summer days. Rent a canoe or paddleboard and try your skills on Vermilion Lakes and the Bow River. You can do it right from the Town of Banff.
The Banff Canoe Club has a boathouse on the Bow River. Just get in your canoe or on your paddleboard and float away. It's not uncommon to spot some wildlife, making the trip even more worthwhile.
On Vermilion Lakes, you can expect quite a bit of wind because you're at the bottom of the Bow Valley, which is very wide here. Make sure you apply some sunscreen before heading out, as you wouldn't want to get sunburnt. 
Location: the Banff Canoe Club, corner of Wolf Street and Banff Avenue, Banff.
6. Take the Banff Gondola to the Top of Sulphur Mountain 
A visit to the top of Sulphur Mountain is well worth it. You'll be presented with fantastic views over the town of Banff and the Bow Valley. You can also hike up the mountain in stead, but that might be too big an undertaking on hot sunny days. That's where the gondola comes in handy.  
It brings you to the top of Sulphur Mountain in about eight minutes. No effort required. The summit lies at 2451 m (8041 ft), so once at the top, you'll find that the summit temperature is quite a bit lower. Make sure you take a jacket and/or coat with you, as it can be pretty windy up there.
The only disadvantage of the gondola is the ridiculous price (yup, ridiculous) you need to pay for a 16-minute ride (to the summit and back). Count on shelling out between 54 and 66 Canadian dollars per ticket. Those cooling-off options ain't come cheap sometimes…       
Location: Banff Gondola parking, 100 Mountain Avenue, Banff.  
7. Take the Lake Louise Gondola to the Upper Slopes of Mount Whitehorn
This is the other, lesser know gondola in the park. Yes, it's also very expensive (about 55 Canadian per ticket), but this one adds an exquisite wildlife touch. 
The Lake Louise Gondola is known for its bear sightings on its way to the upper slopes of Moun Whitehorn. You might even spot a mighty grizzly standing on its hind legs as you're watching from a safe distance while at the same time being relatively close. 
If you don't spot any bears on your trip to the top, it's still nice, relaxing and beautiful. And while you get higher, the temperature gets lower. When you get out you're treated to stunning views over Lake Louise and the Village that goes with the same name.       
This gondola is heavily used in winter as a ski lift.  
Address: 1 Whitehorn Road, Lake Louise. 

The extreme summer heat of recent years involved an increased risk of wildfires in the park. Click the link to read the post about this interesting topic.
Other articles you might be interested in:
• How to Make Sure Mosquitoes Don't Ruin Your Stay in Banff
• Plan Your Banff Itinerary – Know the Distances
• How Much Does a Banff Vacation Cost in 2022? (Crazy Numbers)